Have you tried using a violin shoulder rest, but it just didn't work for you?
You've been told you're supposed to use one to improve your comfort and posture and thus, your playing.
But it actually has the opposite effect!
You're not alone.
Shoulder rests are not a cure all. They work great for some people, but do nothing for others.
And some even find that using a shoulder rest has a negative affect on their playing and their comfort.
If you are one of those people, rest assured that playing violin without a shoulder rest is perfectly fine. In fact, in your case, it is preferable.
Let's take a closer look at shoulder rests and see why some love them and some hate them. We'll also help you figure out if you are better off playing the violin with one or without one.
Can You Play The Violin Without A Shoulder Rest?
Knowing how to hold a violin properly is crucial for beginners. It is also important for more advanced players who never learned to hold their instrument properly and find themselves unable to improve because of it.
Some violinists know how to hold their violin correctly, but can't do so, because it causes discomfort when they place it between between the chin and shoulders.
Chin rests are present on almost every violin to help remedy this, but that is not enough for everyone. Shoulder rests can pick up the slack. But they only work for some.
Let's begin by examining what they are and looking at the different types. Then we'll cover their advantages and disadvantages and hopefully help you figure out if you should try using one or if you are better off playing your violin without a shoulder rest.
What Is A Violin Shoulder Rest?
A violin shoulder rest is an optional accessory. Violinists use them to improve stability and comfort while playing. Shoulder rests are available in various shapes and sizes, but in general, they are manufactured from one of the following materials:
Wood
Plastic
Carbon fiber
Aluminum
Three Types Of Violin Shoulder Rests
There are three different types of shoulder rests.
Clip-On Shoulder Rests
This type of shoulder rest is by far the most common. Clip-on shoulder rests have clips or clamps located on either side. These clips attach to the rim or lower bout of the violin (learn about the parts of a violin here).
They are usually adjustable, both in terms of length and the angle at which they can be clamped to the back of the violin. Some of the most common shoulder rest brands include Kun, Mach, Wolf, Everest, Playonair, Viva, AcoustaGrip, Korfkerrest, Fiddlerman, and Resonans.
The best violin shoulder rests we recommend are all clip-on models.
Air Cushion Shoulder Rests
An air cushion shoulder rest works like an inflatable cushion that can be strapped to the back of the violin. This type of shoulder rest provides comfort as the air inside adjusts to body movements and postural changes while playing.
Some air cushion shoulder rests have elastic straps that are also adjustable, which means that they can be attached to almost any size of violin. They do not have metal or pointy edges (unlike clip-on shoulder rests) that may scratch or mar the instrument.
They also have a non-slip finish and are soft. Some brands have a blow-tube, which allows you to inflate them to the exact level of firmness you like. Here is a good air cushion style rest on Amazon.
Foam Shoulder Rests
Foam shoulder rests are made of foam (surprise!). But seriously, this type of shoulder rest can be made at home with just a foam sponge (not the green scrubber sponge you use for washing dishes, of course) and a rubber band.
If you have a soft sponge, you can just attach it to your instrument, and voilà, you have your own DIY shoulder rest.
If you want a more presentable foam shoulder rest, pre-made shoulder rests or cushions that can be stuck at the back of the violin are available for reasonable prices.
They come in various colors, shapes, and sizes. You can also find small, thin pads that self-adhere to the back of the violin. Here is an inexpensive foam shoulder rest.
Players Economy Foam Violin Shoulder Pad
Excellent support and padding for beginning players
Made of comfortable Open cell foam
Attaches to the instrument with rubber bands (not included)
Country of Origin: United States
View On Amazon
We earn a commission if you make a purchase, at no additional cost to you.
11/28/2023 04:09 am GMT
Do You Need A Shoulder Rest For Violin?
No, you do not need a shoulder rest for your violin. It is perfectly fine to play without one. But you might want to give one a try first, to see whether you prefer playing with or without one. Here are two reasons you might benefit from using one.
Keeps The Instrument From Slipping
The same way the length of our arms differs from one person to another, the space between our head and shoulder is also different. If your violin tends to slip off your shoulder a lot, you will probably benefit from a shoulder rest.
Makes Playing The Violin More Comfortable.
If you tend to play the violin for extended periods of time and often feel a stiff neck afterward, you should probably consider getting a shoulder rest. It will reduce the pressure exerted on the collarbone, which enables the correct posture and prevents injury.
Ideally, the weight of your head resting on your chin rest should be sufficient to hold the violin in place. And the violin should sit comfortably on your collar bone.
But in some cases, a gap remains between the jaw and collarbone. If this is the case, you may have to use a shoulder rest. A large gap between your jaw and collarbone, results in increased tension on your neck and shoulder muscles.
Over time, a tension build up results in muscle pains and a stiff neck. A shoulder rest that is appropriately fitted to your violin and to the shape of your shoulders will allow you to play more comfortably.
Playing Violin Without A Shoulder Rest: How It Differs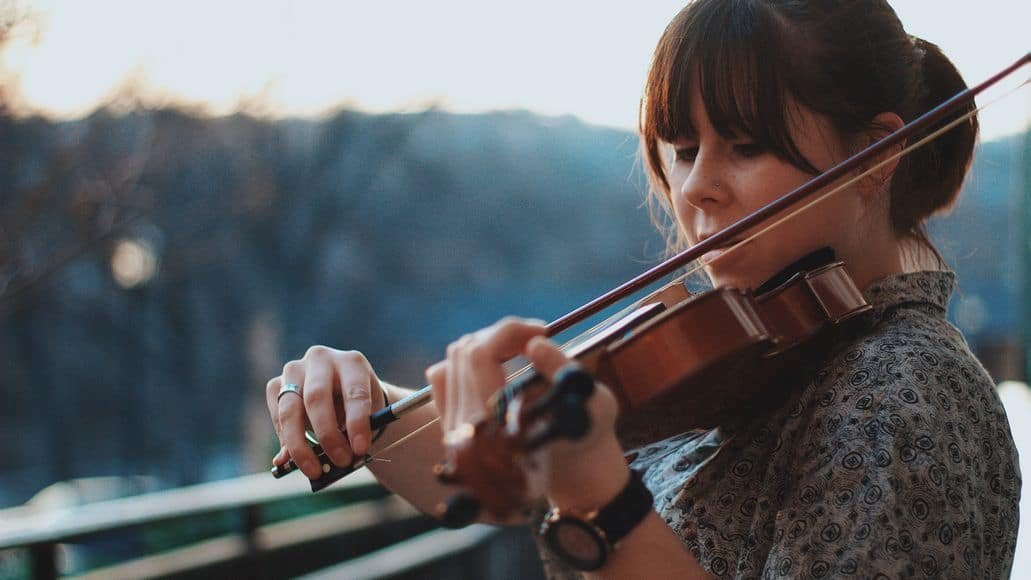 Because the shoulder rest's primary purpose is simply to improve comfort and help with stability, there's no across-the-board difference when playing the violin without a shoulder rest.
What we mean by this is that it won't improve, or worsen, the playing of every violinist. One may see a huge improvement with a shoulder rest, another may see no difference and a third may see their playing deteriorate completely. A shoulder rest only helps violinists who actually need one to correct a certain issue, like discomfort or slipping.
Think of it like a ladder. Would you use a ladder to reach something that is already within your reach? Shoulder rests are the same: you only use one if you actually need it. Shoulder rests (even the best or most expensive ones) can't compensate for bad playing techniques or habits.
What To Be Aware Of When Playing Without A Shoulder Rest?
The most important things to be aware of when playing without a shoulder rest are your playing posture and doing a vibrato. These videos will help you understand why you need to keep these two in mind.
Violin Posture Without Shoulder Rest
Vibrato Without Shoulder Rest
Disadvantages Of Using A Shoulder Rest When Playing The Violin
While more violinists use shoulder rests than not these days, they do have some drawbacks. Here are the most common disadvantages of using a shoulder rest when playing the violin:
Some violinists say that shoulder rests tend to reduce the resonance of a violin's sound.
Using a shoulder rest does not challenge a violinist to develop balance and stability on their own without the aid of a shoulder rest.
The shoulder rest can fall or slide off while playing.
It may cause strains in the neck or spasms in the shoulder if not used correctly.
The wrong size shoulder rest may cause bad posture and subsequent injury.
Advantages Of Using A Shoulder Rest
According to violinist and conductor Joan Berkhemer, some of the advantages he experienced when using a shoulder rest include:
You may be able to produce a deeper and freer and fuller sound
If there is a large gap between the jaw and collarbone where the violin is placed, a shoulder rest may prevent pains in the neck and shoulders.
It may be the best remedy against a stiff neck and other typical violin-related injuries.
It gives the possibility of greater unity with the violin, consequently leading to more ease and enjoyment when playing.
May enable longer periods of playing.
Do Professional Violinists Use Shoulder Rests?
As you might expect: some do and some don't. Violinists can't even agree on the best violin brands, so it should come as no surprise they disagree about this. On the one hand, professionals like Vengerov, Mutter, and Shaham were seen using shoulder rests during some of their concerts and masterclasses.
On the other hand, other famous violinists adamantly oppose the concept of shoulder rest use. This is the case for proponents of what is known as 'the golden age of violin-playing' such as Heifetz, Milstein, Elman, Francescatti, Szeryng, and Grumiaux.
Bluegrass and old-time fiddlers also do not use shoulder rests. Read "What Is The Difference Between A Violin And A Fiddle?" to learn the difference between those two instruments, if you're not sure (hint: there is none).
Playing Violin Without Shoulder Rest: Final Thoughts
While some musicians prefer to play the violin without a shoulder rest, others recommend the opposite. The truth is: it is a good idea for some and a bad idea for others. If you have reached the end of this article and find yourself thinking that you might benefit from using one, I recommend trying it out.
If it makes playing more comfortable for you, then you are someone whom the shoulder rest helps. If you see no improvement or you actually feel, or play, worse, then it is not for you.