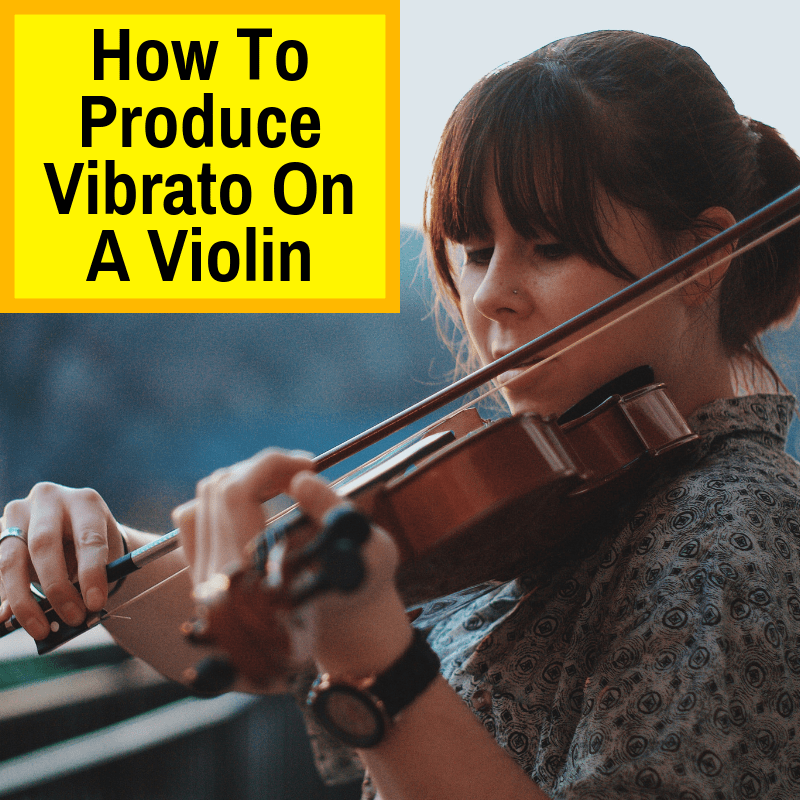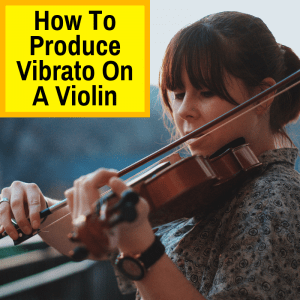 You've got the fundamentals down.
You've been learning to play the violin and have progressed beyond the beginning stages as a violinist
It's time to learn some more advanced techniques.
One advanced technique that isn't too hard to learn is vibrato.
Doing vibrato on a violin is not simple, but anyone can master it with a bit of practice.
You can easily pull it off on a violin for beginners, too.
So what exactly is vibrato?
It is a musical technique that allows performers to express their individualism as an artist. This expressive musical tool helps you display the mood or character of a phrase or note.
Knowing how to do vibrato will take your playing to the next level.
How To Do Vibrato On Violin
First, I need to point out that there are three major kinds of vibrato: they are finger vibrato, wrist vibrato and arm vibrato.
Traditionally, classical music and bombastic passages require smaller and tighter vibrato, whereas low, romantic pieces call for bigger and wider vibrato.
The most common vibrato is the wrist vibrato, which is also known as general vibrato. It is the one used most by performers.
This article will focus on wrist and arm vibrato and gives a step by step description on how to perform each.
Before learning vibrato, you want to make sure you have the fundamentals down. If you do not, you should work on that first, before trying to learn vibrato.
Here is a list of techniques you must be able to perform, before you can tackle vibrato.
What To Know Before Learning Vibrato
You need to have mastered first position.
You need to have a decent understanding of third position.
You need to be able to play without tape or other fingering markings.
You must be able to shift with ease between the first and third position.
You must have good wrist and arm form.
You play notes on the fleshy part of your finger without flattening them.
You must have good intonation.
If you lack any of these abilities, you are not ready to learn vibrato. Make sure you have all of those down, before continuing. This is especially important if you are learning to play violin by yourself, without a teacher.
If you've got them all down, congratulations! You are ready to tackle wrist vibrato.
How To Do Wrist Vibrato On Violin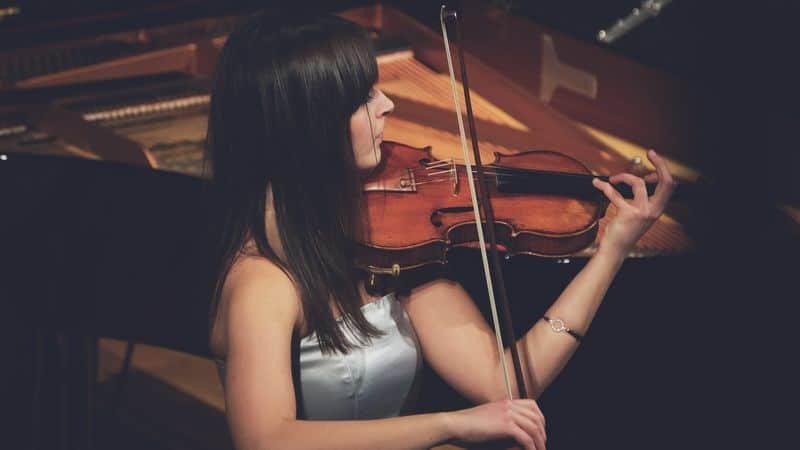 Note that you should only begin practicing the vibrato technique, after you are comfortable with finger placement and you have memorized the positions of all the required notes. Also, don't use a violin mute when learning vibrato.
1. Learn The Position
It is important to know how your wrist is meant to move when performing a vibrato. You should begin by holding your left hand as if you are preparing to play the instrument.
Holding your hand in this position, imagine that you are holding a pencil almost 5 cm from the side of your raised arm.
2. Practice Wrist Movement
Move your wrist and arm as if to touch the imaginary pencil with your arm. Keep in mind that the only body part that you should move while vibrating is your wrist.
Motion back and forth, as if you are attempting to brush two pencils together on either side as you move your hand.
This motion is what will be used to create the vibrato. As you perform this movement, it is important to keep your left hand very still.
3. Practice With A Violin
Now that you have practiced the vibrato movement slowly and without an instrument, it is time to do it with an actual violin. Remember that the vibrato works best with only one finger on the string.
The vibrato can be done with any finger, but is generally easiest when done on either the second or third fingers. I'd suggest not using the fourth finger until you have mastered performing the vibrato with all the other fingers.
4. So Not Slide Your Finger
Avoid sliding your finger on the string. Roll it against the fingerboard, instead of slipping it back and forth.
Remember that the wrist vibrato should only incorporate wrist movement. The arm should not move at all.
Put some effort into rolling your finger on the string, since your wrist alone is responsible for making the vibrato motion.
5. Bow The String
Try to bow the string being held by the vibrating finger.
You are supposed to hear the pitch diminish, because as you vibrate, the finger should begin on the correct pitch and then roll towards the scroll, lowering the pitch.
Afterward, your finger should roll back to the previous pitch. This is what creates the shaky vibrato sound.
6. Take Your Time
It is important to move very slowly while learning and practicing the vibrato, in order to develop proper muscle memory. The process takes time, but doing it correctly pays off. Your playing will see a huge improvement.
Violin Arm Vibrato
The arm vibrato is simpler than the wrist vibrato, but it produces a richer sound. To perform the arm vibrato, begin exactly as you did with the wrist vibrato. However, instead of just moving your wrist, move your entire forearm forth and back.
After familiarizing yourself with this movement, get your violin and place a finger on the fingerboard, while very slowly moving your arm back and forth. Keep you finger on the fingerboard. Switch fingers to give them all a try. It is important to be comfortable performing this movement with all fingers.
Once you are comfortable doing this in slow motion, pick up the pace and learn how to do the vibrato faster.
It is important to regularly practice this motion until you are comfortable playing both the wrist and arm vibrato, with all fingers and at varied speeds. You need to be able to vary vibrato, because it is dynamic. You want to master all the different kinds and variations of vibrato, so that you can express yourself more freely and widely through your music.
You want to be as expressive as you can with your violin and mastering every possible variation of vibrato allows you to do that. So keep practicing, until you have them all down!
How To Vibrato On Violin: Related Questions
The following are frequently asked questions related to violin vibrato.
Is Vibrato On Violin Hard?
Learning vibrato on the violin is difficult and will take quite some time to master. It is not as difficult as you may think, however. It is a technique anyone can learn, as long as they are willing to put in the work.
And it is well worth it. This technique will make a beginning or intermediate player sound much more advanced.
How Long Does It Take To Learn Violin Vibrato?
This is an impossible question to answer, since it varies greatly from student to student. Some learners pick it up in a few weeks, while others struggle to get it right for months.
Even once a student learns to produce vibrato, I don't know if anyone ever really masters it. Even just getting it down for multiple fingers and speed generally takes years.
What Are Common Mistakes Violinists Make When Performing Vibrato?
The following are 3 of the most common mistakes:
Squeezing the violin: many students will squeeze the neck of the violin between their thumb and fingers
Sagging hand: many students will let their hand sag so that more of it is beneath the fingerboard and not on the E-string side of it; make sure you maintain the correct hand height
Incorrect thumb placement: often students will let the violin rest in the shelf that is at the base of the thumb; you need to keep the proper hand balance in order to produce good vibrato
How To Play Vibrato On Violin: Final Thoughts
Vibrato is sometimes considered an advanced technique, but it is one all violin players need to master. Learning how to do vibrato on the violin is not simple, but it is something anyone can do with enough practice.
So follow the guide above and start practicing. It will be slow going and frustrating at first, and likely for a while, but eventually, you will be playing vibrato on your violin like a pro!
Have you begun learning vibrato? What obstacles are you facing? Let us know in the comments below.