The best violinists take the instrument to another level.
They make it sing in a way a merely good, or even great, player never can.
Check out some of the world's most famous violinists to see what I mean.
Listening to (or even better watching) them play is mesmerizing.
But who is a famous violin player?
Who should you listen to, if you want to hear the violin at its absolute best?
That's what we're going to cover in this article. We'll list the most famous violin players of all time and give some basic info on each. Then you can go check them out and see what I mean.
We'll also cover the greatest and most popular female violinists and the best jazz violinists, because we feel each deserve their own section.
And note that these are people famous for their violin skills, not famous people who also play violin on the side.
Most Famous Violin Players
David Oistrakh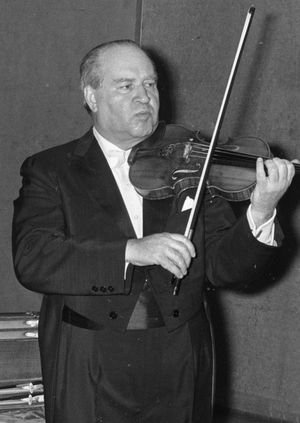 David Oisrakh was born in the Ukraine in 1908 and lived a long, prestigious life, up until his passing day in 1974.
When he was just three and a half years old, he was given a toy violin. Apparently, that moment was when he first started dreaming of becoming a world renowned violinist.
He realized that dream over the course of his illustrious life with the violin in hand – a life that saw him regarded as one of the best of all time.
Why
His technique was impeccable. It carried him through seamlessly, even when faced with the toughest of arrangements. Famous for his long vibratos, Oistrakh made the instrument sing, never missing a beat, even when changing bow direction.
But what made him truly impressive was his mentality – his approach to applying his flawless technique. He played every note according to what it needed to do for the arrangement.
His mindfulness, backed by his wonderful touch, is why he inspired and collaborated with many wonderfully decorated musicians, such as Shostakovich, Myaskovsky, Khachaturian, and Prokofiev.
Itzhak Perlman
Israeli-Amercan Irzhak Perlman was born in 1945 and is still alive today. He is one of modern times' most decorated violinists.
After moving from Tel-Aviv to New York, he found himself in the spotlight after appearing on an episode of the Ed Sullivan show in 1958. Since then, he has positioned himself as one of the greats.
Why
Perlman is incredibly gifted and sought-after. He was invited to perform at Barack Obama's inauguration in 2009, performing with many great artists, including Yo-Yo Ma.
He was also awarded a Kennedy Center Honour by the John F. Kennedy Center for the Performing Arts for what he achieved throughout his career, as well as for developing the American nation, both in terms of education and culture.
Another noteworthy appearance that bolsters his fame is when he performed for the Queen and her husband, Prince Philip, Duke of Edinburgh.
Antonio Vivaldi
A little less recent than his two compatratiates above, Vivaldi was born in Venice in 1678 and died in 1741. He learned how to play the violin at a young age from his father, who performed music at St. Mark's Cathedral.
At the age of 25, Vivaldi was ordained into the priesthood. He took up duties as master of the violin, and eventually Music Director at an orphanage called "The Devout Hospital of Mercy".
Why
It was during his time at the orphanage that Vivaldi found his fame. He composed for, and played with, the orphanage's orchestra and choir. His work reached enough ears to make it famous, and to make him sought after, throughout Venice, Italy, and Europe.
The demand for his music was boosted by some of it being published. That lead to him becoming one of the most well known violinists and composers of the Baroque Period.
His fame dwindled after he retired from the orphanage, but his music came back into fashion long after Vivaldi's death, during the 19th Century.
Famous Female Violinists
Ida Haendel
Known as "The Queen of the Violin", Ida Haendel lived a long life, filled to the brim with violin performances. Born in 1928 Poland and still alive today, Haendel played violin into her 80s.
That's an incredible career, seeing as she first started playing the instrument at the very young age of just three. It's no surprise that she went on to achieve many great feats as a violinist throughout her lifetime. There is a reason she is one of the 20th century's most revered virtuosos.
Why
A good place to start the explanation for why Haendel is so admired is when she was seven. That's when she placed seventh in the Wieniawski International Violin Competition.
Then, at 14, she garnered more attention as a soloist, this time in Brahms Concerto. During World War 2, she put on performances for the Allied troops.
She went on to achieve many more incredible feats throughout her lifetime and career. Her career was so full of highlights that a documentary about her life, "Ida Haendel: A Voyage of Music" was produced about her in 1988.
But it didn't capture all her achievements, because she kept right on going and earned the title of Commander of the British Empire in 1992.
Anne-Sophie Mutter
In 1963, the world saw the birth of one of the most prestigious violinists to ever play the instrument. Still alive today, Mutter has had an incredible life playing the violin.
She originally started on the piano when she was very young, but heard a recording of Yehudi Menuhin and Wilhelm Furtwängler, and promptly changed direction and started playing the violin. She calls the violin her "greatest discovery", and it is one that has afforded her much success.
Why
She has been performing since she was a teenager, and has been so prolific that she has had multiple compositions made especially for her. Her rise to the top can possibly be attributed to her time at the Berlin Philharmonic orchestra, which she joined when she was 13.
9 years later, she was made head of violin studies at the Royal Academy of Music in London at the age of just 22. She went on to achieve many more accolades during her life, all of which can be surmised by her by her induction into the American Academy of Arts and Sciences as a Foreign Honorary Member in 2013.
Julia Fischer
Yet another German violinist, Julia Fischer was born in 1983, and is still around today. Much like her compatriots, she started playing violin at the age of three. Placing first at the Yehudi Menuhin Competition in 1995 kick-started her incredible career—one that would land her a place in the fight for top violin player of all time.
Why
Starting out at a young age as a violinist affords you the opportunity to play with many different orchestras, and that's exactly what Julia Fischer has done. The Bavarian State Orchestra, the Danish National Symphony Orchestra and the London Philharmonic Orchestra are just a few of the noteworthy notches on her belt.
This, as well as founding her own quartet, have allowed her to perform tirelessly, making her one of the most prolific modern violinists. And if that wasn't enough, she's a brilliant pianist too.
Famous Jazz Violinists
Stéphane Grappelli
"The Grandfather of Jazz Violinists" – that's what they call Stéphane Grappeli, the French-Italian violinist who lived between 1908 and 1997. Grappelli first picked up the violin at the age of 12, after his father bought him one.
He took violin lessons, but is claimed to have preferred learning by himself, and modeled his playing style after French street violinists. And it was his busking that would forge the path for his rise to greatness among jazz violinists.
Why
In 1939, one of the very first all string jazz bands formed – Quintette du Hot Club de France. That band was formed by none other than Grappelli, when he met jazz guitarist Django Reinhardt.
It was in this band, and in the many years that followed during which he played with Reinhardt, that Grappelli would become renowned for his incredible improvisational skills, as well as his ability to play fast swing.
Yehudi Menuhin has said: "Stéphane is like one of those jugglers who send 10 plates into the air and recovers them all." Grappelli has been honored by the musical world, having won the Grammy Lifetime Achievement Award in 1997, as well as being inducted into the Down Beat Jazz Hall of Fame.
Leroy Jenkins
Born in America in 1932, Leroy Jenkins lived until 2007, passing at the age of 74. His journey with the violin started when he was eight years old. He continued to learn throughout high school, where he also picked up the alto sax.
Once he graduated high school, he concentrated on the violin. This tuned out to be a good call, considering how good he became at it.
Why
In 1971, Jenkins was a part founder of the Revolutionary Ensemble, a trio that would later be known as one of the decade's best musical groups.
Their performances were one of a kind, and often works in progress, with each musician contributing to the songwriting process. Sticking to their creative guns, the Ensemble suffered commercially, but made albums that were brilliant and one-of-a-kind to listen to.
When the trio disbanded, Jenkins maintained his position as one of the era's dominant violinists, going on to perform with many other groups and trios. He was an extremely sought-after musician of his time and could make even a cheap violin sound great.
Billy Bang
Born William Walker in America in 1947, Billy Bang lived until 2011. He studied violin as a teenager, but didn't take an immediate liking to it, which can be attributed to his childhood, growing up in the Bronx. He never finished high school, and was drafted into the military. That eventually turned out to be instrumental in his playing becoming so recognized.
Why
Bang's time in the military forces was not good for his psyche. He witnessed many atrocities in the Vietnam War, and had trouble dealing with this in a healthy way upon his return – often choosing not to speak rather than voice his troubles.
However, after being encouraged to use music as therapy, he went on to write two albums that would do wonders for his mental state They also worked wonders for his stature as a musician, with the pieces earning critical acclaim.
Most Famous Violinists: Final Thoughts
Of course, there are plenty of other famous violinists, but the 9 masters listed above are a good start. Go listen to some of their music and hear the violin at its absolute best.
If you are looking for some great modern violinists, check out our list of today's famous violin players.
If you are already a violin player itself, I'm sure the genius of the players listed here will inspire you to renew your efforts to master this wonderful instrument. If not and you suddenly feel the urge to take up the violin, get yourself a good beginner instrument and start your journey today!
Photo Credits