We did not want to create another list of the best violinists ever.
Those are always objective and usually result in hateful comments and emails.
Instead, we've simply compiled a list of some famous violinists who are currently active.
They are all great, but we're not calling any the best.
Check their music out and make that determination for yourself.
The important thing is that every one of the famous violin players below is incredibly talented and makes music that will amaze you, move you, and perhaps even motivate you to learn the violin yourself.
Famous Violin Players Today
The following are some of the greatest violin players in the world today. I'm sure you'll notice they all play insanely expensive and world famous instruments.
Don't worry if you can't afford the same. Who among us can? Just get the best violin you can afford and start practicing.
Joshua Bell
Joshua Bell is an American who was born in Bloomington in 1967. Although his parents were not musicians, they introduced him to music and, according to what he himself said, tried to keep him from having a normal childhood. In addition to playing the violin, he also played various sports.
He studied with violinist Josef Gingold in Indiana and by the age of 14, he was already playing solo with the Philadelphia Orchestra conducted by Ricardo Muti. Since then, he has played with the best orchestras all over the world.
Bell played solo violin on the Oscar-winning soundtrack for "The Red Violin" written by John Corigliano.
He also participated in a social experiment with the Washington Post for which the creator, Gene Weingarten, won a Pulitzer.
In the experiment, he went into a subway station with his Stradivarius violin and started playing Bach, in order to see how many people stopped to listen to him.
Virtually no one did. Almost no one even recognized him. In the end, he got about 30 dollars in total.
His current violin is a 1713 Stradivarius that they call "the Gibson ex Huberman" because it used to belong to Bronislaw Huberman.
Nicola Benedetti
Nicola Benedetti is one of today's young talents. She plays a Stradivarius valued at over £2 million. She has confessed in one of her interviews, half-joking, that if her house suffered a fire she would take her violin before the cat, although in an ideal world all three would come out unscathed.
She was born in Scotland in 1987 and is the daughter of an Italian father and a Scottish mother. She started playing the violin when she was only 4 years old and at 9 she had already passed the 8 musical degrees and began studying at the Yehudi Menuhin School with Natasha Boyarskaya.
When Nicola finished school, she continued to study with Maciej Rakowski and Pavel Vernikov.
At 16, she won the BBC Young Talent of the Year contest. In 2012 and 2013 she won the BRIT Classic Awards for Best Female Artist and in 2020, a Grammy for Best Classical Instrumental Soloist.
In 2013 she was appointed a Member of the Order of the British Empire for her artistic work and her social commitment.
Nicola is in great demand from the main international orchestras and has an exclusive contract with the Decca (Universal Music) label. She plays a 1717 Stradivarius violin named Gabriel, on loan from Jonathan Molds.
Akiko Suwanai
Akiko Suwanai was born in Japan in 1972. She began studying at Toho Gakuen in Japan and later at Columbia University and Juilliard with Dorothy DeLay.
She was the youngest violinist to win the International Tchaikovsky Competition in 1990.
She also won the International Paganini Competition and came second in the Queen Elisabeth of Belgium International Competition behind Vadim Repin.
She has played with such great orchestras as the Philadelphia, London Symphony, Radio Finland, Oslo Philharmonic, BBC Philharmonic, Czech Philharmonic, and many others.
She plays on a 1714 Stradivarius called the Dolphin, on loan from the Japanese Music Foundation. It once belonged to Jascha Heifetz.
Janine Jansen
Janine Jansen was born in Soest, the Netherlands, in 1978 to a musical family. Her mother is an opera singer, her father is an organist, and her two older brothers play cello and harpsichord.
She said in an interview that she wanted to play the cello, but her parents wanted her to play another instrument. When she started playing the violin at the age of 6, she loved it.
She studied with Coosje Wijzenbeek, Philipp Hirshhorn, and Boris Belkin, and she made her solo debut in 2001 with the National Youth Orchestra of Scotland. She also opened for the BBC Proms in 2005.
Jansen has been a violin teacher since 2019 at the Haute École de Musique Vaud Valais Fribourg, HEMU de Sion, and artistic director and founder of the Utrecht International Chamber Music Festival. She also plays with the most important orchestras in the world.
Janine currently works exclusively with Decca Records and uses a 1727 Stradivarius Barrete violin, on loan from the Stradi Society of Chicago.
Ray Chen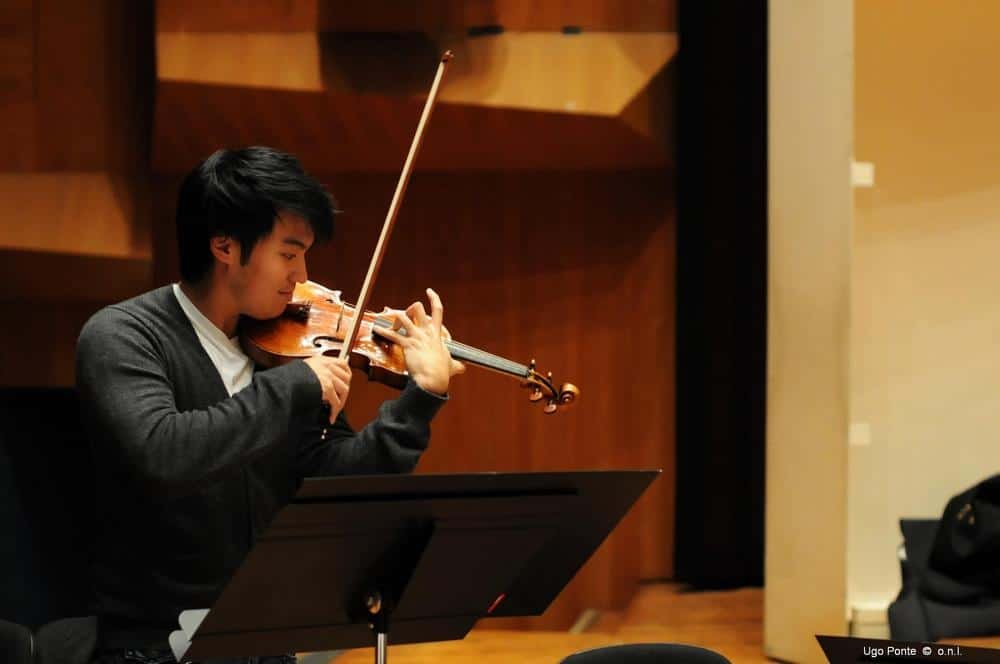 Ray Chen seeks to connect with people through music and has reinvented the classical concept, perfectly uniting the world of classical music with the current one: he has millions of followers of his videos and performances.
He was featured on the Forbes list of the 30 Most Influential Asians Under 30!
Ray was born in Taipei, Taiwan, in 1989 and grew up in Australia. He began his violin studies at the age of four through the Suzuki method. He finished 10 courses in just 5 years.
His popularity began when he won the International Yehudi Menuhin competition in 2008 and the Queen Elisabeth of Belgium in 2009. Chen later signed with the Decca Classics label.
He has played with the San Francisco Symphony, the Los Angeles Symphony, and the London Philharmonic, among others.
He plays on a 1715 "Joachim" Stradivarius that belonged to violinist Joseph Joachim, on loan from the Nippon Music Foundation.
David Garrett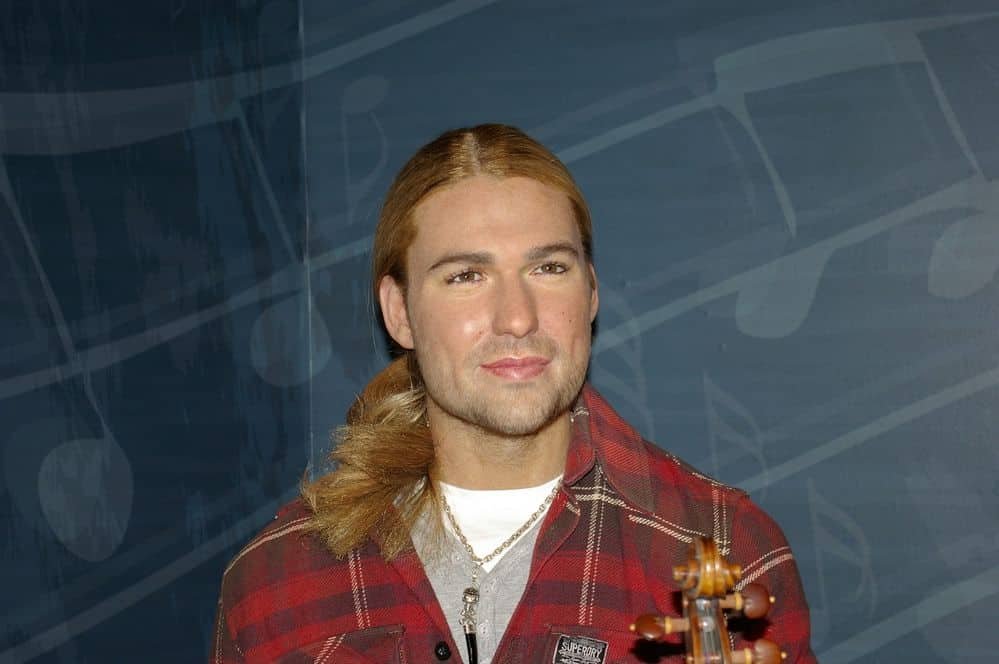 David Garret has more than a million followers on his YouTube channel and has managed to reach thousands of people, both for his classic facet and his most modern and groundbreaking sound.
Garrett is a violinist, actor, and model. He is the son of a violin teacher/lawyer and a dancer mother. His first classes were given by his own father when he was only four years old.
He later began to study at the Lubeck and Berlin conservatories and was a student at the famous Juilliard School in NY with Itzhak Perlman himself.
At the age of 13, he already had an exclusive contract with the Deutsche Grammophon Gesellschaft record company.
Garrett appeared in the movie "The Devil's Violinist" as a protagonist playing the life of the famous Paganini.
He is considered the fastest violinist according to the Guinness World Record. He did it by playing Rimsky-Korsakov's Flight of the Bumblebee as fast as possible without fail.
He plays a Giovanni Battista Guadagnini violin from 1772 and an Antonio Stradivari from 1718.
Vanessa-Mae
Vanessa-Mae is the best-selling violinist in history. She was born in Singapore in 1978. She is the daughter of a Chinese mother and a Thai father.
When her parents separated, she went to live in England with her mother. There, years later, her English stepfather legally adopted her and she took her mother's first surname and her stepfather's second.
Vanessa started playing the piano when she was only 3 years old and it was her stepfather, who was a violinist as well as a lawyer, who encouraged her to play it.
When she was 5 years old, she was already taking violin and dance classes. When they saw the qualities that she had with her violin, they decided to send her to China to study with a prestigious teacher.
Soon after, Vanessa-Mae was given nothing less than a Giuseppe Guadagnini violin. She performed her first solo concert with the London Philharmonic.
In addition, she began her studies at the Royal College of Music in London. She was the youngest student and finished when she was only 14 years old.
Shortly after, she signed a contract with EMI to record albums. From there, world tours began. The release of her first album "The violin Player" in 1995 was a success, with more than 3 million records sold.
Ara Malikian
With his talent, his energy, and his peculiar concerts, Ara Malikian has managed to fill theaters around the world with children and adults who were unaware of the world of classical music. He is one of the most popular violinists of the moment.
He was born in Lebanon in 1968, in the midst of the civil war, to an Armenian family. He started playing the violin with his father and when he was 12 years old, he had his first concert.
When he was only 14 years old, he was discovered by the German director Hans Herbert-Jöris and thanks to him, he got a scholarship from the German government to study at the Hochschule für Musik und Theater Hannover.
He then went through the Guildhall School of Music and Drama in London and studied with great teachers like Ruggiero Ricci, Franco Gulli, and Herman Krebbers.
He has won many awards such as the Felix Mendelssohn, the Pablo Sarasate Prize in Pamplona, ​​the Music Competition of Japan, the Artist Guild in New York, and the Zino Francescatti in France.
Lindsey Stirling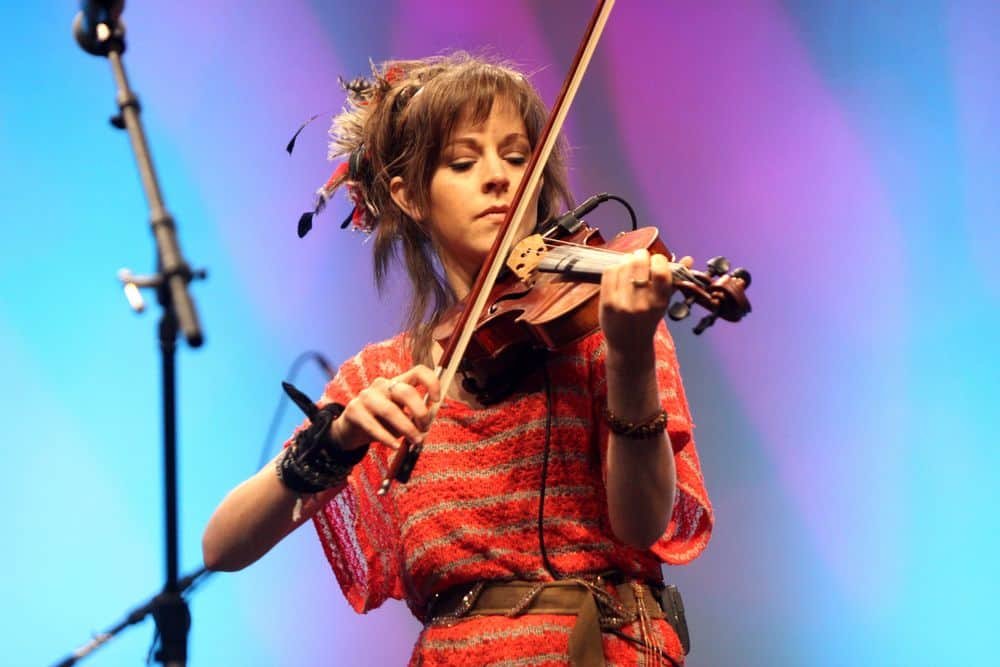 Lindsey Stirling has said that during her childhood her parents had economic problems but that she would not change it for anything. Even so, she was able to pay for violin lessons from the age of five.
She started to become popular after her appearance on America's Got Talent as a hip-hop violinist mixed with classical music and dance.
She reached the quarterfinals, but she was not able to convince the jury. They saw her as a "little too commercial."
From that moment she began to become popular on YouTube with videos that received millions of visits and became one of the most famous YouTubers.
In 2012, her video "Crystallize" had more than 42 million views and became so viral that it was the eighth most-viewed worldwide.
She has a unique and positive style with which she tries to show the younger ones that they don't have to fit into any mold to achieve their goals.
Karolina Protsenko
Karolina Protsenko is the youngest violinist on this list. By quite a bit. Born in Kyiv, Ukraine on October 3, 2008, she is only 14 years old at the time of writing (please don't leave hateful comments if you read this in a year and the age is off).
You could say that Karolina was destined to be a musician, with music in her blood. Her mother is a pianist and her father a guitarist. The entire family moved to California in the US in 2015, when Karolina was 6 years old.
Young Karolina began busking on the Third Street Promenade in Santa Monica California in 2017 performing her own versions of popular songs. She put her performances on YouTube, Instagram and Facebook
The right people noticed and she landed an appearance on the Ellen Degeneres show and on Access Hollywood Live. Her fame and popularity continue to grow.
Her idol is actually the previous violinist on this list: Lindsey Stirling. Kelly Clarkson surprised Protsenko on the Kelly Clarkson Show by also inviting Stirling, so the two could meet. Karolina received a branded violin from Stirling and got to perform a duet with her. What a thrill that must of been for the young musician!
Augustin Hadelich
Augustin Hadelich is an American citizen (he received his citizenship in 2014) who was born in Italy to German parents. He grew up with two older brothers who played the cello and piano, and a father who also played cello.
Hadelich did not enjoy any formal education on the violin in his younger years. He simply learned from random lessons and from masterclasses by various violinists who were traveling through Tuscany, where he lived on his family's farm.
When he was older, after an accident with a fire left him unable to play for an entire year, he was finally able to benefit from some formal music education. He attended the Istituto Mascagni in Livorno, Italy and then the The Juilliard School in New York.
After receiving a Graduate Diploma in 2005 and an Artist Diploma in 2007, he decided to continue living in New York. In the years since, he has played with every major orchestra in North America. He has also played with many famous orchestras in Europe and Asia.
Hadelich has been nominated for 4 Grammy awards and has won one. It was his first nomination in 2016 in the Best Classical Instrumental Solo category. Musical America named him "Instrumentalist of the Year" in 2018.
Hilary Hahn
Hilary Hahn was born in 1979 in Lexington, Virginia and she grew up in Baltimore, Maryland. She began playing the violin shortly before her fourth birthday and learned using the Suzuki method for the first year.
When she was 10, she entered the Curtis Institute of Music in Philadelphia. She stayed there for nine years, graduating with a Bachelor of Music in 1999. She spent her summers learning languages at Middlebury College. Specifically, she studied German, French and Japanese.
Hahn debuted with the Baltimore Symphony Orchestra in 1991 when she was just 11 years old. In the ensuing years whe played with a number of famous orchestras in the US and Europe.
She made her debut at Carnegie Hall in in 1996, as a soloist with the Philadelphia Orchestra. That is the same year she started recording music and has released 16 albums, 3 DVDs a music soundtrack (for which she was nominated for an Oscar), and a number of compilations in the years since.
Hilary has done a lot of collaborations with artists in other genres. She enjoys tis because "It frees you up to think in a different way from what you've been trained to do."
María Dueñas
María Dueñas Fernández is another extremely young and extremely talented artist on this list. She is only 20 years old, having been born in Granada, Spain on December 4, 2002.
Unlike many of the artists on this list, Maria was not born into a family of musicians. There were none in her family. But they did encourage her interest in music and her musical education.
She began studying at the Ángel Barrios Conservatory in her hometown when she was seven. She went on to attend the Carl Maria von Weber College of Music in Dresden on a scholarship when she was only 11. From there, she moved on to the University of Music and Dramatic Art in Vienna, Austria and the University of Graz.
Her career is only just beginning, but she already has an exclusive contract with Deutsche Grammophon and has released two albums so far.
Clara-Jumi Kang
Clara-Jumi Kang is a South Korean violinist who was born in Mannheim, Germany in 1987. That she took up music comes as no surprise. Both of her parents are famous Korean opera singers.
Kang began learning the violin when she was three years old. Only a year later, she started studying at the Mannheim Musikhochschule. She was the youngest person to ever gain admission to the school.
She performed her first concierto at the tender age of five, with the Hamburg Symphony Orchestra. Two years later, she was granted a full scholarship to attend the famous Juilliard School.
She received her Bachelor and Master's degrees at the Korean National University of Arts by the time she was 16. And this was despite not being able to play at all for several years due to a serious hand injury.
Since graduating, Clara-Jumi Kang has performed with many of the world's most famous orchestras. She has also released two solo albums and won numerous prestigious international awards.
Famous Modern Violinists: Final Thoughts
As mentioned in the beginning, all of these famous violin players are great and you could make a case for any of them being the best currently alive.
But we did not want to get into an objective ranking like that. We simply wanted to present a list of some amazing violinists to give you some great music to listen to.
That said, we're always curious to hear your thoughts. Who are some other great violinists? And if you want to let us know who you think is the best, we'd love to hear it. Just leave a comment below!
And finally, if you were looking for celebrities who play the violin, but don't do only as a hobby alongside their regular job, check out that link.