One of the most common complaints from parents of a budding violinist is spending hundreds of dollars on an instrument in which their child might soon lose interest.
The Bunnel Premiere Clearance Violin Outfit solves that problem. It sells at a far lower price than comparable instruments. In return, it may have some minor cosmetic flaws.
None of these flaws impact the sound or playability in any way. They are purely visual flaws (see image below). If you don't mind a few minor flaws, you're getting an excellent beginner's violin for a very low price.
Bunnel Premiere Clearance Violin Review
The type of wood used to construct a violin is critically important in how the instrument sounds. A low quality wood can result in a terrible sounding instrument.
Bunnel violins, even the entry level models, are handcrafted from solid maple and spruce tone woods of exceptional quality.
All fittings are fashioned from 100% genuine ebony and everything is covered in a rich oil finish. Obviously, the materials are not equal to the top-of-the-line violins, but this model also costs thousands less.
For the price, you're getting an incredible build quality. And Kennedy Violins (the manufacturer) backs that up. They give you a lifetime warranty and a 45-day money-back guarantee.
The Bunnel Premiere Clearance violin ships with everything you need to start playing immediately. You get a durable, high-grade Brazil wood bow, extra strings, Kennedy natural rosin, a polishing cloth and an oblong case with straps, music pocket, accessory compartments & YKK zippers to carry it all.
Basic Clearance Violin Pros
The biggest pro is the price: as a clearance violin with minor cosmetic flaws, it is priced well below comparable instruments. Despite the price, Kennedy Violins used high-quality materials in the construction and fashioned a beautiful instruments that plays and sounds great, too.
The violin is carved from solid spruce and maple tone woods. It has a 100% ebony fingerboard, pegs and fittings and a custom-fit, hand-carved maple bridge.
Everything is covered in a hand-rubbed oil finish. Portland strings are already installed with the string height precisely measured for comfortable playability. Everything exceeds all Suzuki and MENC standards
The bow is made from high-grade, durable Brazil wood, which gives it great bounce and responsiveness. A metal-mounted frog made from high-grade ebony provides balanced weight. Real Mongolian horse hair gives you a smooth, clear and full tone.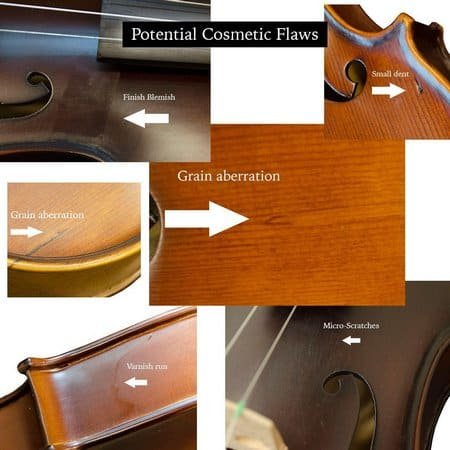 Cons
The biggest drawback is obviously the minor cosmetic flaws that are the reason for the low price. These will not affect the playability or sound of the instrument at all and are, in many case, barely even noticeable.
Nevertheless, you need to be aware that you are not getting a perfect instrument when it comes to appearance. If you prefer an instrument without flaws and don't mind paying a bit more, check out the Bunnel G2, which is also built for beginners.
Apart from that, this violin doesn't really have any cons. Obviously, it is a beginner's violin and is not going to provide the same kind of performance as a top-of-the-line model, but you're never going to get that at this price. That's not a con, just reality.
Bunnel Premiere Clearance Violin Review Conclusion and Rating
Consumers who purchased the Bunnel Premiere Clearance Violin Outfit gave it a rating of four point nine out of five stars (at the time of writing), which makes it among the highest rated violins available. In fact, Bunnel violins as a whole are the highest-rated violins on Amazon and the company has the number one rated customer service in the U.S.
You do need to remember that this is a beginner's model and a clearance model. If you're a seasoned musician, it is not for you. Similarly, if you can not accept the minor cosmetic flaws, you should take a pass as well.
For beginners who do not mind minor flaws, you are getting a high-quality model at an extremely low price. This is the best low-cost option on the market and it scores the highest Musicaroo rating all, with a 5 out of 5.