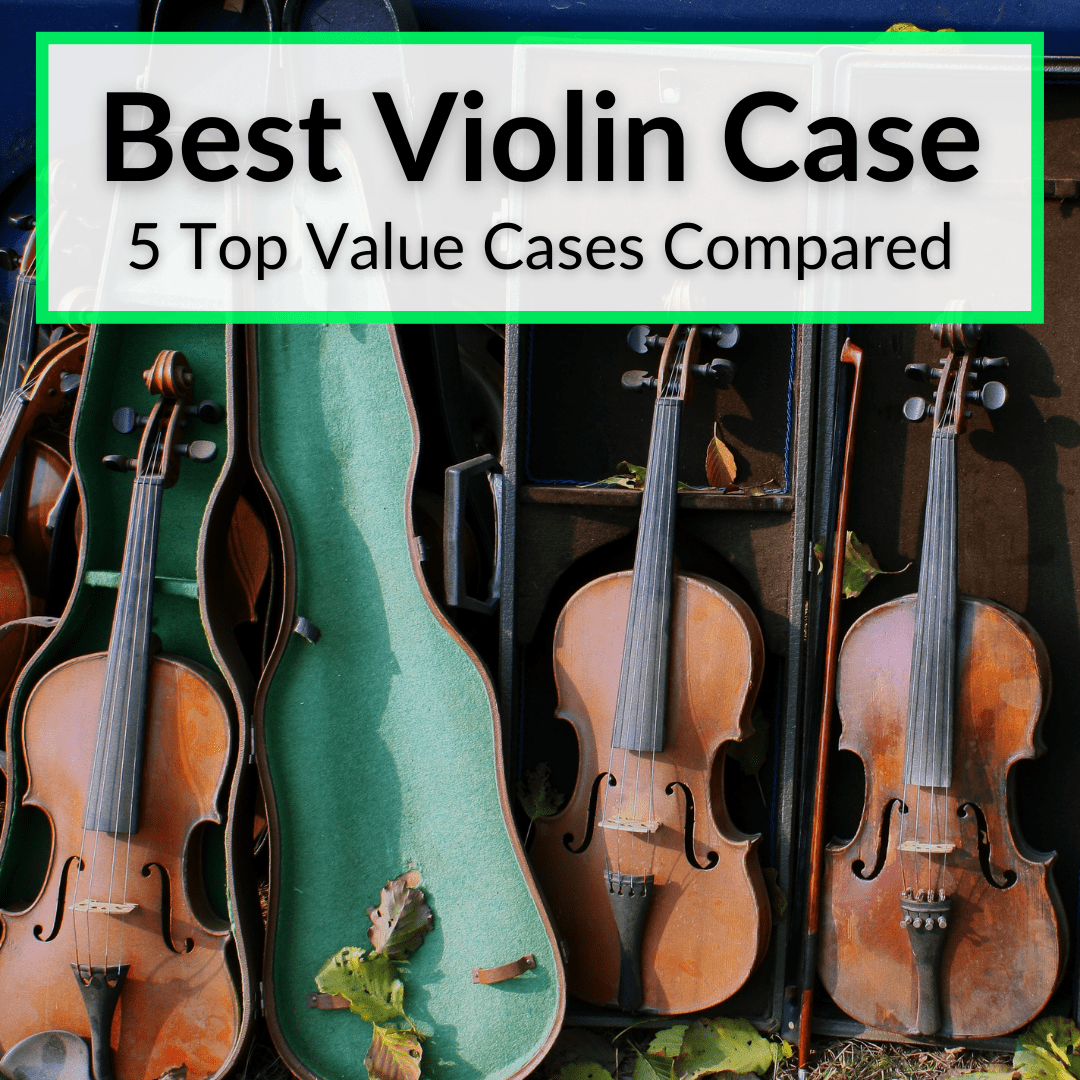 Every violin needs a good case.
Even if it never leaves your home, you still want a case in which to store it.
Of course, in that case, it can just be a simple bag.
However, if your violin hits the road with you, you will want a sturdier solution.
Even if you only take it down the street for lessons a few times a week, a lot can happen on that walk.
But your needs in that case are not the same as someone who regularly takes their instrument on a plane.
That is why the best violin case is a subjective matter. It is different for everyone.
We've found 5 cases for your violin that are all excellent, but that fulfill different needs. You should be able to find the right one for you among them.
Best Violin Cases Compared
11/27/2023 02:59 pm GMT
Best Cases For Violin Reviewed
The following are our 5 favorite violin cases. We made sure to include a variety of different types and at different budgets. No matter your needs, there is sure to be a case for you here.
Best Violin Case For Professionals: Bobelock Half Moon 1047
Bobelock Half Moon 1047 Black/Blue 4/4 Violin Case
Pros:
Durable and protects great against damage and water

Huge pocket for sheets and accessories

Violin tucked in perfectly

Easy to carry

Perfect for airplane compartments
Cons:
Zippers can wear out with heavy use
View On Amazon
We earn a commission if you make a purchase, at no additional cost to you.
11/27/2023 02:59 pm GMT
Professional musicians often travel a lot and need a case that is great for both transport and good protection. This Bobelock 1047 case does it all!
The case is made of wood covered with canvas. This means that it is sturdy enough to protect the violin from any damage, but also soft to the touch when worn on the back. The canvas also protects against rain, snow, etc.
The case has two zippers, one of which opens a huge pocket (the whole surface area of the case) for storing sheets, accessories, etc. The other zipper is meant for opening the case itself.
Inside, a 4/4 violin can be tucked in perfectly and no movement is possible. There is a velcro strap over the bridge to fasten the violin down even more.
You can fit two violin bows on the other side, as well as a blanket. The case also has two D-rings for carrying, along with two straps (subway and shoulder).
Best Lightweight Violin Case: Protec Pro-Tec MX044MT
Professional violinists will spend as much as needed to make their instruments safe and their lives easier. When it comes to beginners, not many want to spend big, because the cases will usually be used only for transport to and from classes.
Of course, many beginners are young children, which means lightweight cases are best. The Protec MX044MT is the perfect lightweight case.
It is not expensive, but protects well. Plus, there are spacey pockets, perfect for the many sheets that students always carry around.
The case has a lot of different straps, making it perfect for transport. Whether you go by car, train, bus, or on foot, you have the right straps to adjust the case according to your needs.
The case itself is made of a combination of foam and nylon. This makes it quite lightweight, but still protects well against shocks and water. Once again, zippers are used to open/close both the case itself and the pockets.
There is one huge pocket outside (almost half the size of the case) and one smaller pocket on that bigger one. The pocket is perfect for sheets and other accessories.
Inside, a 4/4 violin can be stored safely in the padding and a neck strap is there to hold it down firmly. Two bow clips and a blanket are included as well.
Best Mid-Range Violin Case: Crossrock CRA420VFCH
Crossrock ABS Molded Backpack Case
Pros:
Indestructible violin case

Can be worn as a backpack

A perfect 4/4 violin fit
Cons:
No pockets, so not much space for storage of other things
View On Amazon
We earn a commission if you make a purchase, at no additional cost to you.
11/27/2023 03:14 pm GMT
For those who only seek protection, the Crossrock CRA420VFCH is a fantastic buy. The case does not have many features like the two previously mentioned ones, but its protective properties are fantastic.
This sturdy case is made of an ABS molded exterior and a hard foam interior. In other words, the case is pretty much indestructible.
It closes with both a zipper and lock, giving you extra security. Other features include only a D-ring and two straps for either shoulder or back carrying. In other words, it offers protection, but not much else.
Best Wood Violin Case: Roaring Iron Wooden Hard Case
Roaring Iron Plush Interior Wooden Hard Case
Pros:
Classical wood and leather style

Sturdy and durable

Neck strap, plush blanket, and bow space

Good for transport

Includes a hygrometer
View On Amazon
We earn a commission if you make a purchase, at no additional cost to you.
11/27/2023 03:04 pm GMT
Many musicians love traditional cases and this wooden case from Roaring Iron is the perfect one. It is incredibly sturdy.
The combination of high-quality wood and leather will protect your violin from any kind of damage, like shocks, hits, water, dust, etc.
There are no zippers, but locks. They do open by themselves and make your instrument more secure. The case has two straps for shoulder or back transportation, as well as one D-ring for your hands.
The interior is a combination of foam and plush, so the instrument will be tucked in perfectly. There is also space dedicated to bow holders and accessories, plus a hygrometer. It has no pockets though.
Best Violin Case For Air Travel: Yinfente Carbon Fiber Oblong Case
Yinfente Carbon Fiber Oblong Case
Pros:
Incredibly hard and durable

Fantastic for air transport

Sheet bag, bow space, and shoulder straps included
Cons:
The finish is not of the highest quality (will get scratched but protects just as well)
View On Amazon
We earn a commission if you make a purchase, at no additional cost to you.
11/27/2023 03:09 pm GMT
Musicians can't be too careful when traveling by plane and the selection of a case is quite important here. For those who travel a lot, the Yinfente carbon fiber case is the perfect pick.
The case is meant for regular 4/4 violins. The oblong shape makes it perfect for both hand-luggage compartments and regular luggage transport.
If you feel unease sending your violin with other luggage, rest assured this case can support around 100 kg of pressure on it. But if you're still worried, the size of the case is perfect for overhead compartments.
Both the zipper and the lock will keep the case closed. There is a D-ring for hand carrying and two straps for the back or shoulder. In addition, there is a sheet bag and space dedicated to two bows.
Violin Case Buying Guide
As a violinist, choosing the case for your violin is a very delicate and important undertaking, because the case is responsible for protecting your valuable instrument from damage.
It will accompany you in all your movements with your violin. For this reason, before proceeding with the purchase, it is good to research the various models that are available on the market, and educate yourself on the dimensions, the weight, the amount of protection offered, and the most reliable brands.
Let's take a look at the most important criteria when selecting a case for your violin, whether is is a top beginner violin, an expensive professional model, or an electric violin.
Form
There are various types of cases on the market with different shapes. The shape affects the size and weight, and the space available for storing the instrument, and often also various accessories, strings, and scores. The most common shapes are:
rectangular/oblong
violin-shaped
triangular
half-moon
Materials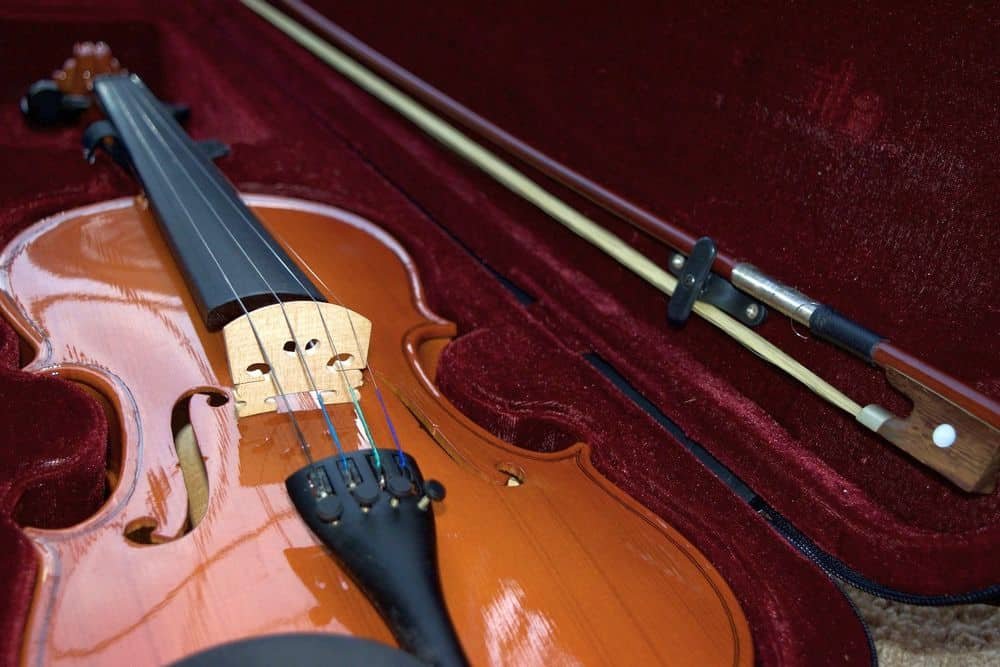 Carbon fiber, wood, or plastic? Choosing the right material is important, in order to properly safeguard our instrument.
The best materials for the outdoors are fiber glass and carbon fiber. They tend to be more durable and resistant.
In the past, wood was also commonly used. But it is heavier and thus less comfortable to carry. The more advanced materials available these days just do the job better.
Two other less expensive materials used are plastic and foam, which are perfect if you will be transporting the case in a car, without the risk of bumps. Otherwise, better to pay a bit more and go with something more resistant.
Weight
The weight of a case can vary between 1.5 kg and 4 kg and generally depends on the materials used and the dimensions. The larger the case, the more objects it can hold and the more it will weigh.
The choice of a lighter or heavier model is subjective. You'll need to take various factors into account, not the least of which is your (or the musician for whom you are buying a case) physique. A child will need a lighter case, for example.
Dimensions
To choose a case that is compatible with your violin, you will have to take the measurements before purchasing. Generally, the cases have a standard size that fits almost all 4/4 (or full size) violin models.
But, there are also other measures and they are calculated in the form of a fraction. There are 3/4, 1/2, 1/4, 1/8 violins, and so on. 4/4 violins, measuring approximately 58 x 35 cm, are the largest and intended for adults.
Practicality
If you are looking for a violin case, it probably means that you intend to carry your instrument around. For this reason, you will want to take into account some extra accessories that can make your case more practical to handle.
The first thing to consider is the presence of hooks, straps, and buckles that allow you to carry the case like a briefcase or on your shoulder like a real backpack.
Inside the case, it is good to have a velcro strap that fixes the violin in place, in order to prevent it from being damaged when moving. Finally, many cases have a suspension system that is very useful if your case falls down.
Some models also have pockets, internal or external, where it is possible to store and transport all the accessories of a violin. These can include violin shoulder rests, bows, sheet music, and all that is necessary for a music lesson or a performance.
Design
The aesthetics of the case are usually not among the first factors to look at when choosing a case, but once we have identified the one that meets your quality standards, you can also focus on the design.
Safety
The safety of the violin is obviously our top concern. In this regard, there are two elements to evaluate.
The first is the type of closure on the case. This can be a simple zipper or a combination lock. The choice of the protection system depends a lot on you and your lifestyle.
If you often leave the violin unattended, then it might be appropriate to go with a lock. Otherwise, a normal zipper closure is probably good enough.
Another object often found in cases is a hygrometer, which measures the level of humidity. This helps you ensure that neither the shape of the violin nor the quality of its sound is compromised by a humidity level that is too high.
Best Violin Case: Final Thoughts
We've mentioned a few times that the best violin case is subjective. Every violinist has different needs and the same case will not be ideal for all of them.
We found 5 great cases that are all amazing value for money. They have different styles and materials and also fall in different price ranges. Whatever your specific needs, we hope one of the violin cases listed above can meet them.