The MV500 from Mendini is a deep budget violin that is a good choice for beginners, though it is not our first choice.
Mendini By Cecilio Violin MV500
Elegant Design: hand-carved 1-piece maple back, neck and sides, beautiful varnish finish and inlaid purfling.
Learning Kit: includes 2 bows, extra set of violin strings, a quality rosin, adjustable shoulder rest with padding, a chromatic string tuner with metronome, and a lightweight hard case fashioned with backpack and shoulder straps.
View On Amazon
We earn a commission if you make a purchase, at no additional cost to you.
06/09/2023 02:12 pm GMT
The reason for that is some minor issues with the construction, but overall, it is a great instrument for a beginning student, especially if you are not sure you or your child will enjoy the violin and want to keep playing beyond a few weeks or months.
We still prefer the Bunnel Clearance Violin, but it is a close decision. This one costs slightly less and some will undoubtedly prefer the distinctive fiery finish of this one, but the Bunnel is a better instrument.
The only reason that one sells for the price it does is that it has some minor cosmetic flaws. They are hardly noticeable and allow you to get a great instrument for a lower price.
All that said, you certainly won't go wrong if you opt for the MV500 instead. Let's take a closer look and hopefully help you decide if it is the right model for you or your child.
MV500 Violin Review
The Mendini MV500 is made from quality components, unlike almost every competing model selling for a similar price.
The back, sides and neck are all made from single-piece hand-carved maple, while the top is made from solid hand-carved spruce. The instrument is finished in a beautiful varnish with a fired look that makes it unique.
The fingerboard, pegs, chin rest, tailpiece and the detachable fine tuners are all made from ebony. While the materials are good quality and the construction of the body is excellent, there are some issues with the bridge or pegs on some instruments, but not on others.
Basically, there seem to be some quality control issues, which is to be expected at this price, I suppose. The biggest problems are actually with the extras, so I wouldn't get too excited over those.
What you get along with the violin are: a Cecilio 92D chromatic string tuner with metronome, two Brazil wood bows with unbleached genuine Mongolian horsehair, a lightweight hard case, an adjustable shoulder rest, two bridges, a rosin cake, and an extra set of violin strings.
The instrument is also covered by a 1-year warranty against manufacturer's defects. The accessories are all good, but not eh best you can get, of course.
If you are going to do a lot of international travel with your violin, for instance, you want to make sure you get the best violin case for air travel you can afford.
Mendini MV500 Violin Pros
The primary advantage of this instrument over most others is the price. Although there are lower priced models available, we don't recommend any of them.
This one is not our top choice either and, if at all possible, we suggest paying a bit more to get at least the Bunnel Student or Clearance models.
But if you do want to stay within a strict budget, then this is easily the best option. The main reason for that is the body.
The MV500 body is well made from quality materials. Even though some of the details, like the strings, bridge, pegs, etc. are not always done well (it varies from one instrument to the next due to poor quality control), as long as the base is good, the violin is playable.
We recommend taking it to a luthier right away and having them fix up some of the issues. It should cost you around $70 and results in a far better sounding and playing instrument.
Of course, once you add in that $70 to the sales price, it ends up costing more than a better violin. And that is the main reason we recommend spending a bit more for something better.
If you do get this model and don't have it fixed up, it still works. It just doesn't sound amazing. But if you or your child are just starting out and you're simply trying to figure out if the violin is something you or they will continue to pursue for a long time, then this instrument makes a lot of sense.
Another big pro are all the extras you get, though many of them are fairly low quality. They were already listed above, but they are: a case, two bows, strings, spare strings, a tuner, rosin, a shoulder rest and a spare bridge. Mendini also gives you a 1 year warranty.
Cons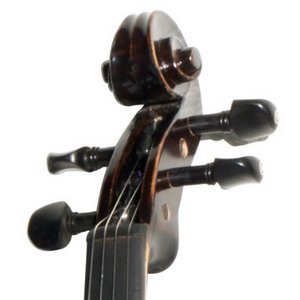 The biggest disadvantage of the MV500 is poor quality control. Most units will be fine, but some will have construction issues.
The base body is always well-made, which is the most important thing. Problems arise with the details.
Some instruments come with a bridge that needs to be sanded down before it can be used, or a fingerboard that is painted poorly so that the color rubs off on your fingers, or pegs that are not fitted properly.
The included strings are also very low quality and you'll probably want to replace those at the very least. They are quite tinny and sound very muted when fingering, though they aren't too bad when open.
The shoulder rest is also poor. It is small and uncomfortable, with a stiff cushion that does not really deserve to be called "cushion." The unpadded plastic part ends up digging into your collar bone, which makes it a pain to play for any length of time. The shoulder rest is adjustable, though, which is not often the case with cheap violins.
Finally, the rosin included in the package is also substandard. You'll constantly have to re-rosin your bow. I wouldn't bother using it at all.
Mendini MV500 Violin Review: Conclusion And Rating
The Mendini MV500 Violin is a good choice if you or your child are just starting out and you are not yet sure if you or they will continue the violin long term. It is also a good choice if you are on a strict budget.
If you can afford to pay just a bit more, we recommend moving up to one of the Bunnel violins. The Clearance model is one of our favorite low-cost beginner violins, because it sells for a much lower price than it should due to small cosmetic flaws that don't impact the function at all.
The Bunnel Pupil Clearance violin costs even less, but is also not as good as the premiere Clearance one, though it is better than this one by Mendini.
If your budget doesn't allow for even the MV500, then the only cheaper model we would consider is the Cecilio CVN-300. We definitely prefer the MV500, but if you need to save as much as possible, go with the Cecilio.
Because the cost is low and the body is well-made, we give the Mendini MV500 a Musicaroo rating of 3.5 out of 5. We definitely had to deduct points for the quality control and also the poor extras, like the bows.