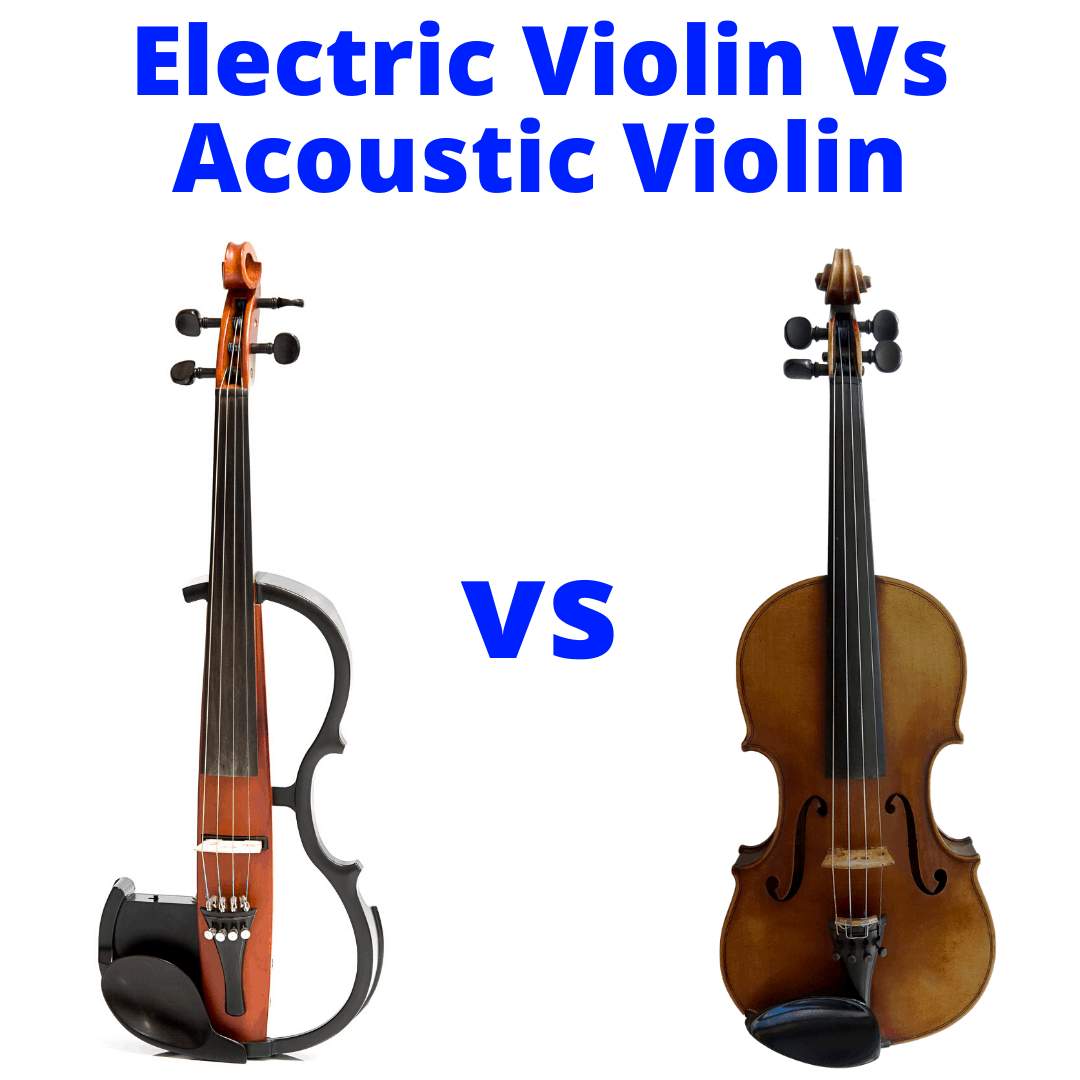 Isn't it obvious?
I mean, look at them. They look totally different!
Yes, but there are differences apart from the physical appearance.
And sure, those differences are also obvious to some.
If you already know all of the differences of the electric violin vs acoustic and you know exactly which one you want, there's no need to read further.
But if you're wondering how these two instruments compare in ways other than just the physical appearance, we're going to cover all of that.
We'll also get into the advantages of each instrument, and explain when it makes sense to get one or the other. That will help you figure out which one is right for you.
Electric Violin Vs Acoustic Violin
While electric guitars are obviously the most popular example of an acoustic instrument "reinvented" as an electric one, the electric violin is another example of this evolution.
Although it is not nearly as widespread as the electric guitar, the electric violin is becoming increasingly popular. But it is also a bit "controversial."
The reason for the controversy is that the violin is primarily known as a classical or traditional folk music instrument. And both musicians and audiences of these genres expect the pure, natural, mellow tones of acoustic wooden instruments. They look down on anything else.
For that reason, the electric violin is not used in those genres, but its experimental nature has led to increased use in others. And that's not the only difference between the two instruments. We'll take a look at those differences here.
Differences Between Electric And Acoustic Violins
Before we get into all of the differences, let's first look at what remains the same. Essentially, these two instruments rely on some same principles.
Even though electric violins can look very different, the same basic components are there. And the best electric violins are now high-quality instruments that can be used professionally.
Both have the same parts: body, neck, headstock, tuning pegs, fine tuners, tailpiece, bridge, and chin rests. Both instruments are played with a bow and are held pretty much the same way.
But that's where the similarities end. Now let's take a look at the major differences.
Construction
The main, and most visible, difference is the body construction. Unless we're talking about acoustic-electric violin models, which are essentially acoustic violins with contact piezo pickups, electric violins have a solid and minimalistic body.

While the body of an acoustic violin is a resonant chamber with "F" holes that amplify the sound of the strings' vibrations, electric violins have no resonant chamber. In most cases, they have a simple frame and a wooden block as the main part of the body. When played unplugged, electric violins are almost silent, similar to electric guitars and basses.
While the use of different tonewoods can completely change the tone of acoustic violins, this is not the case with electric ones. The body resonates a little, but most of the sound depends on the pickup and the electronics.
Some solid-body electric violins have slightly bigger bodies than others and in these models, the wood resonates more and has some impact on the tone. But, it's still nowhere near as much as acoustic violins.
Some electric violins also use composite materials for body or neck construction. In some rare instances, electric violins have a "headless" construction, with tuning machines located on the tailpiece. This is the case with NS Design's violins.
Pickups
How an electric violin works to produce sound is also very different. In order to amplify the vibration of strings, electric violins have pickups.
In almost all cases, these are piezo sensors that pick up the string vibration and convert it into an electrical signal
By plugging the instrument into an electric amplifier or a PA system, this electrical signal then goes through the speakers and is converted into sound.
There are some instances where an electric violin uses magnetic pickups, like you find on electric guitars. However, these are rare and are mostly limited to experimental purposes.
If you want to further amplify the signal of an acoustic violin, you can use any type of instrument microphone. The best solution is usually the clip-on mic that lets you move the instrument freely while performing.
Another solution also includes a contact piezo pickup, but the sound might not be as convincing as a good microphone. Either way, any of these setups still sound different than solid-body electric violins.
Design
We all are familiar with the look of the the body, neck, and headstock of conventional acoustic violins. Electric violins are just a whole new world when it comes to their design.
While the basic components are all there, it seems that there are no limits with the body shapes. Many electric violins have frames that replicate only the basic contours of the conventional violin.
Then there are some extremely "minimalist" examples, as well as some that replicate the bodies of electric guitars. Since there are no resonating chambers, electric violin designers have more artistic freedom.
In most cases, the rounded base of the bottom stays the same. This way, you can use any chin rest that you would on an acoustic violin.
Feel Of The Instrument
Because electric violins have solid bodies, they resonate far less than acoustic violins. This makes the feeling of playing these two instruments drastically different.
Violinists often rely on the resonance and feel the vibrations of the strings and the body on their shoulders and chin. This way, they have more information about what's going on and can have more control over their playing.
The body sizes are also different. While the center of gravity is usually the same, holding each of these two instruments feels different.
Additional Differences
While we're used to seeing violins as 4-string instruments, it's not that rare to find a 5-string electric violin. The conventional tuning is G, D, A, E from the lowest to the highest string.
With 5 strings, there's an additional C below the bottom G string. This allows electric violins to enter the territory previously reserved for violas. I even recently read a story about someone who 3-D printed a 6-string electric violin!
In some rare instances, we can also find electric violins with frets. This is where some violinists draw the line and call this a completely different instrument.
In some ways, the fretted electric violin's tone is similar to electric guitars. The frets limit vibrato, but their addition has other advantages.
Advantages Of The Electric Violin
We can't really say which is better or worse. The choice comes down to personal preferences and your goals as a musician.
Just like with electric guitars, the biggest advantage of electric violins is that you have more options to shape the tone.
With the string vibration "translated" into an electrical signal, you can even use digital processing units and add distortion, chorus, reverb, echo, and many other effects.
Some are even using wah-wah pedals with electric violins. Having a full rig of different effects and other devices gives you full dynamic and expressive control over your music.
Classical and traditional violinists may look down on the electric violin as some kind of an elaborate parody of the original instrument , but it has found use in many other genres. Being able to shape the tone opens up plenty of options and the instrument can serve the same function as electric guitars in rock or heavy metal bands.
Solid-body electric violins can also help you avoid any unwanted feedback. If you're using microphones or contact piezo pickups, you can still get a lot of feedback in louder settings. When it comes to louder live shows, the electric violin is much easier to handle and control.
How much does an electric violin cost? Slightly more than a comparable traditional violin, at least in the lower price ranges. There are no electric violins with long histories that sell for thousands, or even millions, of dollars.
Advantages Of The Acoustic Violin
No matter the features and bells and whistles, electric violins can never fully replicate the sound of conventional acoustic violins. Many traditional violins are hand-crafted with such care, that even the slightest nuance in the way they're built can change the overall sound.
And that is the biggest advantage of an acoustic violin: its natural tone. You cannot really get that sweet and mellow sound from an electric violin.
True, it might be a bit tricky to get that sound just right for larger live performances and studio sessions, because you'll need to work with microphones. But at the end of the day, there simply is no replacement for the great natural tone of an acoustic violin.
Some musical styles are unimaginable without an acoustic violin. In most cases, classical, country, folk, and even some jazz violinists would never consider an electric model. To them, an acoustic violin is the only way to go.
Why Get An Electric Violin?
There are two main reasons you should play the electric violin instead of an acoustic one.
First, if you're playing live shows with louder bands or orchestras, then an electric violin can give you not only more control over your sound but also significantly reduce any chances of experiencing feedback. This is especially useful if you're playing in smaller venues, like bars, restaurants, and even some smaller outdoor stages.
The second reason for getting an electric violin is if you're playing genres other than classical and traditional folk. In recent years, we've seen rock and heavy metal bands where the electric violin takes the lead role. The same can be said about jazz, blues, and even pop music. If these are the genres you play in, and if you feel like experimenting, then an electric violin is the right choice for you.
Why Get An Acoustic Violin?
On the other hand, if your main passion is classical, country, traditional folk, or traditional jazz music, then you should go with an acoustic violin.
While there are some cases of violinists using an electric instrument in these genres, this is mostly reserved for experimental or entertaining settings. You cannot really expect to have an electric violin in a philharmonic orchestra or any traditional music ensemble.
Electric Violin Vs Violin: Final Thoughts
While they are both violins, these two instruments essentially fulfill different purposes. You should not look at the electric violin as a replacement for a traditional acoustic violin. It can never replicate the natural tone.
Instead, view the electric violin as a separate instrument that is based on a regular violin. As such, it fulfills a different role. And if you are looking for an instrument similar to the violin, but that allows you to experiment and to play live shows with your rock or pop group, the electric violin is perfect for you.
If you don't have one yet, check out our buyer's guide.