Violins are famously expensive.
We've all heard about violins selling for many millions of dollars.
But those are famous instruments with a lot of history.
How much do violins cost if you are looking for a regular instrument?
Maybe an entry level violin, or something for an intermediate player? Or even a professional violin?
Keep reading to learn how much you can expect to pay for a violin in each price range.
You'll see that you can get a violin for less than you probably think, although they are still one of the more expensive instruments relative to their size.
How Much Do Violins Cost?
Violins can cost from $50 to millions. The range of violin prices is vast. You can find a super-cheap $50 instrument through an online retailer up to several million dollars or even more.
To make things simpler, we usually put them into three categories:
Entry-level: $50 to $800
Intermediate: $1,000 to $3,000
Professional: $3,000 and more
Factors That Affect The Cost Of A Violin
Although the violin feels like a straightforward instrument, there are plenty of nuances that make a world of difference. Even what seems like the simplest change in design can affect the performance and tone.
Although there are numerous factors, they could be summed up into a few categories. These are:
Type of wood used for the violin
Craftsmanship or how it was made
Condition and age
Size
The instrument's origins and history
Current market
What's a bit tricky with violins is that some of them get more expensive with age. Additionally, the market can affect the price, at least for some specific violins.
And although the materials, the way it was built, and the overall condition affect the price, it seems that these other factors have the biggest impact.
For instance, a violin that was built by a legendary luthier like Giuseppe Guarneri or Antonio Stradivari will change in value over the years and depending on the current used market. However, they always come with an astronomical price tag.
As for beginner, intermediate, and some professional violins, prices are much more modest. And more realistic, in a way, since there is no history attached to the instrument. It's also worth noting that violins are, on average, pretty expensive instruments.
Price Range For Beginner Violins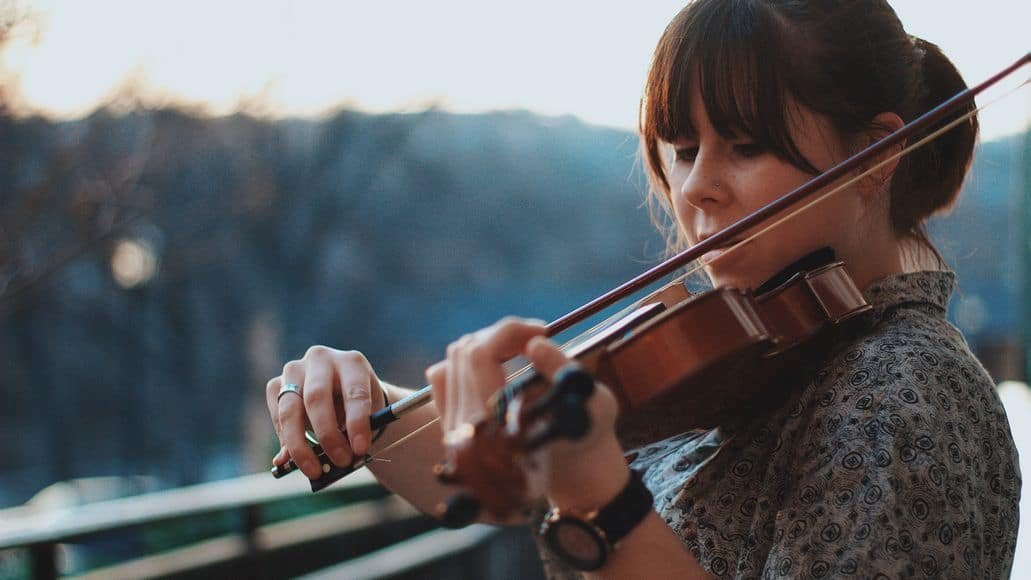 For the most part, beginner-oriented violins, also known as "student" violins, go up to $700 or $800. Although they're labeled as beginner violins, going to the higher prices within these limits can get you a pretty decent instrument.
In fact, some of these can be used for frequent gigging. That said, you'd never see an experienced classical musician doing concerts with such an instrument.
But as far as your "average Joe" violin goes, there's a wide variety of great choices within this price level.
In some cases, you'll be able to find super-cheap violins, even under the $100 mark. However, these are usually best to avoid, unless we're talking about hobbyists and absolute beginners.
In general, you should expect to spend at least a few hundred for a decent beginner violin. This article reviews to best violins for beginners, to give you an idea of the types of prices you're looking at.
Price Range For Intermediate-Level Violins
For the most part, we could categorize intermediate-level violins as those that fall within the $1,000 to $3,000 range. Compared to beginner-level instruments, these violins feature noticeably improved build quality, materials, and performance characteristics.
These are instruments you would find in hands of more experienced players, sometimes even professionals or semi-professionals.
One reason a professional violinist might use such an instrument is to not put their more expensive stuff at risk. They would use the intermediate violin for smaller performances, and their expensive instrument only for major ones.
But other than that, intermediate violins are usually for advanced students or those who are keeping things more budget-friendly. In most cases, these are "transitional" instruments that serve violinists on their path to becoming pros.
Price Range For Professional-Level Violins
Although people usually love to see more precise estimates, this is hard to achieve with professional-tier violins. We can roughly say that the price starts somewhere around $3,000.
That said, some may argue that we're being conservative. Certain musicians and critics expect a professional violin to cost at least $10,000. Maybe even more.
What we can say for sure is that these violins aren't mass-produced. They are crafted by professional luthiers with decades of experience. And they use specially selected and aged wood to build them.
Some legendary violins that were made all the way back in the 18th century are still in use today. These instruments reach some mind-blowing prices, even several million dollars. But you can also find some for only a few hundred thousand dollars.
Violins Can Be a Good Investment
Violins are expensive instruments on average, especially for something of their size. That may be a disappointment to some who are just starting out. Fortunately, some entry-level stuff is pretty decent these days and can serve you well if you're a hobbyist.
But on the upper end of the price range, while incredibly expensive, some of these master built violins can actually be a great investment.
You may wonder why certain people are ready to pay well over $100,000 for a musical instrument. But it's the same as buying artwork. In the longer run, these instruments will appreciate in price. If you hold them for many years, you could sell them at a hefty profit.
How Much Does A Violin Cost: Related Questions
Next, we will answer a few common questions related to the cost of violins. If you have any additional questions, please feel free to ask them in the comments below.
Is A $100 Violin Good?
For $100, you can get a decent violin for absolute beginners or some hobbyists. But even if it's a good instrument for the price, you can't expect much from a violin at this price.
Overall, you can't considered it "good", since it would not give you anything near a pro-level performance, especially if you are looking for great tone, very precise intonation, and dynamic expression.
How Much Should A Beginner Violin Cost?
In most cases, beginner violins cost anywhere between $50 to about $800. However, it's highly recommended that you go more toward the higher end of this spectrum, or at least start with around $400.
Is It Worth Buying A Cheap Violin?
Cheap violins can be a good option for beginners, hobbyists, or those uncertain whether they'll like the violin. However, if you're planning to reach the level of a more experienced violinist, you'll need to invest in at least an intermediate-level violin.
Is It OK To Buy A Used Violin?
It's ok to purchase a used violin, if you know what you're looking for. Old used violins that come with a piece of history can hold a lot of value.
How Much Is A 300-Year-Old Violin?
It depends on who made the violin, who owned it, its build quality, and its condition. It's very difficult to estimate the price for such a violin.
You would need an expert evaluation, if you're looking to buy or sell such an old instrument. The most expensive violin that is around 300 years old was sold for around $20 million.
How Much Do Electric Violins Cost?
Electric violins cost a bit more than similar regular violins on the low end of the price range. You can get a cheap electric violin for a few hundred dollars and a decent one for a bit over a thousand.
What you don't have with electric violins are instruments with history that cost multiple thousands, or even millions, of dollars. This article covers the best electric violins for beginners, to give you an idea of the types of prices you are looking at.
How Much Do Good Violins Cost: Final Thoughts
Violins can range from $100 to many millions. Obviously, the higher end of the range is made up of works of art and collector's items.
When it comes to violins the average violinist can own, you can get a decent entry-level model for a few hundred dollars (expect to pay around $400 for something that actually sounds good), and intermediate violin for a few thousand, and a professional-level instrument for $3000 and up.