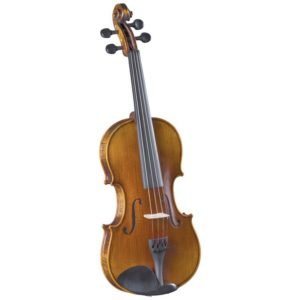 The Cremona SV500 premier artist violin is a handcrafted model that features well selected tone woods and transparent varnish highlights. Made from solid maple and straight grained hard spruce, this model offers smooth tones and a clean sound. Most consumers were pleasantly surprised at how easy to tune, handle and play this model really is.
Cremona Learning Violin Rundown
Buying a new violin, even for a beginner, can be a bit nerve wracking, especially if you're not sure how to identify signs that it doesn't offer the type of quality you're looking for. But this model by Cremona truly stands out from the crowd. While this is a company that has a reputation in the music industry for producing high quality pieces at an affordable cost, they really outdid themselves with this violin.
Designed for the beginner, this model is actually perfect for the advanced student or the pro. Equipped with a lightweight rigid foam case and a well-balanced bow, this is the complete starter package that has a lot to offer in terms of longevity, style and overall quality.
With first rate workmanship and tone, the lightweight four tuner tailpiece and prelude steel strings offers only the best tone quality for users of any age. The violin also comes with a solid, genuine horsehair bow, violin care products and a hard shell case.
>>> See Owner Reviews On Amazon
SV500 Pros and Cons
Pros
If you're looking for a step above a beginner's model, then this is the violin you've been searching for. This model provides a very open sound making it perfect for advanced players, and features an all-around solid build, which makes it the perfect choice for beginners or younger players.
Most consumers can agree that this model offers the best tone quality for the more advanced student. The flamed maple, combined with the hand applied red and brown varnish gives the violin an elegant, professional look. The Stradivarius chin rest is comfortably shaped. The ebony fingerboard and fittings and the lightweight composite tailpiece are all hand carved.
The solid body features an elegant finish and handcrafted details that give this violin the appearance of a violin suited for the pros. Consumers also reported that the customer service team is easy to deal with and quick to respond and resolve any quality issues.
Cons
Some consumers reported that the pegs tend to slip frequently while tuning, but the use of peg dope can remedy this issue. While the body of the violin is best described as beautiful, the neck on the violin looks like it has been hastily done.
Some consumers complained that the violin's sound post is shorter than standard size. Consumers who are looking for a more entry level model can learn more about the D Z Strad Violin Model 101, which is offered at a comparable price.
Cremona SV500 Premier Artist Violin Review Conclusion and Rating
Marketed for the beginner, the Cremona SV500 Premier Artist Violin provides a clean sound and offers excellent quality, which is why we also recommend it for the advanced player. Consumers who purchased this model gave it a rating of four and a half out of five stars for overall quality and style. A beautiful, well-crafted violin. The affordable pricing makes it a steal.