Your violin is safest at home.
There's no doubt about that.
But sometimes you have to travel with it. If you take the proper precautions, this shouldn't be a problem.
Then there might be times where you have no choice but to ship your precious violin.
This is far riskier, since you are leaving it in the hands of strangers.
But you can minimize the risk by taking certain precautions, to ensure the best possible chance of your violin arriving at its destination in one piece.
Keep reading to learn how to safely ship a violin. We'll also cover what you need to know about taking your violin with you on an airplane.
How To Ship A Violin Safely
The most important factor in shipping a violin safely is how you pack it. So let's cover the best way to pack a violin for shipping.
Packing Your Violin For Safe Shipping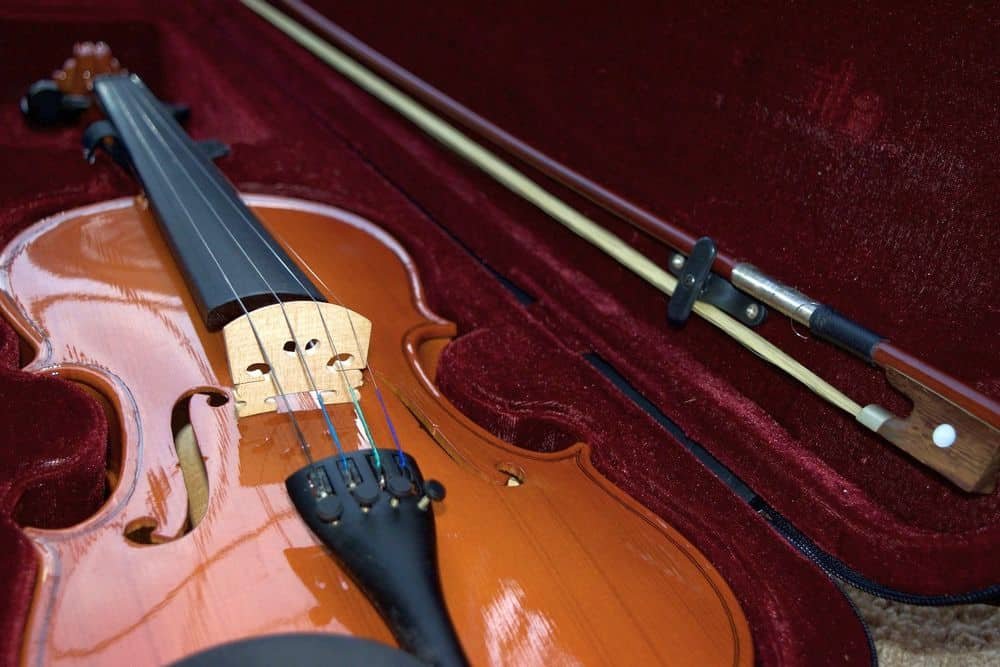 Follow these steps to get your violin packed correctly, to ensure it arrives at its destination safe and sound.
Step 1: Put It Into The Case And Make Sure Everything Is Firm And Tight
As mentioned, the most important thing to consider when sending an instrument by mail is the way you pack it.
Always place the violin inside the case with the bow and all the other necessities. If possible, it should be a rigid case, because they offer far more protection.
Anything that cannot be placed in a case, like cleaners and extra strings, should be stored well in a separate compartment. But you might as well get a case that has space for those. The best violin case for someone who needs to ship their instrument is one with space for all of the accessories.
Step 2: Put The Case Into A Box And Protect It
Pack the violin in a box in which it fits comfortably. Protect it by filling the interior with packing paper, bubble wrap, or any other material that serves to cushion any blows.
A cheap option is to take advantage of material you already have at home. For example, you can make balls of newspaper and use those as cushioning material.
Remember that 90% of shipping damage is due to poor packaging, so a good box and good protection will go a long way toward preventing damage. A violin costs a lot, so go ahead and spend a bit more to make sure your investment is protected.
Step 3: Reinforce And Label The Exterior Of The Box
Use adhesive tape to close the edges and sides of the box, thus reinforcing the exterior. The more tape the better. Don't try to save money on tape! Your violin is much more precious.
Carefully mark the boxes to indicate that they contain fragile items. Affix stickers or write the words "Fragile" or "Fragile Items" on all sides, so that the mail carriers know to treat them with care.
Use a marker in a different color to highlight the label. And you can also label the box with ordinal numbers, so you know the priority of unpacking in your new home.
Step 4: The Shipping Label Should Be Easy To Spot
Place the shipping label on the outside of the box, including your address as the sender and the address to which you are sending it.
The best place for a shipping label would be on top of the box (the "Fragile" label should go there as well). That way the customs and couriers can read the information without rotating the box too much.
Step 5: Always Go With Specialized Couriers If Possible
Although the procedure is very simple and totally safe and you can do it through any courier service, either with a transport agency or even by post, it is always best to go with people who have experience and expertise. That way you minimize the chance of accidents.
Hire professionals to move fragile items. You do not need to do any moving yourself, especially when it comes to fragile items, like a violin.
So call a courier agency that has all the necessary packaging materials and staff with experience in moving fragile items.
To get an idea of ​​how much it might cost to ship your instrument, there are some websites that work as a comparison engine for different courier companies.
Step 6 (Optional): Use Insurance
Finally, you also have the option of insuring your shipment so that it is covered in case of theft or loss. Ask the parcel company for the options they offer.
Normally, for a small amount you can have your instrument covered in case something happens during the transfer.
If you prefer to have your instrument insured throughout the year, there are also insurers with a specialized plan for musical instruments. You will be able to obtain coverage not only for the transport of your instrument but also for stays abroad or specific events.
Packing Violin Accessories For Shipping
Before you start packing, be sure to sort all the violin accessories you want to bring with you. If you decide to pack the items before sorting them first, you will most likely spend much more time on the process. A little time spent organizing now saves a lot of time later.
After sorting, secure the boxes by strengthening the bottom of each with self-adhesive packing tape. This is just a precaution and skipping this step does not necessarily mean that the boxes will break. But why not do as much as you can to reduce the risk of any damage?
Then place soft paper and bubble wrap on the bottom of the box to provide the necessary protection.
Place objects next to each other, with minimal space between them.
If there is an empty space in the box, fill it with packing material to prevent movement.
Lastly, place paper and foil guards around the sides and on the top, just as you did at the bottom of the box.
Can You Take A Violin On A Plane?
Of course, you can. There are 3 ways to transport your musical instrument onboard:
As hand luggage in the aircraft cabin.
As checked baggage in the aircraft hold.
By reserving an extra seat next to yours.
To carry a musical instrument as hand luggage, you will have to check the policies of your airline. They are all different in what they allow.
Please note that if you bring your instrument into the cabin of the aircraft, you will not normally be allowed to carry anything else as hand luggage.
There are some airlines that do allow two pieces of hand luggage, in addition to another small travel bag, a briefcase, a camera, etc.
To check a musical instrument, you will have to consult your airline's policy for checked baggage. In this case, the instrument must go inside its case, and be as protected as possible. You will have to take into account the additional costs for special baggage types.
Basic tips for traveling by plane with a musical instrument:
Given the value of some musical instruments, it is always a good idea to take out some type of insurance for the journey.
Transport them inside a rigid suitcase.
Consider the possibility of renting an instrument at your destination, instead of risking yours.
Before flying, find out in detail about policies of your airline when it comes to transporting musical instruments; consult some of the big airlines first and compare options.
Shipping A Violin Safely: Final Thoughts
Shipping anything always carries some risk with it. We've all seen the videos of couriers treating packages like footballs (both the American ones and the global, i.e. soccer, ones), tossing them or kicking them up to the front door.
If at all possible, do not ship your violin. But if you absolutely have to, follow the guidelines above to ensure the best possible chance of your violin arriving intact.
As long as you pack it securely, it will be able to withstand all but the worst beatings. It should definitely be able to survive being shipped under any standard conditions.