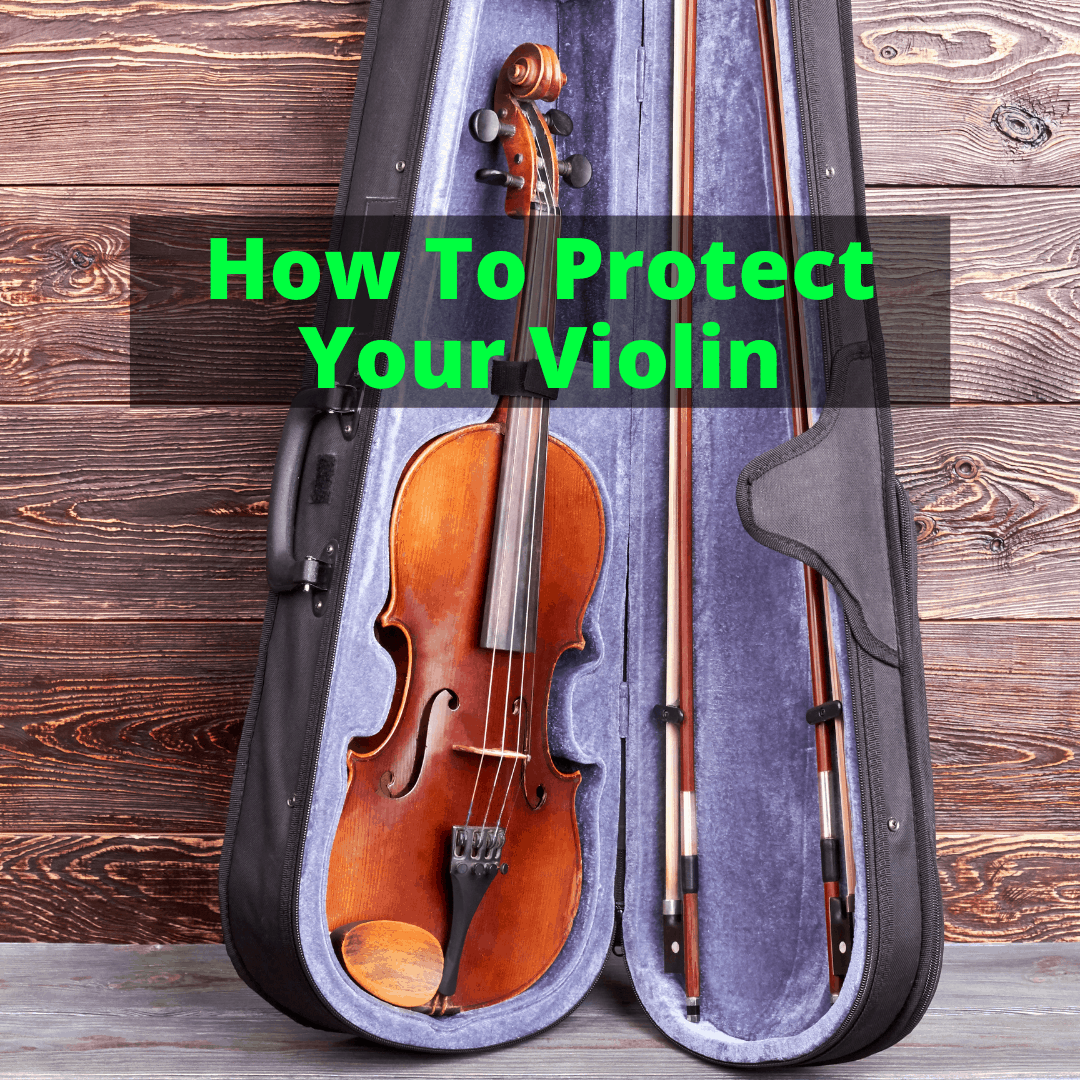 A violin is a fragile wooden instrument.
If you drop it, it can break. If it's too dry, the wood can crack.
If it's too humid, the wood can expand, making the pegs impossible to turn.
And if your fingers are too oily, the oil can damage the varnish on your violin.
It is the beautiful balance between all the delicate parts of the violin that delivers the timeless sound we all love.
Understanding how to protect your violin will ensure that sound is well preserved for generations, along with the value of the instrument.
In this article, we give you some of the best tips for protecting your violin, whether you have a priceless real Stradivarius violin or a simple budget instrument.
Tips For Protecting Your Violin
The following tips will all help protect your violin, to keep it in excellent playing shape and to preserve its value.
Wash Your Hands
Before you practice your violin, you should wash your hands of any oils and grease. Because these can actually damage the varnish on your violin.
Violin varnish is used to protect the wood of the instrument from its surrounding environment. But more importantly, varnish can affect the overall tone of the violin.
Even if you're playing a beginner violin, you want to get in the good habit of washing your hands before you play your instrument.
Get A Decent Violin Case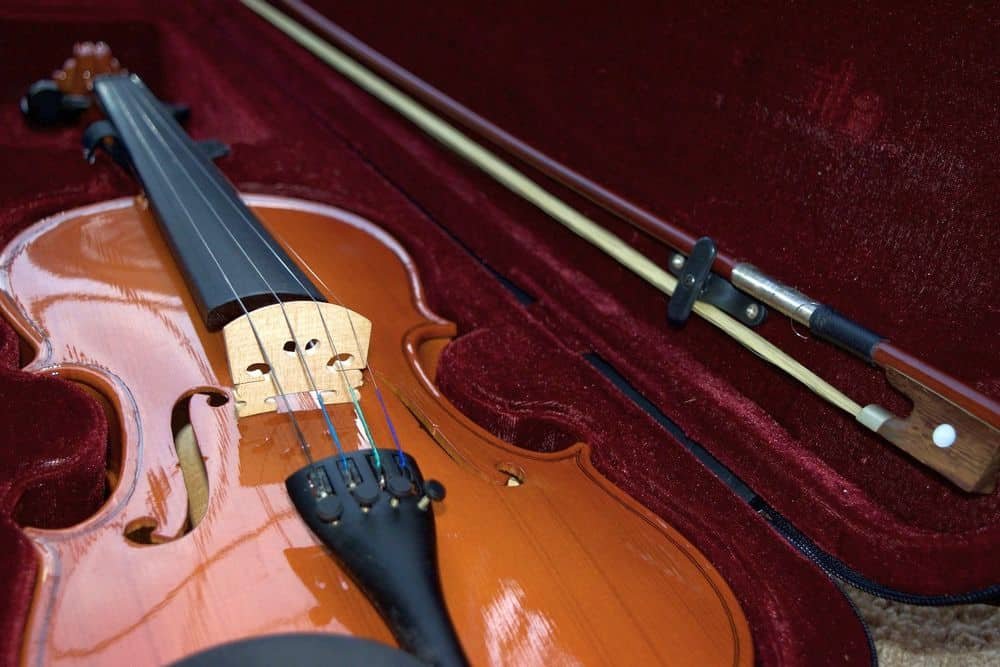 A good case will protect your violin from physical and environmental damages. A good case is one that is protective, durable, and temperature-resistant.
A protective case is made of strong materials, such as thick wood, fiberglass, carbon fiber, polycarbonate, and other modern materials. An un-protective case is usually made of styrofoam, or thin pieces of wood.
A durable case is one that'll last you for decades. This means strong hinges, locks, and zippers.
How do you know if a case is durable?
By the reputation of the brand. Popular brands are popular for a reason. Try to avoid cases with no names or brands.
A temperature-resistant case will protect your violin from dangerous temperatures. Wood is one of the best materials in terms of temperature resistance.
Carbon fiber is one of the worst. It absorbs heat at a rapid rate. If you leave a carbon fiber violin case in the trunk of a car on a hot summer's day, the wood of your violin can warp.
Learn more about buying the best violin case for you and your instrument.
Control The Humidity Of Your Case
If you live in an environment with more extreme humidity levels, there's only so much a case can do.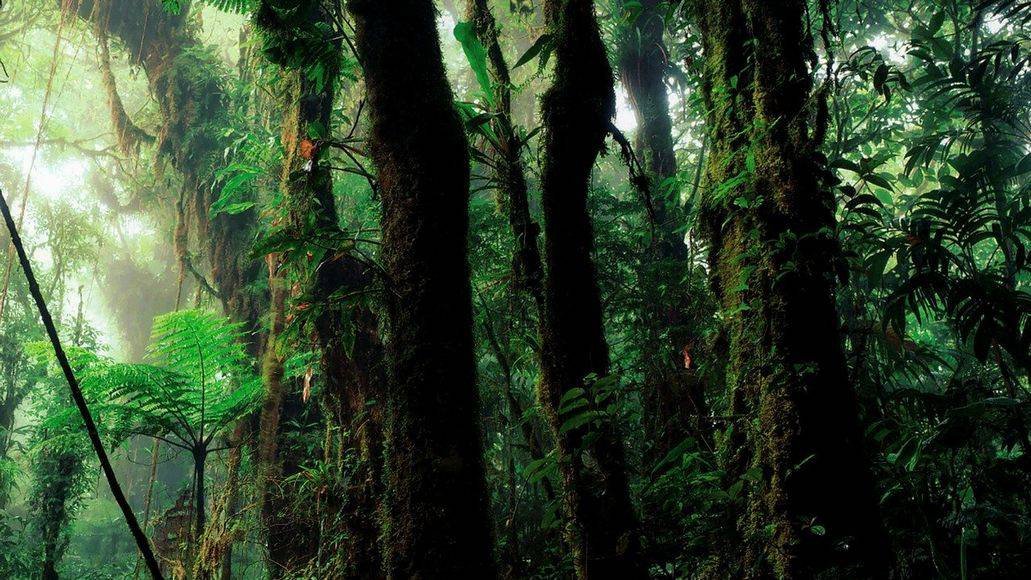 Really dry environments can cause the violin to crack, while humid environments can cause the wood to expand. This makes the pegs much more difficult to turn. It can also warp the sound box, which negatively impacts the tone of the violin.
The ideal humidity level for a violin is between 45% to 55%. If you live in an environment where summers can reach 70% humidity for several months (such as New York), you should consider getting a humidity kit.
Humidity kits are designed to go inside the case, where the violin spends most of its time. A good kit will regulate the internal humidity levels of the case, keeping the humidity level between 45% to 55%.
You want to make sure to get decent humidity kit, like two-way humidity packs, that can regulate both dry and humid conditions, or dehumidifier blocks, that can evenly reduce the humidity level and keep it at 45% to 55%.
Poor humidity kits are those that require tubes of water or cheap silica packs. With the tubes, you'll have to watch out for leaks. The last thing you want is a loose humidity tube that leaks water all over your violin, causing water damage.
Silica packs can absorb the moisture within cases if the humidity level is too high. However, they absorb the moisture very quickly, causing the humidity level to decrease at a rapid rate.
Even though they can get the humidity level down to 45%, drastic changes in humidity can also damage a violin! So you'll want a humidity pack that can reduce humidity levels at a slow and even rate.
Having the right humidity is one of the most important considerations when figuring out how to store a violin safely. So make sure you get this right.
Wipe Your Instrument After You Practice
Another good habit is to wipe your violin after each practice. This prevents rosin dust from caking and becoming residue on your violin.
Rosin dust is really the "silent killer" for violins. It can build up over time, creating unwanted white patches on your violin that seem almost impossible to wipe off, especially if you skimp and don't buy a good violin rosin.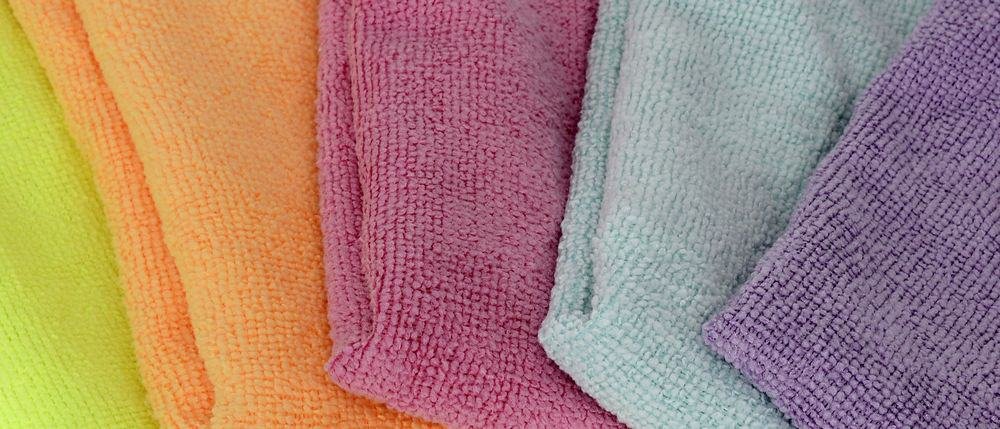 There are violin cleaners designed for removing rosin buildup, but these should always be used sparingly and as a last resort. Most cleaners contain alcohol, which is great at removing the rosin residue, but can also strip the varnish right off your violin if used in excess.
We would also suggest using two separate cloths to clean your violin. One for wiping off the rosin dust, and the other for wiping the rest of your violin. If you use the same cloth, you would be spreading the rosin dust to other parts of the violin.
For removing rosin dust, try using microfiber cleaning cloths. Microfiber is a soft material that is positively charged. This means it can attract negatively charged dust and oils, almost like a magnet. This makes it ideal for picking up little rosin dust particles within the fine ridges of your violin.
Get An Instrument Blanket Or Violin Pouch
Most cases come with instrument blankets. This is to protect the violin from the rosin on your bow.
As you carry your case, rosin dust can easily come loose from the bow. Even gently placing your case on the floor can cause little vibrations that shake the rosin dust off your bow. Having a cloth barrier between your violin and bow is ideal.
Many professional violinists also get silk violin pouches. The entire violin is placed within the pouch, so that no dust particles fall on the violin while it's in the case.
Check The Bridge Alignment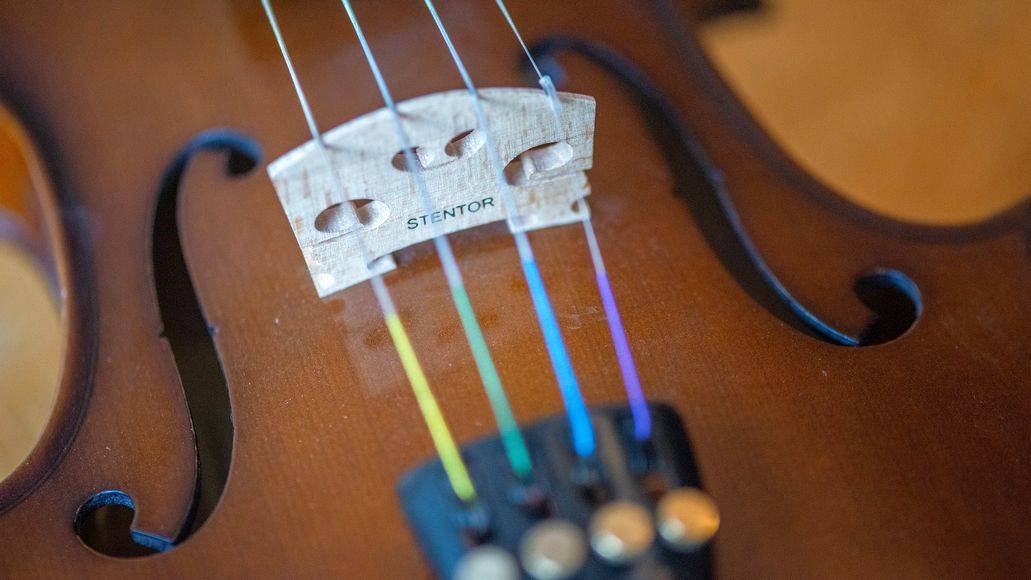 A violin's bridge should always be at a 90 degree angle to the body of the violin. As you tune the strings of your violin, you're increasing the tension of the strings slowly over time.
This tension can slowly pull the bridge forward, causing it to warp slightly. An improperly positioned bridge leads to all kinds of potential issues, like your violin squeaking when playing.
You can easily re-align the bridge by loosening the strings slightly, and adjusting the top of the bridge so that it is completely straight again.
This prevents the bridge from toppling or falling off over time, which can lead to unwanted chips and scratches on your violin. Keep in mind, a well preserved violin can grow in value over time.
Check For Unwinding Or Frayed Strings
The goal here is to change the strings that are in danger of snapping. You wouldn't want a string snapping under the tension and scratching your violin, or worse, your face. Make sure the tuning pegs are not slipping or too tight, too.
Protecting the violin is not just about protecting the sound of the violin, but the value of it as well. As mentioned before, good violins can grow in value over time. Every scratch or chip on the violin can cost hundreds of dollars in the long run.
Visit A Luthier
Visiting the luthier should be like visiting your family doctor. You go once a year just to make sure nothing is wrong with your violin. A luthier can take preventive measures to ensure that your violin is in tip-top shape, and the sound is well preserved.
However, it's still extremely important to continuously clean the violin yourself. Don't expect a great luthier to use "magic" cleaning solutions to clean off a year's worth of rosin residue on your violin.
Think of it this way. You want a luthier to check your violin, not "fix" your violin.
Protecting Your Violin: Common Questions
How much should a good violin case cost?
As mentioned above, a good violin case is important. But how much should you be paying for a violin case? This really depends on the value of your violin. Or the sentimental value you place on your violin.
It also depends on what you do with a violin. Some violinists are constantly traveling, and they need a travel-friendly case: one that is protective, temperature-resistant, and lightweight.
Some violins are inherited. And family members simply want a good case they can use to store the violin. This case would have to be durable and temperature-resistant.
So it's best to find a case that fits your specific needs. If you won't be traveling much with your case, you don't need to pay the extra dollars for a lightweight case.
Generally, a decent violin case that is protective, durable, temperature-resistant, and lightweight will cost more than $500.
Why do violin cases get so expensive? Because a lot of clever engineering is required to manufacture a case with the four features mentioned above.
To make a case lighter, usually mean less materials. However, less materials may diminish the overall strength and protection of the case.
At the same time, you want the case to be temperature-resistant as well. So even with metallic materials that are strong and light, such as carbon fiber, you're at risk of the temperature damage caused by the metal heating up.
As you can see, making a case that is protective, durable, light, and temperature-resistant can be a real challenge!
But these cases are crucial, because they're often used to protect violins worth more than $10,000.
How can I find a case that'll fit my budget?
To find a violin case that fits a budget under $500, you'll have to decide which features you need the most, and which you're willing to sacrifice.
In general, you can find a good $250 case that'll have 3 out of the 4 features of a decent violin case.
For example, you can find a protective, durable, and temperature-resistant violin case made out of wood. But it may weigh 8-10 lb., which is considered quite heavy for a violin case.
You can also find $250 fiberglass cases that are protective, durable, and lightweight. But they don't have the best temperature-resistance. You may need to get an insulated case cover if you're living in colder climates.
Are there good violin cases under $100?
The majority of violin cases under $100 are made of hard foam, styrofoam, or thin plywood. These cases are lightweight, and temperature-resistant. Unlike metallic materials, foam does not absorb the heat or cold of the surrounding environment.
However, these cases lack two very important features: protection and durability. You wouldn't want to accidentally trip and have your entire weight on these cases.
And durability is by far the biggest issue when it comes to cases under $100. Think of cheap zippers. Even if the case itself was intact, broken zippers would still make the case unusable.
Other popular violin cases under $100 are gig bags and ABS cases. A good gig bag will be durable, lightweight, and temperature-resistant. But it is also the most un-protective type of violin case.
ABS violin cases are made of ABS plastics. These are usually bulky hardshell cases. They're generally protective, durable, and temperature-resistant. But they're also quite heavy.
This doesn't mean you should avoid violin cases under $100. If you had a beginner violin worth less than $400, we wouldn't suggest getting a $250 case, unless that violin had sentimental value.
But we do suggest that you be more careful with these cases. Don't pull on the zippers too hard. Don't swing your violin case around. And avoid placing it in areas where it can be a tripping hazard.
Is it safe to ship my violin?
There is always a risk with shipping items like violins. But you can minimize the risk of shipping your violin by packing it correctly and hiring a reputable courier service. Read our article on shipping violins safely for more.
How To Protect Your Violin: Final Thoughts
Whether you consider yourself a violinist or a fiddler, protecting your violin is a combination of keeping it clean, getting a good case, and ensuring the temperature is under control.
If you have the best violin case in the world, your violin can still be damaged if you're not consistently cleaning it.
If you clean your violin after each practice, but then leave it in the trunk of a car on a hot and humid day, the violin can warp.
And even if you keep the humidity level of your violin well balanced, but your friend accidentally trips over your styrofoam case, your violin can break.
You definitely want to make sure you're paying attention to all three areas of protecting your violin to ensure the sound is preserved for generations.
A good violin can grow in value and sound quality over time. Protecting it is well worth it.