Storing anything delicate is always a tricky undertaking.
And the violin is certainly a delicate instrument.
If you need to store your violin unused for any period of time, you want to make sure you give it the best possible chance of surviving unharmed.
To do that, you need to store it properly. That involves a number of things.
Luckily, none of them are tricky or complicated.
Keep reading to learn how to store a violin safely. We'll cover everything you need to know so you can store your instrument without having to worry about it.
How To Store A Violin Safely
The first step to storing a violin safely is preparation of the violin for storage. So let's begin there.
Step 1: Preparing The Violin For Storage
Here is a series of tips to care for your violin. These instruments are quite delicate and require special care, especially higher quality violins, even ones for beginners.
Wipe the violin with a clean cloth and vacuum everything to remove dust before storing it.
When cleaning a violin, make sure you use the correct tools for the job and avoid household cleaners that can be harmful; special cleaning cloths are sold at music stores.
Be sure to release the tension on the strings by loosening the tuning pegs before storing stringed instruments for a long period; doing so prevents the strings from breaking or the neck from warping.
Before storing the instrument in its case, always remove the shoulder strap; never store a violin with it on.
Step 2: Place Additional Protection Inside The Case
Many instrument cases are lined with plush velvet, which is designed to provide some cushioning and keep instruments from getting scratched.
However, this coating can damage the instrument after a long period. Placing a layer of acid-free tissue between the liner and the instrument can prevent this damage.
Step 3: Put The Violin Into Its Case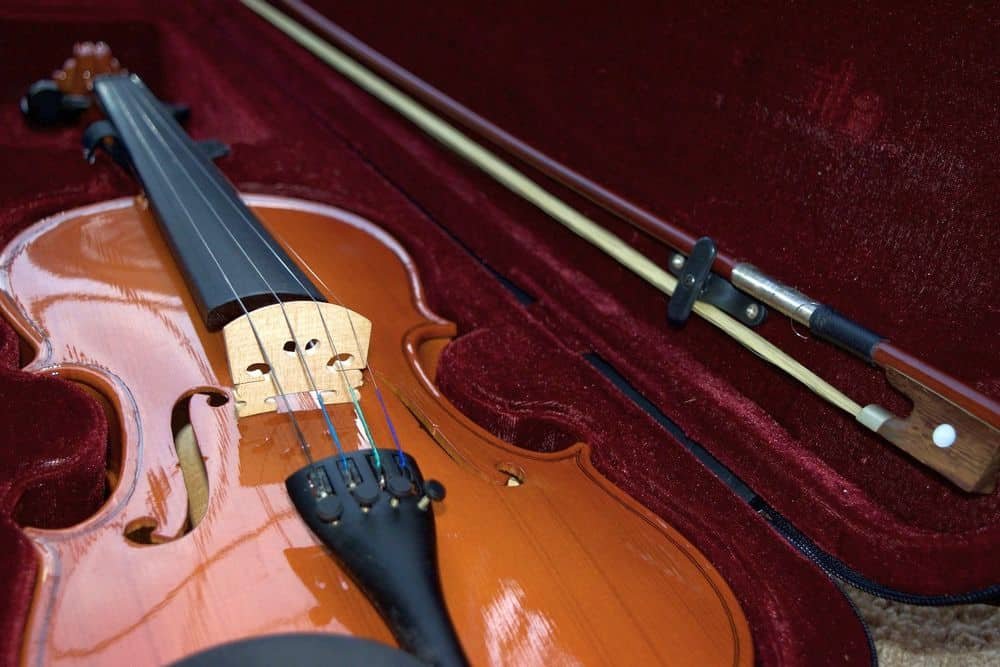 If you plan to store a violin for a long time, using a hard case is a very good idea. It will help prevent physical damage to the instrument and protect it from UV rays, temperature changes, as well as insects.
As an important tip, invest in a good quality violin case. Since your violin represents time, care, and money, it makes sense to invest in a case capable of protecting your instrument from almost any adversity.
Of course, a good case also keeps the violin isolated from dust, humidity, shocks, and falls, keeping it safe from almost any calamity that may arise. This kind of damage can cause all kinds of issues, like a squeaky violin.
Step 4: Store It On A Shelf
When you decide to store an instrument, it is usually not enough to put it in its case and forget about it. You may need to do more work if you intend to store it for a long period.
Wherever you store it, you want to make sure it's in a place where people won't trip over it and it can't fall or things fall on it.
Even if your instrument is in a hard case, it can be damaged if something falls on it with a lot of force.
Whichever space you choose to store your musical instruments, you should keep them off the floor, if possible.
The floor is usually where the biggest fluctuations in temperature occur. Changes in temperature can cause swelling and contraction that are potentially harmful to the instrument.
Arranging for shelving can be helpful because it allows you to store your violins on flat surfaces and off the ground. If you have several violins, you can install space on the wall to place them. Simply leaning the instrument against a wall should be avoided at all times.
Where To Place A Shelf
You should always store violins indoors and away from drafts. The best place to keep them is in the center of the room where they will be farthest away from temperature changes. For extra protection, wrap instrument cases in plastic bags or tarps.
Violin Maintenance Prior To Storage
Taking good care of your violin when it is not being stored somewhere helps ensure it stays safe while being stored. Follow these tips to make sure you always take good care of your instrument.
Handle Carefully
Always handle the instrument carefully. Hold it by the neck and never by the bridge, strings, or chin rest.
Keep Your Violin Clean
Remember to always keep the violin clean. When you finish playing, always use a soft cloth (preferably cotton) to clean off the remains of resin that got deposited on the top, the fretboard, and the strings.
This ensures that the dust released by the resin does not accumulate. It can deteriorate the varnish of the instrument over time, if not cleaned regularly.
You may even have to seek the services of a luthier to take care of the removal of the thick layer of dust that compacts on the instrument over time.
This layer of resin interferes with the correct vibration of the instrument. And it can end up looking a bit unsightly.
It is also advisable to do a complete cleaning from time to time. It is a good idea to go to the luthier for this, since this operation requires removing the bridge, strings, and other parts in order to have access to areas that, otherwise, it would be impossible to clean.
Always Use A Case
When not using your violin, and especially when transporting or storing it, always always keep it in a closed case.
When you have to transport your violin by car, do not put it in a suitcase. Do not expose the violin to cold or heat. Extreme temperatures cause breakage in the wood.
It is best if the violin travels with you in the passenger seat. If it is elsewhere it may be exposed to extreme temperatures. For example, the heat produced by an engine can cause certain parts of the instrument to detach and even produce some other fractures.
Replace Strings Regularly
Replace your strings regularly to ensure your instrument's sound is always at its full potential. The strings gradually lose their warmth and brilliance, even if the instrument is not played frequently.
Musicians with constant activity should change their strings every six months to maintain optimal sound and performance. Students should generally replace their strings once a year.
How long a violin string lasts depends on many different factors, with the material the string is made of being the most significant.
Remember that when you change your strings, you always have to do it one at a time, and make sure that the bridge does not tilt forwards or backward.
Keep An Eye On The Bridge
The bridge will gradually tilt forward or backward, either toward the pegs or the tuners. If the bridge remains in the wrong position, it will eventually bend due to the tension of the strings
A bridge that is slightly bent can be straightened by a professional. But if the bridge is severely bent, it will need to be replaced.
To extend the life of a bridge, regularly check its position and straighten it whenever necessary.
Do not attempt to make repairs or adjustments to the instrument yourself without professional supervision. Only a luthier is qualified to do so.
Take Care Of The Bow
Regarding the care of the violin bow, try to touch the hairs of the bow as little as possible. Sweat or dirt from your hands can reduce its average useful life.
Bows require a regular change of hair. Always make sure it is with good quality natural hair, without any previous chemical process.
Hair stretches and wears with use, becoming brittle over time. Busy musicians need to change the bow hair frequently. Every three to six months is good, in order to maintain the best sound quality and bow response.
The hair on student musician bows may be replaced less frequently, depending on usage. Take your bow to a luthier for a hair change.
If the hair is stretched too far, the bow button screw will eventually stop adjusting properly. If you find it difficult to adjust the hair, do not force the screw more than necessary.
If you continue to tighten it, you can damage or break the bow because the hair can shrink in dry conditions and stretch out in wet conditions.
Always loosen the bow after use. Storing it that way over time it can result in the loss of its curvature. And if that happens, you only have two options: take it to a luthier to save it or buy a new bow.
Storing A Violin: Final Thoughts
Storing a violin safely mostly comes down to common sense. Follow the guidelines above to ensure your violin comes out of storage in the same shape it went in.
In the end, it mainly comes down to protecting it from the environment and possible disturbances. If keep your violin in good shape and you protect it well, you should have no problems leaving it unused for a lengthy period of time.