So you want to learn the violin.
But there's a problem.
You're old!
The image most of us have when thinking of a violin student is that of a child.
Children learn to play the violin. Adults already know how to play it, because they learned it as a child.
But what if you didn't learn it as a child, but want to now? Is it too late?
No! It's never too late.
Whether in their 50s, 40s, 30s or even their 20s, many people have learned to play an instrument later in life. Even one as difficult as the violin.
You can do it too. But it won't be easy.
Learning the violin is challenging at any age. As an adult, you will face additional challenges.
On the other hand, learning the violin in your twenties, thirties, forties or later has some great advantages, too.
Let's take a closer look at the challenges and advantages of learning to play the violin later in life.
Learn Violin As An Adult
We'll begin by taking a closer look at the challenges of learning to play the violin when you are older. Then we'll examine some of the advantages you enjoy when you learn to play this wonderful instrument.
Challenges Of Learning To Play The Violin As An Adult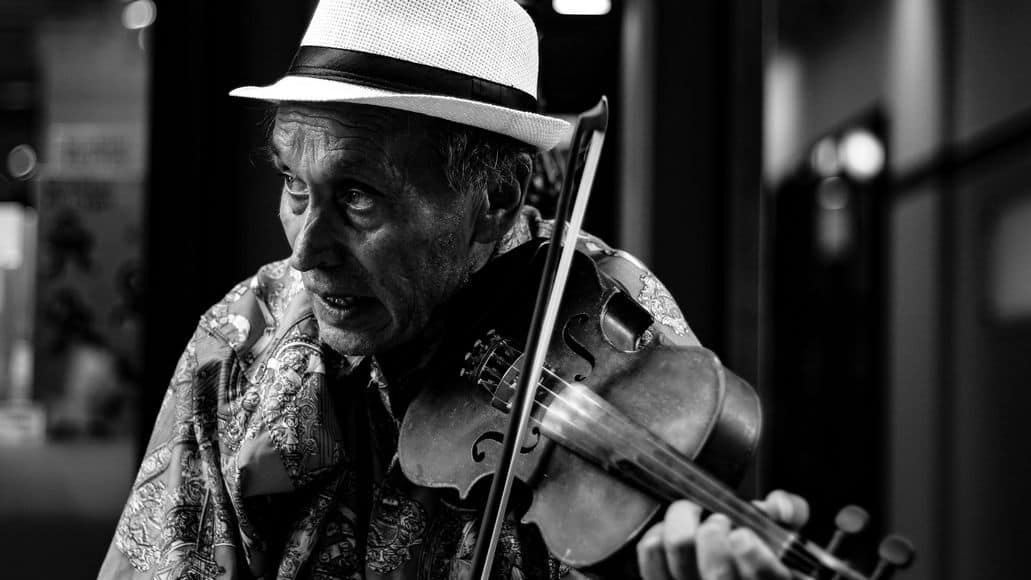 The biggest challenge is a trait almost all of us share: our remarkable ability to make excuses. Life gets in the way, so that's understandable, but it is something you will have to overcome if you ever hope to dedicate sufficient time to practicing on your beginner's violin.
Even when you find the willpower to stick it through, you will likely have to face other challenges. Some of them will be physical, such as injuries and arthritis, and others mental, like immediately wanting to be able to play vibrato, and not understanding why you can't do it perfectly right from the start.
Let's address both of these types of challenges.
Physical Challenges
Ranging from a pulled muscle all the way through to, more debilitating hindrances like arthritis, there will be physical boundaries that you'll have to cross.
And this is especially true when starting out, because your hands, wrists, arms and shoulders just aren't used to the positions they need to be in for you to play violin.
In order to become comfortable in the position have to be in to play violin, you have to actually play the violin. Constantly. Cheesy as it sounds, it's the only way to get yourself used to being in that position, and the only way for you to form muscle memory, which goes a long way in improving your playing.
If you find that you are constantly in pain when playing, please see your doctor. You should also consult a violin instructor to find out how you can improve your technique when holding and playing the violin.
A good instructor will be able to give you exercises to help you with your technique, which is particularly important when you're starting out. You might also benefit from using a shoulder rest.
But, and I'll say this time and again as someone who has learned an instrument later in life, repetition is 100% the key. You first have to learn how to do something the right way, and then you have to learn how to do it the right way over and over again.
Do the exercises your teacher recommends as often as possible. More than just having a positive impact on your playing, the exercises and constant practice also you avoid causing yourself any long term physical damage.
Mental Challenges
As mentioned earlier, the biggest challenge is our incredible ability to find reasons to not do something that we know will be difficult, especially when the reward is not immediate. It's a mental block that you need to push through.
Learning to play an instrument, especially one that takes a certain degree of finesse like the violin, demands patience and diligence. And becoming good takes tons of grit and determination as well.
It's a lot more than just learning the difference between a fiddle and a violin. Of course, that's important, too. Especially if you want to learn to play fiddle as an adult.
The honest truth is: when you start, you will be bad, for no other reason than you're learning a new skill. You should not expect to be able to play the amazing violin solos you want to from the word "go".
Don't immediately ask questions like "What is a double stop on violin?" in an attempt to seek out various advanced techniques that sound cool. Start with the basics and master those first, realizing it will take time until you stop sounding bad.
This is definitely not an indication of a lack of ability – it's just how life works. The best thing you can do is embrace that you're going to sound bad, and realize that you are going to get better.
It's easier said than done for some, but don't be embarrassed to play because it sounds off or because you have to play nursery rhymes like Twinkle Twinkle Little Star.
Every violinist you've heard, even those who inspired you to begin playing yourself, was bad at some point. True, maybe when they were children when they first started, but that doesn't matter because what got them to where they are now is the same thing that will work for you also: practice.
Ability can be learned. Your skill set can expand and increase, and eventually your bad playing will develop into good playing.
All it really takes is time and practice. It's a very simple concept. The hard part is getting yourself to buy into it. That and the calluses on your fingertips.
So how long does it take to learn the violin? You can expect to spend at least several years to get good at the violin. But when you start as an adult with other responsibilities in your life, it will probably take much longer.
The violin is more difficult to learn than guitar or other popular instruments. It is arguably the most difficult instrument of them all.
After reading about the disadvantages of learning the violin when you're older, you might be feeling as bit discouraged. But it's not all bad news. Let's take a look at the advantages of making the commitment to learning this wonderful instrument.
Advantages Of Learning To Play The Violin As An Adult
The advantages of learning how to play the violin are what make it worthwhile to put in the time and dealing with the frustration of learning the skill.
Besides the obvious advantage of you now being able to play the instrument, there are also advantages that actually offset the two main categories of challenges we covered above: physical and mental. In addition, there are social advantages to consider,too. These don't generally get enough credit.
Physical Advantages
With the physical challenge of learning a new skill comes the advantage of now having built up strength and dexterity in the new muscles you're using. Regular practice and repeated use of the muscles in your arms and back will result in more upper body strength, and an improved posture.
You'll also notice a marked improvement in your fingers' flexibility, which will provide little bonuses with things you wouldn't necessarily have thought of, like how quickly you can type.
The exercises recommended to you by your teacher are designed to help you train your muscles to be in the positions you need them to be in, so that playing eventually becomes second nature. So do them. And then do them again.
Your brain will thank you, too. Learning something as challenging as playing the violin helps slow the deterioration of the brain because of something called neuroplasticity. That is to say, your brain's ability to learn and grow is improved, spurred on by the constant repetition of carrying out a task it's never had to before, but needs to figure out how to do now. This provides the following advantages.
Mental Advantages
If there is any reason to learn the violin, besides actually being able to play music, it's the mental advantages. Because you're using your brain in ways you haven't before, your brain is coerced into becoming sharper
Your hand-eye coordination will improve, as will your cognitive functions. You will an improved ability to concentrate, because of the focus you have to dedicate to learning techniques and remembering them.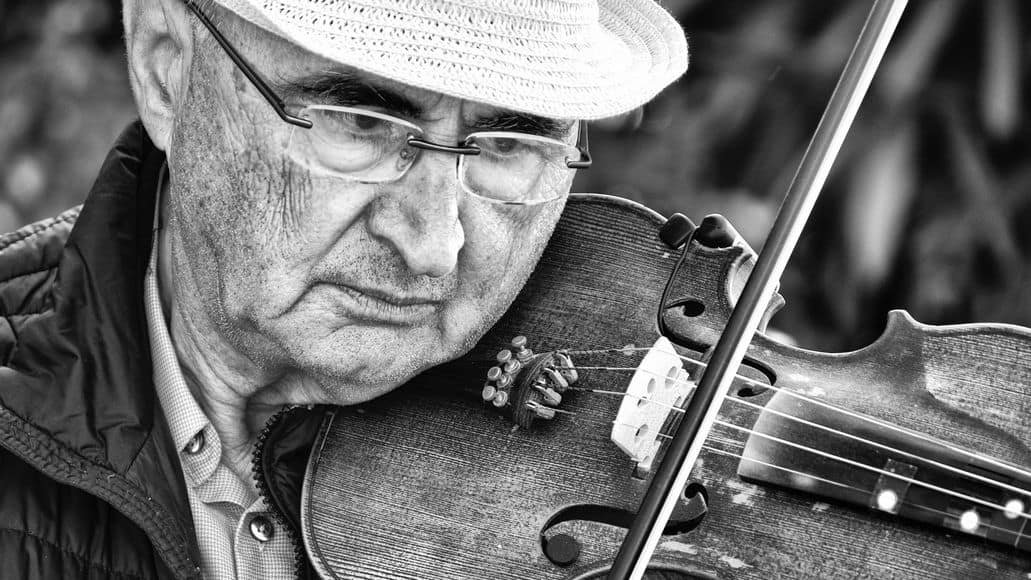 And don't forget about your memory, which improves both long term and short. You're going to have to remember a lot of things when you're learning how to play, but they'll be with you forever. And you'll need all of them to perfect your technique in the future.
Arguably one of the best mental benefits of being able to play the violin is that it helps reduce stress. The importance of having even just 30 minutes of time to lose yourself and forget about everything that's worrying you can't be overstated.
And to bolster its ability to reduce stress, learning and being able to play the violin helps reduce anxiety and can aid in dealing with depression.
This won't apply to everyone, but one of the most amazing things learning to play the violin can do for you, is to help your brain recover from an injury. Hopefully that isn't what urged you to pick up the fiddle and start playing it, but if it is, it's a tried and tested method for recovery.
Why this is interesting is also why it's so odd – there is the risk that, if you suffer from a brain injury, you could have a hard time tolerating any sound, especially abject ones, but learning to play the instrument has, time and again, proven to help. Music therapy exists for a reason.
The mental advantages associated with, and brought on by, playing an instrument like the violin have been found to be even better for your brain than brain training games, which have become increasingly popular.
And it's thought that this is true because of how we, as humans, connect with music. It pulls on our emotions, resulting in a far more profound effect on our brains than a "cold" brain training game would.
Social Advantages
Beginning violinists don't often take the social advantages of learning the instrument into consideration, but they can be a big factor. Even if your goal is not to play as part of a group, you might not realize that you are opening up your world to new people who can hopefully enrich your life.
Learning to play with other people is a fundamental building block in your journey toward being able to play the violin.
By taking steps to improve your violin abilities by playing with other people, your social circle grows, as you will probably, at some point, venture outside of the groups you normally associate with and meet new people who will contribute to your growth as a musician.
Learning Violin As An Adult: Final Thoughts
Learning violin as an adult is possible. Don't let anyone tell you otherwise. But it won't be the same as learning when you are young.
You will face several additional challenges that make the process harder. On the other hand, as an adult you also have a few advantages over young learners.
On balance, it is definitely better to learn the violin when you are young. But if you are not young, that is obviously not an option for you. Learning to play it as an adult is more challenging overall, but it is still very doable. It just takes lots of practice!