Learning any instrument is a long hard journey.
And the violin is tougher than most.
When motivation starts waning and you feel like your skills just aren't progressing, easy violin songs for beginners are just what you need.
These songs are all fairly easy to play, but they sound impressive.
They are a great way to show off when you are just starting out on the instrument, without needing advanced techniques like a double stop.
Mastering one of these easy songs is a great motivator. It is also a fun way to hone your fundamentals and perhaps even pick up some new skills.
Let's get started with some of the most famous and popular pop songs ever, then move on to rock songs and a selection of simpler classical pieces.
Easy Violin Pop Songs
Everyone loves some bright pop music! And the best part is that the following list has some super-easy notes that beginners at the violin can master with ease.
Over The Rainbow – Wizard of Oz
If you love The Wizard of Oz, you're going to love trying out this tune!
The opening octave in the first measure goes from a low C to a high C and can pose a bit of trouble. You may need few tries before you can effortlessly cross over the D string when going from the G to the A string.
If you're having trouble, try practicing the crossover without using your fingers. Once you've got that down, practice with your fingers until you can do it without issue. Apart from this tricky section, the song is quite easy overall and has a nice kick of nostalgia to it.
Smooth Criminal – Michael Jackson
It's impossible to not talk about Michael Jackson's songs when discussing pop music. And it doesn't get better than his signature song, Smooth Criminal.
One of the best songs for beginning violinists, especially if you're learning as an adult, Smooth Criminal allows new learners to have fun with changing the tempo and transposing it in different keys. It is pretty easy to get the hang of and learn. The song is played in the key of A Minor and has a rather fast beat.
A Whole New World – Aladdin
We all know Aladdin's Live Action is winning hearts all over. Now it's your turn to take a spin on A Whole New World using your violin.
The best way to play this song is to put on a recording of it and follow the music; you'll get a sense of the rhythm and what's expected of you. It's not that hard, although the syncopated and quarter note triplet can be a little disconcerting at first.
Just keep at it and you'll get it eventually. Once you do, the feeling of accomplishment makes the effort worth it, trust me!
All of Me – John Legend
Probably one of the best loved songs ever, All of Me is a timeless tune that sounds great on the violin.
It is one of the best beginning violin songs, thanks to the delicacy of its tune. You can sing along as you learn to play this classic romantic love ballad and really get into the mood and feeling the tune evokes.
All About That Bass – Meghan Trainor
This is probably one of the catchiest pop songs ever. Now it's your chance to give it a classical twist with the violin.
One of the better pop tunes for beginning violin players, All About That Bass has a natural change in the first measure going from Bb to B. Go ahead and use a slide to mimic the vocals. Of course, you should feel free to add your own vocals, if you love singing along as you play.
Lucy in the Sky with Diamonds – The Beatles
Now something for all the Beatles fans! This song is beautiful when played on a violin, and it's a great way for beginners to gauge their skill.
The song is a little quick when it comes to key and time signature changes. The feel of the music transforms too, especially when going from 3/4 to 4/4, so be patient while you're still learning. It can really help to play it in the background and follow the rhythm.
Penny Lane – The Beatles
The Beatles are considered the biggest band in history, so it makes sense to put another one of their hits on this list. Even if you're not the biggest Beatles fan, you'll absolutely love learning to play this song on the violin.
Penny Lane is a beautiful song with an even tune that's fun to play on a violin. It's one of the best songs for new learners, as the tune is not too tricky and very catchy.
Hallelujah
Hallelujah is one of the easiest songs to learn on a violin as a beginner. The main reason for its easy is that the notes are repetitive. That also makes for a catchy tune that keeps you motivated.
If you don't like the redundancy, you can choose to go through the verse and the chorus only once or perhaps twice. Once you master this song on the violin, you'll be able to take the listeners on an emotionally intense journey with very little effort.
Violin Beginner Songs: Rock Hits
Get ready to wow your family and friends with classical renditions of these famous rock songs. Full of energy, rhythm and groove, everyone's going to love the violin version of these popular rock songs.
Thunder Road – Bruce Springsteen
Thunder Road is an American rock classic that's considered as the crowning moment of the Born to Run album.
Playing this song on the violin doesn't pose any technical challenges for new learners and it features no chorus at all. It just takes a bit of patience and dedication to hone your skills. Once you get it down, you'll be sure to impress your friends with this classic pop/rock favorite.
And if your a fan of "The Boss", check out our article on the Blinded by the Light lyrics and meaning. It dives into this song, which was written by Bruce Springsteen, but made popular by Manfred Mann's Earth Band (Bruce's version never achieved much success).
Stairway to Heaven – Led Zeppelin
You didn't think I was going to make a list of rock songs and not include a tune by Led Zeppelin, did you? If you love classic rock music with meaning and rhythm, you're definitely going to enjoy learning this piece.
Despite its seeming complexity, Stairway To Heaven is not too difficult to learn. It is harder than most songs on this list, but it is definitely doable for any beginner.
One possible tricky aspect is the high E in the opening section. Try using your fourth finger, instead of the E string, since this is the highest note in the song. You'll also need to practice the G to A slurs to make sure you can get your bow to create the slur between the D and A strings cleanly, in order to get the perfect tune.
Paint It Black – Rolling Stones
Same as Zeppelin, how can a rock music list be complete without a Stones track?
One of the most popular rock songs by Rolling Stones, Paint It Black will have your audience tapping their feet to the beat.
Even for new learners, it's pretty easy to play. The lyrics follow a rhythm making it easy for violinists to play along. This song gives you a chance to practice different techniques in a unique musical context. You'll be able to master the song with just a few attempts if you're really determined.
Easy Classical Violin Songs For Beginners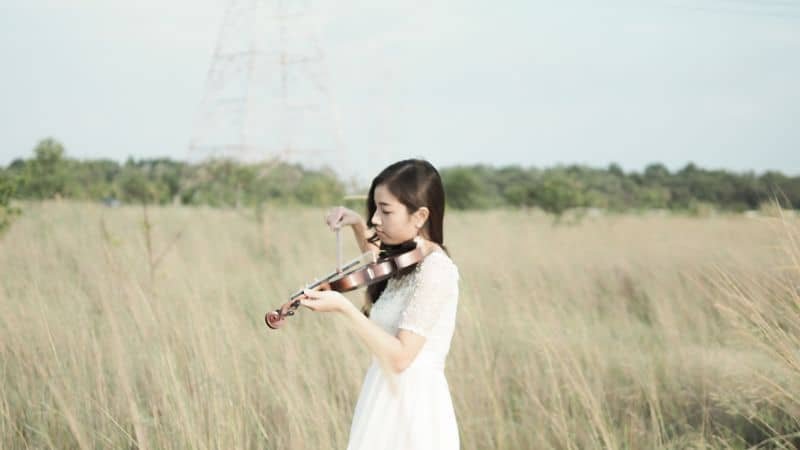 The violin is essentially a classical instrument. Here are some famous and easy songs beginners can practice to gain some confidence and hone their fundamentals.
Now We Are Free – From the Gladiator
One of the easiest hymns to play on the violin, Now We Are Free is a great way to get in some practice for an impressive violin performance.
It's such a beautiful song with a heartfelt melody and it is ideal for new learners because of the repeated notes. Throughout the song, most of the notes just move a little up or down and that's it. Practicing this song on a violin is easy and oh-so-exciting.
Ode to Joy – Beethoven
For beginners, playing the classics is perhaps the most challenging. That said, this Beethoven song makes it easy for amateurs to showcase their classical prowess while using their newly-learned fingering and bowing skills.
The best thing about this song is that it allows you to look like a skilled violinist even if you only play the first eight bars. If you want to show off a little more, you can learn the quarter and half notes or even master the last eight bars.
Pachelbel's Canon in D Major
If you're into modern classics, this piece is definitely going to become your favorite to play. It's a great piece to practice, due to the unique construction. The song starts with a simple tune before going into the depth of rhythmic complexity, as it picks up speed.
The way each section of the song layers on top of the previous is impressive. It's one of the best songs for beginners to master if they want to impress people. This song isn't only fun to play but is also rewarding for the ears.
Minuet #2 – Bach
This Bach piece is one of the most impressive violin feats. Naturally, it also is not the easiest on this list. Be prepared to need quite a few attempts to play it cleanly.
The opening arpeggio may need some tries. Keep practicing, and perhaps slow it down at first, until you get a feel for where the bow changes strings. Make sure not to move your bow too much otherwise you're at risk of overshooting the A string while trying to get to the E string.
Au Clair De La Lune
Written in D major, Au Clair De La Lune is one of the easiest classical songs for beginning violinists, because it requires little to no advanced skill.
This classic composition is typically taught to beginners to improve their control over simple key changes. The ability to play this song also encourages and motivates amateurs to keep at it through the tough, and often frustrating, beginning stages of learning.
Morning Has Broken
Probably one of the most exciting pieces to play, Morning Has Broken is a popular Christian hymn that can get pretty immersive once you get the hang of it.
Its tune has an inspiring, spiritual feel that is reflected best when played smoothly. Beginners need to be quite patient and avoid rushing while playing this song or else the gentleness of the music will be compromised.
This song may take a good number of attempts before new learners get the hang of it, but all the practice will be so worth it in the end!
Easy Violin Songs For Beginners: Final Thoughts
Playing the violin is a really joyful thing. The violin songs for beginners listed here are just what you need to stay motivated and keep practicing. And if anyone ever complains, just put a mute on your violin and keep playing.
These simple pieces are fun to play and will help to hone your skills, until you are one day able to play the most beautiful violin solos. They will also teach you a new thing or two about your own abilities.
In short, this type of violin music for beginners is the perfect practice tool, and an especially good way to teach yourself the violin.
And once you master these songs, those who complained about the "noise" will be begging you to play for them!