There is a reason the violin is considered one of the hardest instruments to learn.
Many reasons in fact.
Difficult advanced techniques make up a lot of those reasons.
One of those techniques is the double stop.
It can be tricky to learn. But it is worth the effort.
Learning how to double stop has several benefits, which we will cover below.
Before we get into that and some exercises for practicing, let's first go over what exactly a double stop is on the violin.
What Is A Double Stop On Violin?
Double stopping means playing two notes at once on a bowed stringed instrument. You draw the bow across two strings at once while "stopping" two notes by pressing the fingers down on the fretboard, with one finger on each string, and two strings touching each other.
On instruments like the violin, the performer usually plays one note at a time. Playing two open strings at once is not difficult, but fingering two strings at once can be very difficult.
That makes the double stop an advanced technique.
Sometimes it is even necessary to do a triple or quadruple stop. This is sometimes called a multiple stop.
But in truth, it is not possible to play three or four notes at the same time on a violin. The bridge is curved, so that you can bow one string without accidentally hitting the others.
To do a multiple stop, you first play two strings and then, while the sound of these two strings is audible, quickly play the other two strings.
The multiple stop was used a lot in Renaissance music when the viola was in fashion. Baroque composers, such as Johann Sebastian Bach in Germany or Arcangelo Corelli in Italy, often require a double stop when writing for solo string instruments.
It is also widely used in the virtuoso music of composers of the romantic period such as Niccolò Paganini.
How To Play Double Stops On A Violin
Practicing and mastering double stops is one of the best investments in study time you can make. Picking up this skill has a number of benefits.
First, you improve your general tuning. Second, the ability to put your fingers on several notes at the same time will help you play many passages more quickly.
Third, you internalize how intervals of notes sound, with which you are forming yourself harmonically, and you can play music with a little more musical depth.
If you like folk music, double stops are your daily bread. And in folk music combinations or movements are not generally as difficult as in classical music. This actually makes it an excellent type of music to practice double stops.
So let's get started. Before your tackle double stops, there are certain skills you should master first. They are not 100% necessary, but it helps a lot.
What To Master Before Learning Double Stops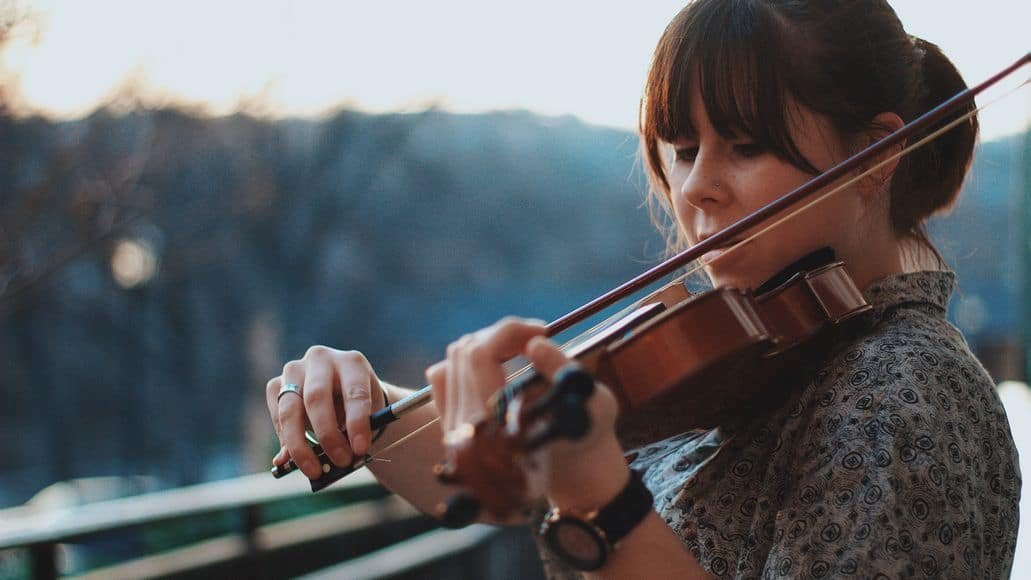 Before you get started on the double stop exercises, it is a good idea to have the following things down pat.
Have a good tuning playing on a single string, at least in the first position. If you are not able to find the notes in tune (even slowly) one by one, you certainly won't be able to do it by playing double strings. (An exception to this would be when playing an open, "drone" note, since having that note constantly sounding can even serve as a reference for playing the second note in tune).
Have a good general posture, in particular your hands.
Have good movement of the right arm from heel to toe.
Once you are confident you have mastered those basic skills, go ahead and start practicing those double stops with the exercises below.
Double Stop Exercises
The first thing you should practice is to get the right arm used to playing two strings simultaneously with the same intensity, so that the sound of neither prevails.
This is something that you have probably been avoiding up to now in your studies, since we usually internalize that two strings sounding together is a mistake.
Well, it is not like that anymore!
That is why the first thing you should try is to simply play the double strings in the air, with the whole bow, from bottom to top and from top to bottom.
While doing this, pay attention that:
The bow is always perpendicular to the strings.
Both strings always sound with equal intensity.
They sound with the same intensity from the heel to the toe (we already know that for this we have to press more the closer we are in the toe area and much less or none in the heel area).
Resonating two strings may seem like it requires more pressure and/or speed than just one, but if you do it right, it isn't necessary.
You should practice on all three double string combinations: first G-D, then D-A, and finally A-Mi.
It is also interesting to try some shorter bow strokes on open double strings: detache, staccato, even saltillos, martelé, etc. depending on what you have already practiced on a single string.
You can make rhythms, 3×4, 4×4, etc., always looking for the two notes to sound equal in value.
When you have achieved fluency in this exercise, you can begin to face classic double stop exercises.
A good routine to face the exercises (many save themselves and jump into the ring directly to play what is written) would be this:
Play the top note line.
Play the bottom note line.
Play the top notes while playing the top string (lowest) open.
Play the low notes while plucking the high (highest) string.
Play the score as it is written, without ligatures or prompts.
Play the score as it is written, with all the indications.
Helpful Suggestions
The following are some tips I wish I had when I was learning how to double stop.
Place Both Fingers Simultaneously
Often (especially in spread finger positions) when you put one finger in its correct position and then the second on another string, the latter pulls on the first, causing it to go out of tune.
This means you have to adjust the second, but when you move it, it pulls the first one again. The result is that you never finish fine-tuning the interval.
You need to be aware that in the end, you should be able to place both fingers practically at the same time (not one after the other), as guitarists do when setting their chord positions.
They play an open string (G for example) in the first position and at the same time visualize playing notes on the D string, looking for them to sound good.
This way you will be looking for tuned notes and harmonies, and educating your musicality. Do the same on other strings and try different "melodies". Go very slowly at first and keep adjusting your finger until you feel that it is exactly where the range of notes sounds perfect.
Start With The Basses
It is more difficult to play the double trebles well than the basses (at least it seems that way to me). For that reason, it is better to start with the latter. Once you've got the basses down, move on to the trebles. In the end, you will likely have to practice the trebles more.
Play With A Teacher
It can be useful, if you play with a teacher. Before starting a new exercise, the teacher plays the top line while you play the bottom line (or vice versa). This is known as "divisi" and it serves to help you remember how the teacher has played and familiarize yourself with it.
Double Stop On Violin: Final Thoughts
Mastering the double stop on the violin takes time and practice. There will likely be quite a bit of frustration as well.
But don't let that deter you. The double stop is a useful technique and learning how to do it has additional benefits beyond just the ability to perform it.
In other words, it is very much worth learning, once you reach a certain skill level. If you are an advanced violinist already, go for it. Get out your favorite violin and get to it!