So you want to buy a trumpet.
You've no doubt noticed just how many different trumpets there are and how many different brands make them.
And you're wondering who makes the best trumpets.
As a smart consumer, you want to make sure to do your research to determine which trumpet brand is best for you.
They all have their strengths and weaknesses.
Some offer better features than others, some are made from higher quality materials, and some cost far less.
Whatever your budget, there is a good trumpet out there for you.
A trumpet that fits not only your budget, but your playing style, your skill level and your needs as a musician. It doesn't matter if that is a pocket trumpet or a full-sized version.
There are dozens of different trumpet manufacturers. In this article we're going to look at the best of them and find out what advantages they offer and also what their disadvantages are.
Best Trumpet Brand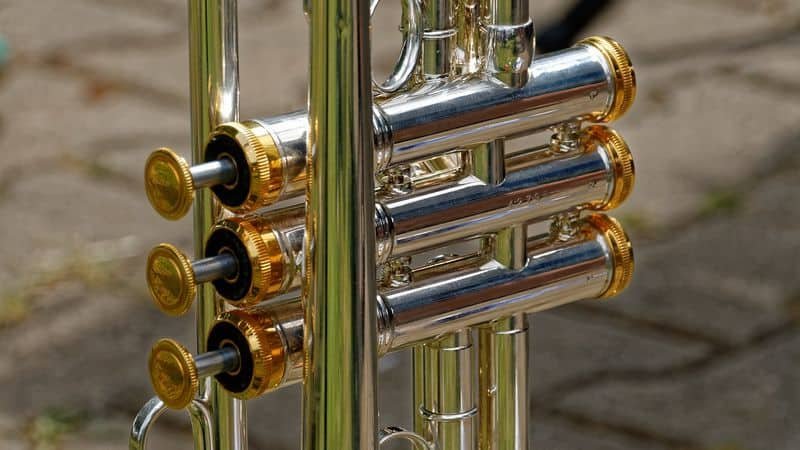 We're going to start with the highest quality brands, which means we will also start with the most expensive.
Bach
We are going to start with Bach. Bach is a famous trumpet brand, known for their high-quality and high-end instruments. If you are just starting out on the trumpet, this is NOT the way to go.
Bach make high-end, professional trumpets that can range from $500 USD all the way to $3,000 USD. This is definitely not the brand for anyone on a budget. It is also not the brand for any beginner, apart from the Bach TR300H2. If you don't know how to double or triple tongue, you want to start on something more simple.
Schilke
Next we have another well-known brand called Schilke. This is also a high quality and high-priced trumpet manufacturer. They offer a wide range of different instruments aimed at the professional world.
The sound quality from a Shilke is incredible and the design and materials used in making them are equally impressive. This is one of the top brands to consider for any professional trumpeter, but not really suitable for a beginner. Typical prices for Schilke trumpets are between $1,000 and $2,000 USD.
Stomvi
As with most products, when it comes to trumpets, you get what you pay for. This is an age-old saying for a reason, but there are always a few brands that break this rule. Stomvi is one of those brands.
Stomvi is a very interesting trumpet manufacturer, to say the least. They offer some incredibly expensive trumpets, so you would expect them to give you the same performance and construction quality as the two brands above. Unfortunately, that is not the case. Stomvi trumpets just don't live up to their high price.
This isn't a bad brand by any means, but professionals generally just don't buy their instruments. They are, quite simply, overpriced. This is also why fewer people even know about this brand than the others. Despite that, we felt they should be included in this list.
At the end of the day, it is your choice which instrument is right for you. And there are people out there who love the Stomvi brand. It is, after all, considered a high-end brand. We, and many others, just feel it is overpriced.
Jupiter
This is the brand of trumpet I personally own and have owned ever since I first started playing. I have been playing the trumpet for several years now and this brand has simply stuck by me and performed wonderfully.
Jupiter is a mid-range company, but in the higher part of that mid-range. Most of their line-up is slightly above manufacturers like Yamaha (mentioned below).
Jupiter try to find that middle ground in the trade-off between price and quality. They make very good instruments that don't quite match up to the quality standards of the previous brands, but that also cost far less.
They are still far more expensive that the lowest cost options, but give you a huge increase in quality over those. They have a pretty good lock on the middle of the trumpet market.
Many people start out playing on Jupiter trumpets, but I would only recommend this if you are sure you will continue playing for many years.
If you tend to give up on new pursuits quickly, you'd be better off with a more entry-level instrument. But if you're serious about playing the trumpet and you can afford them, Jupiter trumpets are a great choice. They start out around $1,000 USD and go up from there.
Yamaha
If you are on a tighter budget, but still want a good-looking and good-sounding trumpet, Yamaha is the brand for you. You may be familiar with the name Yamaha. It is the same Japanese company that makes motorcycles and thousands of other products, including numerous instruments.
Yamaha is a famous manufacturer with tons of experience in many different markets, including the trumpet market. They are very consumer focused and try to offer as high-quality products as possible, while still keeping the prices affordable.
If you are starting out and have a decent budget, but not a high enough one for the top brands, a Yamaha trumpet is your best bet. They start out around $600 USD, which is much lower than their higher-end competitors, but obviously still pretty high.
These are very popular trumpets for people just starting out, due to their relatively low price. In fact, the Yamaha YTR-2330 is our favorite Bb trumpet for those without an unlimited budget, but who want something better than a low-budget model.
Yamaha trumpets are also popular as back-up instruments for when the main instrument is being serviced or otherwise unavailable. These are good trumpets and one of the better deals available, though I personally would spend more and get a Jupiter.
Low-Cost Brands
Finally, I want to briefly mention all the low-cost brands out there. Many of them are mass-produced in China and are not something a serious musician would use, but if you are just starting out, these are actually a pretty good choice.
If you already know you want to be a professional trumpeter, by all means, spend more and get a quality instrument, but if you're not sure, I'd advise just getting something cheap for now. Many of these trumpets sell for just a few hundred dollars, with some even priced below $200.
Best Trumpet Brands: Final Thoughts
There are so many different trumpet manufacturers out there that any type of musician can find the right instrument for them. I made this list to help you find what you need, no matter your situation.
If you're on a budget or just starting out, I recommend Jupiter, Yamaha or one of the even cheaper models from China.
If you're a pro or plan to be one and to someday take your place among the most famous trumpeters ever, a Bach or a Schilke are great ways to go. Note that if your trumpet sounds muffled, it has nothing to do with the brand. ?It can happen to even expensive brands.
I hope this list helped you narrow down your options a bit and got you even just slightly closer to finding the right trumpet for your needs. Whichever one you end up choosing, you're going to have a blast. The trumpet is a wonderful instrument.