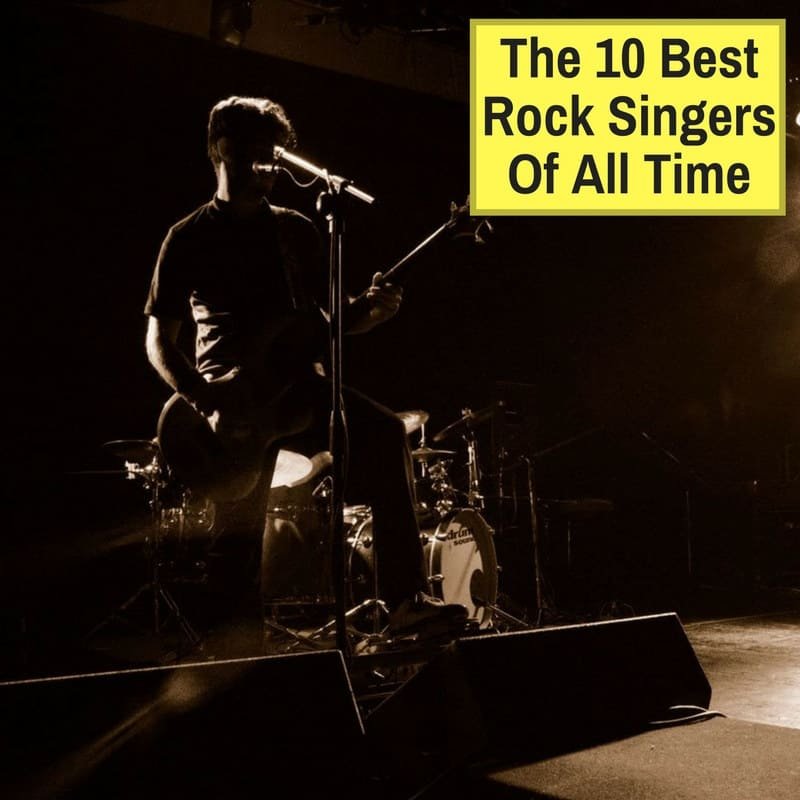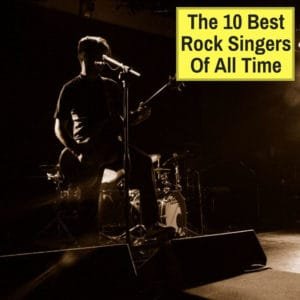 What is it that takes a rock singer from great to legendary?
Ask a hundred people and you'll probably get a hundred different answers.
That's why lists like these are always subjective and controversial.
What is certain is that the world has been blessed with a fair share of legendary rock singers over the last 60 years.
From those who pretty much invented rock, to those who have continued to carry the Rock and Roll flag into the 21st century, we've decided to highlight 10 of the best.
I'm sure many will disagree with our order or our inclusion and/or exclusion of certain singers.
But I don't think you can disagree that all 10 singers listed here are among the best ever. Or maybe you can. Certainly feel free to let us know in the comments below.
Best Rock Singers Of All Time
The following singers are the greatest frontmen in the history of rock and roll music. Again, if you disagree, please feel free to let us know in the comments below. Preferably without wishing death upon us.
10. Dave Grohl
Dave Grohl is the lead singer of the American rock band Food Fighters. He was previously the long-serving drummer for the grunge band Nirvana and also for the band Queens of the Stone Age.
Perhaps more of a modern-day rock star compared to many others on this list, Grohl still deserves his place. Why? For his ability to sing softer than soft-serve ice cream on some tracks and scream like a demon on others. See Everlong or All My Life for some great examples.
We love both kinds of Dave Grohl; since both are rock stars. Plus, he gets bonus points for being one of the best drummers out there, too
9. Stevie Nicks
Stevie Nicks was the lead singer of British-American rock band Fleetwood Mac in the 70s, and went solo – while also stilling being a part of Fleetwood Mac – in the 80s. Nicks was the driving soul of Fleetwood Mac, and one of the biggest female stars of the 80s rock music scene.
She consistently wowed crowds with her incredible combination of angelic yet raw and gritty vocals. Collectively throughout her career, she has sold over 140 million records worldwide.
These sales include the ever-famous Edge Of Seventeen, which featured in the 2004 hit film School Of Rock and Landslide, which has been covered by numerous other big names in music.
8. Kurt Cobain
Kurt Cobain was the lead singer of American rock band Nirvana in the 1990s. They were very much known for being the "flagship band" of Generation X: those born anywhere between the 1960s and 1980s.
What made Kurt Cobain one of the best rock singers of all time? I think many of us have realized that Cobain never wanted to be a rock star. He was hugely troubled throughout his life, with both physical and mental illnesses plaguing him constantly. But he deserves a place on this list.
His incredible artistry for Nirvana was almost incomparable. He believed that music came before lyrics, and so would often write songs full of both sincere opinions and sarcastic thoughts at the same time. Plus, it's never easy to sing and play an instrument at the same time.
Kurt was a perfectionist. It was this artistry that helped him create a number of worldwide hits, including Smells Like Teen Spirit. Cobain was posthumously inducted into the Rock and Roll Hall Of Fame in 2014.
7. Mick Jagger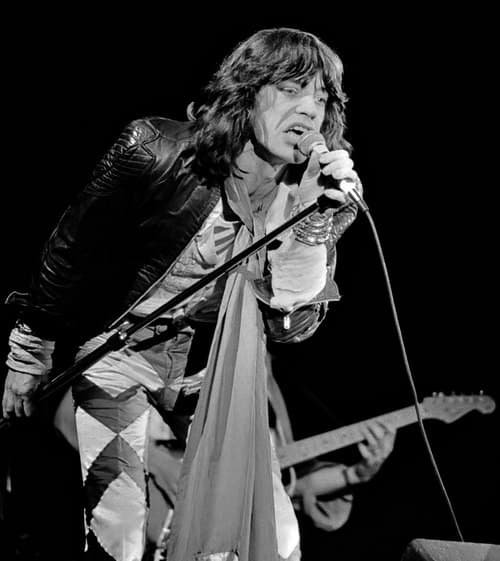 How can this list not include the Rolling Stones lead singer? Mick Jagger was one of the first initial rock singers to develop that infamous "rock and roll" lifestyle. Touring non-stop and partying non-stop.
But it was perhaps another aspect of his career that has landed him on this list of the best rock singers of all time: Jagger's performance style and stage personas opened up "definitions of gender masculinity," which inspired many to be able to simply express themselves the way they wanted to. He was, and still is, known as one of the world's most successful and influential front men in the history of Rock and Roll.
6. Janis Joplin
Widely regarded as the most successful and popular female rock star of her time, her addictively gritty, sexy vocals won her millions of fans around the world, as well as over 15 million album sales.
She was also one of Rock and Roll's most emotive performers. She was able to hold her audience in the palm of her hand with her ability to make such deep and powerful connections with them.
5. Bruce Springsteen
His record speaks for itself: 20 Grammys, a place in the Rock and Roll Hall Of Fame and over 140 million records sold worldwide. He was Rock and Roll's biggest icon at his peak and, not surprisingly, he still knows how to be a rock star. His concerts still last over 3 hours, despite him being in his 60s. What a legend.
Despite all that, he never actually had a number one hit. At least not one he performed. His song Blinded by the Light hit number one, but it was the cover version done by Manfred Mann's Earth Band. Bruce's version never achieved any real success. It is an interesting song, when you dive into the lyrics and meaning of Blinded by the Light.
4. Freddie Mercury
We could have put all 4 members of Queen on this list given how legendary they are, but for now we only have room for one: lead singer Freddie Mercury.
Queen are responsible for singing some of the mid to late 20th century's most iconic rock songs, including Bohemian Rhapsody, Somebody To Love and We Are The Champions. While Mercury tragically passed away in 1991, it's safe to say that no other rock singer has managed to have as big an impact on music since his existence. Thank you Freddie!
3. John Lennon
The Beatles were perhaps the first British band to take America by storm. In February 1964, they landed in New York for the first time. Thousands and thousands of fans greeted them as they landed, screaming out their names.
Lennon had formed a much-celebrated songwriting partnership with fellow Beatles member Sir Paul McCartney, which catapulted them to worldwide fame.
Together they wrote The Beatles into the Rock and Roll Hall Of Fame. John Lennon himself was posthumously inducted into the Hall of Fame in 1994 as a solo artist. His singing style was unique, which you can hear on many of his biggest hits, like Come Together.
2. Bob Dylan
Bob Dylan was the ultimate inspiration for those who wanted to be trend setters, not trend followers. Why?
It was Bob Dylan who made folk music an acceptable rock star medium and it was also Bob Dylan who proved that you could in fact be a global superstar without having the voice of an angel (you have to wonder if singing lessons would have helped or hurt his career). All he needed was his guitar and incredible self-written songs to inspire his audiences. A true Rock icon.
1. Elvis Presley
It is impossible to name anyone else but Elvis Presley as the Best Rock Singer Of All Time. Where do we even start? Known as the "King of Rock and Roll", he invented Rock and Roll.
His music style began as a collaboration of country music and rhythm and blues in the mid 1950s, before developing over time into the first sounds of Rock and Roll.
He has sold over 1 billion records worldwide, which is mind blowing. Hits such as Jailhouse Rock, Heartbreak Hotel, and I Can't Help Falling In Love With You are still played around the world to this day. A worthy recipient of top spot. And remember: he did all this before the era of in-ear monitoring devices and all the other modern singing aids.
Greatest Rock Singers Of All Time: Final Thoughts
There are so many others we could have mentioned in this article: Jimi Hendrix, Paul McCartney, David Bowie, and Jim Morrison just to name a few. The 10 above have all done something legendary for Rock and Roll, and that's why they deserve to be up there!
Do you think another singer deserves to be in the list? Do you disagree with the order? Let us know in the comments below!