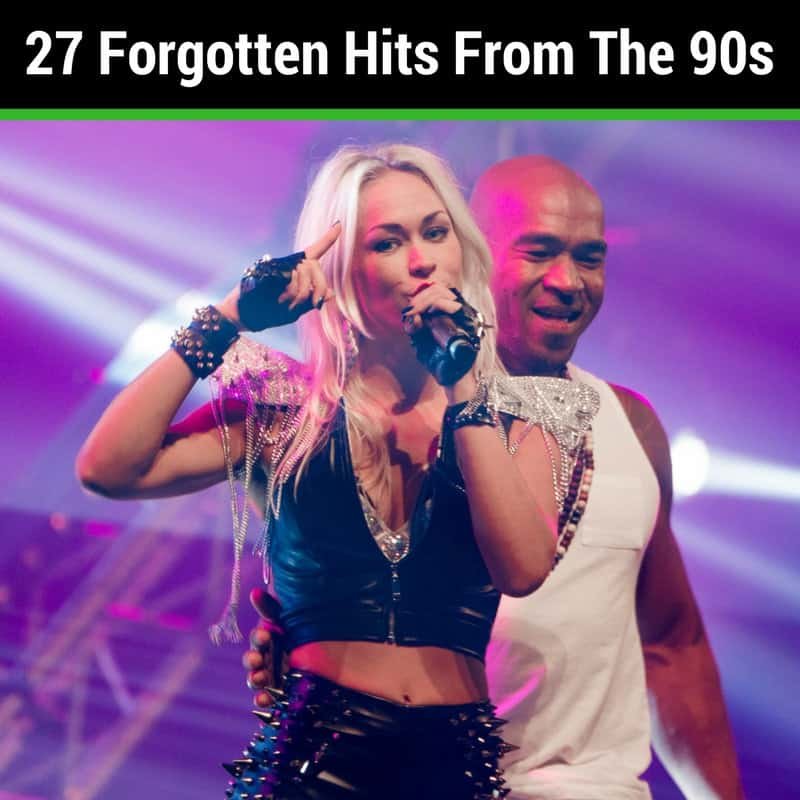 The 90s were a great decade for music.
Anyone of a certain age will tell you that (note that I'm not admitting to being of that age, so……yeah, let's just move on).
Much of the music we grew up with still gets plenty of love today, but there are even more incredible songs that have seemingly disappeared. So many, in fact, that my first draft of this post had over 50.
Once I realized how long the list had gotten, I ruthlessly cut a bunch of wonderful songs from this list to try and get it under 30. I ended with 26 great songs and one I can't stand.
I felt I had to include the bad one anyway, because it was the biggest hit on this list. If you're dying to know which one it is, you'll have to actually read the little blurbs I wrote beneath each video…gotta keep you in suspense, after all!
Let's get on with it: here are 27 huge, but forgotten, songs from the best decade for music, in no particular order.
Note: If you were born in the 90s, or even later, ignore the title of this article and please enjoy these great new music recommendations.
27 Forgotten Hits From The 1990s
En Vogue — Free Your Mind
A song about prejudice that is just as timely today as it was back then. It cracked the top 10 of the Billboard Hot 100 briefly, but, apart from an appearance in the TV show Modern Family, I haven't heard it since high school.
Wallflowers — One Headlight
The Wallflowers were always more famous for their lead singer being Bob Dylan's son than for their music, but One Headlight did make it to number 2 on the Billboard Hot 100 Airplay chart.
Snow — Informer
I've seen Snow referred to as the Canadian Vanilla Ica and that seems fair. He was even spoofed by Jim Carrey on that comedy show he used to be on. This was the only song of his anyone ever heard, but it was a big one. It spent seven weeks at number on on the Billboard Hot 100, the second most of any single on this list. That said, it was also on Pitchfork's list of the seven worst number one singles of the 90s. I hate to admit, I always found it kind of catchy.
Sneaker Pimps — Six Underground
Becoming X is one of the most meaningful albums of my life and I still listen to it regularly to this day. But no one else seems to, which is why I felt fine including the most popular song from the album on my list of forgotten tunes. But man is this a good song and Kelly Ali just epitomizes the "90s girl" for me (this becomes a lot more apparent in some of the Sneaker Pimps' other videos). Probably my favorite of all the tracks on this list.
Queen Latifah — U.N.I.T.Y.
Queen Latifah won a Grammy for this song back in 1995, but it seems even more timely right now, given the almost daily news of new sexual harassment claims. U.N.I.T.Y. was also notable for not having words like 'bitch' censored on the radio, which was very unusual for a rap song back then. For once, it seemed, censors were using some common sense and had taken the positive message of the tune into consideration.
Orgy — Blue Monday
This song is a cover from the band New Order. Orgy did an amazing job with it. They kept it very true to the original, but managed to update it and actually improve it. I much prefer their version to the New Order one.
Belly — Feed The Tree
I loved Tanya Donelly when I was in high school and basically wanted to be her. This is the only Belly song that ever got any traction, but they actually have a lot of tunes I enjoy.
Primitive Radio Gods — Standing Outside A Broken Phone Booth With Money In My Hand
They probably could have chosen a shorter title, although the paragraph they ended up going with did help make it more memorable. It mainly became popular due to the movie The Cable Guy, but it's a good song, so I can forgive it that.
Veruca Salt — Volcano Girls
Love these girls. If I could be in a band, this is the one I would chose. They just seem to have so much fun. I could have included their other huge hit The Seether in this list, but went with Volcano Girls, because it rocks harder. Did I mention I love these girls?
Spacehog — In The Meantime
I was never a huge fan of 90s British rock (I do NOT like Oasis—way to whiny), but have to admit, this is a catchy tune. I don't know much about the band or the song, though.
Luscious Jackson — Naked Eye
I own this CD, but it's not really that great overall. It has a couple of good songs and Naked Eye is by far the best. Cool video, too.
Smashing Pumpkins — 1979
The quintessential coming-of-age song and probably the one song from the 90s that evokes the most nostalgia. The Smashing Pumpkins had far bigger hits in the 90s, but this song was actually voted their 2nd best in 2012 by readers of Rolling Stone. I'm a huge Pumpkins fan anyway and like most of what they've done, but I went with this song here, because it's so beautiful and yet so different from their other stuff.
Deep Blue Something — Breakfast At Tiffany's
This song was everywhere for a while. I never loved it, but I didn't hate it either. It's catchy enough and I'm a huge Audrey Hepburn fan, so they get bonus points for that. Critics as a whole didn't like Breakfast at Tiffany's nearly as much as the public. The Houston Press called it the second worst song by an artist from Texas, after Ice Ice Baby. If this is the second worst, Texas has had it pretty good. I'm guessing they ignored Country Music when they made that list.
Blind Melon — No Rain
This song is probably most famous for its video and the "bee girl", but it's great even without the video. I probably would have forgotten about it, if I hadn't just stumbled across an article in People a few days ago with an update on what "bee girl" is up to these days. I'll save you the time: she's 34 and just got married to a guy she met online. Life imitates art: just like she did in the music video, "bee girl" found her happiness.
Toadies — Possum Kingdom
Possum Kingdom is a dark song with unusual alternating time signatures. The title refers to a lake in North Texas called Possum Kingdom Lake. This song continues the story started in their other song I Burn, about cult members that set themselves on fire to ascend to a higher plane. In Possum Kingdom, one of those cult members takes smoke form and goes to the lake to find others to join him. Readers of this site probably remember this song from my list of easy songs to sing for beginning singers.
Live — Lightning Crashes
Lightning Crashes was famously though to be about a mother dying during childbirth, but was actually about a day in a hospital. People die and others are born in a kind of transference of life. I don't really care about that, I just like the song.
Candlebox — Far Behind
I always thought Candlebox was the most underrated Seattle band from this era (though I could make that same case for The Screaming Trees, which is another grunge band like Nirvana) and I could have also put their other big hit You on this list. I chose Far Behind because it rose slightly higher on the charts and because it was written in tribute to Andy Wood from the bands Malfunkshun and Mother Love Bone.
Filter — Hey Man, Nice Shot
This song is famously about the politician Budd Dwyer who was convicted on bribery charges and then shot himself on live TV during a press conference. It is not about Kurt Cobain, as many believe.
Jennifer Paige — Crush
I generally tried to keep pure pop songs off this list, but had to make a few exceptions. This one I made because I love this song. So did a lot of other people: it peaked at number 3 on the Billboard Top 100. If you've seen my article on songs to sing to your girlfriend and were looking for similar songs a girl could sing to her boyfriend, this one will do nicely.
Kris Kross — Jump
I was secretly hoping you could guess this: Jump is the one song on this list I really hate. I love 90s rap and hip-hop (despite very few rap songs on this list—they will get their own post eventually), but to me this is just a pop song. And a pretty bad one at that. But it was number one on the Billboard Top 100 for 8 consecutive weeks, because people are stupid. Or maybe I'm just a weirdo, because clearly, I'm in the minority here. But I can't be alone….does anyone else hate this song as much as I do?
Spin Doctors — Two Princes
This song was number 41 on VH1's list of "100 Greatest Songs of the '90s" and also number 21 on Blender's "50 Worst Songs Ever" list. I have to side with VH1 on this one. While it's far from my favorite 90's song, I thinks it's catchy and am always happy when I hear it. Which I never do and haven't since my college days. Hence, its inclusion here.
No Doubt — Just A Girl
I was torn whether to include any No Doubt songs here, since Gwen Stefani became so huge as a solo artist in the following decade. But I feel most songs from her ska days are forgotten these days. This was the song that launched them into the spotlight, so I included it here, despite Don't Speak being the much bigger hit. If you like No Doubt, check out Paramore and these bands like Paramore.
Busta Rhymes — Dangerous
Busta Rhymes had a string of hit songs in the 90's, but I included this one for the cool and insanely weird video. At a time when most rappers were making the exact same "look at how rich I am" videos (I'm looking at you Puffy), Busta Rhymes and Missy Elliot did something completely different and I love them for it. But I can't put Missy on this list, because her music hasn't been forgotten.
Mighty Mighty Bosstones — The Impression That I Get
Ska was big in the 90s and this song and Just A Girl by No Doubt were most people's introduction to the genre, mine included. The Mighty Mighty Bosstones remain my favorite ska band, because I saw them in concert once and they killed it. So much energy.
The Verve Pipe — The Freshmen
A sad song about the lead singer's girlfriend getting an abortion, not actually about her committing suicide, as he eventually clarified in an interview. This is their only song that ever took off and led to them being labeled a one-hit wonder. And rightfully so, I have to say. I own this CD and can't remember a single other song on it.
The Breeders — Cannonball
What a bass line! I wasn't sure if I should include this song, because I don't know if it's quite as forgotten as some of the others. I haven't heard it much, though, so I went ahead. Fun fact, the music video was actually directed by Kim Gordon (of Sonic Youth fame) and Spike Jonze.
The Presidents Of The United States — Peaches
Would you believe a song about peaches was actually nominated for a Grammy Award? The video features the band in a peach orchard being attacked by ninjas, because of course it does!
We actually had some people ask how we could include a song like this, but not Cotton Eye Joe by the Rednex. Well, that song is not really forgotten and it's also not really any good. In fact, it's quite annoying. Plus, they didn't write it. It has been around for over 150 years. If you're interested in that one, we did a breakdown of the Cotton Eyed Joe lyrics and meaning.