Are you one of many musicians who struggle to both sing and play your instrument at the same time?
Trying to hit those high notes while playing a syncopated rhythm on the piano, or while thrashing a guitar solo, is a daunting and often unsuccessful prospect.
I can assure you, it's not just you.
Almost every artist struggles with the coordination at first.
It's one of music's most difficult skills, but also one that can be overcome in just a few steps.
Once you've had some practice with our 6 top tips on how to sing while playing an instrument, you'll be brimming with confidence and ready to get up on stage and show them what you can do!
Why Singing While Playing An Instrument Is So Difficult
It's easy to focus on one thing more than the other.
If you're better at singing than you are at playing your instrument, you'll find that you'll put more effort into the instrument, causing your voice to go into auto drive.
What does this mean?
You'll end up not performing as well with your vocals, which is a problem. People will notice this as they tend to listen to the voice more than the instrument you are playing.
You have to change your head positioning.
When singing live with an instrument, you'll usually have your microphone in front of you while you play your instrument below your eye line. With no microphone, you can freely play your instrument, look down at what you're playing as much as you like, and generally move about more freely.
But when your're singing on a microphone, you're pretty much locked in that position of having to look forward at the audience, meaning you can't see what you're playing.
It can really throw you off your game.
How To Play And Sing At The Same Time: 6 Tips
The following 6 actionable tips will help you master singing and playing at the same time.
1. Know Your Instrument Basics
This is essential before you even start coordinating your vocals with your instrument. If you don't know exactly what chords or melodies you're going to play on your instrument, then you won't be able to progress with this.
So, before anything else, make sure you know the structure, chord progression, rhythm, and tempo of your song fluently. You need to be able to change chords without even thinking what position they need to be in. They need to be ingrained into your head!
2. Keep It Simple
It's no lie that singing while playing an instrument is a particularly hard skill. But that's what we're here for! Why not make it easier for yourself?
Keep it simple!
When you're accompanying yourself, it's a lot more effective to leave more space in your instrument playing.
Because your vocals are the star of the show, all you really need to do is lay out the chords of the song and not do anything too fancy. Doing this will take a lot of pressure off your vocal performance, as you'll be able to concentrate most of your energy into your singing.
3. Hum First, Sing Second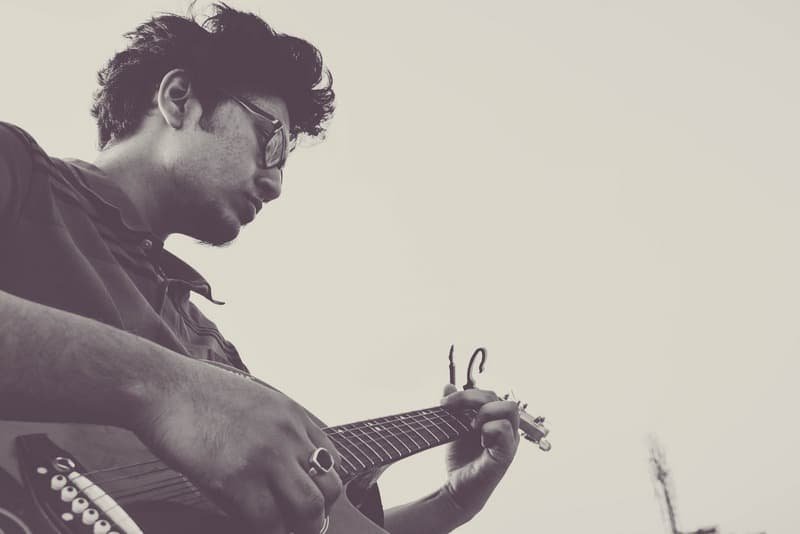 When trying to combine your singing with your instrument playing, it's definitely worth humming the vocals at first, before you belt out the lyrics.
This will allow you to practice your general coordination between your vocals and playing. You'll be able to get used to singing through any chord changes without having to worry about your lyrics or articulation.
4. Practice Slowly
The slower you play, the fewer mistakes you will make. Slowing down your song will help guide you through any difficult sections and will allow you time to think about what you're actually playing.
Once you're confident with a slower practice, raise the speed slightly. Keep doing so until you reach the level speed of your song.
Want to go one better?
Keep turning the tempo up! If you can perform your song twice as fast, you're guaranteed to have no issues when you bring the speed back down!
5. Use The "Singers Secret" Method
Check out this brilliant video from the Singers Secret YouTube account!
Don't have time to watch the whole video? Here's their practical method broken down:
Practice them both separately first. If you're better at singing, start your practice with the piano. It's really important to get the muscle memory of the songs into your fingers before you practice together with your vocals.
Practice them both together. Once you've nailed the instrument part, you can now start to practice both together. After a few practices, you'll build a level of coordination between your vocals and instrument.
Create a basic backing track to sing along to. Once you've got that co-ordination down, we'd strongly recommend creating a simple recording of your instrument part on your phone. You can use this to sing along to. This is a really important part of the process as it allows you to work on your vocal technique e.g. your articulation, dynamics, length of notes etc. These are all aspects that are often lost when you try and practice your vocals together with your instrument without practicing separately first.
Practice together again! Now it's time to bring both your vocals and instrument part back together again! By now, you will hopefully be feeling comfortable enough to perform both together without any problems.
6. Use The "Guitar World" Method
One way to know if you are ready to pair your vocals with your instrument is by using this brilliant technique from Guitar World. It simply consists of this:
"Once you think you have mastered your instrument part, play it while reading aloud from a book, or try playing it during a conversation. If you can manage to keep an even amount of focus on both, then you're ready!"
Singing While Playing Instrument: Final Thoughts
Like any other musical skill, singing while playing an instrument is all about practice above anything. Try and incorporate these skills and techniques into your practice and you'll soon see your coordination improve rapidly, along with your level of accuracy.
The more you do it, the easier it will become. Let us know how you got on in the comments below. Also let us know if you have any additional tips for your fellow musicians.