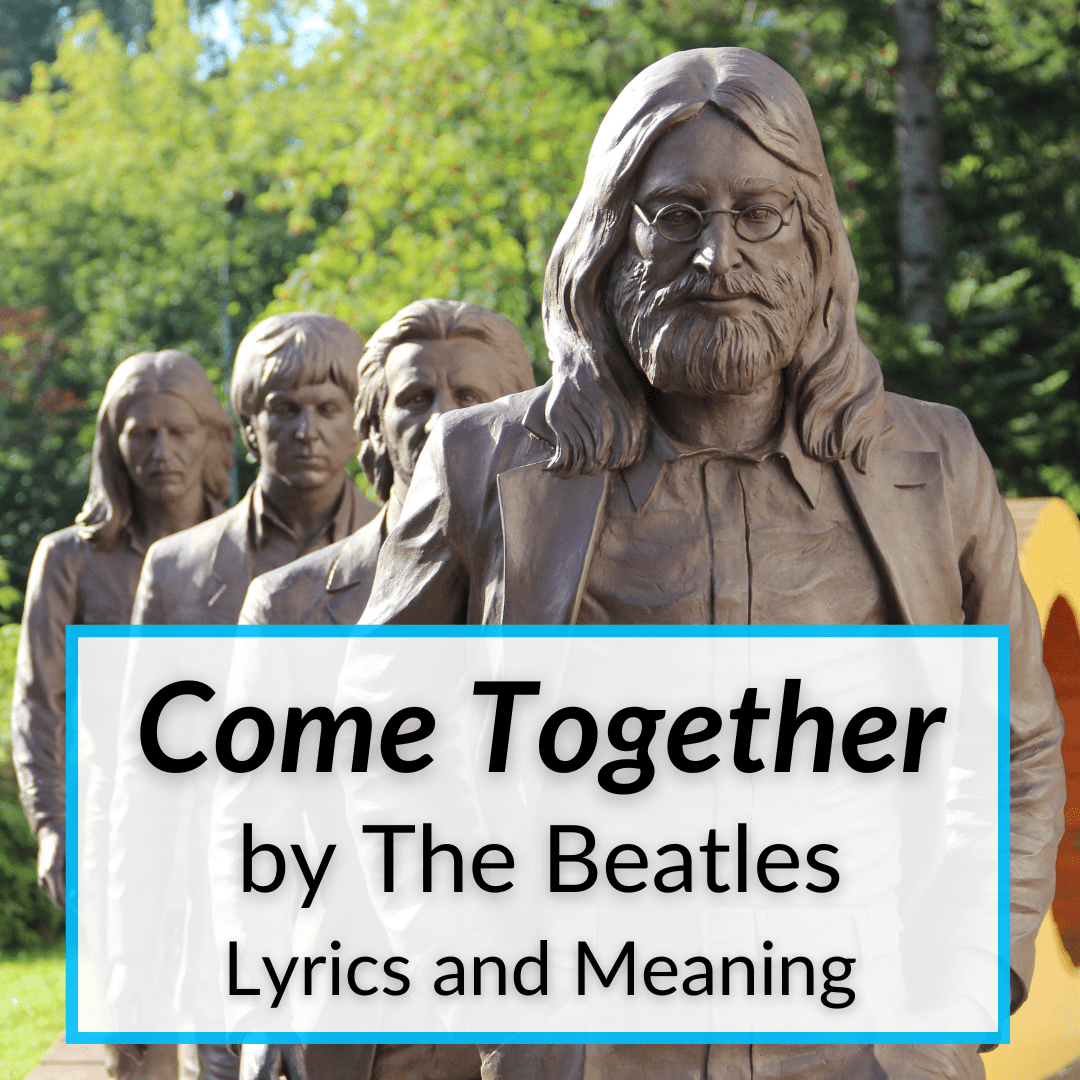 I'll just say this right off the bat.
The lyrics to Come Together by The Beatles make no sense.
Ok, so everyone already knows that.
But then there's the hidden meaning.
Or is there?
Ever since the song was released, fans have been trying to find the hidden meaning behind the cryptic lyrics.
But if you've given them a bit of thought, you can easily conclude that there is no true meaning behind them. That there can't be one.
So which is it?
Keep reading for the Come Together lyrics meaning, plus some interesting history of how the song came about.
Come Together Lyrics And Meaning
The Beatles released Come Together at a time when movements and demonstrations against the Vietnam War and racism were proliferating in the United States.
It became the number one song on the US charts for 16 weeks and broke into the top 10 in the UK. And it has enjoyed continued popularity ever since.
It had the privilege of opening the A side of the last album by the Liverpool quartet. That album was Abbey Road, recorded in the London studios with the same name in the summer of 1969.
After the tense and problematic recording of their previous project Let It Be, The Beatles decided to take some time, before resuming the production of the George Martin-produced album that ended up being their epitaph.
During that break, John Lennon began to prepare some of his first solo songs. Among them were the lyrics of this anthem of the Fab Four.
Originally written at the request of American psychologist Timothy Leary for his campaign for governor of California, the song ended up taking on a very different role, when the candidate was removed from the political race due to legal problems.
Leary, a defender of LSD as a therapeutic drug in the field of psychiatry, was left out of the fight against Ronald Reagan, after being charged with possession of marijuana.
John Lennon, Paul McCartney, George Harrison, and Ringo Starr returned to the studios in the summer of 1969 and it was then that the former rescued the lyrics of Come Together.
The group completed the lyrics and combined them with the instrumentalization, with McCartney on bass, George Harrison on lead guitar, and Ringo Starr on drums. Let's take a look at the lyrics, before diving into their meaning.
Come Together Lyrics
Verse 1
Here come old flat-top, he come groovin' up slowly
He got ju-ju eyeball, he one holy roller
He got hair down to his knee
Got to be a joker, he just do what he please
Verse 2
He wear no shoeshine, he got toe-jam football
He got monkey finger, he shoot Coca-Cola
He say, "I know you, you know me"
One thing I can tell you is you got to be free
Chorus
Come together, right now
Over m
Verse 3
He bag production, he got walrus gumboot
He got Ono sideboard, he one spinal cracker
He got feet down below his knee
Hold you in his armchair, you can feel his disease
Chorus
Come together, right now
Over me
Verse 4
He roller-coaster, he got early warnin'
He got muddy water, he one mojo filter
He say, "One and one and one is three"
Got to be good-lookin' 'cause he's so hard to see
Chorus
Come together, right now
Over me
Come Together Meaning
Come Together was conceived as a generational anthem for the legalization of LSD. It is full of meaningless phrases, which makes it an eternal headache for pseudo-scholar Beatlemaniacs.
They rack their brains to find the hidden meaning, the supposed real meanings, of Beatles songs. It was something the band actually mocked on several occasions in their songs, for example in Glass Onion.
But there is nothing to find hidden in this song. True, it is filled with references to LSD and popular culture, but it has no overall meaning, certainly not a conspiratorial hidden one.
It is simply a great rock classic, with great verses, subtle movements on the guitars, and a somewhat dark bass played by McCartney that enhances everything. It's always hilarious to me that he is one of the most famous bass guitar players ever, but most of his fame does not come for his skill as a bassist (it should!).
Inspired By Chuck Berry
For his writing, Lennon was openly inspired by one of his favorite singers Chuck Berry. Specifically the song You Can't Catch Me served as a direct inspiration. So direct that he even kept some lines from the song.
This is how Come Together ended up being the subject of a plagiarism lawsuit in 1973, brought against The Beatles by Chuck Berry's publisher.
The BBC also temporarily censored the song, which added to the controversy surrounding it. That's because they did not censor it as a result of the references to psychedelic drugs or the sexual references in its title, but because of its mention of the Coca-Cola brand.
As mentioned, Come Together came at a time when demonstrations against the Vietnam War and racism were proliferating in the United States.
Speaking of the album Abbey Road, Lennon said in an interview in Rolling Stone in 1971:
"I liked the A-side, but I never liked the 'pop opera' style of the other side. I think it's rubbish because it was just bits of song that came together. Come Together is fine, that's all I remember. That was my song."
The song has been covered dozens of times by artists such as Tina Turner, Red Hot Chili Peppers, and Elton John.
Originally commissioned by Timothy Leary, the man who promoted the use of LSD, the opening song of the Abbey Road album was inspired by John Lennon's taste for the music of Chuck Berry.
The contributions from Paul McCartney made the song a classic. But he had to put up with a lot. Lennon treated him and his contributions dismissively.
Tension During Recording
John Lennon took over the recording and did not allow his bandmates much input. This went on for a while, before Paul McCartney couldn't take it anymore.
Frustrated, upset, and despondent, he approached John Lennon as soon as he entered the studio control room. The guitarist had spent the afternoon recording the lead vocals for his new song, but it wasn't enough.
In addition, he decided to record all the choirs himself, dispensing with the usual backing from George Harrison. All of this led to McCartney coming close to losing his cool. However, he took a deep breath and decided to be a diplomat.
"What do you want me to do on this subject, John?" Lennon looked at him and said: "Don't worry, I'll do the overdubs on this."
It was July 1969 and the Beatles were working on songs for the Abbey Road album. In his memoir, recording engineer Geoff Emerick details that there was still tension between the longtime collaborators.
It dragged on from the stormy White Album sessions and the disaster of the Get Back project (later released as Let it Be). He explained:
"The group was still playing long, useless jams, as they had frequently done during the White Album sessions, and I could see John treating Paul very roughly."
But they were difficult days for various reasons. Shortly before entering the recording, Lennon had literally been one step away from death.
The Accident
On July 1, he overturned his Austin Mini in a ditch. He was traveling with Yoko Ono and his son Julian, during a vacation in Scotland. They all suffered only minor injuries, with Lennon needing 17 stitches on his face. Yoko took the brunt of it, suffering injuries to her back.
With sessions for the new album underway, the rest of the group and producer George Martin – whom they had convinced to return after he quit in the Get Back debacle – grew concerned for their fallen partner.
After being hospitalized for five days and resting in his mansion, John joined the rest of the group on the 9th of the same month.
But to everyone's surprise, he didn't do it alone. He was accompanied by employees from a store. It turned out that he had bought a bed and was having it installed in the recording room, so that his convalescing wife could accompany him and give her opinion from time to time.
They hung a microphone above her so that everyone could hear her! This greatly irritated the other musicians, especially Paul.
During the following days, Lennon dedicated himself to resting and taking care of Yoko. On a few occasions, he collaborated with the rest of the group and only dared to play with them in a few takes for I Want You (She's So Heavy), another song of his.
Only when he felt good did he pick up a guitar and play them a new song. It was a tune of clear rock inspiration and it would go on to become on of their biggest hits.
Come Together Lyrics Meaning
The Beatles have always pulled together many different influences and done a lot of experimenting. Come Together is the perfect example of this.
It is song that is not without controversy, but what good song isn't. What matters to most of us is that it is a masterpiece and that it has most definitely stood the test of time. Even if the lyrics are basically pure gibberish with no coherent meaning.
For another huge song that was partially influenced by drug use, also by a huge British artist, check out our discussion of the lyrics and meaning of Rocket Man by Elton John.
A completely different song that was also a huge hit and had lyrics that don't make sense and just seem like random thoughts comes from the Backstreet Boys. The I Want It That Way lyrics meaning is basically nonexistent.
The lyrics and meaning of Hotel California by The Eagles also has to do with drug use. This song talks about decadence in general, not just drug use, although it Don Henley was specifically thinking about the decadence in Los Angeles at the time.
Finally, we also took a closer look at other songs by The Beatles. We discuss the Hey Jude lyrics meaning and then you can read all about the Blackbird lyrics meaning here. We also included a Beatles song in our list of gluttony songs. Can you guess which one?