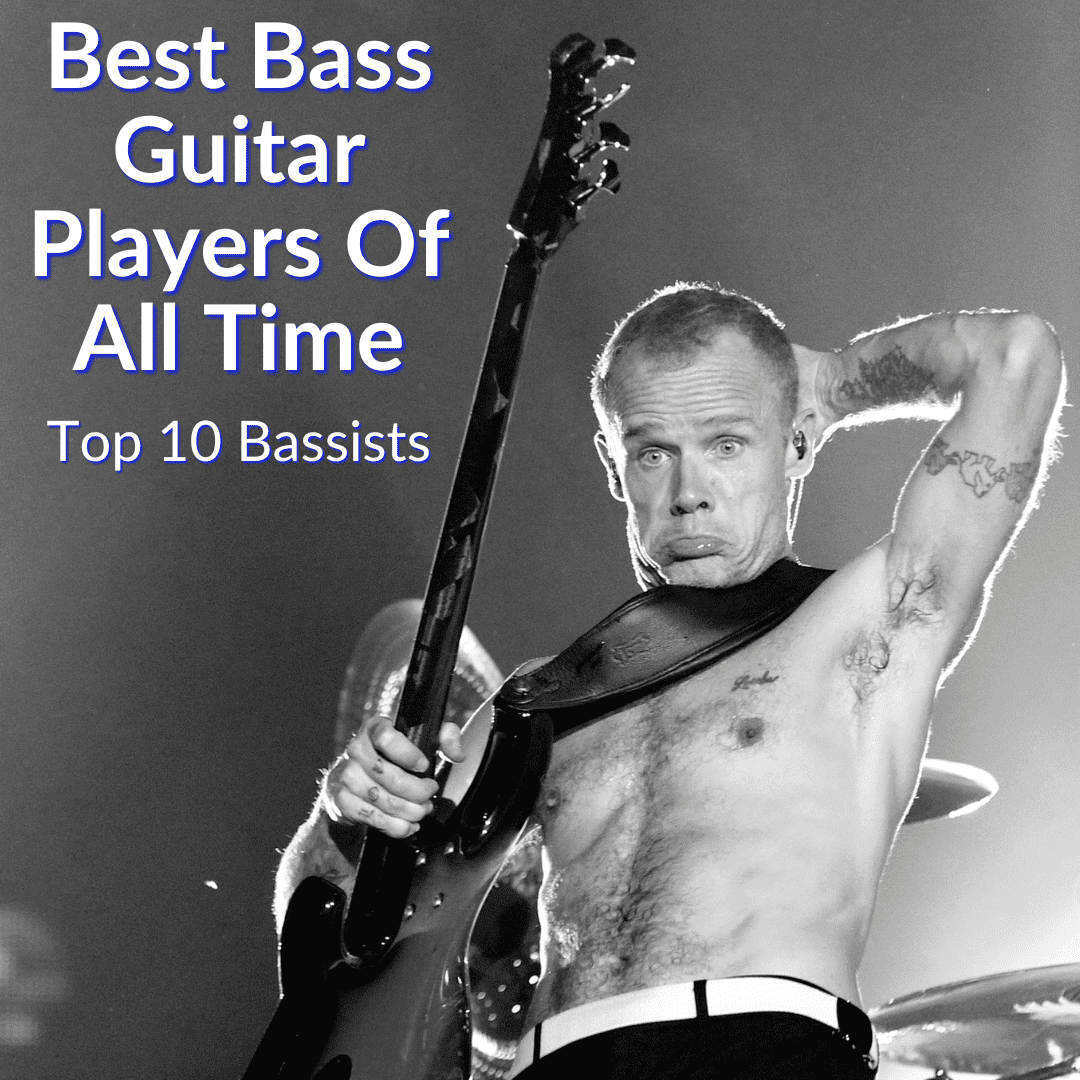 You're probably going to hate this list. But not because I included any bad bassists.
You'll hate it because everyone has their own list of the best bass guitar players of all time.
I understand that and welcome all additional suggestions (leave a comment below).
But please, try to refrain from telling me to die.
I'm, not going to do it, so save yourself the trouble. In fact, it would be great if you could leave out any insults!
We can have a normal, civil discussion. Because I do really want to hear who you think the best bass guitarists are and why you think they're better than some of the bassists I listed below. I may even end up agreeing with you!
Best Bass Guitar Players Of All Time
The following 10 bassists are my choices for the best bass guitarists of all time. You may have noticed a lack of female bassists. I certainly did. That's why I also wrote an article listing the best female bassists.
Victor Wooten of Bela Fleck And The Fleckstones & SMV
Victor Wooten is one of the humblest human beings on the planet and one of the key bassists who inspired me to pick up this instrument over a decade ago.
His skill set has it all, from thumping and sliding to popping, hammer-ons & pull-offs to downright shredding. And he does it all mainly fingerstyle.
When it comes to keeping time and surgical accuracy, he's a faultless robot. What makes him one of the best bassists of all time is that he plays with such groove, energy, and life that both listening and hearing him perform is as beautiful as it is mesmerizing.
Another important reason he's at the very top of the list is that he never settled for playing just one genre. Victor is as versatile as they come, playing prog rock, bluegrass, jazz fusion, funk, and pretty much everything in between.
He's been a part of several bands but is mainly recognized for his bass camps, online teaching, and his solo career.
Paul McCartney of The Beatles
The Beatles have changed history with their music. And even though nearly the entire world knows who Paul McCartney is, his bass playing is a bit underrated. In other words, he is the most famous bass guitarist ever, but his fame does not come primarily as a result of his playing.
His former band is known for poppy, happy tunes, but beneath all those simple beats and angelic voices are remarkable bass lines that withstood all tests of time.
Pick any modern band, and you'll see at least a speck of Paul's playing in it. Whether it be Iron Maiden's melodic bass lines, the grooves in Yes, or the rock-steady rhythms in Jethro Tull, Paul inspired them all, at least a bit.
As one of the longest-running pop-rock bass players of all time, I firmly believe Paul McCartney is one of the best and most influential bass players the world has ever seen.
Flea of Red Hot Chili Peppers
Friends and family know him as Michael Balzary, while the rest of the world knows him as RHCP's co-founder and bassist, Flea.
Red Hot Chili Peppers is a band that borrowed inspiration from dozens of music styles and genres. And you can say the same about Flea's playing.
From funk and hard rock to bits of electronic, psychedelic, and even metal, Flea seamlessly combines techniques that are usually incredibly hard to bring together.
RHCP songs flow so smoothly because Flea is accentuating the parts that need the spotlight, breaks it up when the mellow licks take the stage and knows precisely how to control each aspect of his playing.
Yet, when you see live RHCP shows, he's in the zone, lives in the moment, and proves that his tremendous skill and awareness are simply second nature to him.
Les Claypool of Primus
Les Claypool (and Primus as a whole) has taken the term "alternative music" to a different level. Nothing about his playing is conventional, and he's easily one of the most exquisite innovators when it comes to bass techniques, tone, style, and the way they mesh together.
Unlike many bass players who strive to push the boundaries of playing accuracy and speed, Les seems like he's more interested in how his playing feels to the audience.
On the surface, he's a brilliantly skilled bassist who possesses all the qualities of one. But it is his intricate, thoroughly authentic style that made Primus a one-of-a-kind band.
Even his tone is impossible to replicate, let alone all the idiosyncratic licks he often changes up only by a little with every beat.
Geddy Lee of Rush
While Rush did not invent prog rock per se, they certainly added a new dimension to it. As the singer and the only bassist in this iconic band, Geddy Lee created a special niche for bass playing during a time when most musicians strived hard to keep things simple.
Geddy never overplays, yet every note and lick he plays feels full and larger than life. In the majority of Rush songs, Geddy dances note to note with Alex Lifeson (the guitarist), which is a tremendous feat for such a complex music genre.
One of the reasons he's widely recognized among the best bass players of all time is that he can flow between different time signatures and tempos effortlessly. Geddy has the skills to play virtually any genre and has an uncanny talent for creating a captivating atmosphere.
And if you are curious how Lee gets his tone, this article discusses the bass guitar rigs of several famous bassists, including a few others on this list.
John Entwistle of The Who
John Entwistle, nicknamed "The Ox", was the bassist for the legendary rock band The Who. He was known for his technical skill, innovative playing style, and use of the bass as a lead instrument.
Entwistle's bass lines provided a counterpoint to the guitar and vocals. He was also known for his use of effects pedals and unique playing techniques, such as using a pick and playing chords on the bass.
Entwistle's playing influenced many other bassists, including Geddy Lee of Rush and Flea of Red Hot Chili Peppers. Entwistle passed away in 2002 at the age of 57. He was posthumously named the greatest bassist of all time by readers of Rolling Stone in 2011.
Cliff Burton of Metallica
The late, great Cliff Burton left us way too soon, but he left behind quite a legacy. He recorded 3 full-length EPs with Metallica, including the all-time fan favorite Master of Puppets.
Cliff's style was unique, even for a metal bass player. He could gallop extremely fast and accurately; he could pull off funky riffs that you'd expect from a fusion jazz band; he could set the audience aflame with super-heavy licks and is the author of one of the most famous bass solos in metal in the song Anesthesia: Pulling Teeth.
Even though his time with Metallica was cut short by his untimely passing, Cliff Burton is still revered among fans of heavy music worldwide and recognized as the bassist that helped Metallica reach the stars.
Jack Bruce of Cream
Jack Bruce was a Scottish musician and songwriter best known for his work as the bassist and vocalist for the rock band Cream. He was known for his virtuosic playing style, which combined elements of jazz, blues, and rock.
Bruce left us with some incredibly memorable bass lines that dazzled with their skill as well as their groove. He frequently used unconventional techniques such as playing chords on the bass. He was also a talented singer and songwriter, contributing to many of the band's most memorable songs.
After Cream disbanded, Bruce continued to perform and record as a solo artist and with various other bands. He passed away in 2014 at the age of 71.
Jaco Pastorius of Weather Report
Jaco Pastorius was an American jazz bassist, composer, and producer. He is widely regarded as one of the most influential bassists in history, known for his virtuosic playing style, technical skill, and innovative use of harmonics and the fretless bass.
He played with the jazz fusion group Weather Report from 1976 to 1981, recording several critically acclaimed albums with the band. Pastorius also released several solo albums and collaborated with many other musicians throughout his career.
He is particularly known for his work on the album Jaco Pastorius featuring the Charlie Parker composition Donna Lee, which is considered a landmark recording in the history of bass playing. Pastorius struggled with mental health and substance abuse issues throughout his life and passed away in 1987 at the age of 35.
David Ellefson of Megadeth
The co-founder and the former bassist of Megadeth, David Ellefson inspired me personally to pick up a 5-string bass, mainly because I couldn't cover his lines with a regular one.
His fast, aggressive playstyle is only matched by his precision and inventiveness. Frankly, most rock fans think they've heard it all with Primus, but Dave and Megadeth made equally big strides with quirky tunes like Holy Wars, Hangar 18, and Youthanasia, to name a few.
While it's almost impossible to gauge who's the most skilled bassist ever, Dave is certainly among the top ones when it comes to heavy music.
Best Bass Guitarists Of All Time: Final Thoughts
There you have it: the best bass guitar players of all time. According to me. As mentioned, I fully understand that you may disagree with some, or even all, of the bassists on my list.
Feel free to let me know who you think should have been on the list and who they should have replaced (and maybe also why). If possible, try and let me know without insulting me.
And if you feel discourage listening to these masters, remember that they all started where you and I started, too. With zero knowledge. They practiced chords and bass guitar scales for beginners for hours on end, screwing them up over and over, just like us.