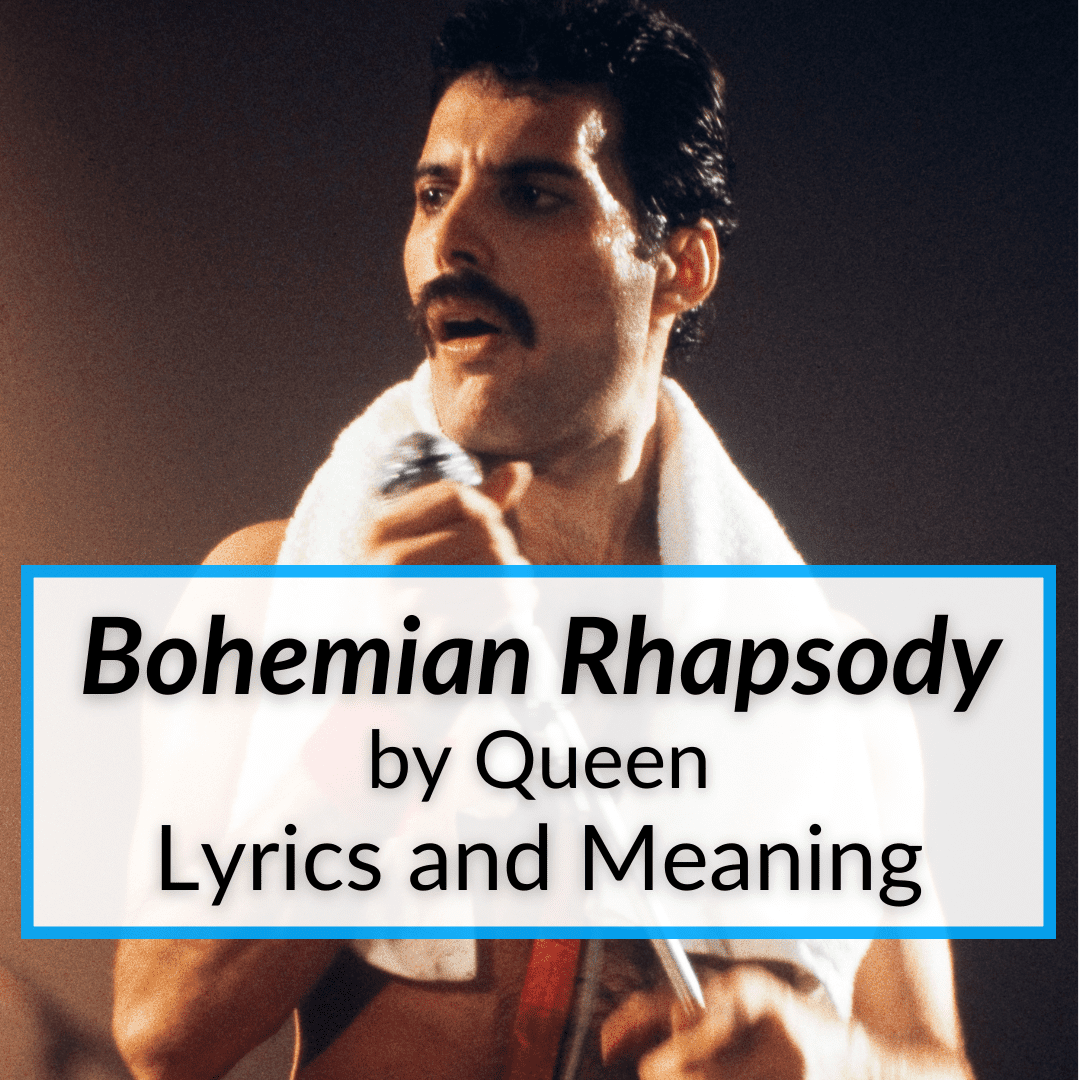 Is there a person on earth who has not heard Bohemian Rhapsody?
It is one of the best-known and most-loved songs ever.
But when it first came out, reactions were mixed. The song did well, but to call it a huge hit would be an overstatement.
Sadly (for what it says about our society) it did not gain massive popularity until the movie Wayne's World came out.
I guess at this point it does not matter what launched the song.
The universal acclaim it receives today (often from the same critics who once maligned it) is deserved.
But there is still one aspect of the song that fosters a ton of disagreement: the lyrics.
The band has always avoided explaining them, which has left fans with no recourse but to come up with all kinds of theories on their own.
So what does the song mean? Keep reading for a deeper look at the Bohemian Rhapsody lyrics meaning.
Bohemian Rhapsody Lyrics And Meaning
Queen's Bohemian Rhapsody was published more than forty years ago. But it continues to play all over the world. It even serving as the title for the new Freddie Mercury biopic starring Rami Malek.
It took Freddie Mercury a few years to finish putting together the six sections of the song (intro, ballad, guitar solo, opera, rock, outro/coda).
At the end of the 60s, Freddie was already playing a passage on the piano from what ended up being Bohemian Rhapsody. One of the early passages had the provisional title The Cowboy Song, and included the verse "Mama… just killed a man."
"Bohemian Rhapsody" belongs to Queen's fourth studio album, A Night at the Opera (1975). At the time of release, it was apparently the most expensive song to produce in all of history.
Although no figures have been revealed, the rehearsals for this song lasted three weeks, and the recording sessions also lasted three weeks, with voice recordings of up to 12 hours a day. In all, they came together with 120 tracks of vocals that they had to mix with 24-track recorders.
The operatic section alone took a week to record. The most curious thing of all is that no one knew for sure how the final result would sound when joining the different parts.
But Freddie had it all in his head. Brian May said that Mercury even composed the guitar solo that he plays, having recorded a piano guide for him.
But it is the lyrics of Bohemian Rhapsody that invite the most discussion. Let's take a look at those now, before diving into their meaning.
Bohemian Rhapsody Lyrics
Intro
Is this the real life? Is this just fantasy?
Caught in a landslide, no escape from reality
Open your eyes, look up to the skies and see
I'm just a poor boy, I need no sympathy
Because I'm easy come, easy go, little high, little low
Any way the wind blows doesn't really matter to me, to me
Verse 1
Mama, just killed a man
Put a gun against his head, pulled my trigger, now he's dead
Mama, life had just begun
But now I've gone and thrown it all away
Mama, ooh, didn't mean to make you cry
If I'm not back again this time tomorrow
Carry on, carry on as if nothing really matters
Verse 2
Too late, my time has come
Sends shivers down my spine, body's aching all the time
Goodbye, everybody, I've got to go
Gotta leave you all behind and face the truth
Mama, ooh (Any way the wind blows)
I don't wanna die
I sometimes wish I'd never been born at all
Verse 3
I see a little silhouetto of a man
Scaramouche, Scaramouche, will you do the Fandango?
Thunderbolt and lightning, very, very frightening me
(Galileo) Galileo, (Galileo) Galileo, Galileo Figaro magnifico
But I'm just a poor boy, nobody loves me
He's just a poor boy from a poor family
Spare him his life from this monstrosity
Easy come, easy go, will you let me go?
Bismillah! No, we will not let you go
(Let him go) Bismillah! We will not let you go
(Let him go) Bismillah! We will not let you go
(Let me go) Will not let you go
(Let me go) Will not let you go
(Never, never, never, never let me go) Ah
No, no, no, no, no, no, no
(Oh, mamma mia, mamma mia) Mamma mia, let me go
Beelzebub has a devil put aside for me, for me, for me!
Verse 4
So you think you can stone me and spit in my eye?
So you think you can love me and leave me to die?
Oh, baby, can't do this to me, baby!
Just gotta get out, just gotta get right outta here
Outro
(Ooh)
(Ooh, yeah, ooh, yeah)
Nothing really matters, anyone can see
Nothing really matters
Nothing really matters to me
Any way the wind blows
Bohemian Rhapsody Meaning
First of all, we need to clarify that there is no official meaning of Bohemian Rhapsody. Queen has never wanted to explain their hit and its members limit themselves to saying that it refers to "a private matter in Freddie's life."
Mercury himself only spoke to say the following: "It's one of those songs that has a whimsical touch. I think people should just listen to it, think about it, and then come to their own conclusion about what it means to them."
Of course, that has done nothing to prevent people from forming numerous theories, analyses, and hypotheses. How could it, with such an iconic song?
Coming To Grips With Bisexuality
The theory that has gained the most strength is that the lyrics are Mercury finding a way to accept his bisexuality.
At the time the song was recorded, Mercury was in a relationship with a woman, Mary Austin. He lived with her for years and he bequeathed her a fortune (including his mansion in Kensington, London) when he died.
However, in Queen's heyday, they apparently began to grow apart. Eventually Freddie confessed that he was unfaithful to her with a man.
This somewhat resembles the plot of a soap opera and could definitely have been the seed of a great internal conflict for the artist, one that he perhaps reflected in Bohemian Rhapsody.
The line "Mama I've just killed a man" could refer to his metaphorical death as a straight man. And, of course, some say that "Mama mia let me go" refers to Mary Austin.
Seen from this perspective, the lyrics seem to make more sense and those verses that talk about a poor boy that nobody wants because of his monstrosity may well be autobiographical.
Other theories have pointed to the trauma that Mercury faced when he had to leave his native Zanzibar as a child. Other hypotheses suggest a more literal meaning. That is, a man who has killed another and is afraid of the consequences that this act may have.
Be that as it may, perhaps the best thing is to listen to Freddie and to make the song your own and give it your own meaning. That's what Mercury himself told us to do and it is the beauty of music. Nay, of art in general.
Bohemian Rhapsody Lyrics & Meaning: Final Thoughts
Queen's Bohemian Rhapsody is one of the most famous songs ever written. And the Bohemian Rhapsody lyrics meaning is famously confusing.
Queen themselves have always avoided giving us any real insight. That has left it up to us to decide for ourselves what the lyrics mean. Of course many people can't simply decide for themselves, they have to let everyone else know what they think, which has lead to numerous different theories.
The one that makes the most sense and seems the most likely is that the lyrics are the result of Freddie Mercury was coming to grips with his bisexuality.
For the unofficial 'bi-anthem', check out our breakdown of the Sweater Weather lyrics meaning. This hit by The Neighborhood has been adopted by the LGBTQ+ community.
Of course, the quintessential gay anthem is Village People's YMCA. We also analyzed the YMCA lyrics and their meaning.
Simon and Garfunkel also have a song about a young man coming to grips with his sexuality. In this case, he does so by hooking up with a much older, married woman. See our look at the lyrics and meaning of Mrs Robinson for more.
Finally, if you want more from Queen, check out our list of songs about winning. It features two Queen songs. I'm sure you can guess which ones. We have another one of their songs in our list of songs about magic. Can you guess that one?