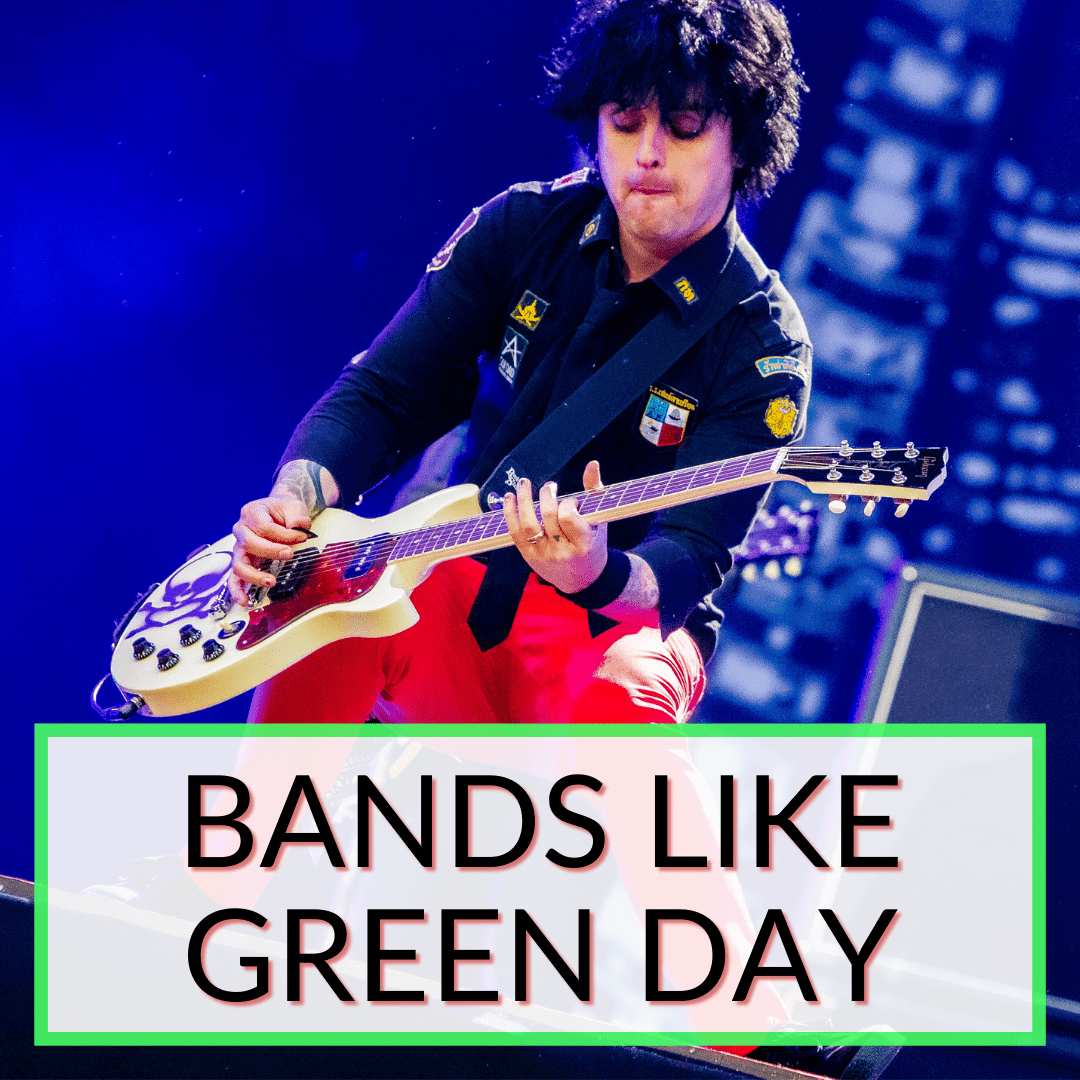 Green Day took punk music mainstream.
They also took it in a new direction.
They were not the only band responsible for this change, but they are one of a few.
You'll find the others on this list of bands like Green Day.
Along with them, you'll find other punk bands. Some came before Green Day, but most came after and took inspiration from them.
All bands listed here are ones you're sure to enjoy, if you love Billie Joe Armstrong and company.
Bands That Sound Like Green Day
Blink 182
If you want a band that's close to what Green Day is doing, Blink 182 is probably the easiest one to get into. And just like Green Day, Blink 182 also entered the spotlight during the 1990s. What's more, both bands are considered pioneers of the pop punk movement.
And just like Green Day, Blink 182 operates as a trio. The classic lineup featured Tom DeLonge on guitars and vocals, Mark Hoppus on bass and vocals, and Travis Barker on the drums.
A big lineup change came with the departure of Tom DeLonge in 2015. A lot of fans are still saddened by DeLonge leaving the band, but Matt Skiba has done a great job of replacing him.
Either way, the band has eight albums, all of which are filled with awesome pop punk stuff. The earliest material from the 1990s and the early 2000s is probably the best way to start. But you'll like all of their material if you're into Green Day and other acts like Blink 182.
Foo Fighters
After Kurt Cobain's death and the automatic disbandment of Nirvana, Dave Grohl started his own project named Foo Fighters. It didn't take long to get things going among grunge and rock fans in the 1990s. His project went on to become one of the most important rock bands of all time.
While not exactly a punk or a pop punk band, the Foo Fighters share some obvious similarities with Green Day. In fact, if you're a Green Day fan, we're fairly certain that the Foo Fighters are going to be one of your favorite bands as well.
At this point, Dave Grohl is one of the most prolific modern rock musicians. From 1995 to now, the Foo Fighters have released 10 full-length studio albums. And almost all of the stuff has been written or co-written by Grohl himself.
The Offspring
The Offspring have to be one of the catchiest-sounding rock bands of all time. It should come as no surprise that they also made our list of bands like Weezer, the kings of catchy rock tunes. As well as our article on bands that sound like Sublime, who had similar positive vibes.
Once again, we have a band that broke out during the 1990s, rising to fame with their cleverly written and easily memorable music.
But compared to Green Day, we can notice a bit of a heavier twist. Their music is sometimes referred to as skate punk with some melodic hardcore punk elements.
Over the decades, the Californian band has been led by singer and guitarist Dexter Holland and guitarist Kevin John Wasserman, also known as "Noodles."
Most of the material is written by this duo, and the easiest way to hear how it all worked out is on albums like Smash, Ixnay on the Hombre, and Americana. Of course, other albums are worth checking out as well, but these three are the easy way into The Offspring's music.
Sum 41
Sum 41 are easily one of the most interesting bands, not just in punk rock music, but of all time. If you like Green Day but you feel like listening to a very diverse punk rock band that's not afraid to experiment, Sum 41 are the perfect choice for you.
Starting their work back in the mid-1990s, Deryck Whibley remains the sole original member and the creative mastermind behind Sum 41. Their debut album appropriately titled All Killer No Filler was released in 2001.
Since then, the band has released six more studio albums. Particularly interesting is Chuck from 2004, on which they experimented by adding some thrash metal into the equation. If you feel like experimenting, you should definitely check out Chuck.
Good Charlotte
The whole emo movement in punk rock music still has a strong following, and somewhat of a nostalgic feeling as well. When thinking of emo punk, Good Charlotte is one of the first bands that comes to mind.
Formed back in 1995, they are led by brothers Joel and Benji Madden, as well as bassist Paul Thomas. These three are also the only constant members who have remained in the band since the very start.
Their general style can mostly be described as pop punk, although there are other elements in there as well. Compared to most of the other bands on this list, they gravitate more toward pop than punk.
Even if you tend not to like pop punk, we're certain that you'll like most of the stuff present on the seven albums they released between 2000 and now.
Fall Out Boy
Coming from Illinois, Fall Out Boy are one of the most essential pop punk and emo bands out there. They've been around since 2001 and have released seven full-length studio albums so far.
They are a younger band than Green Day, and you can definitely hear the impact that the legendary pop punk trio has had on their music.
Similar to Good Charlotte, they gravitate more toward pop than punk. This is accompanied by some electronica and even R&B elements, which isn't exactly conventional for punk bands. Nonetheless, we're certain that you'll like their music if you're a fan of Green Day.
Weezer
What's interesting about Weezer is that they're popular among fans of many different genres. You'll even find straight-up metalheads worshiping their music.
Although they are not as much of a punk band, there are obvious similarities between their overall style and that of Green Day.
Coming from Los Angeles, California, Weezer have been present on the scene since the early 1990s. From their beginning to now, vocalist and guitarist Rivers Cuomo and drummer Patrick Wilson remain the only constant original members. As for their music, Rivers Cuomo is the main creative mastermind behind it all.
Weezer are one of the most prolific bands in rock music. From 1994 to now, they have released 15 studio albums, with their material earning them a bunch of nominations and awards during this period.
Dropkick Murphys
If you feel like trying out something a bit different, but still within the classic punk boundaries, the Dropkick Murphys are who you're looking for.
In most cases, they're described as Celtic punk, a movement that arose in the United States during the 1990s. There's a clear influx of traditional Celtic music in their work, which they mix with hardcore punk stuff.
Led by singer and bassist Ken Casey, they are kind of a departure from the other bands on the list. Nonetheless, if you like energetic punk stuff with some interesting new elements, you simply cannot go wrong with the Dropkick Murphys.
Bad Religion
Another slightly heavier name on this list, Bad Religion is a punk band from Los Angeles, California with some serious hardcore punk influences. The band has gone through a lot of changes since their formation in 1980.
Greg Graffin has been the only constant member. Despite the changes, they have become one of the most influential punk bands of all time.
From Bad Religion, you can expect sharp socially motivated lyricism complemented by energetic punk music. Their debut album came out in 1982, and the band is still active to this day, with original members guitarist Brett Gurewitz and bassist Jay Bentley accompanying Graffin.
My Chemical Romance
Now we're heading into some completely different territories of punk music, but My Chemical Romance is an obligatory mention on a list like this one. In fact, if you're really into Green Day, we're fairly certain that you'll love bands like My Chemical Romance.
The band went on a lengthy hiatus from 2013 to 2019. Today, they're officially a four-piece, featuring singer Gerard Way, bassist Mikey Way, and guitarists Ray Toro and Frank Iero.
Their musical style is on the softer side of punk music, although they've had some heavier moments over the years. Some of their work can even be categorized as post-hardcore.
They have released only four studio albums so far, but all are a safe bet for any Green Day fan. Our recommendation would be to start with the 2006 album The Black Parade.
Jimmy Eat World
When we're talking about pop punk bands with catchy vocal lines and guitar riffs, we have to mention Jimmy Eat World. Although not as big as Green Day in terms of commercial success, the band has been of crucial importance to the development of modern pop punk.
The four-piece group has been led by singer and guitarist Jim Adkins since the band's very beginning. Looking at their ten albums, pretty much all of the stuff is worth checking out if you're a Green Day fan. But if you want a safe way into their music, we'd recommend 2004's Futures album.
Anti-Flag
It's no secret that Anti-Flag is stylistically a completely different band than Green Day. But if you're looking for something in the classic punk style that provides a heavier and edgier experience, Anti-Flag is a great choice.
Active since the late 1980s, they've proven to be very prolific, releasing 12 albums between 1992 and now. They're worth giving a go if you want something a bit heavier than Green Day.
Bands Like Green Day: Final Thoughts
As Green Day fans, we're lucky. They have been a prolific band over the years, with 13 studio albums released so far. That means there is plenty of great music to enjoy.
They've also managed to stay alive. Premature death has taken out bands like Linkin Park, Soundgarden, Nirvana, and many, many more.
But despite the numerous songs, at some point you can't help but wish there was more. While you wait for a new album, the bands that sound like Green Day listed above are all great options for your new music fix. Check them out. You're sure to find at least a few you like!
Finally, I included one of Green Day's biggest hits on my list of songs about insanity. I'm sure you can guess which one it is!