The easy answer: no, vocal lessons are not necessary.
But it's never that easy, is it?
In the end, it really comes down to your goals.
Why do you want to sing better? Is it to sound good when you sing karaoke?
Is singing just a hobby? Or do you plan to make a career out of it?
Determining your goals for considering voice lessons is vital.
Until you have done that, you can't decide whether paying for lessons is a good idea.
If you do not yet know why you want to improve your voice, figure that out now. Once you know your end goal, read on to see whether you should get yourself a vocal coach.
Are Singing Lessons Worth It?
Which of the following situations best describes your motivation for wanting to learn to sing? Answer that question, and I can help you determine whether it makes sense for you to pay for singing lessons.
I Just Want To Sing For Fun
If singing is just a hobby, there is no need to spend money on a voice coach. Just read free articles on learning to sing and watch some Youtube videos.
If you don't mind spending a little money, maybe get an online vocal course. These cost a few hundred dollars at the most, so you can get a full course for less than you'd pay for an hour with a good teacher. There are tons out there, but only some are worth the money. This post lists the best singing courses.
I Want To Sound Better At Karaoke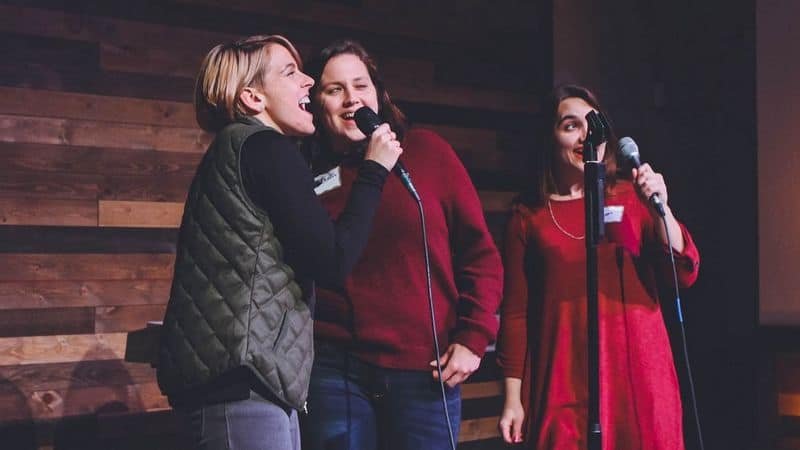 If you are hoping to improve your voice because you love karaoke and want to be one of those people who have the whole bar hanging on their every note, you might want to consider vocal lessons.
I'd start out with an online course to get the basics down. Roger Love's Singing Academy is the best one available today.
Once you've done that, you may very well find that you are happy with your current skill level. The improvement most people see from just learning the basics is amazing. You'll sound better than almost anyone else you'll ever see behind a mic at your average karaoke bar.
If you want a professional-level singing voice, a real instructor is your best bet. The personal instruction they provide is something you can't get from reading or watching videos.
I Want To Become A Professional Singer
If you hope to make singing your career, you'll need to hire a professional voice coach. You could still start out with an online course to learn the basics, especially if you are not 100% sure you want to make singing you job, but after you've learned the basics, you need a real live teacher to progress to the next level.
Ideally, you'll work with a real instructor from the beginning. The progress you make with a real singing coach just comes so much faster than if you learn on your own using videos.
Plus, a coach ensures you don't pick up any bad habits. They will detect any issues immediately and have you correct them. Working on your own, it can easily happen that you practice an incorrect technique, which then takes a lot of work to correct down the line.
Can Singing Lessons Help A Bad Singer: Related Questions
Next we will answer some related questions. If you have any additional questions, please feel free to ask them in the comments below.
Will singing lessons actually help?
Singing lessons will help. The real question is: will they help enough to make up for the cost. Only you can truly answer this, and the answer will depend on how serious you are about singing.
Here's what good singing lessons give you. They ensure you learn the correct way to sing from the ground up. You learn proper breath control, posture, mouth position, etc. and you avoid developing bad habits that can hinder your progress down the road.
Another factor that is often overlooked is that having a teacher allows you to get answers immediately to questions you might have. There are a lot of questions that books and courses can't predict, like "Why do I cry when I sing?" or "Why do I yawn when I sing?" Both are common issues that beginning singers wonder about. A teacher can reassure them immediately that this is nothing to worry about.
Can singing lessons make you a better singer?
Yes, they can. Unless you have a terrible voice to begin with. In that case, they will still help, but you will never sound great and should probably find a different career path or hobby.
If you've got a good, or even just decent, voice, singling lessons will help bring out the best in it and make you sound much better. They also teach you additional things to help your career, like how to sing into a microphone, how to overcome stage fright or how to promote yourself as a singer.
Can anyone sing well with lessons?
If you can talk, you can learn to sing with the help of lessons. Even some simple vocal tips for beginners will make you sound better.
But not everyone will be able to sound amazing. Natural talent and your degree of musical aptitude play a huge role, as they do with anything else.
I can learn to play soccer and get much better at it, but I will never play on the national team. Or any team that play at or above a 4th grade level.
Are singing lessons expensive?
They can be. Singing lessons can run you up to $200 an hour, or even more. Generally, good private lessons with a qualified instructor will average around $50 to $100 per hour, but the cost depends on many factors, like cost of living in your area, the teacher's prestige, and much more.
If you choose to go with online lessons that are conducted via pre-recorded videos and not a live teacher, the cost is generally between $100 and $200 for the entire course. The Singorama course is an exception and is one of the few quality set of lessons that sells for under $100.
The 30 Day Singer course used the subscription model. you could get through all the lessons in a month or two and only pay $29 to $58. It also has a free trial that gives you access for 14 days.
This can be a good option for someone who can't afford private lessons yet, or who is not quite as serious about learning to sing at a professional level. It is a good way to get the fundamentals down, before deciding to spring for much more expensive private lessons to take your singing to the next level.
Can Singing Lessons Make You Good: Bottom Line
To sing like a professional, yes they are.
If that is your goal, you need to get a teacher, either right from the start or, at the latest, when you are ready to advance past the intermediate stage.
If you're just singing for fun or to impress the patrons at your local karaoke bar, you might as well save your money and just get an online course that teaches you the proper techniques.