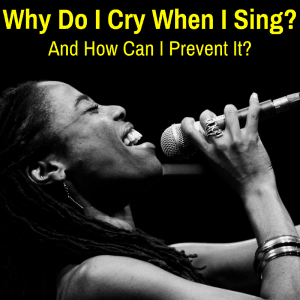 Don't feel bad. Don't be embarrassed.
Many singers cry when they perform. A lot of them even do it on purpose.
Why do they cry when they sing?
There are actually a number of reasons why this happens and we'll go through them below.
The main takeaway is that it is not something to be ashamed of, or something you need to prevent.
Nevertheless, there are times when crying may negatively impact your singing.
If that is the case, there are ways to avoid it. I'll give you some tips for that as well.
But first, let's examine why you might tear up when you sing and how it can actually have a positive impact on your vocal performance.
Why Do I Cry When I Sing?
You may start to cry while singing an emotional song. You can be singing a heartfelt song and tears start to roll down your cheeks. You may not even realize it.
The feeling conveyed by the song just captures you and you are unable to hold back your tears.
You might cry while singing because there are certain memories or feelings attached to the song you are singing. It may remind you of a specific person who is no longer a part of your life.
Or it may remind you of a time long past to which you cannot return. Singing songs that evoke these feelings is an emotional experience and often leads to tears.
It can also simply be that you become overwhelmed by the music and the song itself that you can't help but cry. Many people cry at concerts of their favorite musicians, because it is such a special and valuable experience. It only makes sense that the music can be just as touching (or even more so) for singers.
Singing an all-time favorite song can cause a rush of emotions. It is a magical feeling to sing in front of a large audience. This can get overwhelming and overpower you. It ultimately results in tears and there is no shame in that.
It is important to clarify that there is no shame in crying when you sing. Human beings are emotional by nature and it is okay to express our emotions through music. After all, it is our emotions that make us human.
I will go so far to say that crying is often a good thing. That surprises many when they first begin learning to sing. It makes a performance stronger and makes the audience experience more intimate and special.
But sometimes, crying can also get in the way of a performance. For that reason, I will also provide some tips on how to keep from crying when you sing. But first, let's look at some of the positive effect crying can have on your performance.
Crying Helps Singers Communicate Emotion
Music is a powerful thing. In opera, for example, it is common to cry while singing. Many singers cry during an emotional scene to connect with the audience.
This helps them deliver the message intended by the song more articulately. Crying helps artists convey their emotion and it is something many vocal coaches actually teach.
When you cry while singing, you can make any performance more dramatic and captivating. It is actually a great technique to help evoke the audience's emotions.
That is why you should not feel that there is anything wrong with allowing the flood of emotions singing may awaken to take over. Just give in to it and let yourself go. Don't always be conscious of people around you. Singing is an art and to enjoy get the most out of it, you need to fully indulge in it.
Singers Cry To Connect With The Lyrics
Some people cry while they sing to get the proper feel of the song. They want to connect with the deep meaning of the lyrics. This helps their singing be more meaningful and soulful. Great singers make an effort to feel the pain of the song and transmit that pain as authentically as possible to their audience.
Crying Doesn't Always Express Sadness
People cry in different situations. Happy tears are also a thing. Crying doesn't always mean that someone is sad. Singing evokes many different feelings in people. A person can cry and feel euphoric at the same time. Often it is a result of the whole experience and environment in which you are singing.
If you find yourself crying during a performance, it could be because you are in awe of the whole experience. For instance, you may finally be performing at a venue where you've always dreamed of performing.
This makes you feel inspired, amazed, happy, or simply proud of yourself. This can easily lead to tears. Let them flow and don't be hard on yourself. It is okay to express your feelings openly.
Crying Can Have A Positive Impact On Your Singing
Many great singers start to cry when they sing. Why do so many do this? Are they just overly emotional or are they really all singing songs that evoke strong emotions in them.
Many times, the answer is much simpler – crying on a note helps you improve your singing. It an easy way to improve the tone of your voice. It makes your singing seem flawless and your tone richer.
This is one reason why many top singers cry. It is not anything emotional. It is simply an aid to help them sound better.
Crying helps remove the strain in your voice that can form when you try to hit a high note. It also helps blend the tone of your voice. Crying is actually a hidden secret of singing that not many people share.
This is why many famous singers tend to cry when they perform. It makes the tone and quality of your voice richer and it makes it easier to sing those high notes you normally can't hit. The cry-like tone also helps add dimension to your voice and makes it sound more magical.
The best singers in the world like Michael Jackson and Jeff Buckley mastered this trick. They were world-renowned and considered some of the greatest singers of all time. Surely they can't be wrong about this. Practice our little crying trick and see the difference for yourself. The quality of your tone is sure to improve.
Generally, crying is beneficial to your singing voice. It can deliver a clear improvement. Your voice is a powerful instrument and you should try everything you can to maximize its potential, even crying.
That said, there are also times and situations where crying while you sing can be detrimental. If that happens, you need to be sure you know how to stop crying to avoid any negative impact.
How To Sing Without Crying
If you start to sob to the point where your singing is affected negatively, there are a few methods you can use to try and control it. Your audience should be able to understand the words you are singing, so you shouldn't let your emotions overpower you completely.
One way to control crying while singing a specific song is to practice it over and over again. Singing it continuously gets you used to the emotion and makes it old news, ensuring that your voice doesn't break too much, even on the most meaningful of lyrics.
This way you deal with all the emotions on your own before performing the song in front of a large audience on the stage.
Another helpful tip to have more control over your emotions is to meditate. Many people bottle up emotions over the years, instead of expressing them at the time they feel them. This can result in a sudden and unexplained, overly strong emotional reaction to some unrelated emotional situation, like singing a meaningful song.
Meditation is a good way to process these bottled up emotions and deal with them before they result in a sudden emotional outburst. If you feel like you have unresolved feelings or aggression, try meditating or even taking part in a regular yoga class. It should help you become a more calm and collected person.
If you find yourself always crying at a certain point in a certain song, take a break. If you take a moment to reflect on what's making you cry then you may be able to avoid it happening again in the future.
Once you know exactly what makes you cry, you can try to consciously avoid thinking about the same thing during a performance.
Finally, never give up! If singing is your passion, then nothing should stand in the way of pursuing it.
No matter how many times you fail at controlling your tears, don't let them become a hindrance to your singing. Gather yourself and try again. We all know that practice makes perfect. It's a cliché for a reason. Keep trying and eventually, you will learn to control your crying.
Crying While Singing: Final Thoughts
If you are blessed with a beautiful voice, you want to share it with your audience. Vulnerability is often a part of that. Don't be afraid to show it.
Don't bottle up your feelings. Let them all out when you sing. Suppressing your feelings and the urge to cry will only make you uncomfortable and affect the sincerity in your voice. Let the tears flow and let the raw emotion work its magic on your voice.
It is perfectly acceptable to cry while singing. As mentioned, there are many different reasons why you might shed tears during a performance and doing so generally makes your singing more sincere and also helps your audience relate to the lyrics, and the emotion behind them, on a more personal level.
That said, sobbing uncontrollably every time you perform can be too much. It will ruin your performance.
Your audience will focus more on your crying than your singing and it will negatively impact your voice as well. If you suffer from this issue, try some of the tips listed above and with come practice and hard work, you will get better at controlling your tears.