Anyone can learn to sing.
I know it might not seem that way, if you're one of the vast majority who were not born with natural talent.
But believe me: you can be a great singer.
The Singorama course is based on that very premise: that anyone can learn the fundamentals and improve their singing voice to the point where they can sing professionally.
Does the course actually deliver on that? And is it better than all the other singing courses out there?
That's what we want to find out in this review.
We'll begin with an overview of the course and then take a closer look at the creator and the content. After that, we'll summarize the best parts of the course and also the weaknesses (and there are definitely some weaknesses).
Singorama Review
Best Budget Course
Singorama – Learn How To Sing
$97 (occasionally as low as $67)
Pros:
Course materials presented in a simple way and very easy to use

High-quality recordings

Very extensive and detailed instructions

All important aspects of singing are covered

Practice songs with separate tracks for vocals only and instrumental only

Includes several valuable bonus materials for free

Very low price considering everything included

60-day money back guarantee

Free mini-course available for test drive
Cons:
Audio files only (mp3 format)

Web design of the course pages is very basic

Vocal exercises are in a separate bonus module, so it is a bit confusing which exercise goes with which lesson

Instructors are all female, which is not ideal for male students

Complete self-study; no way to get feedback from an instructor

Vocal range covered by the exercises is a bit limited for advanced students

Course is meant for beginning to low-intermediate students only
Learn More
We earn a commission if you make a purchase, at no additional cost to you.
Singorama Course Description
Singorama is an exhaustive course for beginning and lower-intermediate singers. It was created by professional singer and vocal coach Melanie Alexander.
Before we take a closer look at Melanie and her course, we wanted to give you a brief overview of Singorama, with all the main details.
Price
Standard course price: $97
Occasional sales price: as low as $67
Free mini-course available here
Content
Singorama 2.0 – 28 extensive audio lessons, plus workbook and practice songs
Perfect Your Pitch Pro – software for practicing pitch accuracy
Singorama Mini-Recording Studio – record yourself to identify problems, etc.
The Ultimate Guide on How to Read Music – won't help your voice, but sight-reading music is always a good skill to have
1 Month in the Platinum Inner Circle Membership – after your free month, it is $27/month to continue the membership
Duration
Minimum of 6 weeks, if you dedicate sufficient practice time to each lesson.
Who Is It For?
Great for beginners and low-intermediate singers.
Who Is It Not For?
People with advanced singing ability.
People who have a hard time motivating themselves
People who prefer video courses.
Male singers (unless you don't mind having only female instructors)
Who Is Melanie Alexander?
The Singorama course was built from Melanie's personal experience, so it is important to know a little bit about her, in order to understand how the course functions.
Melanie Alexander is from Australia, where she first made a name for herself as the lead singer of the group "Girlfriend."
The most important thing to know is that Melanie did not start out as a good singer. She took vocal lessons, but she remembers them being old fashioned and her progress excruciatingly slow and full of mistakes.
She stuck with it and eventually got a recording contract with BMG with her group "Girlfriend." She considered herself more of a dancer than a singer, but BMG got the whole group singing lessons to ensure their investment in them paid off.
It was this vocal training that completely changed Melanie's voice and made her into a great singer. She became the lead singer of "Girlfriend" and they went on to become a #1 pop group that achieved international success, with many top 10 singles and a gold record.
So what makes this program so much more effective?
The Singorama Philosophy
The reason those vocal lessons worked for Melanie where previous ones did not, is that the method of teaching was completely different from the way singing is traditionally taught. This new method was much more effective.
Many local singing teachers use mainstream methods that are generally pretty dated and, in some cases, may actually damage your voice. At best, you will make extremely slow progress.
The Singorama method is based on the idea that the vocal cords are a delicate muscle that can be conditioned to perform beautifully. What's great is that they only need a very short time to tune correctly, if you know the right way to tune your voice. 15 minutes a day is sufficient.
And luckily, anyone can learn this. All you have to do is follow the simple steps in the course that take you through all the techniques you need.
Some of the most innovative techniques are the "Organic Auto Tune Technique" which results in silky smooth vocals through 3 octaves, and the "Loaded Sonancy Method" that ensures you have the confidence to project your vocals with flawless technique.
Basically, Singorama approches signing like you would golf or high jump or any other sport. If you learn the correct technique, you are able to jump higher or hit a golf ball further.
In 15 minutes a day, you can learn the fundamentals you need to dramatically improve your voice. It is the same process Melanie used to see a huge improvement in her signing and that she has used to help thousands of others over the past 10 years become great singers, too.
And she has helped them primarily through her Singorama product. Her program is based on the belief that anyone can learn to sing, because this was Melanie's own experience as someone who was not born a good singer.
Let's take a closer look at what's inside.
Singorama 2.0: Course Content
The Singorama program includes audio lessons, an accompanying workbook and a few practice songs. At the time of writing, you also get a number of useful free bonuses.
Audio Lessons
The primary course is composed of 28 audio lessons in mp3 format. They are organized into 6 larger parts.
Part 1 – Getting Started as a Singer
Lesson 1: Introduction & Understanding Your Own Voice
Lesson 2: Warm Ups and Strengthening Your Voice
Lesson 3: Loaded Sonancy Method (Breathing and Posture)
The first part of the course covers fundamental knowledge you need when learning how to sing. You begin by getting an idea of your own voice and what it can do and you learn proper warm-ups, breathing techniques and posture.
Part 2 – Vocal Technique
Lesson 4: Tone
Lesson 5: Pitch & Staying in Tune
Lesson 6: Bridged Vocalization (Chest vs. Head Voice)
Lesson 7: Bad Habits to Avoid
Lesson 8: Octave Power Generator Part 1 (Increasing Your Range)
The second section of this program covers fundamental vocal techniques, how to increase your range, and it addresses common bad habits you need to avoid.
The bad habit lesson is especially important, because any bad habits you pick up and continue doing become more and more ingrained, and thus more and more difficult to change later on. You want to identify them now and get rid of them immediately.
Part 3 – Music Theory Essentials
Lesson 9: Time Signatures, Key Signatures & Rhythm
Lesson 10: Major and Minor Keys; The Solfege System
Lesson 11: Intervals and Solfege
The third part covers music theory. Some find this boring, but it is essential. You need to know how to create music that others will enjoy listening to. Don't skip this part!
This section is even more important due to its coverage of the Solfege System. This will really help you learn to train and improve your voice, not just now, but forever into the future.
Part 4 – Singing Styles
Lesson 12: Different Styles of Singing
Lesson 13: Progressive Interval Training
Lesson 14: How to Sing Different Genres of Music
The fourth section covers the different signing styles and teaches you how to sing in various different genres.
Part 5 – Dissecting a Song
Lesson 15: Understanding the Meaning of a Song – Lyrics and Tone
Lesson 16: Understanding the Meaning of a Song – Emotion & Personality
Lesson 17: Making Your Own Song
Lesson 18: Learning a Full Song Part 1
Lesson 19: Learning a Full Song Part 2
This section teaches you how to take a new song and really get a deep understanding of it. This is vital if you hope to properly perform it. You need to know what makes a song tick, in order to sing it with the proper emotion, tone, and personality. This section also helps you create your own songs.
A really nice feature of this course is that you actually learn entire songs. Getting some practical training, and not just theoretical, really helps the lessons sink in. It sets this program apart from most competing products.
Part 6 – Moving You Forward as a Singer
Lesson 20: Solutions to Common Problems
Lesson 21: Your Future as a Singer
Lesson 22: Octave Power Generator Part 2
Lesson 23: Live Performance Tips
Lesson 24: How to Ace Auditions
Lesson 25: Writing Your First Song
Lesson 26: How to Sing with a Band
Lesson 27: Performance Anxiety
Lesson 28: Final Overview
The final section covers a variety of different topics that are all designed to help advance your singing career beyond the scope of this singing course.
It covers things like songwriting, harmony with other musicians, how to audition, advanced singing skills, etc., and basically serves to launch you into the ranks of high-intermediate singers and prepares you to take the next steps to becoming a vocalist with an advanced skill level.
Workbook
The PDF workbook that come with Singorama is a written companion to the above audio lessons. It helps solidify the lessons.
Songs
The included practice songs have multiple audio tracks: one with the complete song, one with the vocals only, and one with only instrumentals. This helps so much when practicing the songs and applying the techniques you learn in the course.
Free Bonus Content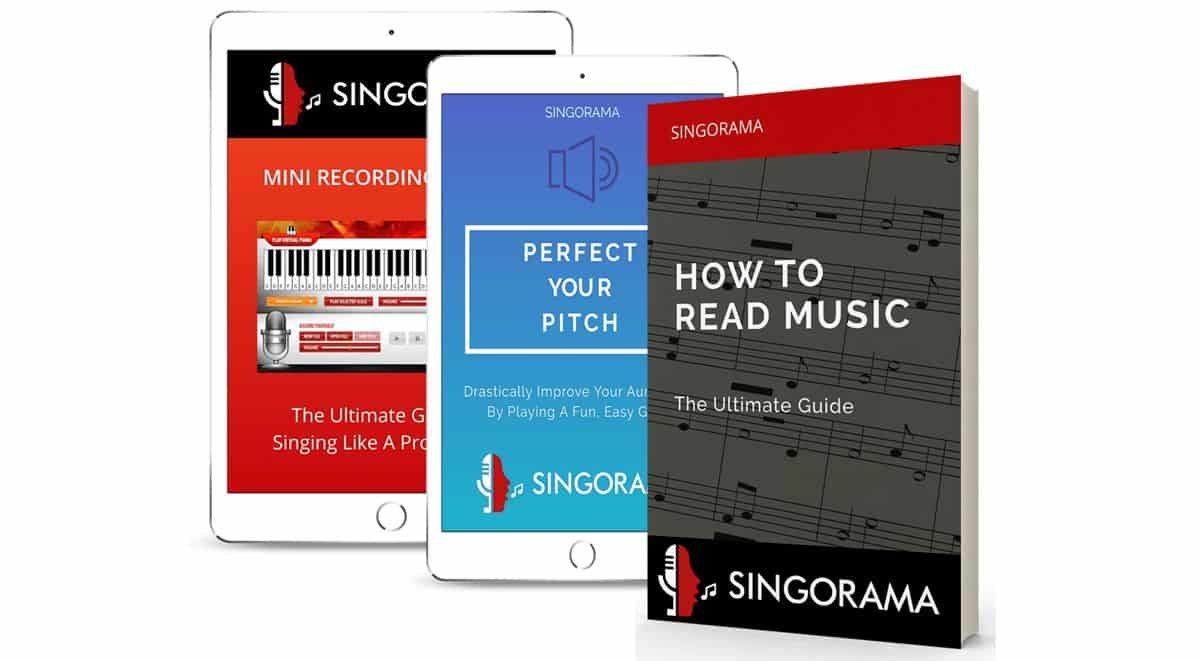 Perfect Your Pitch Pro Software
Valued at $97.
This bonus software program trains your ear to hear all 36 notes on the chromatic scale. Once you get used to distinguishing between the notes, you will also notice when you make a mistake in singing them and can correct yourself immediately. This leads to an immediate improvement in your singing voice.
Mini Recording Studio Software
Valued at $97.
This software program lets you record yourself, and then listen and evaluate your voice and chart your progress toward becoming a much better singer. It also includes a virtual keyboard that is great for practicing your scales.
The Ultimate Guide On How To Read Music E-Book
Valued at $47.
Being able to read music does not directly impact your voice, but it is a handy skill to have for any musician. This is the least useful of all the bonuses, but it is still a great addition for anyone who does not already know how to sight-read music.
Platinum Inner Circle Membership (One Month Free)
Valued at $27.
The Platinum Inner Circle gives you access to additional learning materials. Every month, you get eight new interactive audio vocal coaching lessons that will help you further develop your vocal skills.
Membership costs $27 per month, which is a bargain if you are looking for additional lessons beyond the course, or to supplement the course while working your way through it. These additional singing lessons can be a huge help to keep you on track month after month.
That said, $27 per month can be a bit steep, if you do not plan to make full use of these additional lessons. Getting the first month of Platinum Inner Circle membership free allows you to check it out and see if it is worth paying $27 per month for you. If not, simply cancel the membership.
Best Budget Course
What's Great About Singorama
Singorama has a lot of great things going for it, but the best thing is undoubtedly the price. Considering everything you get, $97 is an incredible bargain.
And if you can wait a bit, it occasionally gets discounted even further to $67.
For that price, you get extremely high quality audio files (but no video; see the next section) with detailed instructions that take you by the hand and walk you through every technique and exercise.
The lessons cover all aspects of singing, including numerous topics that most courses ignore, like learning stage presence and overcoming stage fright, singing as part of a group (this one makes a lot of sense, given Melanie's own career), etc.
In addition to the lessons, you get songs for real life practice sessions and a workbook, plus some great free bonuses that are actually useful in making you a better singer (unlike some competing programs, that give you useless bonuses that sometimes aren't even related to the knowledge in the course).
Best of all, there is a complete no-questions-asked 60 day money back guarantee. This removes any risk to you, since you can simply return the course for a full refund, if you don't like it. You even get to keep all of the bonus materials.
To me, a guarantee like this is key. It shows that the course creator is confident you will love the course so much , you won't even consider taking advantage of the refund.
Plus, Melanie even made a free mini course available that gives you a great idea what you can expect inside the full Singorama course.
Simply enter your email and you'll get the first lesson in your inbox within minutes. It's not some worthless course that teaches you nothing either. It's actually pretty extensive.
So, you're probably thinking this course sounds too good to be true. Well, there is some truth to that. It has a few glaring weaknesses as well.
What I Didn't Like About Singorama
The first big weakness is the lack of any video lessons. The program is audio only.
I know that you really only need audio for singing instructions and the audio lessons are all extremely high quality, but most competing products are video based. If you prefer video, this is not the program for you.
It is only available online. This does not bother me, but if you do not have an internet connection, this would obviously be a problem.
It may also not be the best vocal course for any male singers. The instructors are all female. This is not necessarily a problem, but the male vocal range is different. Having at least some male instructors would be very beneficial for male students.
The overall vocal range covered in this course is also somewhat limited when compared to some competing courses. I suppose it makes sense, because Sigorama is geared toward beginners, but it is something to note, at least.
The one thing I personally found the most annoying are that the practice songs are located in a bonus lesson and not contained within the main lessons. This makes it difficult to figure out which song goes with which lessons. Or maybe I'm just dense.
Finally, the web design is pretty basic. It is functional and easy to use, but it does not look great, like some of the competition. If this is important to you, you will be disappointed in this product.
Overall, Singorama is a great product for beginning vocalists on a budget. If you can afford to spend more, you might want a flashier course that has video, especially if you are a man and would prefer to have some instruction from other men.
In that case, check out the next section of this review, where we've got some great alternatives for you.
Singorama Vs. Superior Singing Method
The Superior Singing Method is the competing set of lessons that Singorama gets compared to most often. But that comparison is no longer valid.
The Superior Singing Method has completely disappeared.
To be honest, Singorama is higher quality anyway, but it lacks video instruction and male instructors, which the Superior Singing Method had. But it also cost more.
Either way, it is no longer available, for whatever reason, so the comparison is moot.
If you're going to pay more for video lessons or ones that have male instructors, the best options on the market are the Roger Love Singing Academy and the Vocalist Studio. Both are excellent alternatives to Singorama that fill in some of the weaknesses, albeit at a considerably higher product price.
Singorama 2.0 Review: Summary And Recommendation
In terms of value for money, Singorama is arguably the best set of online singing lessons available. The vast amount of material you get for the low price makes it a no-brainer.
Almost.
If you want video or you want a male instructor, I'm afraid it just isn't for you. Try either of the course listed above in the previous section instead.
But if you don't mind having only audio lessons and only female coaches, then you should jump on this, especially if it is currently going for $67.
Even if you don't like it, you can always return it for a full refund thanks to the generous 60 day money back guarantee.
So what do you have to lose?
Due to the incredible value you get here compared to other singing courses, we give it a Musicaroo rating of 4.7 out of 5.
Best Budget Course