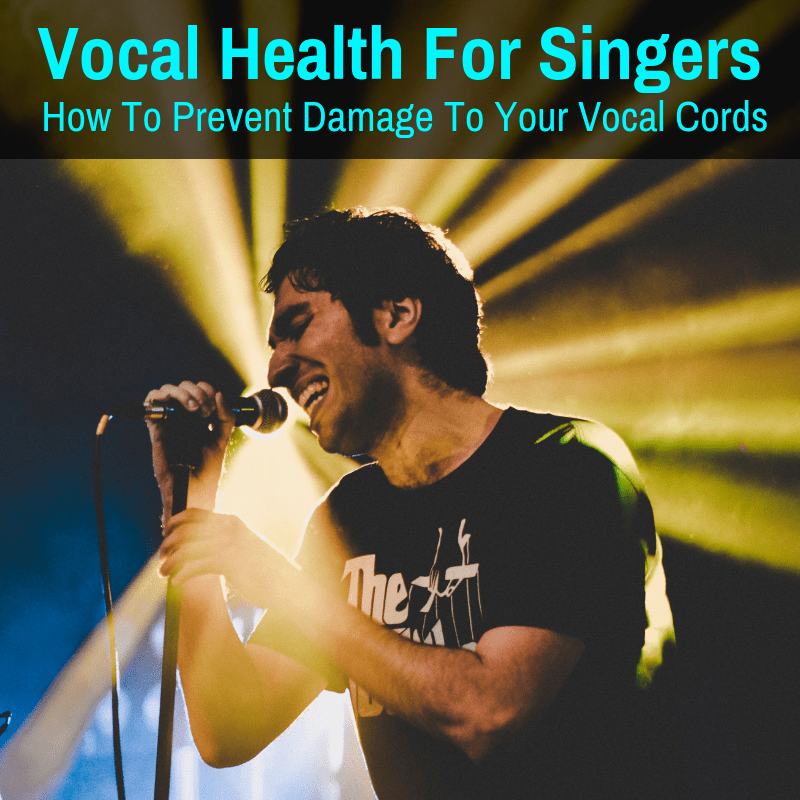 Vocal health is vital for singers.
It is very rare to find a professional singer who has not suffered vocal damage at some point in their careers.
In some cases, the damage is even permanent, altering or destroying their voices forever.
Even damage that is reversible often takes months, in some cases years, to fix.
Obviously, it is best to avoid vocal damage in the first place.
Luckily, caring for your vocal cords better makes a huge difference and will help you avoid the most common vocal issues.
Follow the tips and techniques below to ensure your voice stays healthy and sounds beautiful throughout your career.
Vocal Health Tips For Singers
The following tips and techniques will help you maintain your vocal health when singing and prevent damage to your vocal cords.
1. Warm Up Before Singing And Cool Down After
Like any other muscle, your vocal cords need to be warmed up before heavy use. Even if you're just going to do some light singing practice, spend a few minutes warming up your vocal cords beforehand.
You might even consider doing some warm-up exercises every morning after waking up, even when you don't plan to sing. Speaking taxes your vocal cords just as much as, if not more than, singing.
After any singing session, take a few minutes to stretch and soothe your vocal cords to help them recover from singing.
2. Stay Hydrated
Drink plenty of water to keep your vocal cords hydrated (water is best, but tea is great, too). Avoid cold water as it can cause your cords to tense up.
Steam is great for your voice as well. Inhaling steam before a performance moisturizes your cords and relaxes them. This is even more important if you need to sing when you are sick.
You may even want to get a humidifier to add some humidity to your room, especially if you are in an area with a dry climate. Shoot for around 60% humidity.
3. Avoid Smoking, Alcohol and Caffeine
Few things are as bad for your voice as smoking.
If you are a smoker, you need to quit if you are serious about your singing. Even if you don't smoke, do your best to avoid secondhand smoke, especially before a performance.
Talking while smoking is especially harmful. Alcohol and caffeine both dry out your vocal cords and should be avoided for that reason. Learn more about a healthy diet for singers.
4. Take Vocal Naps
On days when you do a lot of singing, try to rest your vocal cords when you aren't singing. Limit your speaking as much as possible, especially if your voice starts to feel hoarse.
When singers on tour develop issues with their voices, it is almost always their speaking voices that are at fault and that brings us to the next point.
5. Change The Way You Speak
If you've studied singing, there is a good chance that speaking is more taxing on your voice than singing. That is because singers learn how to protect their voice when singing, but do not apply those same principles to their speaking voices.
Here are a few things you can do to make your speaking voice easier on your vocal cords.
If you are serious about your singing, a good vocal coach can help you improve your speaking voice as well, to ensure it does not harm your vocal cords.
Avoid Glottal Attacks
Glottal attacks are when your vocal cords slam together before making a sound. This most commonly occurs when speaking words that begin with a vowel.
Try saying the word "apple." Do you feel how your vocal cords touch right before you start saying the word? That is a glottal attack.
Glottal attacks can cause inflammation, swollen cords and vocal fatigue or burnout. An easy to technique to avoid them is to add a silent 'H' in front of words that begin with a vowel.
Try it now. Add an "H" in front of the word "apple."
Did you notice how your vocal cords did not touch this time? That is because the "H" forces air over your cords, meaning they can not slam shut.
Keep Your Voice out of Your Throat
When you speak from low in your throat, you run the risk of forming nodules and granuloma.
Instead, move your voice higher up into your mouth or head cavity. Raise your soft palate out of your throat and speak higher in pitch.
Avoid Screaming or Talking Loudly
The louder you talk, the more your vocal cords suffer. Try to avoid talking loudly at all, if possible. And whispering is no better. Speak at a normal volume only.
6. Keep Your Vocal Muscles Relaxed When Singing
Many singers have a tendency to tilt their heads up when singing high notes and down when singing low notes. Not only can this limit your vocal range, it also causes your vocal cords to tense up, which strains them.
Keep your head level and your throat and vocal muscles relaxed. It doesn't matter what type of singing you do, be it opera or growling vocals, staying relaxed and keeping your head level is essential. If you find yourself yawning when singing, that is nothing to worry about.
7. Learn to De-Stress
Stress causes your vocal cords to tense up, which can lead to damage.
If you are prone to getting stressed, find ways to relieve that stress. More specifically, find healthy ways to relieve stress. This could be meditation, yoga, other forms of exercise, listening to music, reading, etc.
8. Avoid Clearing Your Throat And Coughing
Clearing your throat slams your vocal cord together and coughing does the same but even harder. The more this happens, the higher the risk of injury.
If you find you need to clear your throat often and other solutions (like drinking some water) don't help, you might need to see a doctor. You could be suffering from an allergy or sinus condition or something like acid-reflux disease.
Vocal Care For Singers: Infographic
Here is a great infographic with warm-up exercises you can do to help ensure your voice stays healthy and strong. You should also check here for tips on preventing vocal breaks, which could lead to more serious problems.
Note: This infographic is courtesy of Encore Music Lessons. Unfortunately, their website has disappeared and now redirects to a spammy site in Japanese. If anyone knows if they are still around and have simply moved to a new web address, please let me know, so that I can credit them properly for this wonderful infographic!