You are what you eat.
We've all heard that saying. Obviously, it's not literally true.
But what we put in our bodies affects our performance in all areas of life.
Singing is no different.
The food you eat (and the food you don't eat) has a powerful impact on your singing voice.
Eat right and you'll sound better and be able to sing for much longer.
Eat poorly and your voice and singing stamina both suffer.
Even if you have a flawless singing technique, the wrong nutrition can ruin a performance.
So what foods are good for your voice and what foods should you avoid at all costs?
Let's begin with something that is not a food at all. The most important substance your body needs to keep you singing in top shape is also the simplest: water
What Do Singers Drink Before They Sing?
Ideally, they drink water.
Without adequate hydration, your vocal cords will not function at their best, as discussed in this medical journal.
When they are too dry, they constrict, which causes hoarseness or scratchiness in your throat. Not only does this impact your voice, it can even be painful to sing when not properly hydrated.
Additionally, dehydration weakens muscles and makes them go stiff. Since your vocal cords are muscles, they suffer the same fate.
How Much Water Do You Need?
Aim for clear urine.
Seriously.
A few glasses of water right before a performance won't cut it. It takes time for that water to absorb into your body, so you want to start upping your water intake hours before you will be singing. And your body will tell you when you are fully hydrated with clear urine.
Water Temperature
Always drink room temperature water before a show. Cold water constricts your vocal cords. I know most people prefer cold water, but take it from me, you'll get used to warmer water pretty quickly.
Nowadays, I don't even like cold water anymore (many cultures, like the Chinese, avoid it altogether).
Other Good Drinks
It doesn't have to be water. Tea or fruit juices work well too.
Just make sure the tea is not too hot. Let it cool down a bit before drinking it.
Don't drink too much tea either, since it does contain caffeine. Have a cup or two at most. Drink mostly water.
Many singers like to add honey to their tea.
This can actually help improve your voice, since honey is a demulcent, which is an agent that forms a soothing film over a mucous membrane. The honey basically helps protect your vocal cords from irritation.
Another good demulcent is licorice root. Like honey, you can add it to a tea. Again, cool it down a bit before drinking.
If you add a demulcent to your tea, make sure to drink it immediately before a performance. The effects generally only last up to 30 minutes or so.
Drinks To Avoid
You want to avoid anything with alcohol or caffeine, since both actually dehydrate you.
You also want to avoid sugary drinks and dairy (we'll get into why both are bad in the food section below).
It should go without saying that you want to avoid any carbonated beverages—people want to hear you sing, not belch. Plus, they can cause heartburn.
Read our article on the best drinks for singers for much more info.
What To Eat Before Singing
A good rule of thumb is to always eat fresh foods over processed foods. Aim for a balanced meal with a good amount of protein and simple carbohydrates to give you the energy you need for a powerful voice.
Fresh, Whole Fruits
Fruit juices are good, but eating whole fruits is better.
When you juice fruit, you end up with mostly water and sugar, which goes directly into your bloodstream and wears off quickly. A lot of the vitamins also end up passing unabsorbed through your system and going to waste.
Whole fruit contains a lot of fiber and other substances that take longer to digest, which means the energy from the sugar is distributed over a period of time, instead of hitting you all at once. Whole fruits also have other substances that help your body better absorb the vitamins and other healthy nutrients in fruit.
Raw Or Lightly Cooked Vegetables
Everything I wrote above for fruit goes for vegetables as well, except many vegetables taste better when they are cooked and some of them are healthier when cooked, too. And some can only be eaten when cooked (like eggplant).
I know some singers insist you eat only raw vegetables, but I don't think that's beneficial. Go ahead and cook them if you like, but try to cook them as lightly as possible.
What I mean by that is steam them or stir-fry them lightly in a bit of oil. Grilling or baking is good too. Just don't overcook them or fry them in a ton of oil. I'd avoid boiling them too, since that ends up removing many of the nutrients.
Lean Protein
Protein fuels muscles and, as mentioned, your vocal cords are muscles. But fat gunks up your vocal cords, so you want to avoid high-fat proteins like beef. Stick to lean proteins: fish, chicken and tofu are the best choices, as well as other plant proteins like quinoa, chickpeas, lentils, etc.
When it comes to preparation, the less oil you use, the better. Bake or grill your protein or stir-fry it in a small amount of oil. Do not deep-fry it.
Unsalted or Lightly Salted Nuts
Nuts are also a good source of protein as well as other nutrient. The main thing you want to avoid here is salt. The same goes for nuts in butter form, like peanut butter. All-natural is best. A lot of the popular brands actually contain a tone of salt and sugar, so you want to avoid those. Read the labels.
Foods Rich In Vitamin A
Vitamin A helps keep your mucus membranes healthy, making it one of the best nutrients for singers. Some foods that contain a lot of vitamin A are pumpkins, sweet potatoes, squash, mangoes, melons and peaches.
You may have noticed a yellow color theme there. Yellow fruits and vegetables tend to contain a lot of vitamin A, as do dark, leafy green vegetables like spinach, Swiss chard, collared greens and kale. Eggs and meat also contain vitamin A, meaning you can get it and your protein from one food source.
Foods Singers Should Avoid
Again, the main theme is to avoid overly processed and overly fatty foods. As a basic rule: if it's bad for your overall health, it's bad for your vocal health as well.
Processed Foods
Processed foods are bad for us in general and as such, they are also bad for our vocal performance. Specifically, eating processed foods slows your metabolism and saps you of energy. That's not what you want when you need to get up on stage.
Dairy
Our bodies have a hard time breaking down dairy. It creates an overproduction of mucus and also thickens the mucus, which leads to excess phlegm that clings to everything in your throat. It inhibits the flexibility of your vocal cords and means you need to clear your throat much more often.
Dairy can also cause acid reflux, which can head up your esophagus and reach your vocal cords and burn them. We've all had heart-burn before. Did you feel like singing when you had it?
Processed Sugars
Like dairy, sugars stick around in your mouth and throat as phlegm, inhibiting your vocal cords. In fruit form, the sugar is balanced by fiber and in some other natural foods, it is balanced by proteins. This helps slow the absorption of sugar and makes it a helpful nutrient for energy.
Furthermore, in processed form (candy, gummy snacks, Nutella, soft drinks, ketchup, etc.), without fiber or protein, the sugar gives you a very brief rush of energy, then leaves you drained and lethargic.
Fried Foods And Other Fats
Foods that were prepared in a lot of oil or foods that are mostly fat (like butter) will gunk up your vocal cords with fat. Fried food also has the potential to cause heartburn. which is the last thing you need before a show.
Spicy Foods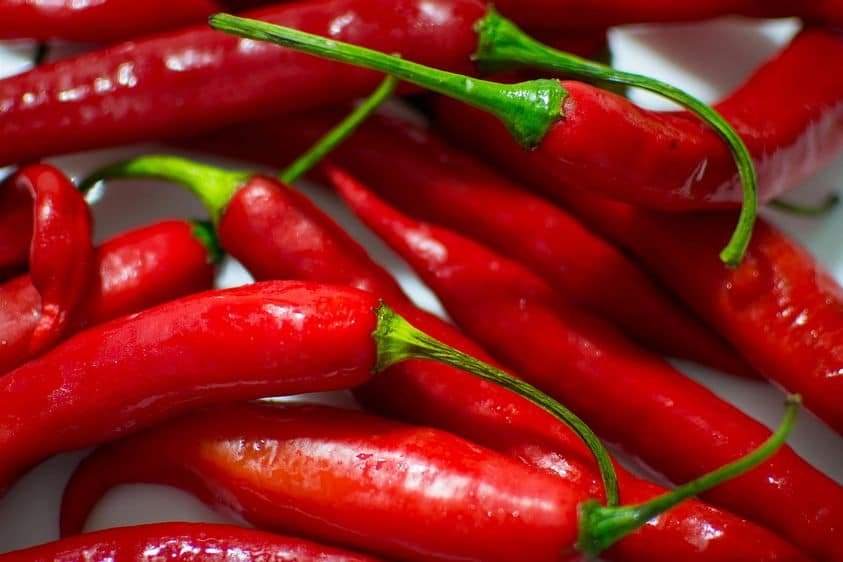 Spicy foods can also lead to heartburn and should be avoided for that reason. If you love spicy food (like I do) wait until after your performance and make it a little reward for yourself.
Chocolate
Chocolate is bad in several ways. Fist, it contains caffeine, which leads to dehydration as discussed above. Second, it is a trigger for acid reflux, which I already talked about in the dairy section. Finally, chocolate usually contains a ton of sugar, which was also discussed above.
Smoke Harms Your Voice More Than Anything
I know it's not a food and this should go without saying anyway, but inhaling smoke is not good for your throat. Not only should you avoid smoking before a performance, but you need to quit altogether if you want to maximize you voice to its fullest potential.
Just Make Sure You Eat Something (But Not Too Much)
One of the worst things you can do is not eat before a performance. I know some singers feel nauseous before they perform, so they avoid eating anything so as not to get an upset stomach, but not eating has a negative effect on energy levels and vocal performance.
If you feel nauseous before a performance, you need to find another way to deal with that. Trust me, you'll feel so much better on stage with some food in your belly.
That said, you also don't want to overeat. Eating too much means your body needs to redirect blood flow to your stomach to deal with all that food. In addition, the excess calories will need to be stored, which also requires energy. We all know the lethargic feeling after eating too much. You definitely do not want to feel like that when you have to get up on stage and perform.
Foods For Singers: Final Thoughts
As we've mentioned and as you've probably noticed anyway, the foods you should avoid before singing are also mostly foods you should avoid for your general health anyway.
Of course, there are a few exceptions, like spicy food or dairy. But by and large, as long as you stick to healthy food, you will also be taking care of your vocal cords, in addition to the rest of your body.
Here is a video with some more on the topic of a singer's diet:

Further Reading