Your throat needs lubrication to perform at its best.
This much you know.
But there are so many ways to get that lubrication. Which one is best?
More importantly, are there any you should avoid (hint: the VAST majority of drinks are pretty harmful and best avoided).
And there are other things to consider.
The wrong temperature can make even the best drinks harmful to your vocal cords.
Keep reading to learn which drinks are best for your singing voice and what temperature they should be, plus the drinks you should never consume when singing.
Best Drink For Singing Voice
This is going to seem like the low-effort, simple answer, but water is the best drink for your singing voice.
Sure, it's kind of boring and anti-climactic if you were expecting some sort of a "magical potion" that will enhance your performance. But water does actually help you become a better singer.
Dehydration, even in the mildest forms, is way more harmful in the long run than you might think, not just for singing but for everything else.
So whatever it is that you do, drinking more water will rarely ever be harmful or counter-productive.
As for singing, there's one important thing to bear in mind – the water that you drink before performing should never be ice-cold.
Having it at around room temperature levels is perfect, but you can also take it a few degrees lower than that if you prefer it a bit cooler. But not much cooler.
The idea here is to have your throat lubricated and properly hydrated. Water that is too cold can make your throat feel constricted, as if you're choking while talking and singing.
But don't just drink water before your performance. It is just as important to drink plenty of water the day prior to your important performance.
And water not only brings immediate help to your singing voice and vocal cords, but also helps in the long run.
But what if you're not thirsty?
You can just gargle some water before a performance, in order to hydrate your throat fully. Many vocal coaches recommend putting a small amount of salt in the water. Gargle for about 30 seconds before practicing or performing.
In the end, nothing can beat water. If you're looking for the magical potion for your signing voice, water is the way to go. Yeah, it's not exciting, but it helps both in the short and the long run.
Just don't drink it too cold immediately before singing.
Other Drinks To Help Singing Voice
Decaffeinated Tea
If you want something other than water, a simple decaffeinated tea can also work well. There are a lot of teas without caffeine, but it's important to point this out, to ensure you find tea without it.
Caffeine can be pretty harmful to your singing voice. That said, apart from the caffeine, a simple warm green tea would be of great use for any singer.
If you just have one, the amount of caffeine is not huge, but it is still better to avoid it. If you're aiming to become really good at singing and you want to be at your very best with each performance, then avoiding caffeine is the way to go.
One thing to stay away from is those mixed teas. When you have a mixture of different ingredients, there's a high chance that it will also include something that has caffeine in it.
Peppermint Tea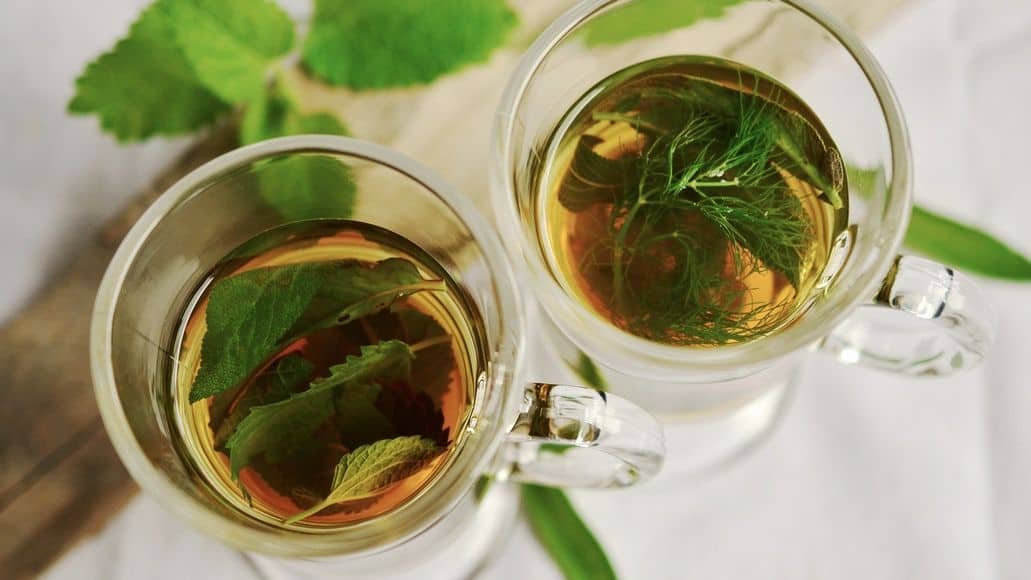 When it comes to teas without caffeine, peppermint tea is one of the best "magic potions" for your voice that you can find.
Aside from hydrating you (since tea is mostly water), peppermint tea helps you with clearing your throat as well as your nasal area. It can do wonders for you, both in the short and long terms.
What may present an issue is that some people don't like the taste of peppermint tea. A simple way to get around this is to drink it when it's just slightly warm, lukewarm, or even at room temperature.
The cooler it gets, the less noticeable its "minty" flavor and smell get. So prepare a cup, let it chill for a while, and then drink it.
Alternatively, go with other popular herbal teas, like chamomile. This also does not contain caffeine and it has a much more neutral flavor.
Warm Or Lukewarm Honey And Lemon Water
Of course, you can also add a few other ingredients to your main magic potion. For instance, water with some honey and lemon can be wonderful.
And one of the best things is that honey – if produced the proper way – doesn't have an expiration date. Just make sure not to consume it too much. A couple of teaspoons per day are enough for an average adult.
Adding lemon and honey to water is one of the simplest ways to keep your voice healthy. However, there are two things to consider here.
First, the water should not be too warm, because it can harm the potentially good nutritive values of both lemons and honey.
Keeping it slightly warm or lukewarm is the way to go. Just make sure that it isn't cold. As mentioned, cold liquids could potentially hinder your performance.
Second, make sure to stir this mix with a wooden spoon. Using anything made of metal for this purpose can potentially ruin some of the beneficial nutritive values of honey. After all, you want to get the best out of this fine beverage.
Cucumber Water
Who would have thought that water could be so interesting? The next mixture you want to check out is cucumber water.
Aside from a sensory-pleasing mild taste and smell, cucumber water also has plenty of health benefits.
Additionally, it can help your throat and vocal cords stay hydrated and lubricated for longer periods, making it especially useful for lengthy practice or performance sessions.
The main trick here, is to also eat the cucumber from the water. Just make sure to slice it up into smaller pieces so that it is easier to digest. And, of course, make sure not to eat too much of it.
A cucumber can hold a lot of water. Its properties also make it easier to keep your "instrument" hydrated and lubricated for longer periods.
Onion Syrup
Although it may seem unusual, onion syrup can help you ease things up after a longer performance or any kind of unwanted strain. It can even help prevent mucus from forming in your lungs or vocal cords.
Overall, it's one of the simplest, yet most effective, methods of calming your vocal cords after a difficult performance or a practice session. You just can't go wrong with it.
Drinks To Avoid
Any Alcoholic Beverage
Alcohol is an absolute no-go zone. Sure, you can drink occasionally without any consequences. Just make sure not to sing while you do it.
But in both the long and short run, alcohol can completely hinder your performance. "Taking the edge off" with a drink or two before the performance is never a good idea.
Plus, alcohol dehydrates you, which can be very harmful to your performance quality. And you don't want to have to go to the bathroom the whole time you are singing.
Milk
Who would have thought that such a seemingly harmless drink would not be a good choice for your singing voice? Of course, this doesn't mean that you should completely drop milk altogether. But drinking it prior to a performance is not the best idea.
The problem with milk is that it creates extra mucus that you just can't get rid of. And while singing, it feels like you need to clear your throat constantly.
In simpler terms, your vocal cords can feel a bit "constricted" in a way. What's more, some people can even experience acid reflux.
Overall, you'd want to avoid any type of dairy before singing. Eating cheese or drinking milk (or even a mild milkshake) can result in a real nightmare of a performance.
Any Carbonated Drink
Avoid any type of carbonated drink before a performance at all costs. Even carbonated mineral water is something you shouldn't drink if you have an important singing performance that same day.
But things get even worse when you add processed sugar to the equation. In addition to the "bubbly" nature of these kinds of drinks, which can completely ruin your ability to perform properly, sugars come with their own set of properties that make the whole process harder.
Besides, sodas are terrible for you health-wise. Quitting them all together will only bring benefits. In all aspects of your life, not just for your singing.
Caffeinated Drinks
And now we get to the obvious culprit behind subpar vocal performances – caffeine. Basically, avoid anything that has caffeine in it.
In some way, we could say that if it says "caffeine" anywhere on the label, it's an indicator not to consume it.
One of the main reasons is that caffeine is a diuretic. A drink that makes you want to go to the bathroom all the time, obviously dehydrates you in the process. This does not work in your favor.
Another unwanted symptom of drinking caffeine includes constricted muscles, which is another reason why it won't help you perform. Your vocal cords are muscles, after all.
Cold Water
We touched on this above, but realize it could be a bit confusing. Water is great, but cold water is terrible.
But it's true. No matter how beneficial water can be to your voice, drinking it cold is probably one of the worst (if not THE worst) things that you can do to your vocal cords, especially before that important performance.
Drinking any liquid at noticeably lower temperatures can tighten your throat muscles to the point where it hurts your singing voice and it can even lead to serious injuries. Avoid cold drinks for your vocal health.
Drinks To Help Singing Voice: Conclusion
The best drink for singers is water. Period. If you find it too boring, spice it up with some lemon or honey. Or both.
Tea is another great option, but you want to make sure it contains no caffeine. Whatever drink you choose, the most important factor is that it is not too hot or too cold. Ideally, it should be around room temperature, but a bit warmer is fine too.