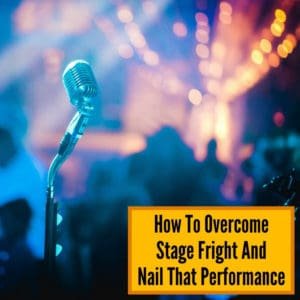 You are not on your own.
Even the best performers suffer from stage fright. Some suffer on a regular basis.
It's a confidence-shattering feeling.
Especially when you know deep down that you can do it, but you just can't in that moment.
But don't worry.
There are many different ways to control your nerves and overcome stage fright.
It's all about relaxing both your body and mind to the point where you no longer fear that stage.
Follow the steps below and you'll calm those nerves before singing and be raring to go.
How To Overcome Stage Fright When Singing
The following tips will help you overcome your stage fright when singing in front of an audience. Your best bet is to implement as many of the tips as you can, ideally all of them.
Prepare Your Set Properly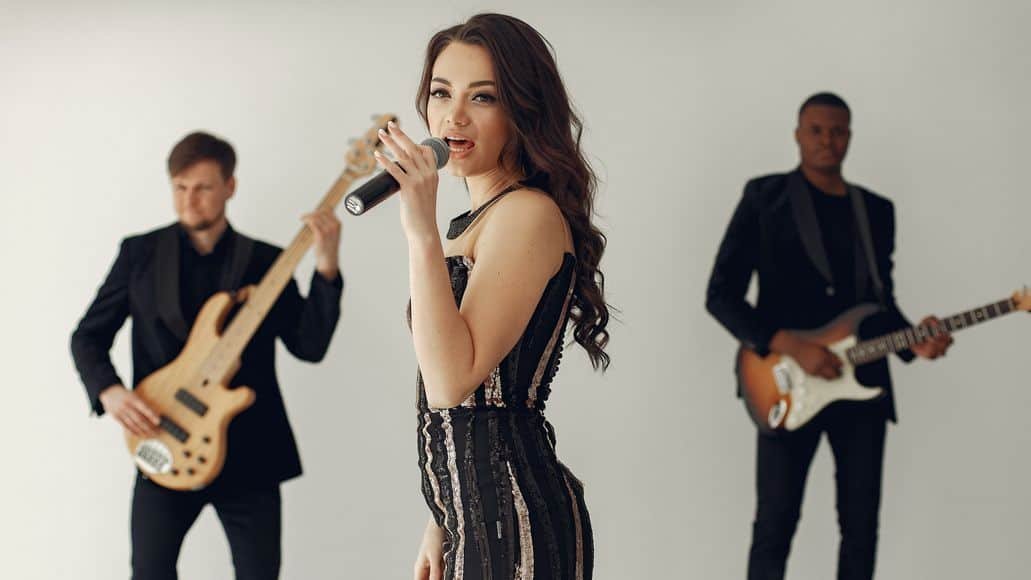 It sounds simple, but you will be much more confident up on that stage if you know exactly what you are doing.
Run your set every single day leading up to your event.
Being in a routine of practicing consistently will make the actual gig itself feel like part of the routine. You'll get up on that stage and perform as if it was just another practice, which will calm your stage fright.
Make Connections With Your Audience
Many of us slip into the habit of staring at the back wall waiting for our painful performance to just be over. But what happens when you catch someone's eye by accident? It's more likely to increase your nerves if you don't confront the one thing that is scaring you the most: the audience.
So, interact with them. Smile at them! Talk to them during your set. Ask them where they've traveled from. Laugh with them. Think of them as friends rather than enemies.
Shift Your Focus
Shift your focus from yourself and your fear to your true purpose: contributing something of value to your audience.
Take a minute before your set to think about how you got to the point where you are performing on that stage.
Were you scouted and signed to a label? Did your single go viral on YouTube? Were you endorsed online by a big-time celebrity?
You deserve to be on that stage because you have earned the right to be there through your hard work.
You can relax, because no one in that audience is your critic. They have paid to see you because they love your music.
That's a fact!
Practice Ways To Calm Your Body And Mind
There are some great techniques that you can utilize in the lead-up to your show that will help clear your fears from your mind. Here are 3 for you to try.
Breathing techniques
Check out the breathing technique we featured in one of our more recent articles on recovering from a cracked voice. For advice on how to improve your breathing read through the section on breathing in this post on how to sing.
Yoga
If you have practiced yoga before, you will know it's a brilliant way to calm both your body and mind at the same time. Yoga stretches out your muscles and limbs, and improves balance, flexibility, and strength.
You might be wondering, how is yoga going to help me when I'm out on stage? Well, it also helps with general energy levels throughout the day by boosting your brain power. The physical act of yoga raises those levels.
Want to try it? Watch this awesome video:

Meditation
This is an approach you can use to help train your mind, similar to the way that fitness is an approach to training the body. Just like the previous two techniques, meditation will help teach your mind how to be calm in stressful situations like when you have to get up on stage and perform. Head here for some Meditation 101.
Visualize Your Success
It is so easy to worry and worry about all the things that may or may not go wrong in your set.
"What if I mess up that difficult riff?"
"What if my voice cracks?"
Or for non-singers: "What if my violin is out of tune?"
If we are capable of thinking up the very worst possibilities, shouldn't we also be capable of imagining the very best possibilities?
Of course we are!
"What if the audience knows all the words to my song?""
"What if I nail my solo note for note?"
"What if they want an encore?"
The more you think of the best possibilities, the more belief you are going to have in yourself, which, in turn, leads to an increased possibility of these scenarios actually happening. Dream big!
In A Band? Be Around Each Other As Much As You Can
Go out for food, go to the movies, go out to a club together and bond. Being able to perform with actual friends on stage will make you feel like they have your back, especially when you suffer from stage fright. It will feel like a team, rather than you out there on your own, suffering from stage fright all alone.
Overcoming Stage Fright Singing: Final Thoughts
This is just a small, but crucial, handful of the hundreds of techniques that exist to help you get over stage fright. Each one of these tips will contribute to improving the way you react to fearful situations like this.
And, like with any fear, you won't get over it until you face it. So relax, follow the tips, and get performing!
Do you use any other techniques to help you get over stage fright? Write them in the comments below!
Additional Resources