Struggling with a cracked voice?
Every singer has been there, so don't worry.
t's very common to crack your voice, and there are a number of reasons why this happens.
Luckily, it's a problem you can solve.
But it can be really difficult to come back from it, if you don't know how to:
Successfully fix your cracked voice
Prevent it happening in the first place
Yes, this is something that happens to even the best of singers, not just those who are learning.
But do you know why the likes of Beyoncé and John Legend seem to keep their vocals intact?
Because they follow the two steps above.
Below I've put together a set of tips and steps that only the best vocalists use. I'll show you what exactly causes your voice to crack, and how you can successfully get your vocals back.
Then you should check out these 5 exercises that can end vocal breaks forever.
Why Does My Voice Crack When I Sing?
Let's begin by taking look at the main reason your voice cracks when you sing. Knowing why it happens is the first step in learning to prevent it from happening again.
Stress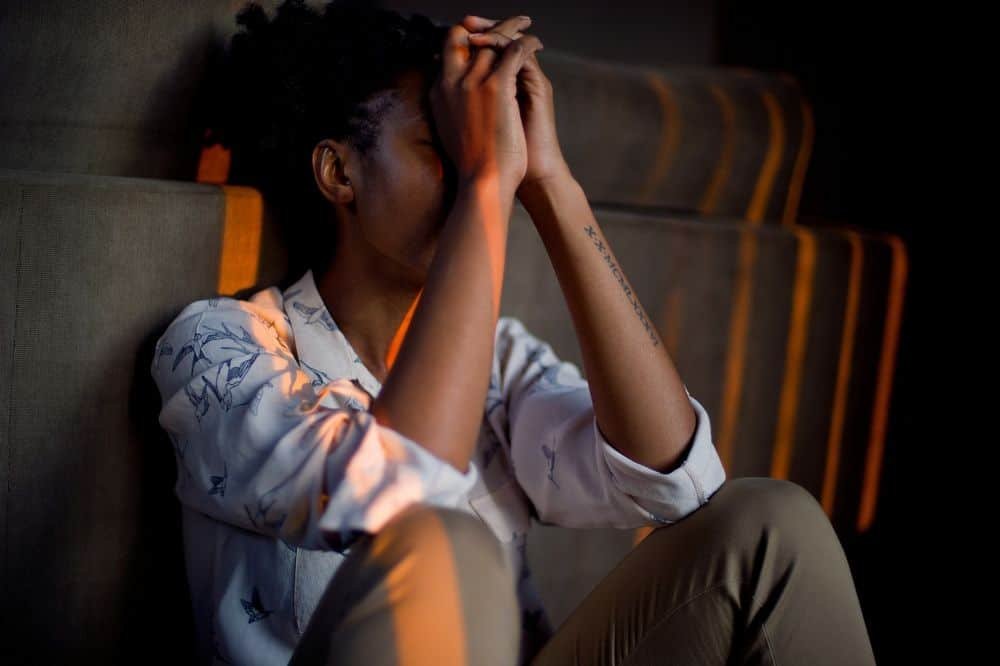 Being nervous and/or stressed causes our muscles to tense up, and this includes our vocal muscles. These muscle contractions can make it difficult for our larynx to hit the right pitch.
How does this work?
Our two vocal muscles are called the thyroid and arytenoid. They work as a team, interlinked but not attached to one another. If one or both of these muscles are either weak or they tense up unnaturally, they will give way and unlink. That's what causes your voice to crack.
Bad Singing Habits
Another reason our voice can crack from stress is due to the way we breathe differently when we're not relaxed. When we are anxious and stressed, we can feel like we're not breathing enough. The natural response is to breathe in more.
How does this work?
Unfortunately, this actually makes the problem worse, since increasing the rate at which you breathe will only increase your heart rate and add to your stress. This type of breathing is no good for singers.
As a vocalist, you need to have your airways nice and open in order to get the best out of your voice. And the problem is even worse with certain advanced techniques, like growl singing. Keep reading to find out how you can use breathing techniques to get your voice back, if you do ever lose it!
Illness
Unfortunately, we as humans don't have much control over when and how we get ill. Typical illness such as a sore throat, a cough, a cold, the flu, and other common but more seriousness illnesses such as glandular fever and tonsillitis all prevent our vocal cords from properly functioning.
How does this work?
The bacteria that is causing your illness, particularly in throat/chest illnesses, builds up in and around your glands, thyroid and arytenoid. Annoyingly, they sit in those places and often cover the surface they have inhabited. This creates friction in and around your vocal cords and partially blocks your airways, meaning you are not able to breathe in the way you need to, in order to sing.
Lack of Confidence
Not trusting your voice will only increase the chances of your vocals cracking!
How does this work?
If you don't believe that you can reach that note, it's going to cause your muscles to tense up, just like I mentioned above. You need to relax and have confidence in yourself, because you CAN do it!
Check out this fantastic video below to help you gain some more confidence in yourself.
Now that you know exactly what has caused your vocals to crack, it's really important for you to see how you can get that beautiful voice back, and how to prevent from losing it again!
How To Get Your Singing Voice Back
If your voice has cracked, never fear. The following exercises will help you get your singing voice back.
Practice This Brilliant "Head-To-Chest-Voice" Exercise
As we know, our two vocal muscles—the thyroid and arytenoid—give way and separate if we don't look after them. The crack that causes this happens right in the middle of our head and chest voice, in an area called the passagio.
So, how do we combat this issue? Vocal coach Aaron from Superior Singing Method uses this fantastic "head-to-chest-voice" exercise.
Action Steps
Find your head voice. Pick a comfortable, middle-ground note to start with.
Sing "ah" on your chosen note a few times over.
Got it? Start to descend down in whole tones until you have crossed over from your head voice to your chest voice. NOTE: This should only take about 5 notes!
Do this exercise for 2 minutes a day until you feel you can pass through the passagio with no problems.
Did you feel your voice cross the passagio? The threshold from head to chest voice? This exercise will strengthen both your thyroid and arytenoid for an all-round stronger voice. For more on the differences between head and chest voice and on using each, head here.
Check out this in-depth video below to see how it's done.
Master Your Breathing Skills In Order To Master Your Anxiety And Stress
We know now that anxiety and stress cause us to pick up bad singing habits that ultimately affect the quality of our voice, resulting in cracks. Anxiety affects so many of us, and I know myself how frustrating and scary it can be.
This is why I want to show you this breathing technique, created by the team over at WikiHow, that will help strengthen your voice and also help you breathe out any anxiety you may have!
Action Steps
Begin by inhaling slowly and deeply, feeling the air move downward through your mouth and throat and into your body. Imagine that the air is very heavy.
Visualize yourself pushing it all the way down, below your belly button, before letting yourself exhale.
As you go through repetitions, inhale more quickly. Continue to imagine the air being heavy and pushing it down into your stomach. Feel how your abdomen and lower back expand.
Place one hand on your chest and the other on your stomach. When you inhale, make sure the hand on your stomach moves more than the one on your chest—you should be pulling air down deep into your body, not shallowly into your chest.
Maintain A Healthy Lifestyle
If you want to avoid illnesses as best as you can, or recover from one quickly, these are the tips for you!
Action Steps
Water is your best friend as a singer. It is the best drink for your voice and you need to drink those 8 glasses a day in order to keep your vocal cords hydrated and healthy.
Always have an array of green teas and citrus teas ready. They're brilliant for both preventing disease and for helping in the healing process. Your vocal cords need vitamins and warmth, and this is exactly what these teas give them.
Try adding whole grains and plenty of fruits to your diet. These are the types of food that naturally boost your immune system.
Avoid fatty and spicy foods when you are due to sing. They create acid in your stomach and lead to heartburn.
A healthy body = a healthy voice!
Voice Cracks When Singing: Final Thoughts
Cracked vocals can be a very serious issue for us singers and, if not treated properly, could damage your vocals long term. Follow these tried and tested methods and you'll be well on your way to blessing more people with that cracking voice of yours. (Pun intended!)
Even better, take measures to prevent vocal damage in the first place.
Do you know a friend who could benefit from these tips or has made these mistakes? Share the article with them and help them recover.
Can you think of any more tips to getting back your singing voice? Let us know in the comments section below!