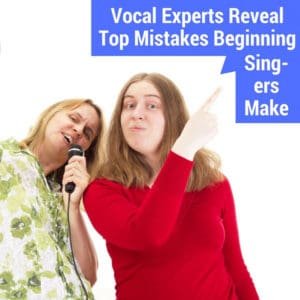 The best way to learn anything is from an expert in the field.
Singing is no different.​
But there's something even better than learning from an expert—learning from 24 of them. And these aren't just experts at singing; they're experts at teaching, too.
I reached out to 24 professional vocal instructors and asked them one question. A question that can help any beginning singer.
I was expecting some good answers, but when the responses started coming in, I was blown away. These busy professionals took time out of their day to craft some incredible responses with tons of actionable advice.
They definitely over-delivered and if you're trying to learn how to sing better, I highly recommend you take 20 minutes and carefully read through every answer. There are so many great tips here.
The question I asked is:
"What is the most common mistake beginning singers make and what can they do to correct it?"
I've ordered the responses alphabetically by the experts' names, because I had to put them in some kind of order. I also made sure to include links to their websites, because most of their sites are chock-full of even more great advice.
So here we go with the common mistakes beginning singers make.
Beginning singers tend to…
Wow! That's why you learn from an expert!
I'd like to thank every one of the professionals who took time out of their busy schedules to share some of their wisdom.
What did you think? Do you agree with their answers or are/were you struggling with something they did not mention? Please let us know in the comments below.