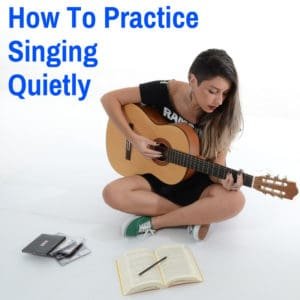 Sometimes you don't want anyone to hear you.
Maybe you know that your singing practice disturbs your neighbors or roommates.
Or maybe you just don't want anyone to know you are trying to learn to sing, because you don't want them to discourage or, worse, ridicule you.
Whatever your reason, you need to practice singing quietly.
But is that even possible?
Can you practice singing effectively without anyone hearing you?
Singing quietly sounds like a difficult and impossible task that deserves a category of its own in the Grammys.
But it's not impossible.
Here are some ways through which you can sing your heart out without disturbing others.
How To Practice Singing Quietly
You might have your reasons for trying to sing in a quiet manner, such as sharing a place with someone or being considerate of your neighbors.
You could also be secretly pursuing a singing career and not want others to know attempting to teach yourself how to sing, so that they don't discourage or ridicule you.
Whatever the reason may be, we are happy to help and guide you on how to practice in secret. You won't have to compromise on practicing and polishing your talent because of others.
Turn On The TV And/Or Fan
This might seem counter-intuitive, as the room won't be silent, but creating white or pink noise will help you mask your singing. If you turn on the fans and the TV, their noise will help drown out your voice.
This way, nobody will know that you are busy crooning. Just make sure not to turn the TV too loud as others might complain about that then. If your walls aren't too thin, this little trick should work well for you.
Sing In A Light Voice
Pick a song that doesn't require you to bring in all your heavy vocals. Practice singing songs in a light voice and make sure the notes are correct. Note that singing in a light voice is not the same as singing under your breath, which is a poor technique that will not improve your singing.
Sing In The Pillow
It might seem funny, but many singers use this technique to practice singing quietly. Although you will be singing at the same pitch, your voice will be muffled, making it impossible for others to hear you.
If you are considering doing this, use your hand to cover one of your ears as you will be able to hear your notes and pitch better this way.
Tell People About Your Singing Practice
It is always a cool and considerate idea to let others know about your singing practice. Giving them a heads-up about your singing will help them understand that it is something important to you. Hopefully they won't mind hearing your still-a-work-in-progress singing and be fine with it.
Humming
You can practice singing quietly by humming the song. Humming helps you work out your vocal cords and gives you a chance to practice hitting the high notes at a natural projection or volume without disturbing others. It also lets you practice breath control and pitch.
How To Practice Singing In An Apartment
Singing in an apartment can be hassle, if you have people living right next to you. The thin walls don't help either. But don't let that discourage you. Try the following.
Pick A Time When Others Are Not Around
If you are finding it difficult to practice singing without disturbing others, just pick a time when there is nobody around to notice. You can comfortably work on your singing skills and you can confidently sing in whatever pitch or note you want.
Soundproof Your Room
Soundproofing is one of the best ways to sing to your heart's desire and practice without anyone knowing. You won't have to worry about making any noise and the best part is that you can sing whenever you want.
Soundproofing a room will allow you to sing at your normal pitch and tone, without the sound escaping from the room.
You can easily find soundproofing sandwich panels online and install them all over the walls and the door of your room. If you want a DIY solution, then just cover the walls and door (including the gap beneath the door) with thick and heavy blankets.
Go Tech-Savvy
Another nifty strategy is to plug a microphone into your computer, turn on the 'monitoring' so that you can hear your voice and sing into the microphone. This is an excellent way to practice those notes and work on your pitch as you can analyze where you need more improvement.
Practice Soft Songs
Pick out songs that don't require a high pitch. And save the death metal growls for a practice time when you can really let go. Alternately, you can convert a loud type of song and give it a soft voice spin. By doing this, you will be able to sing quietly without missing out on your vocal practice.
Note that light singing and soft singing are different in the sense that light singing has a sweet or lilting inflection to it, whereas soft singing is dry, airy and lacks dynamic.
Sing In The Closet
Take your performance to the closet with this one. You can work on your vocals a bit more loudly if you go with this option.
Using a closet is a cheaper alternative for people who don't have a sound-proofing system in their room. The clothes and other items in the closet will block much of the sound from escaping and will dampen any echo.
Singing in the closet will give you the privacy you deserve and will allow you to improve your singing skills in secret. Many people who are starting out their podcasts, and don't have a proper sound-proof studio to record in, use their closets as well.
General Tips For Singing Quietly
Before you start your singing practice, here are a few guidelines to follow.
Rest in a standing position with an upright posture. This is going to ensure that your spine and singing muscles are in line.
Release any tension present in your body by stretching, clearing your throat and unlocking your knees.
Practice inhaling and exhaling. Inhale in a way that expands your waistline and also ensure that your chest is high.
Sing in a light and soft hum using an easy pitch.
Make a humming sound using 'm' as your main focus, followed by an 'ee' sound.
Keep toggling the 'm' and 'ee' sounds until they sound controlled.
Lastly, it will greatly help if you take some cookies or send a thank you note to your neighbors or roommate for letting you practice. This thoughtful little gesture will go a long way and your singing rehearsals won't have to suffer anymore.
How To Sing Quietly: Final Thoughts
Your best bet for your career as a singer is to find a place to practice where you can go full volume. But this is not always possible. Many of us have to work around other people and their needs and schedules in order to get our singing practice in.
If you are also in that boat, I hope some of the above tips on how to practice singing quietly and how to sing without disturbing others will work for your situation.
Do you know any other cool tricks to sing in a more discreet manner? Let us know in the comments below.