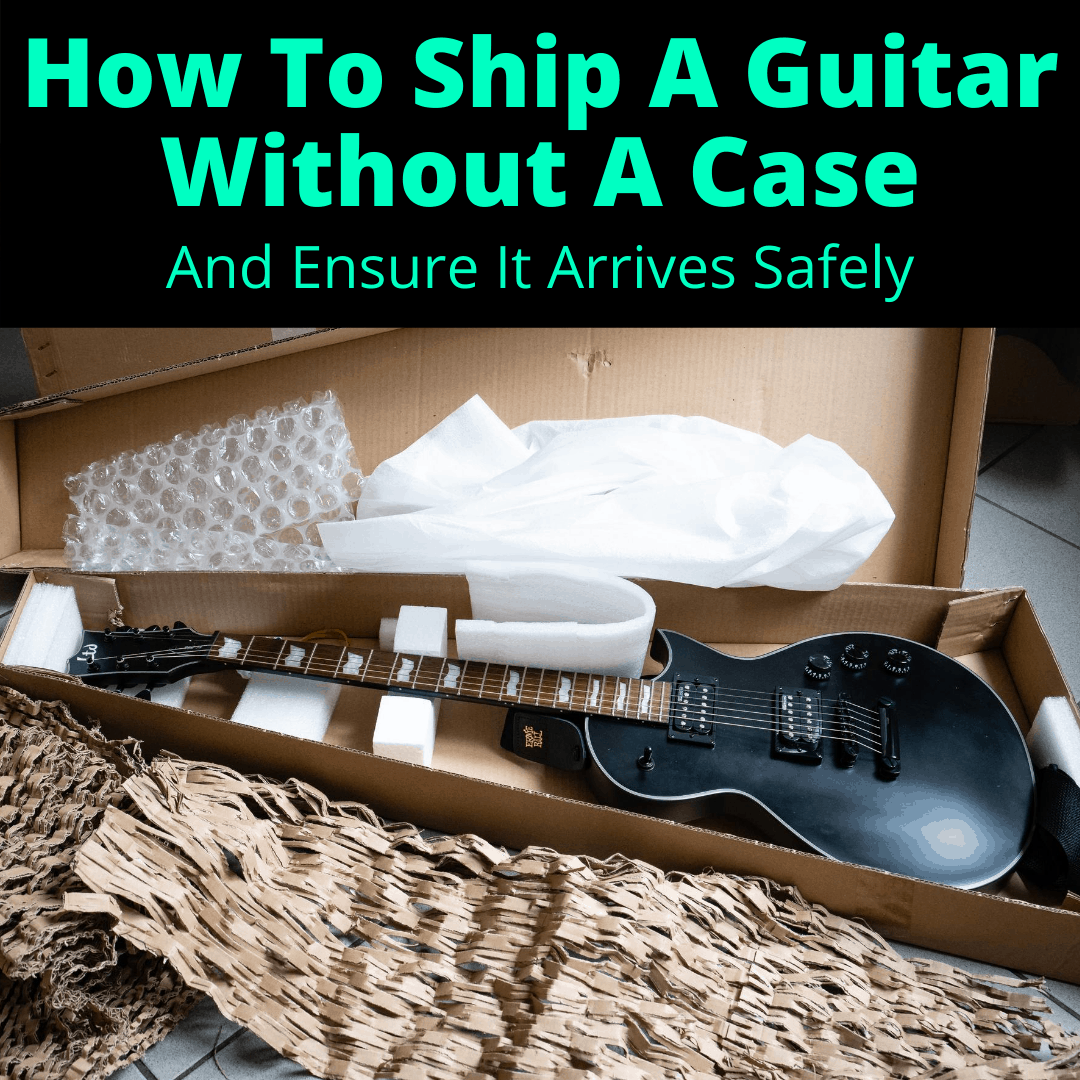 Let's get this out of the way right off the bat.
You're better off shipping your guitar in a case. Ideally, you want to put it in a hard case, but even a gig bag will offer more protection than nothing.
That said, you may not have a case available.
Or you may not want to pay the higher shipping charges that come with a larger and heavier package.
In that case (bad pun intended), you need know how to ship a guitar without a case.
You need to make sure you protect your guitar well enough that it can withstand the knocks and drops that come along with shipping, even without the extra protection of a case.
Read the rest of this article to find out just how to do that.
How To Ship A Guitar Without A Case
If you are shipping a guitar without a case, you'll want to remove the strings, wrap the instrument up nicely, and secure any movable parts.
The most important thing is to make sure the guitar is completely snug in the box and padded on all sides. Ideally, pack it well inside a box, then put that box inside a slightly larger box and pack it well again.
We'll begin by covering how to properly secure a guitar in a box. Then we'll cover everything else you might need to know.
How To Secure A Guitar In A Shipping Box
A guitar that can move around inside its shipping box is not safe. Use newspaper, bubble wrap, foam padding, etc. to fill any gaps between your guitar and the inside of the box.
These areas include the spaces under the headstock, the neck joint, the body sides, the space under the fretboard, and anywhere else that may keep your guitar from shaking or moving inside the case. Here are other tips to keep your guitar secure in a shipping box.
Consider Using A Hard Shell Case
I know this article is about shipping your guitar without a case. But that still doesn't mean it isn't more secure to ship it inside a case, especially a hard shell case. Here are a couple of word pairings to illustrate the point.
Shipping without a case – Okay
Using a gig bag – Better
Using a hard shell case – Best
No one will stop you from shipping your guitar without a case. It works and your guitar should be fine, if you pack it well. Adding a gig bag provides an extra layer of protection, so use one if you can. Another good option is to use two shipping boxes, with one packed inside the other.
While a gig bag can protect your guitar better than not having one, it doesn't offer the same level of protection and security as a hard shell case, especially during a more rigorous shipping process and long transit.
Secure Your Any Movable Parts
If you have a clip-on tuner, a capo, and other guitar accessories, remove and secure them in a separate box. Begin by removing them and other unnecessary parts such as a slide, capo, and whammy bar.
Basically, the principle is that anything that doesn't need to be inside the guitar case during transit should not be there. This will help prevent scratches on the guitar during transit or even cracks on the instrument. Loose objects inside a shipping box or guitar case have the potential to do serious damage to the instrument.
Do A "Shake Test" Before Sending Your Guitar Off
Once you have filled all the spaces and empty gaps in the guitar case (if you are using one) and between the case and shipping box, it's time for you to do a shake test.
Yes, you read this right! A shake test—with everything closed of course! This will help you make sure your guitar is held in place completely secure.
How do you do a guitar packing shake test?
Well, gently shake your package, and if you hear any sound that indicates movement, you know that you need some more newspaper, bubble wrap or other type of padding, to provide a little more filling.
Also, remember to conduct your shake test twice if using a case, gig bag or second cardboard box: once after packing your guitar on the bag or case and another when you pack the case, bag or smaller box in the outer shipping box. Otherwise, if you finish stuffing everything in the shipping box and end up having empty spaces inside the hard shell case, you will have to unwrap both and and pack everything all over again.
Is It Better To Ship My Guitar In A Case?
When shipping a guitar, whether an acoustic or your best electric guitar, it is always a good idea to pack it securely inside a sturdy, high quality case. Why?
Because the right guitar case is just as important as the internal packing. It provides an additional layer of protection for the instrument. In fact, every website that discusses shipping guitars, including couriers like UPS themselves, suggests packing your guitar in an appropriate case.
Is It Cheaper To Ship My Guitar Without A Case?
As mentioned, shipping inside a case is better from a security standpoint. The extra layer of protection keeps your guitar safer from damage. But that is not always the primary consideration.
The cost of shipping a guitar also comes into play and that depends on how big and heavy the package is. This means that placing the instrument inside a heavy, hard shell case increases the cost of sending it.
On the other hand, shipping it without a case means less weight and smaller dimensions, and consequently, a lower shipping cost. Other than the weight and dimensions of the package, the target destination and duration of the shipment also affects the price.
Do I Need A Special Guitar Shipping Box?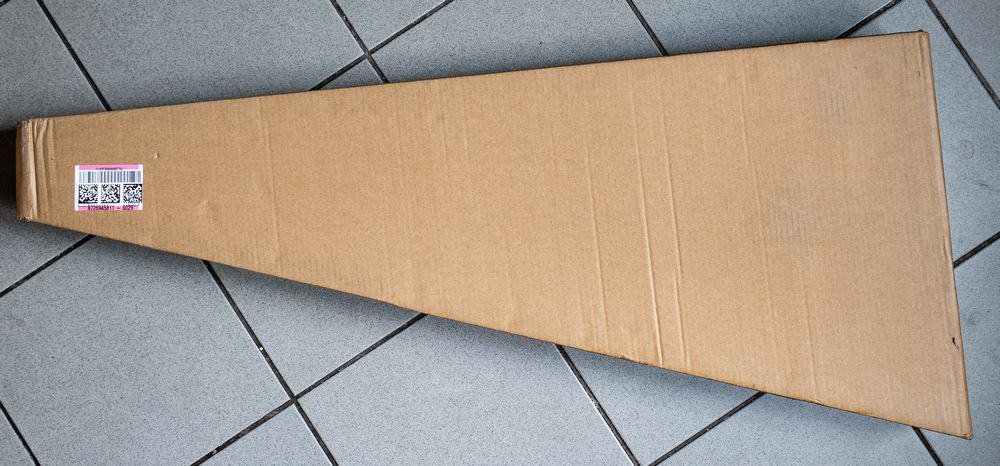 You might want to consider a special guitar shipping box, especially if you are nervous about your guitar breaking and you do not want to stress and worry whether your precious instrument is safe.
Luckily, you do not need to spend a ton of money getting a special guitar shipping box. In fact, regular shipping boxes can work just fine, as long as the guitar fits inside and it is packed well with padding, bubble wrap or newspaper.
Can I Make My Own Guitar Shipping Box?
As previously mentioned, you do not need to buy an expensive, custom-made corrugated guitar box to send your guitar from one place to another. If you do not have extra money to buy a special guitar shaped box for the shipment of your guitar, you could building a DIY shipping box.
Making your own box to ship a guitar is relatively simple. The most important things to take care of are to ensure the box is sturdy enough to protect the contents and large enough that you can properly secure the guitar inside with padding, to ensure the safe transport of the instrument.
Boxes can vary in size, material, and weight. Obviously this will effect the cost of shipping, but you don't want to sacrifice protection just to save a few dollars.
Ideally, you should put your guitar inside a reliable case for added protection, and then put that case inside the shipping box. If you do not have a case, use a thicker material to build the custom box, to make up for the layer of protection you lose without the case.
How Much Can I Expect To Pay To Ship My Guitar?
On average, sending a guitar by mail in a soft gig bag can cost around $50 (domestic shipping) to more than a hundred dollars (international shipping). Shipping a guitar inside a heavy, hardshell case can cost up to $200 or more.
To learn more about average guitar shipping prices, including cost estimates from different shipping companies, read our article entitled "How much does it cost to ship a guitar?"
Can I Travel With My Guitar By Plane, Train, Car, Etc?
Yes, of course you can. Packing it well is important here, especially for air travel. We have an article that explains how to travel with a guitar. It will give you all of the information you need to successfully fly with your guitar, or travel with it by train, car, or other method of transportation.
What Packing Materials Are Best?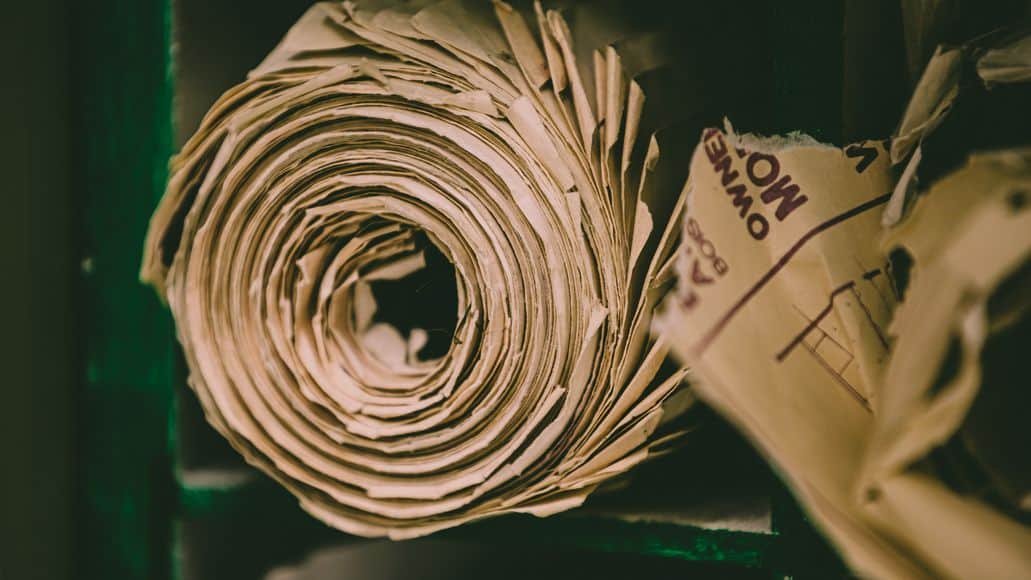 Now, let us talk about what materials are best to pack your guitar before shipping it from one place to another. Here's a list of some of the best packing materials.
Newspaper Or Other Sturdy Paper
This is the cheapest packing material that is still effective. Newspaper or other pieces of paper can be used to wrap the fretboard after removal of the guitar strings. If you prefer to just loosen the string and not remove them totally, you can also use a folded piece of newspaper and then slide it between the strings and the frets. You can also use newspaper to protect the pickups.
Bubble Wrap
You can use bubble wraps to protect the headstock and the tuners from hitting the hardshell case or other objects while the package is in transit. Cover the entire guitar headstock and use rubber bands or packaging tape to keep the bubble wrap from coming loose.
Foam Padding
If you have money to spend and want to use ready made padding, they are a great option that protects your guitar better than anything else. You can use foam padding to wrap the fretboard or slip it under the loosened strings. You can also use it to cover the top of the guitar before putting it in the shipping box.
What Is The Safest Container In Which To Ship A Guitar?
There is no particular brand or type of container that you can purchase to fully ensure the safety of any instrument when shipping it. You can buy the most expensive box and still end up with a broken instrument due to mishandling or improper packing. But it is rare.
Many people use simple DIY boxes without having any problems or receiving a damaged instrument after shipping. But to ensure the best possible chance of safe arrival, put your guitar inside a hard case and place that inside a shipping box. Make sure the guitar is secured properly inside the case and that the case is packed tightly inside the shipping box.
Can You Ship Guitars In Cargo Containers?
You may have heard about cargo shipping before for appliances, cars or household equipment, among other things. You can ship guitars via cargo containers, too. It's a lot slower, but it does does have a number of advantages, too.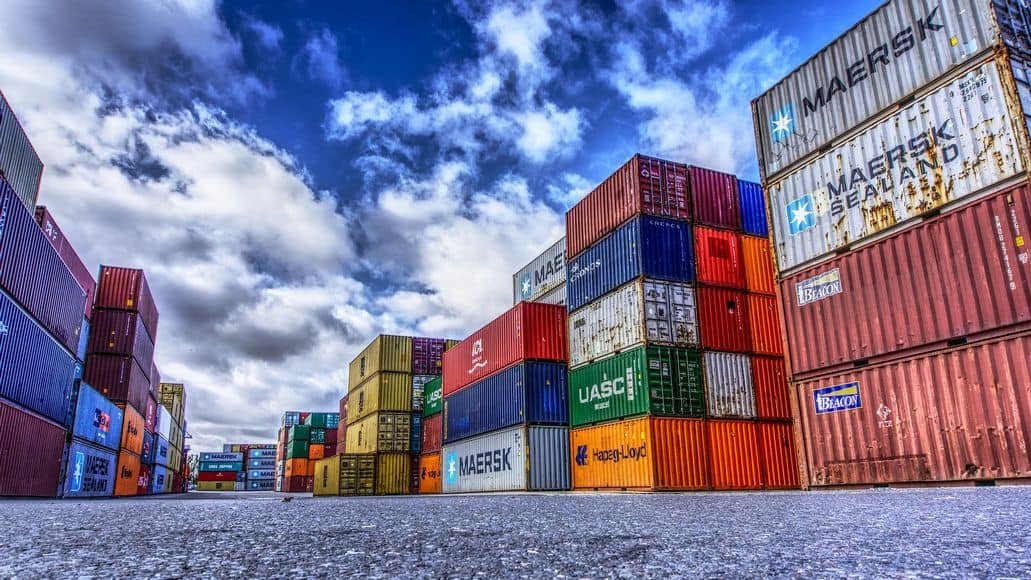 Why Ship Guitars Using Cargo Containers?
The fastest option to ship a guitar is through air freight services. Instead of a long sea trip, it may only take a day or two to get a guitar delivered to a specific location
But, as previously mentioned, shipping a guitar via courier services like DHL, FedEx, UPS, or USPS is expensive and can cost up to $200. If you need to ship a number of guitars, it will cost you thousands. Besides being expensive, you won't be sure it'd be one hundred percent safe.
If you need to transport several guitars, and you are not in a rush, sea transport in a cargo container is the most cost effective way. Let's say you have five or more guitars (maybe they are part of a collection and include multiple models, like baritone guitars, etc.), a couple of amplifiers, and other musical equipment, shipping them in a container on a ship will save you a lot of money.
Shipping A Guitar Without A Case: Final Thoughts
If you need to ship your guitar and you don't have a case for it, or you don't want to pay the higher shipping charges, make sure you pack it well. It will need extra protection.
That said, we strongly encourage you to put it in a case (or at least a second box) and to put that case (or box) inside a larger shipping box. Pad the guitar in the case or smaller box, and pad the case or smaller box in the shipping box. Your instrument is precious. Why take the additional risk just to save a few bucks?