Flying with a guitar is stressful.
Not only is it another large piece of luggage you have to take with you, but it's fragile luggage you can't help worrying about.
But if you take the proper precautions, you can minimize the risks and ensure your guitar arrives safely.
What are the precautions to take? What else do you need to know?
Keep reading. We cover everything you need to know about flying with a guitar. We will also give you all the tips you need to travel with your guitar by train, car or other methods of transport.
This should minimize your need to worry and make your next trip much less stressful.
How To Fly With A Guitar
Musical instruments, which naturally includes the guitar fall into the category of special luggage, when it comes to air travel. They differ in dimension, shape, and properties from standard suitcases.
It is important to understand that each airline prescribes its own rules for the transport of special luggage, depending on their tariff system, as well as the type of aircraft on which the transport is performed. Keeping that in mind, you can transport a guitar in several ways.
In The Passenger Cabin
You will need to reserve an additional seat to transport larger instruments, like the guitar, in the passenger compartment. These instruments must not exceed a height of 140 cm and a weight of 46 kg.
You must request an extra seat for the transport of the instrument from the airline through a reservation made at the agency where you buy the airline ticket, either through a representative office or a call center directly with the airline.
You will generally be charged for this additional seat at the price of an airline ticket for an adult, but even this depends on the regulations of the airline itself.
As Checked Baggage
You can also fly with your guitar as checked baggage, if it is packed in a hard box. The airline will then treat it like any other checked baggage, in accordance with the weight.
You can only transport guitars longer than 100 cm as a single piece of luggage (you cannot pack them together with other items). You will need airline approval for instruments longer than 203 cm, or heavier than 32 kg.
If the guitar is longer than 140 cm and heavier than 46 kg, you must transport it as cargo, in which case special cargo conditions apply. For this type of transport, it is necessary to contact the cargo sector of the airline with which you are traveling.
Note: Be sure to protect your guitars well and pack them in secure, hard packs, because airlines are not liable for damage if the instruments are poorly packaged.
Guitars Are Not Suitable For Hand Luggage
The only instruments you can carry as hand luggage are ones that can fit into the luggage storage compartment above your seat.
You can carry small musical instruments as hand luggage, if the dimensions and weight of the instrument inside the protective box comply with the regulations for the allowable amount of free hand luggage prescribed by the airline operating the flight.
Remember Each Airline Is Different
This is general information about transporting musical instruments on an airplane. Once again, all of this will differ from airline to airline.
The general advice is that when booking a flight on the airline portal, be sure to specify the type of instrument you want take with you on the trip, as well as the dimensions of the protective box.
The airline will let you know what the conditions for transport are. There are also a few more things you need to take into consideration. Let's take a look at those now.
Steps To Take Before Traveling With Your Guitar
If you are going to travel by plane with your guitar, follow the steps below to minimize risks and ensure your instrument arrives at your destination safely.
Research Airline Rules
Whenever possible, you should try to travel with the guitar in the cabin. There are many airline companies that allow you to bring musical instruments, including standard-size guitars, into the cabin.
Check the policy of the company with which you want to fly. If you see that you can take the guitar inside the cabin, print out the rules. That way you can show them to the flight staff if need be. Sometimes airline employees they are not well informed about this particular topic.
Again, it is important to remember that airline policies differ greatly. For example:
American Airlines: you are allowed to transport your guitar in the cabin
British Airways: you not allowed to transport your guitar in the cabin
Use Airlines That Allow Guitars In The Cabin
If you can choose between several flights to your destination, always choose the company that allows you to bring your guitar into the cabin. If possible choose a seat in the back of the plane. These passengers are usually the first to enter, which means there is a better chance of finding enough space for the guitar.
Get A Good Case If Checking Your Guitar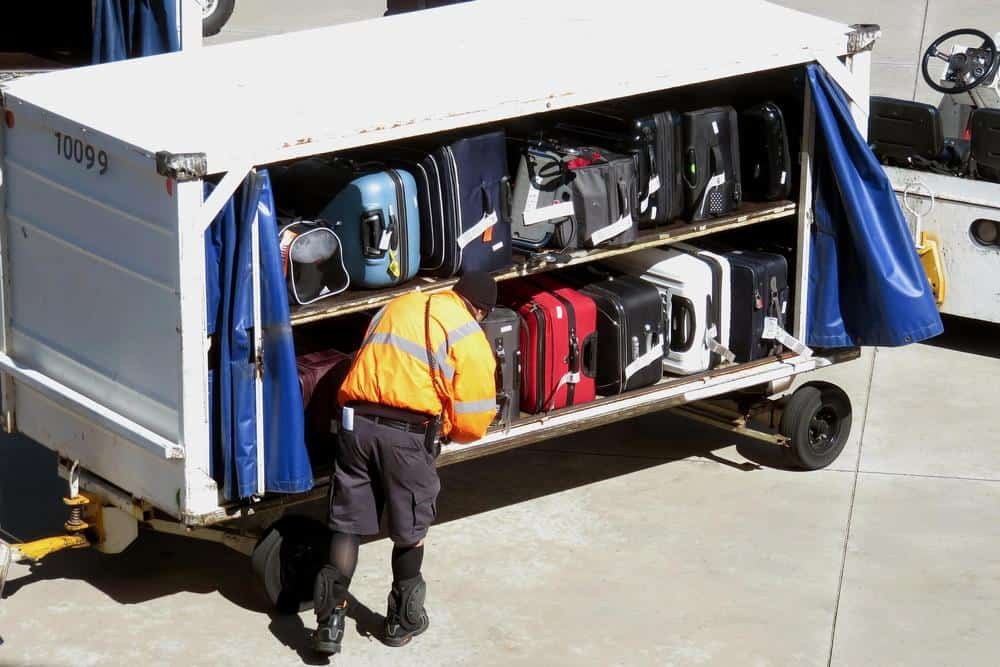 If you are sure that you need to check your guitar, due to the rules of the airline company, make sure that your guitar has a good, safe, and resistant hard case. If your guitar is of high value, you can declare its value to the flight company. That way you can insure it against breakage and loss, for a small premium.
Consider Insurance
On long trips and with multiple connections, it is always a good idea to insure your guitar in general, regardless of the airline. It should not cost much and will allow you to rest assured that you can at least recover the monetary value, in the event of an accident or loss.
Loosen Strings
If the guitar needs to be checked-in, meaning it will travel in the luggage compartment with all the suitcases, you should slightly loosen the strings. One turn is enough. This prevents it from having any moment of overpressure during the flight.
How To Travel With A Guitar Using Other Forms Of Transport
Sometimes flying is your only option. But other times, you could travel using other forms of transport that might be much easier on your guitar.
Traveling By Car With Your Guitar
Here are some helpful tips if you plan on taking your guitar on a road trip in a car.
It is safest to transport the guitar in the trunk.
On extremely hot days, the guitar should only be inside the car while you are driving and the air conditioning is on. If you stop to rest, try to leave the car in the shade, to prevent the temperature inside from rising excessively and thus damaging the guitar.
Never leave the guitar in a location in the car where it is exposed to direct sunlight, even if you have the air conditioning on. It could cause considerable damage.
Never leave the guitar in the car for a long period of time on hot days, even in the shade. The heat could damage the glue or even cause cracks in the wood.
The guitar should travel smoothly. If it goes inside a case, place one, or several, layers of leather between the guitar and the case, so that it slightly presses on the sides, preventing it from moving inside the case.
If the case in which the guitar travels has an inside pocket, make sure that the pocket does not open during the trip by using a piece of tape or something similar, in order to prevent its contents from coming out and spreading inside the case. This can cause scratches to the guitar. You could also just empty the pocket.
Train Travel With A Guitar
In general, everything that we said about traveling by car also applies to the train. Here are a few additional things to keep in mind.
If you place the guitar case near the seats, check that no air conditioning openings are near the guitar. During a long trip, the cold air could damage the guitar considerably. In general, air conditioned air tends to have a low humidity level, which could dry out the wood.
If you leave the guitar in the luggage racks that are located at the entrances of each car, make sure it can't fall. Even if you have left it safe and well placed, check it from time to time, since other riders may move it. Train rides can be a bit shaky from time to time and the guitar can slide off and fall.
If using these luggage racks or other types of spaces for suitcases, be careful that no other traveler stacks their suitcases on top of your guitar case. Too much pressure on top of the case can accumulate and damage the case and/or guitar. Only very high-quality guitar cases are built to withstand high pressure.
Finally, watch out for thieves. The stops on platforms and transfers are opportune moments for those who want to take what does not belong to them. And guitars are quite appealing, because they can be sold for a nice price.
General Tips For Traveling With A Guitar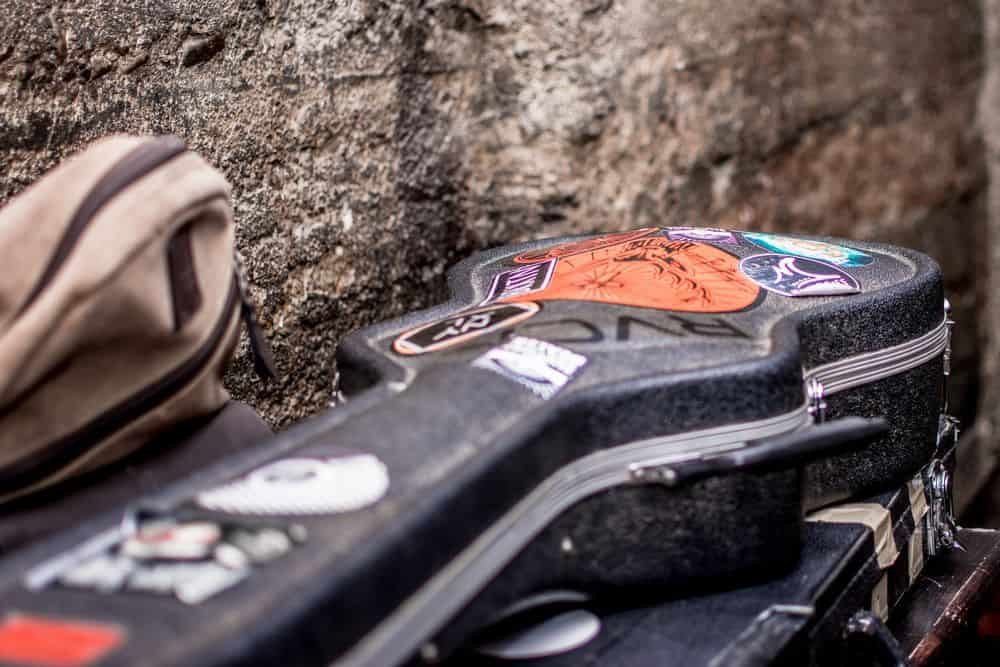 Here are a few more general tips for traveling with your guitar.
The guitar must always travel in a case with good protection and insulation and must not be subjected to sudden changes in heat or low humidity (never below 40%).
There are many reliable cases for travel on the market these days. The fiberglass ones are very good and you can find them for $175. The carbon ones are the most resistant and they start around $275.
Put a humidifier and hygrometer in the case. This ensures you can measure the humidity level at all times and provide the optimal humidity. A set of both devices costs only $15, which is very little considering how much it can do for your guitar. The optimal humidity inside the case should be between 50% and 65%.
On trips with sudden changes in weather between the starting point and destination, leave the guitar in its case for at least a few hours upon arrival, so that it can acclimatize slowly, instead of receiving a sudden shock.
Never leave the guitar in areas close to sources of heat or strong temperature variations, e.g. in the sun, next to a radiator, by a window, next to an air conditioning vent, in very humid places (more than 75% humidity), or excessively dry places (less than 30% humidity).
Flying With A Guitar: Final Thoughts
Flying with a guitar is never fun and always leads to some worrying. But if you take the proper precautions, the chances of something bad happening to your guitar are low.
The same goes for any other type of travel with your guitar. Just common sense goes a long way toward keeping your instrument safe. Use that and follow the tips we provided above and your precious guitar should arrive in one piece and ready to play!