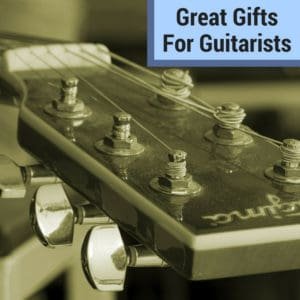 Are you stumped on what to buy the guitar player in your life?
Buying presents for anyone is difficult, but when the giftee has a strong interest in something, it usually becomes a little easier.
At the very least it gives you a theme.
So if you're shopping for a guitarist, here are some of the best gifts for guitar players.
I tried to focus on gifts that are functional (so no jewelry and only one article of clothing), because I know from experience that functional presents get the most use.
Hopefully you can find the perfect gift for your guitar enthusiast below, but even if you don't, seeing my list should give you the inspiration to come up with some great additional ideas of your own.
Gifts For Guitar Lovers
Here are some great presents for the guitarist in your life. They make great gifts for guitar players for Christmas, birthdays, or any other special occasion.
Gifts For Guitar Players: Final Thoughts
If you're buying gifts for musicians who aren't guitarists, check out our gift giving guide for violinists, our guide for singers and songwriters, our guide for producers and our guide for music teachers, students and general music lovers.
If you need further ideas for a guitarist, simply think about things they may need to play their instrument This could be anything from capos to looper pedals.