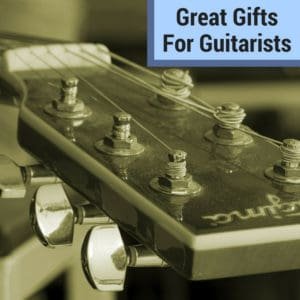 Are you stumped on what to buy the guitar player in your life?
Buying presents for anyone is difficult, but when the giftee has a strong interest in something, it usually becomes a little easier.
At the very least it gives you a theme.
So if you're shopping for a guitarist, here are some of the best gifts for guitar players. I tried to focus on gifts that are functional (so no jewelry and only one article of clothing), because I know from experience that functional presents get the most use.
Hopefully you can find the perfect gift for your guitar enthusiast below, but even if you don't, seeing my list should give you the inspiration to come up with some great additional ideas of your own.
Great Gifts For Guitar Lovers
DIY Pick Punch
Why buy picks when it can be so fun and easy to just make your own? The Pick-a-Palooza DIY Pick Punch is the perfect Christmas gift or birthday present for any guitarist. It is also great for Mother's Day, Father's Day, graduation or an anniversary.
It comes with a leather key chain pick holder that can hold up to 10 picks, 15 pick strips (.71 mm thickness) that can make 100 picks and a file shaped like our favorite instrument to finish the shaping of your newly punched picks. Everything is bundled in a nice gift box.
The Pick-a-Palooza pick bunch was designed by guitarists, so they know exactly what any guitarist would want from a pick punch. The heavy-duty, sturdy construction and the stainless steel blade ensure uniform and smooth picks every single time. The punch is simple to use and can make picks from any thin plastic you may have, like old hotel room key cards, old driver's licenses or credit cards, etc.
Artistic Picks Like These Featuring Van Gogh
Some guitarists prefer to just buy their picks. For them, the Vincent Van Gogh Picks from Art Tribute pictured here make a great gift.
Art Tribute also have other designs in their artistic picks series, like surreal picks featuring images inspired by Salvador Dali or renaissance picks. You'll find both, and more, on the same page as the Van Gogh picks.
The Art Tribute picks aren't just 12 beautifully designed picks, but a whole luxury pack. You also get a leather key chain pick holder and a specially designed metal click-clack box that easily fits in your instrument case or pocket.
The picks themselves are made from celluloid-themed plectrum and have a medium-gauge thickness (0.71 mm). The print is high quality and will not wear off, even after extended use. These make a great gift for any guitarist and for any occasion. Plus, they come with a 90-day money-back guarantee, just in case the guitarist you're shopping for doesn't like them for any reason.
A Pick Holder
The DIY punch and the artistic picks above both come with pick holders, but not all picks do. And even if a guitarist already has a pick holder, they will surely need a replacement someday soon. The Dunlop Series 5005 Pickholder makes for a useful and very inexpensive present. In fact, due to the low cost, it may be best suited as a stocking stuffer.
It is a durable holder with a spring-loaded design that always keeps a pick at the ready. It comes with an adhesive that lets you mount the holder pretty much anywhere you want.
The Dunlop 5005 pick holder is shaped like a pick and weighs very little, but I feel it is a bit larger than it needs to be at 4 by 0.5 by 4 inches. That said, I understand that some people use larger picks and this holder was designed to accommodate most sizes. It holds between 5 and 12 picks, depending on the thickness.
Guitar Care And Cleaner Kit
Every guitarist wants and needs to take care of his or her instrument and this Pro Care Cleaner Kit by Elagon is the perfect tool for the job. It has every tool an axe-man needs to make sure their instrument stays in top playing shape.
The kit includes a set of 8 Allen keys, a quality string winder, a bridge pin puller tool, string cutting pliers, a string cleaner/lubricant stick, polish, a polish cloth and a string action ruler (to help set up the instrument and strings). Everything comes bundled together in a jet-black zippered pouch with English instructions included (instructions and glossaries also available for download in 5 major languages).
The kit pouch containing all the tools measures 8.5 by 5.3 by 2 inches (21.5 by 13.5 by 5 cm). It makes a great gift for guitar lovers, whether they play the classical, acoustic or electrical version. It also works great for other string instruments. It is also good to take with you if you travel with your guitar.
A Guitar Tuner
If you are shopping for a guitar enthusiast who does not yet have a tuner, the D'Addario NS Micro Universal Tuner makes the perfect guitar-based present. It is available with several attachment methods, but this universal one is made to fit any guitar.
The clip-on mount makes it easy to affix to the headstock of any axe or other stringed instrument (or to the bridge of some instruments). The tuner sits on a swivel, so you can manipulate it into any viewing angle.
The D'Addario tuner has a built-in piezo transducer that picks up an instrument's vibration rather than its sound to ensure an accurate reading every time. The tri-color reversible backlit LCD screen allows tuning even in the dark. The low cost and high usefulness of this tuner makes it one of the best guitar gifts for him or her.
A Guitar-Themed T-Shirt
T-shirts are always good gifts and you'll find a ton of guitar-related shirts on Amazon. Browse through the selection and I'm sure you'll find a shirt that would appeal to the axe-man for whom you are shopping.
The Guitar Player Evolution T-Shirt pictured here from Think Out Loud Apparel comes in black or navy and in all standard sizes up to 3x-large. It is made from 100% combed ring-spun cotton for an extremely soft feel. The cut is semi-fitted, which makes it a bit tighter than an average t-shirt, but not overly so. It's the cut most people prefer these days.
Any 5-string lover lover will appreciate a good (and especially funny) guitar-inspired t-shirt. Click on the button below and browse through the extensive selection on Amazon. I'm sure you'll find several gifts for guitar players that the axe-man in your life would love.
Gifts For Guitar Players: Final Thoughts
If you're buying gifts for musicians who aren't guitarists, check out our gift giving guide for violinists, our guide for singers and songwriters, our guide for producers and our guide for music teachers, students and general music lovers.
If you need further ideas for a guitarist, simply think about things they may need to play their instrument This could be anything from capos to looper pedals.