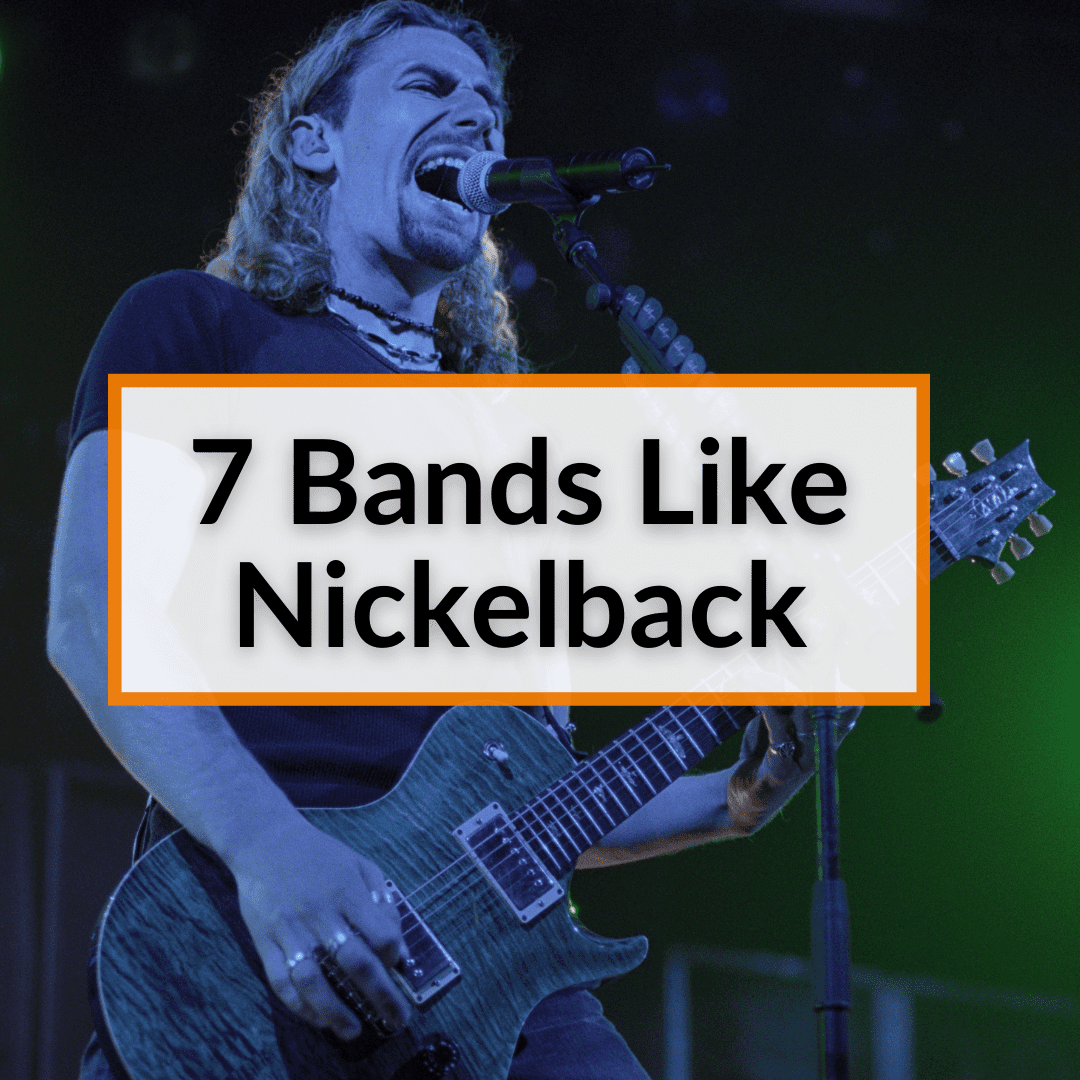 Nickelback get a lot of hate.
Perhaps more than any other band with a similar level of success.
But their huge success speaks for itself. And it tells us loud and clear that the hate is undeserved.
And it makes no sense.
If you're one of the millions of Nickelback fans and you're looking for more great bands like Nickelback, you're in luck.
There are plenty out there. The hard part is narrowing them down to only the best.
That's what we've done for you.
Keep reading for a list of the 7 best bands that sound like Nickelback.
Bands That Sound Like Nickelback
Three Days Grace
The first band on this list is arguably just as famous as Nickelback: Three Days Grace. The two bands have similar songs and therefore attract the same fanbase.
This quartet would never have seen the light of day in 1997, without the creation of GroundWell in 1992 by Adam Gontier, the former founder of Three Days Grace. Since 2003, they have given us six albums. After each album, they went on a promotional tour and toured for two years.
As exciting as this sounds, it had some consequences. Adam, who is addicted to oxycontin, had to undergo a flood of drug rehab. Regardless, Three Days Grace is enjoying worldwide success. They had the honor of performing with the American group, Breaking Benjamin.
With their founder Adam Gontier, they produced four records. But Gontier left the group on January 9, 2013.
He separated from Brad Waist, Barry Stock, and Neil Sanderson for health reasons, but also had differences in creative opinions and was no longer happy to be a part of the group.
Brad's little brother, Matt, was their savior in a way. He had to learn the Three Days Grace catalog in five weeks. He rose to the challenge brilliantly during their tour with Shinedown.
3 Doors Down
There must be some sort of symbolism between the number 3 and the post-grunge/alt-rock sound. Here we have another band with the word "three" in their name that sounds quite similar to Nickelback.
And 3 Doors Down is one of the most famous grunge and hard rock bands in the world.
In addition, there were three founding members: Brad Arnold, Matt Roberts, and Todd Harrell. The latter two left soon after and Brad had a chance to play with Daniel Adair, Richard Liles, Chris Henderson, Greg Upchurch, Chet Roberts, and Justin Biltonen over the years.
A start in 2000 with their first record The Better Life represented the new direction of alternative rock at the beginning of the century. Their sound was presented all over the world to a stamp of great acceptance, so much so that they debuted in the top 10 of their country of origin.
On the other hand, when Away from the Sun arrived in 2002, it was a commercial flop. It is generally not contemplated at all with the band's first material, barely entering the sales charts below the 100 positions.
Seventeen Days was an album that went in the direction of a more alternative style of grunge and seems like a record taken from the 90s.
It was in 2008 that they released their self-titled album. It was a massive hit and debuted at #1 on the Billboard 200 charts. Two more albums. Time of My Life (2011) and Us and the Night (2016), followed, also with great success.
Daughtry
Much like Nickelback, Daughtry has gained a lot of recognition in the alternative rock/post-punk scene. In 2008, the band achieved four nominations for the Grammy Awards ceremony in the rock music category!
They are the most awarded alternative wave group in the history of the American Music Awards.
Daughtry is a prestigious alternative rock band from the United States founded by Chris Daughtry, whose name the band bears.
Current members include Josh Steely, Josh Paul, Brian Craddock, Elvio Fernandes, and Brandon Maclin. Former members were Jeremy Brady, Joey Barnes, and Robin Diaz.
The first album was self-titled and released in 2006. It is one of the most successful albums in the history of contemporary rock. It sold more than 8 million records and debuted at the top of the official sales list.
In 2009, they returned in style with Leave This Town, catapulting their career to its highest peak. In 2011, they took a new leap with Break the Spell.
Despite everything, it was not as successful as the initial materials but still had success. In 2013 they entered a commercial wave with Baptized, a pop-rock record.
A Cage to Rattle was released in 2018. With this record, they returned to their alternative roots. The last album Dearly Beloved was released in 2021, ensuring a tour with Sevendust and Tremonti.
Creed
Creed is a famous grunge band with alternative rock shades, just like Nickelback. As one of the pioneers, Creed was able to transform the rock scene in America. During their time they were seen as direct competition in the United States of legendary bands like Nirvana.
The band includes one of the most famous musicians today: Mark Tremonti. But the rest of the band is equally as deserving of praise as he is.
Brian Marshall, Scott Phillips, Scott Stapp were the guys playing with Tremonti. Creed won the Grammy Award in the category of "Best Rock Song" at the 2001 ceremony. They have also been recognized in Europe with several outstanding awards.
The first record was released in 1997 under the name My Own Prison as the post-movement of grunge. In a very short time, they managed to sell more than 7 million copies in the United States alone, being the best-selling band in that particular year.
In 1999, they released Human Clay which sold twenty million records worldwide. This made the album go platinum in the US. It is remembered for being one of the most acclaimed albums in rock history.
Another important album came in 2001: Weathered. It added more than 20 million records sold. The band's most successful single is the song My Sacrifice, which was in the top 10 of the Billboard Hot 100.
Their last album was Full Circle in 2009. It achieved global success because they returned to their post-grunge roots with a lot of energy.
The Rasmus
This band is made up of 4 guys from Helsinki. Energetic, wild, and powerful are the three words that best describe them.
Lauri is a singer with a fiery voice, who is also considered one of the best and most acclaimed songwriters in Finland. Paul is a guitarist and producer (he received the EMMA for Best Producer).
Aki joined the band in 1999. He had previously sold The Rasmus merchandise at their concerts. Eero, the quietest member of the band, plays bass. He draws strength through music and meditation.
In 1994 The Rasmus entered the scene for the first time when the three (plus Jarno Lahti) were still at school in Helsinki.
They never imagined that they would receive gold and platinum records, that they would have thousands of followers, and that they would receive the most important music award in Finland.
The boys were 16 years old when they decided to be absorbed by the Finnish music scene and began to feel the need for immediate change. In 1996, The Rasmus released their debut album Peep, which soon achieved gold status. They would continue to make another 8 studio albums and win numerous awards.
Halestorm
Halestorm is one of the few bands that, without doing indie or any other commercial style, manages to reach more and more people. They do this with an elementary formula: work and more work.
The band was founded by the Hale brother and sister in 1998. Although it took 11 years to officially release their first album, they have not stopped playing and recording since.
A few tours opening for groups like Papa Roach, Alter Bridge, Megadeth, Avenged Sevenfold, Evanescence, and most importantly Three Days Grace, plus a career of incessant work playing and composing since 2009 places them as one of the most active groups today.
The strange case of… album made them famous in 2012. Three years later they released a new album Into The Wild Life, and an EP with song versions of groups that influence them, such as Metallica or Whitesnake, as well as a collaboration between Lzzy Hale and Dream Theater.
Lzzy Hale (singer and guitarist) is undoubtedly the soul of the group, with one of the most impressive voices in the rock and metal scene today. Her brother, Arejay, doesn't fall short either. His pounding on the drums with sheer force makes their sound quite powerful.
Josh Smith and Joe Hottinger complete this great rock band. This mix of artists, plus the incredible production of their albums, make the group sound absolutely brutal.
Lifehouse
Lifehouse is a pop-rock band formed in 1996 and currently comprised of Jason Wade (vocals, guitar), Rick Woolstenhulme Jr. (drums), and Bryce Soderberg (bass).
They reached success in 2000 with the single Hanging By A Moment, contained on their first album No Name Face.
The single won the Billboard Music Award that same year as the most talked-about hit of the year, beating Janet Jackson and Alicia Keys. Another hit single from the same album is Sick Cycle Carousel.
In 2002, Lifehouse released their second album entitled Stanley Climbfall. Despite public acceptance, they did not achieve the same success as with their previous work.
The band's third album, titled Lifehouse, broke all the band's sales records, with singles like You And Me and Blind.
The band went on to create another four albums, gaining more fame with each release. Many of the songs resemble the ones of Nickelback. Maybe that explains the band's popularity.
Bands like Nickelback: Final Thoughts
All of the bands above are excellent and they all sound like Nickelback in one way or another. Of course, there are many more bands that sound like Nickelback out there, but the 7 above are the best.
If you think we missed some other great bands like Nickelback, please let us know in the comments below. Please also let us know if we included bands you feel do not deserve to be on the list.