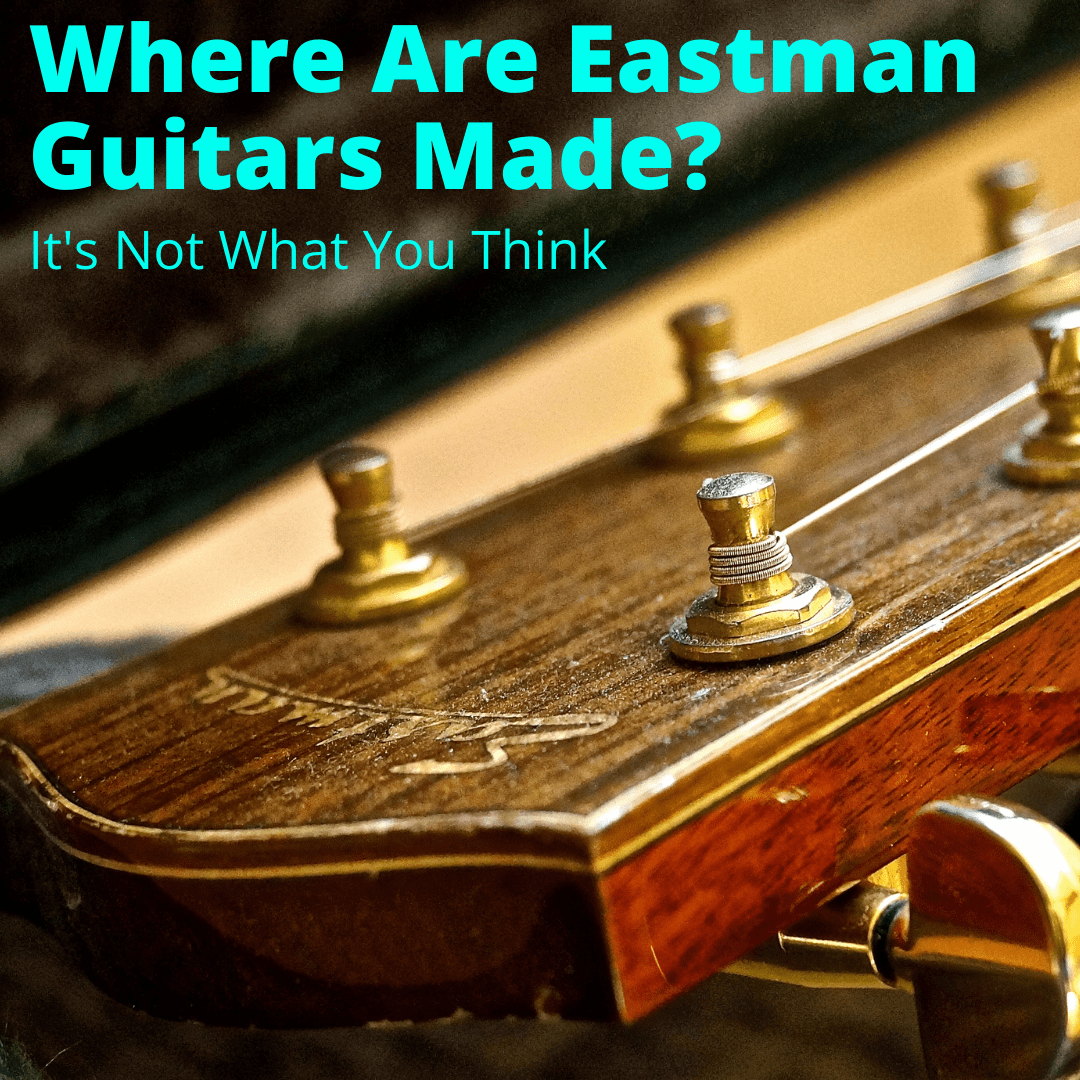 It's not what you think.
Yes, Eastman Guitars are manufactured in Beijing, China.
But the negative connotations of "made in China" don't apply here.
Most Chinese made instruments are mass-produced and cheap. The quality control is always lacking.
But Eastman is different.
They are known for hand-crafted guitars, as well as other instruments. They're not the absolute best. But they're very good. And still affordable.
Let's take a closer look.
Where Are Eastman Guitars Made?
You have a somewhat limited choice when it comes to pro-quality guitars. You have your standard Gibsons, Fenders, Suhrs, Martins, Schecters, ESPs, and other brands if you want to go pro.
And obviously, none of these top-tier guitars are exactly reasonably-priced. That should come as no surprise.
But if you take your time to do some research and dig a little deeper into the market, you'll find some pretty underrated guitar manufacturers.
Brands that dedicate their time and effort to creating good instruments, but keep the prices within more reasonable limits. One such company is Eastman.
Despite it's Beijing, China home, Eastman is not a super-cheap brand. But it's still affordable and considering the quality of their instruments, they're more than a great deal.
Naturally, when we see the Beijing location, we can't help but think it's just another "Made in China" brand, with all that brings with it. It conjures up images of "made in China" Squiers or various unnamed knock-off brands that manufacture crappy electric guitars in huge numbers.
But this couldn't be further from the truth.
Eastman instruments are hand-made and are worthy competitors of Japanese branded guitars or some of the custom shops from the West.
Of course, you can't expect something like a Gibson Custom Shop or a Fender Custom Shop. But comparing the prices between the two, you can easily say that Eastman Guitars are far more reasonably priced considering their overall qualities. To put it simply, they're a far better bang for the buck.
Let's take a closer look at the company itself and then explore some of their awesome instruments.
Eastman Is About More Than Just Guitars
Eastman is best known for guitars, but that is not the only thing they make. Yes, they make both acoustic and electric 6-strings of all kinds, and those guitars are finally getting the credit that they deserve.
But in the larger picture, they're a bigger entity called Eastman Music Company. They also manufacture wind instruments and string instruments.
Additionally, they're the owners of a few other prestigious subsidiary companies. We have William S. Haynes, S.E. Shires Co., Backun Musical Services, and Brugeois Guitars.
All of these subsidiary companies focus predominantly on hand-crafted instruments. They were already established names that Eastman acquired along the way, as the company grew.
But these divisions serve more than just the larger corporate entity.
Each and every one of them bring the same vision to life: to create the best possible hand-made instruments, all for a more reasonable price than those in the West.
Likewise, each of the divisions has its own following and even a pretty impressive roster of artists and endorsers who play their instruments.
Although it is not exactly an old company, Eastman has managed to combine the experience of numerous individuals to make all of this happen in a relatively short period.
Brief Company History
The story of Eastman Guitars and Eastman Music Company takes us back to 1992. A Young and enthusiastic musician going by the name of Qian Ni moved back to China from the United States after acquiring higher education in classical music.
After a while, Qian and his peers from China founded the Eastman Strings company. The initial idea was to replicate special hand-crafted violins from the West.
However, the whole thing needed a much more thorough approach. After all, such a task requires more than just enthusiasm and ideas. You need a solid group of professionals who know what they are doing.
Not long after starting the company, Ni brought in already experienced and established violin builders. It didn't take long for things to lift off and Eastman soon became one of the most exciting new musical companies on the market.
One thing led to another and before long, they soon started making bows and instrument cases. And after realizing the potential in the archtop hollow-body electric guitar market, Ni used the same approach that he did with Eastman Strings and started Eastman Guitars.
Following these safe-proof methods in starting a new instrument-making business, it comes as no surprise that the company's guitars have become fairly successful in recent years.
But things didn't stop there.
They also began making acoustic guitars, as well as regular solid-body electric guitars. The main idea was to replicate what famous companies from the West were doing in their custom shops, but at a noticeably lower cost.
Although not as big as some other companies, instruments made by Eastman Guitars are still more than worth the price, especially when you compare them to the big-name competitors.
Who knows what the future holds, but from what we've seen in the past few decades, there's a high chance that the Eastman name will continue to grow.
Eastman Acoustic Guitars
As far as acoustic guitars go, Eastman has a full line of all the basic shapes and sizes that you could ever need.
Their inventory includes models within the dreadnaught, grand auditorium, jumbo, orchestra, parlor, 00, and mini-sized "travel" categories.
Of course, each of these series brings some special features and refinements, both in terms of ergonomic qualities and design traits.
However, there are two additional categories that you don't find that often with other brands. These are nylon-string guitars divided into two separate series – Cabaret and Gypsy Jazz.
The latter is especially interesting as they bring not only a unique sound, but also performance and aesthetic qualities previously unseen within the price range.
In fact, these Eastman models, like DM1 and DM2, are sold alongside guitars that are two to five times more expensive. And you really can't find a better deal than that.
But as for the basic Western-style steel-strings, you really can't go wrong with any of the Eastman models, no matter your preferences.
Some of the models even fuse great aesthetic features with surprising performance qualities. In short: whatever you're into, Eastman has you covered with their acoustic guitars.
Eastman Electric Guitars

And now we get to the most interesting part – their electric guitars. Although they first started as a company that replicated those good old archtop hollow-body electric guitars, they also included semi-hollow-body (including so-called "Thinline" models) and solid-body guitars.
But no matter the series and exact models, the main focus is on replicas of famous brands, all while giving them a vintage feel and looks. Looking at their lines, they're often copying classic Gibson models, like the ES-335 or the old-school ES-175 or Super 400.
And then their solid-body guitars are pretty much the copies of different vintage-oriented Gibson Les Paul models, although with a slight twist to their single-cutaway design.
Especially interesting are the replicas of Les Paul Junior models, featuring "worn out" finishes, P90-style pickups, and sometimes even the simplified stopbar bridges without the tune-o-matic component.
Guitar-Like Instruments
Aside from guitars, we can also find other stuff in Eastman Guitars' inventory.
Most notably, they make different types of mandolins and other mandolin family instruments. You can find both A-style and F-style mandolins, and even mandocello, mandola, and other variations.
And finally, there's also the company's line of ukuleles. There's only one model in circulation, but it's more than enough to get you covered if you need a pro-level ukulele at a reasonable price.
Artists Who Use Eastman Guitars
Eastman Guitars not only have the option to order a fully customized instrument (just like bigger brands have), but they also have a pretty enviable roster of endorsed artists. These include:
Adrian Utley (Portishead)
Alessandro Stefana
Andres Thor
Bob Sneider
Dave Davies (The Kinks)
James Williamson
Jeff Schroeder
Jimmy Chamberlin (The Smashing Pumpkins)
Jack Lawrence
Where Eastman Guitars Are Made: Conclusion
No one can take away from the greatness of legendary custom-made Fender, Gibson, Ibanez, ESP, and other guitars. But a company like Eastman Guitars shows us that there are cheaper alternatives to hand-crafted electric and acoustic guitars.
If you're looking for a cheaper alternative to top-tier instruments of those legendary brands, Eastman is probably the safest bet on the market.
That said, these guitars aren't what we would call budget (or even mid-range). But for the price, they'll offer way more than you could ever expect.
So, our verdict – Eastman guitars are most definitely worth the price and worth a try. IF they are completely outside your budget, check out our review of the Yamaha F335 acoustic guitar. It is the best value guitar for beginning players.