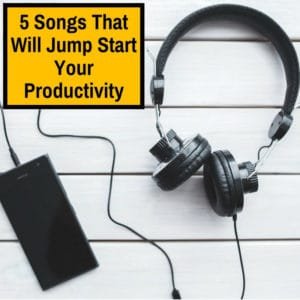 This morning I had my to-do list in one hand, coffee in the other, laptop fully charged in front of me, ready to work.
My surroundings seemed to be the perfect catalyst for me to actually start pummeling through my vast selection of tasks.
But I didn't quite find the rhythm in that moment. Instead, I checked Twitter again and had a chat with my roommate.
Does this situation sound familiar? It happens to all of us at some point.
But hey, maybe you weren't in your office… maybe the task at hand was to clean your apartment, or follow through with that one gym work-out you don't want to do. Either way, like me, you reached that point where you were trying to find an excuse not to do it.
Right?
Procrastination is one of the biggest issues with today's society, and it's preventing most of us from achieving our dreams.
But we may have had the answer all along: MUSIC.
Many of us have already tried listening to music to boost our productivity. Some of us have even succeeded at times; others have failed miserably every time.
Have you tried and failed? How music affects our brains depends a lot on our music education(1), but you may also just be picking the wrong types of songs. Success can come in picking the right style to fit the type of work you are doing. That's where your motivation will spark to life!
Best Songs For Productivity
Below I've picked out 5 different songs for 5 different types of work. There are thousands of other songs out there that can help you focus just as well as these, but take the ones listed below as a starting boost to help you find the right songs to help increase your productivity.
Interstellar – Original Motion Picture Soundtrack
Why not start with an entire album?
This album is bang-on perfect for those of you who are doing focused and creative work, whether that be creating content for a website or writing a research paper.
Directed by Christopher Nolan and composed by the legendary film scorer Hans Zimmer, these two giants of Hollywood were bound to collide and create an insanely stunning collaboration. So how will this soundtrack help boost your productivity?
Many scientific studies seem to agree that listening to music with lyrics is distracting for most people, especially when you're doing focused creative work(2). Because song lyrics activate the language center of your brain, trying to engage in other language related tasks, like creative writing, can be destructive to your creativity. What you need is ambiance and word-less noise.
The Interstellar soundtrack is jam-packed full of peaks and troughs of glorious instrumental music. Its focused intensity and array of infinitive orchestral textures will allow you to step into that zone of productivity. Especially with headphones on, this soundtrack will help you isolate yourself from any distractions and will drive you to work in a similar intensity and tempo as the dramatic music.
Another benefit: Each track blends with the following track, meaning you'll be less likely to lose focus between songs.
More Than You Know (Acoustic) – Axwell /\ Ingrosso
If you're stuck at home trying to motivate yourself to complete that huge pile of admin work, More Than You Know by Axwell /\ Ingrosso is the track you need. It is ideal if you're faced with mundane and repetitive tasks.
I did a little bit of research for you, and asked a University student why she loves this song when doing this kind of work:
"I've always loved this song. But then I started to realize something: The more work I had, the more I would listen to this particular song. I ended up always having it on repeat because it was giving me a lot of motivation. The song builds up gradually throughout, and it really boosts your spirits and fills you with feeling. The song makes me really happy, and most importantly it makes me do my work!"
Listening to music with lyrics, like More Than You Know, can distract you in a positive way, and can provide a kind of relief from the monotony of boring work.
Talking Body (KREAM Remix) – Tove Lo & KREAM
For those of you who struggle with being productive when working out, this song will definitely have you raring to go. Adding this huge remix by Tove Lo & KREAM to your playlist will have a number of effects on your exercise productivity.
It will increase your heart rate. The driving kick and gradual builds will naturally raise your heart rate to a healthy level ready for exercise.
It will cause your body to release endorphins. That feeling of completion you get when a track "drops" and reaches its climax causes your body to release endorphins, which triggers positive feelings throughout the body, thus increasing your motivation to work out! Bingo.
Finesse – Bruno Mars feat. Cardi B
One of the hits of the beginning of 2018, this song has had people from all around the world dancing in their living rooms. If you're trying to muster up the energy to do some house work, you just have to blast this from your speakers. I'm dancing in my chair to it right now trying to write this article.
Finesse has the same effect as songs such as Love On Top by Beyoncé. It's addictive, massively uplifting and makes you want to get up and dance like no other song can.
So for tasks like cleaning, vacuuming or even cooking, Finesse will keep you happy, busy, and distracted.
Neo Soul Music
If you haven't been able to work with the songs above, resort to the vast collection of brilliant neo soul music that you can find on YouTube. It offers a mix of upbeat music, relaxing music, word-less music and pumping music. You're bound to find something that works for you.
Songs For Productivity: Final Thoughts
That's just a very small selection of recommended songs for you to try out when attempting to boost your work productivity. There are thousands more songs out there, some of which may work better for you than these.
I find artists like Tame Impala to be great for my productivity. Some people like fast-paced songs, too. Check out Swimming Pool by Marie Madeleine lyrics and meaning for a deep dive into this catchy bizarre, and fast-paced tune.
Hopefully the selection above can help you figure out what kind of music works best for you when working!
Do you listen to a specific song to help you focus that's not on this list? Let us know in the comments below. Know a friend that could benefit from this article? Share it with them!
Sources
The Science Backed Ways These 11 Songs Will Increase Your Productivity – Medium: 11/22/17
How Music Affects Your Productivity – Fast Company: 7/11/14