The alto voice type is fairly rare.
That is why great alto singers can really stand out.
There have been many good altos throughout recent history. But only a select few have managed to rise to super-stardom levels.
This list includes the most famous of all alto singers.
But first a disclaimer.
I know how it goes with lists like this. People will inevitably disagree and some of them will tell me to kill myself.
Please don't be one of those people. There is no need to overreact.
Of course my list will not be the same as everyone else's. If you have your own idea of who should be on the list, I would love to hear it.
Please let me know in the comments below, but do so without insulting me and wishing death upon me and everyone I know. Deal?
Then let's get started.
Famous Alto Singers
Here is out list of famous alto singers. The list in presented in no particular order. We are not ranking these singers, simply presenting them.
Annie Lennox
Born in 1954, Annie Lennox is a Scottish songwriter and a singer. She gained worldwide attention after appearing in the 1983 music video for Sweet Dreams (Are Made of This), where she wore a man's business suit and had cropped hair. This androgynous look made people take notice. It has also become a karaoke favorite.
She then started her solo career in 1992 with Diva and performed for Bram Stoker's Dracula in the same year. From then util now, Lennox has released six solo studio albums and a compilation album. The 2009 Annie Lennox Collection won eight Brit Awards, including the Best British Female Artist six times straight. She also has 4 Grammy Awards and 1 MTV Video Music Award to her name.
Besides those awards, she also received a Billboard Century Award in 2002 and has been named the Brits Champions of Champions. She also received the duo of the Academy Award for Best Original Song and the Golden Globe Award in 2004.
Lennox was named one of the 100 Greatest Singers of All Time by rolling stones and The Greatest White Soul Singer Alive by VH1. She also stands as no 22 on VH1's 100 Greatest Women in Music.
Chaka Khan
Her real name is Yvette Marie Stevens, but you probably didn't know that, so we'll just stick with Chaka. Khan and her band (Rufus) rose to prominence in the 1970s. Chaka Khan sings alto, but her voice also has a flair of Mezzo-Soprano with a 3-octave vocal range.
She is commonly reputed as the queen of funk, a reputation that is a true reflection of her incredible talent. In the course of her highly eventful career, Chaka sold more than 70 million records. She has 10 Grammys under her belt.
Chaka uses her incredibly powerful singing head voice during her performances, and the sheer power of her voice is part of why she is so popular. It is also why she landed a spot on our list of the best black female singers of the 70s.
Besides being an alto singer, Chaka Khan is also an activist, actor, author, entrepreneur, philanthropist, songwriter, and a 10-time Grammy Award winner. Her songs include Ain't Nobody, Hollywood, I'm Every Woman, Tell Me Something Good, and Through the Fire.
Cher
Born Cherilyn Sarkisian, in May of 1946, Cher is an actress, a television personality, and, more importantly, an American singer. Known for her contralto singing voice, she has worked her way through numerous facets of entertainment in her 60-year long career.
She rose to stardom as one-half of the folk-rock duo Sonny & Cher in 1956 with the release of their song I Got You Babe, that hit number one on the British and American charts. Her solo career, however, exploded with her million-seller song Bang Bang (My Baby Shot Me Down) in 1966.
She then went on to be a TV personality in the 70s with The Sonny & Cher Comedy Hour, that garnered over 30 million viewers in 3 years. She established herself as a solo artist with some of her songs that made the US Billboard Hot 100 Chart.
Out of four major American entertainment awards, Cher has won three: the Emmy, Oscar, and Grammy. She also won an acting academy award, and I Got You Babe is a Grammy hall of fame inductee.
Gladys Knight
Born in 1944, Gladys Knight is popularly referred to as the Empress of Soul. An American songwriter, singer, author, businesswoman, and actress, Knight has seven Grammy awards to her name and a host of other accolades. Four of those Grammy awards came from solo performances and three with her crew, the Pips.
She formed the Pips in the 80s with her brother and cousins. The group was initially named Gladys Knight & The Pips. Like Annie Lennox, Knight is on the list of 100 Greatest Singers Of All Time by Rolling Stone.
She collaborated with Stevie Wonder, Elton John, and Dionne Warwick on the 1986 AIDS benefit single That's What Friends Are For, which became a triple number 1 mega-hit. The song also won the Grammy for Best Pop Performance By A Duo Or Group With Vocals. Her third solo LP hit number 1 on the R&B album chart, and included the number 2 R&B hit Men.
Oleta Adams
Born and raised in a church, Oleta Adams is the daughter of a preacher and spent most of her childhood years listening to church music. Unlike many famous alto singers on our list, Adams had a rough start to stardom.
She was rejected by many before landing a chance to perform. She later moved to Los Angeles in the 70s, where she taped a demo. However, the music executives preferred disco music to her natural style. She then moved to Kansas City in the 80s, where she enjoyed limited success.
Her first hit, came in 1989 through her single Women In Chains and was quickly followed by Circle Of One in 1990. The new album made number 1 in the UK in 1991 together with her Grammy-nominated cover of Brenda Russell's Get Here.
Anita Baker
Born 1956 and raised with the full name Anita Denise Baker, Anita started as an American singer and songwriter in the 1970s with her powerful three-octave range. Since the release of her primal solo album in 1983, Anita's rise to fame was sealed by the release of her second album, which she titled Rapture.
She began singing R&B at the age of 16 at nightclubs in Detroit, where David Washington discovered her talent. It was David that persuaded her to audition for Chapter 8, a funk band she toured with before sealing a deal in 1979 with Ariola Records.
Since that time, Baker has won five platinum records, eight Grammy awards out of 18 nominations, and one gold album. She was inducted into the Michigan Rock and Roll Legends Hall of Fame in 2013.
Patsy Cline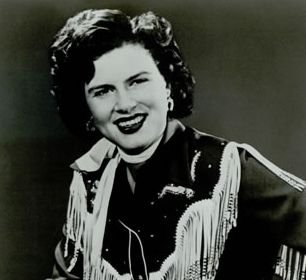 Another American singer, Virginia Patterson Hensley, was born in 1932 and is regarded by many as one of the most famous vocalists of the 20th century. Many also consider her one of the best, because she was one of the first country music artists to cross over to pop music.
Within her 8-year recording career streak, two of Patsy's songs hit number one on the billboard hot country and western side charts. Her 1961 single I Fall To Pieces was her first single to top the billboard country chart, and her next release Crazy went on to become another major hit.
Unfortunately, she died in a plane crash outside Tennessee that killed everyone on board. Following her death, Decca records released posthumous singles in 1963 and 1967.
The Guinness world record in 2005, included her Greatest Hits album for being the longest album on any record chart by any female artist. Like others on this list, she possesses a contralto voice that Kurt Wolff called one of the most "emotionally expressive voices in modern country music."
Sade
The Nigerian born British singer is famous for her leadership role in her eponymous band. Born Helen Folasade Adu, she rose to become a songwriter, singer, and actress. Sade gained attention as a fashion designer and a part-time model before joining the band Pride in the 80s.
She has the best-selling debut ever by a British female vocalist and the best-selling album of the era "Diamond Life". It was later introduced in the reference book 1001 Albums You Must Hear Before You Die.
"Promise" was released in late 1985, and it went on to top the UK Albums Chart and was also the first album by the band to debut atop the Billboard 200. The song also qualified the group for the Grammy Award for Best New Artist in '86.
Sade remains one of the most famous British female artists in history and was recognized with an award of the Officer of the Order of the British Empire in 2002 and ranked as a commander of the same order in 2017.
Toni Braxton
Toni Michele Braxton was born in 1967. She became one of the most famous alto singers through sheer hard work and dedication.
Selling over 67 million records the world over, Toni is an American singer, pianist, songwriter, actress, television personality, and record producer. She became one of the best selling female R&B singers with 41 million albums.
In total, she has seven Grammy Awards, seven American Music Awards, and nine Billboard Music Awards. For her track record of success, Toni was inducted into the Georgia Music Hall of Fame in 2013.
She started out with her sister in the 80,s forming the music group referred to as The Braxtons under Arista Records. Her debut studio album sold 10 million copies worldwide and reached number one on the Billboard 200 chart.
That same album won her three Grammys. The second single off the album became her most significant hit, spending 11 weeks each at number one on the Hot 100 and the Hot Dance Singles Sales.
Still can't recognize who Toni Braxton is? Well, try to search the song Un-Break My Heart in Spotify, Apple Music, Deezer, Google Play Music, or Youtube; we're sure it will ring a bell and get you singing or humming to the tune. It was one of the biggest hits of the 90s.
Alto Singers Female: Final Thoughts
I'm sure we can all agree that each of those alto singers is indeed famous, even if we can't agree that they are all good singers (we obviously believe they are). Certainly there are other singers we could have included, but we had to stop somewhere.
If there are any altos you believe deserve a spot on this list above one of the included singers, please feel free to let us know in a comment below (without insulting us, if at all possible). If several people mention the same singer, we'll certainly add them to the list.