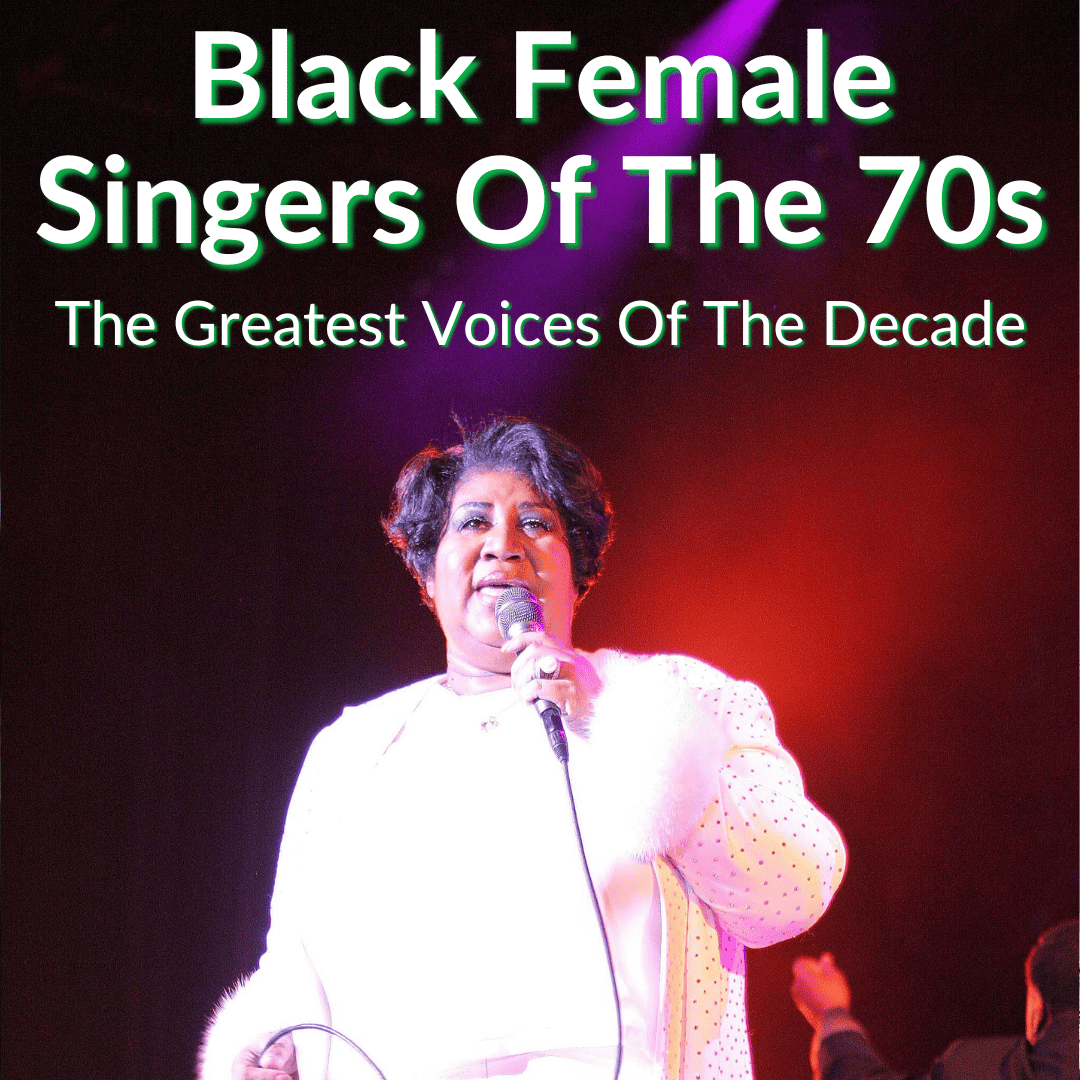 What image pops into your head when someone talks about a great singing voice?
For most people, it is a black female.
In my case, it is specifically Aretha Franklin.
The point is, most see black women as having the most powerful voices.
And the black female singers of the 70s may have topped them all.
There were so many incredible voices during that decade.
Keep reading for a list of the greatest female voices from the 1970s. Yes, this article is specifically about singers of African descent, but I honestly don't think opening it up to all races would change the list much. If at all.
Black Female Singers Of The 70s
Who was the best singer of the 1970s? For me, it was Aretha. I consider her the best of all time. But "the best" is always debatable. I did put her first, but any one of the black female singers below could easily be considered the best singer of the 1970s. All were incredible.
Aretha Franklin
Born in 1942 in the USA, Aretha Franklin is considered one of the greatest African-American singers ever. Perhaps the greatest. Her incredible voice, powerful singing, and meaningful songs earned her the title 'Queen of Soul'.
Aretha Franklin is famous for many songs, including Respect, which became the black women's rights anthem. It was originally written by Otis Redding, who, after he heard Aretha sing it, exclaimed, "That girl has taken the song from me!"
Franklin's incredible talent, strong voice, and powerful songs made a big impact on society. Her music will always be remembered and loved.
Diana Ross
Diana Ross was born in 1944 in the United States. She started her musical career by singing in the gospel choir of a Baptist Church. At the age of 15, she started a musical group called The Primettes. By the 1960s, Diana was singing with a pop/soul trio group called The Supremes.
The band's When the Lovelight Starts Shining Through His Eyes went on to become their first Billboard Top 20 pop hit. Among her solo hits are Ain't No Mountain High Enough and Upside Down.
Not only was Diana Ross an incredible singer, but she was also a talented actress. She starred in many hit films like The Lady Sings The Blues, The Wiz, and many more. Diana Ross has won 13 Grammy nominations and also won the Lifetime Achievement Awards in 2012 and 2023.
Donna Summer
Donna Summer is a talented black singer known fondly as the Queen of Disco. She contributed a great deal to music, and specifically the disco era of the 1970s, with her unique disco-and-pop style of singing.
Born in 1948, Summer began her musical career with electrifying hits like Hot Stuff and I Feel Love. Like Diana Ross, Donna Summer also has a background in gospel singing.
Ross received multiple Grammy Awards and sold millions of records during her career. She is considered a legendary figure in the field of music and entertainment, thanks to her powerful singing style and iconic songs.
Patti LaBelle
Like most black female singers, Patti LaBelle started as a choir member, leading an all-girl group called The Ordettes. The group was renamed twice (Patti and the Bluebelles and then Labelle). Soon LaBelle was singing solo. She ended up winning two Grammy Awards for her solo work.
Patti is known for her rhythm and blues style of singing. The iconic singer has given us many hits like Lady Marmalade and On My Own (a duet with Michael McDonald that went on to reach the No. 1 spot on the Billboard Hot 100).
In her seven-decade-long career, Patti LaBelle has sold more than 50 million records worldwide. For her contribution to music, she was inducted into the Grammy Hall of Fame and is also listed on Rolling Stone's list of the 100 Greatest Singers.
Gladys Knight
Gladys Knight is a celebrated African-American singer who gave us hits like The Midnight Train to Georgia in the 1970s. She is known as the 'Empress of Soul' thanks to her soulful and captivating voice. Her musical style spans R&B, soul, and pop, making her a versatile artist. She has also won multiple Grammy Awards.
In addition to being a talented singer, Knight is also an actress and businesswoman. Today, the 79-year-old singer and cancer survivor still tours and has several upcoming concerts scheduled across the USA.
Ella Fitzgerald
Ella Fitzgerald was a famous black musician in the 1940s known for her scat and jazz styles of singing. Her song A-Tisket, A-Tasket from the 1930s helped her rise to fame. Some of her hits include Summertime and Dream a Little Dream of Me with Louis Armstrong.
She won multiple Grammy Awards and is known as the 'First Lady of Song' because of her mastery over rhythm, voice, intonation, and diction. Ella has recorded more than 200 albums during her career, making her one of the most prolific jazz artists in history.
Natalie Cole
Natalie Cole emerged as a prominent African-American singer in the mid-1970s. She started her musical career in 1975. Over the years, Natalie achieved remarkable success and even won nine Grammy Awards, including The Album of the Year Award for Unforgettable.
Some of her greatest hits include the song Unforgettable (a duet with her late father, Nat King Cole), This Will Be (An Everlasting Love), and Inseparable.
Cole passed away in 2015 at the age of 65, due to complications from ongoing health issues, including hepatitis C and kidney disease. However, her legacy continues through her timeless music.
Roberta Flack
Roberta Flack began her singing career in the late 1960s when jazz musician Les McCann discovered her in a Washington, D.C. nightclub and helped launch her career.
Her signature style included soul and R&B songs. She gained immense popularity in the 1970s with chart-toppers like Killing Me Softly and Feel Like Makin' Love. Flack's remarkable talent on the Steinway piano added depth to her performances.
One of her notable collaborations was with the legendary Donny Hathaway, with whom she recorded many duets, including Where Is the Love.
Gloria Gaynor
Gloria Gaynor appeared on the musical scene in the 1960s. She earlier sang with a group called the Soul Satisfiers but became more famous for her solo, I Will Survive. The song has been used in movies and shows and is considered one of the greatest anthems of power, survival, and resilience.
Gaynor is a multi-Grammy Award winner. In 2020, she surprised and delighted her fans with an appearance on The Masked Singer (an international music reality game show) at the age of 79! Unfortunately, she did not make it through the first round of the show.
Tina Turner
Known as the 'Queen of Rock and Roll', Tina Turner is one of the greatest black female singers in music history. She began her singing career in the late 1950s, initially performing alongside her husband, Ike Turner.
However, it was her solo career that established her as a legendary singer. In the 1970s, Tina gave us many iconic hits like Proud Mary and Nutbush City Limits.
Tina is also famous because she overcame many personal hardships, including an abusive marriage. Some of her greatest hits include What's Love Got to Do With It and Private Dancer. Tina Turner passed away in 2023 from natural causes at the age of 83.
Chaka Khan
Chaka Khan is another iconic figure in the black music scene of the 1970s and 1980s. She began her singing career in the 1970s, influenced by other legends such as Aretha Franklin and Joni Mitchell.
Before going solo, Khan rose to prominence as the lead vocalist of the band Rufus, starting when she was just 18. She soon earned the title 'Queen of Funk' for her soulful voice. Her biggest hit, I Feel for You, released in 1984, remains a timeless classic to date.
Chaka Khan's close friendship with Whitney Houston (another legendary female black singer) was well-known in the industry. Khan is even believed to have mentored Houston.
Thelma Houston
Thelma Houston (unrelated to Whitney Houston) began her career in the late 1960s. Her 1977 song, Don't Leave Me This Way, went on to become one of her greatest hits and also won her the Best Female R&B Vocal Grammy Award.
Thelma was born in May 1946 in Mississippi, USA. She started off as a gospel singer and released an album in 1966, Tellin' It Like It Is, with The Art Reynold Singers.
Etta James
Etta James is a multi-award winning rhythm and blues singer. She was instrumental in bridging the gaps between different musical genres, including jazz, gospel, and rock'n'roll. The talented singer was just 22 years old when she recorded her timeless hit At Last.
Etta James has won many awards over her lifetime, including six Grammys and 17 Blues Music Awards. She passed away in 2012 at the age of 73.
Minnie Riperton
Minnie Riperton was a trained opera singer known for her incredible five-octave vocal range and the ability to hit the whistle register. A surprising fact is that this talented woman started her career as a backup singer for many legends, including Etta James.
Riperton's 1975 hit, Lovin' You, remains her most iconic song. Her album Perfect Angel was certified gold by the RIAA (Recording Industry Association of America Awards).
Riperton was not just an important artist, though. She was also one of the first celebrities to publicly acknowledge that she had breast cancer. She was even appointed education chairwoman for the American Cancer Society in the late 1970s.
Sheila Ferguson
Sheila Ferguson is a talented singer and actress, best known as the lead vocalist on many of the songs by the renowned band The Three Degrees.
Ferguson is popular for her powerful vocals and breathtaking performances. Although no longer associated with The Three Degrees, she continues to captivate audiences with their memorable hits like When Will I See You Again, Dirty Old Man, and Woman in Love.
Famous 70s Black Female Singers: Final Thoughts
There were many incredible black female singers of the 70s. The 15 above are my favorites. If you are hoping to learn to sing better, they are all great role models to aspire to.
Of course, I know not everyone will agree with my top 15. Which famous black female singer is your favorite from the 1970s? Are there any I missed that should have been on the list?
Feel free to let me know in the comments below. I will happily add any good suggestions in a future update. But I won't remove any of the singers, even if you feel some of them don't belong.