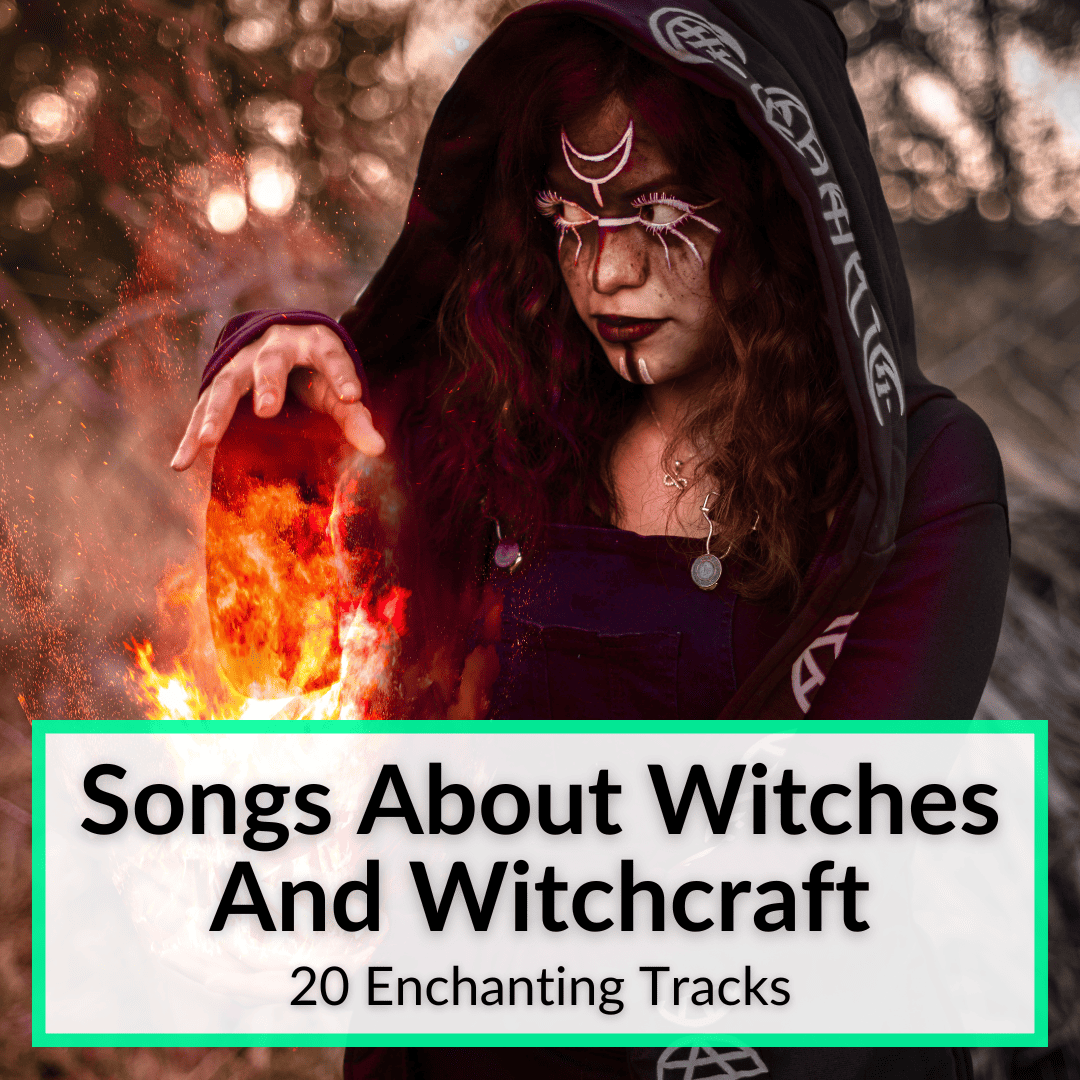 Not everyone believes in witchcraft.
To many, "witches" are just women with pagan beliefs. Or ones who differ from the socially accepted norm
Others believe witches have supernatural powers.
They revere them or fear them as a result.
However you feel about witches, there is no denying their fascination.
That is why there have been so many songs about witches.
And we've compiled a list of the best. Keep reading for 20 great songs about witchcraft and spells.
Songs About Witches And Witchcraft
There are a lot of songs about witchcraft and witches. We couldn't include them all, so we included the best. And we did try to get some songs on the list from as many different genres as we could.
Witchcraft by Frank Sinatra
There simply isn't anyone like Frank Sinatra, so we had to begin our list of songs about witches with his Witchcraft. Sinatra casts a spell on listeners through this great tract that was released in 1957.
The lyrics of Witchcraft could be a metaphor for irresistible love and enchanting romance. We are sure this song will remain a timeless masterpiece for years to come.
Black Magic Woman by Santana
Santana's music undoubtedly makes the world a better place. In Black Magic Woman, he describes being in love with a 'witch' who is out to make a devil of him.
The track won a lot of praise and accolades for its wonderful percussion and guitar work. Black Magic Woman was first released in 1968, and it continues to captivate listeners today, thanks to Santana's soulful performance.
Burn The Witch by Queens Of The Stone Age
Look no further than Queens of The Stone Age if you want a trippy, psychedelic experience. Like all other QOTSA songs, Burn The Witch has intense lyrics and powerful guitar work.
It is a retelling of the Salem Witch Trials, where several innocent women accused of witchcraft were burned to death. The track was a part of their 2006 album, Lullabies to Paralyze. The guitar work, vocals, and bass make Burn The Witch an all-time Halloween playlist favorite.
Wicked Old Witch by John Fogerty
Wicked Old Witch showcases Fogerty's mastery of creating an atmospheric and captivating rock 'n' roll experience. The 2004 song narrates the tale of a sorceress and comes with a pulsating rhythm and energy that has made it popular with both young and old listeners.
Tres Brujas by The Sword
Tres Brujas is Spanish for "Three Witches". This song comes from Austin, Texas metal band The Sword's third studio album Warp Riders. This album marked the band's shift from doom metal to a more hard rock style.
Warp Riders is a science fiction concept album and the song Tres Brujas starts it off right. It has the hero smoking certain magical herbs and hearing a prophecy from a glowing orb about three witches he will meet.
Witchy Woman by Eagles
Witchy Woman was released in 1972 as part of Eagle's debut album, Eagles. Like all other Eagles' songs, the track has a haunting tune that creates a mystical atmosphere.
Through Don Henley's mesmerizing vocals, Witchy Woman captures the essence of a fascinating and beautiful woman who has left the narrator under an enchanting spell. The narrator urges other men to stay away from raven-haired and ruby-lipped enchantresses like her.
Witches' Brew by Katy B
Witches' Brew showcases Katy B's unique style and her ability to create spellbinding musical concoctions. It is from her 2011 debut studio album, On a Mission.
Witches' Brew is a fun pop song that is ideal for dancing. There are references to "stirring a cauldron" and "making love potions"—in short, all the elements of a Halloween song.
Witchcraft In The Air by Bettye LaVette
Witchcraft in The Air, from Bettye LaVette's 1997 album Soul Hits, describes the singer being "bewitched" by a man. The song's timeless appeal and soulful tune helped establish LaVette's status as a true soul legend.
White Witch Of Rose Hall by Coven
Coven's 1969 song White Witch of Rose Hall is based on the legend of Annie Palmer. Annie was orphaned at a young age and fostered by a nanny who taught her the dark arts.
Later, Annie married a wealthy plantation owner, John Palmer, of Rose Hall Plantation in Montego Bay. She allegedly murdered him, two other husbands, and several slaves. She was later killed by one of the plantation slaves. Legend states that her ghost still haunts the plantation.
Season Of The Witch by Donovan
Lana Del Ray's version of Season of The Witch is probably more popular than Donovan's version, since it was also included in the motion picture, Scary Stories To Tell In The Dark. But It is Donovan's song originally.
But we do love the fact that Lana brings her own flavor to all her songs while honoring the originals. Both Lana's and Donovan's versions have a haunting atmosphere that is sure to make them great additions to Halloween playlists.
Beloved Enchantress by The Moon And The Nightspirit
Beloved Enchantress by The Moon and The Nightspirit is sure to transport you to another place and time. The magical song talks about the powerful feminine energy of an enchantress.
The lyrics talk about an enchantress bringing back lost dreams and saving humanity from the floods. In a sense, this song is like a prayer for the all-powerful enchantress who is the only one who knows all secrets. The song also invites listeners to embrace this "mystical powerful being".
A Little Wicked by Valerie Broussard
A Little Wicked is a hauntingly mesmerizing track by Valerie Broussard from her 2016 album House of Artemis.
The lyrics depict a narrative of a "witchy" woman who acknowledges her flaws and darkness, using the phrase "I am a little wicked" over and over. It also conveys her yearning for a deep and passionate love, which, in a sense, shows her vulnerability.
Moonchild by Iron Maiden
Moonchild is loosely based on Aleister Crowley's novel of the same name. Iron Maiden's lyricist, Bruce Dickinson, sings from the point of view of Lucifer.
The lyrics talk about a spiritual being or a person born under unique cosmic circumstances. They touch upon themes of good and evil, prophecy, and destiny.
Moonchild was first released in 1988 as part of Iron Maiden's album, Seventh Son of a Seventh Son. The link above is the remastered version that the band released in 2015. Both versions showcase the legendary heavy metal band's captivating storytelling.
Voodoo Woman by Koko Taylor
Cora Walton, aka Koko Taylor, is a Memphis-born blues singer. Voodoo Woman showcases her commanding vocals and rich, soulful voice.
The lyrics of Voodoo Woman describe a mystical woman who carries a rabbit foot in her pocket, a toad frog in her shoes, and a crawfish on her shoulder. She knows everyone's secrets and uses the occult to get things done.
First released in 1975, Taylor's Voodoo Woman has been covered by many other great musicians over the years, including multiple-Grammy nominee Susan Tedeschi.
Witch's Promise by Jethro Tull
The British rock band Jethro Tull's Witch's Promise was first released as a single in 1969. The band later included it on their 1970 album of the same name. It went on to reach No. 4 on the UK Singles Chart.
Witch's Promise narrates the tale of temptation, desire, and the consequences of indulgence. Combining folk rock with hard rock, the song describes the narrator's run-in with a witch who promises him many mystical experiences.
Waking The Witch by Kate Bush
Waking The Witch is an eerie song by Kate Bush. It was featured on her 1985 album, Hounds of Love.
Kate explained in an interview that Waking The Witch is about the sexist behavior of witch-hunting and how men fear women's powers, instincts, and intuition.
It tells the story of a woman who is persecuted by witch-hunters despite the fact that she has committed no crime. The people "try to push her under the water to see if she'll sink or float".
Witchcraft (For Your Love) by The Temptations
Witchcraft (For Your Love) is the 11th track on The Temptations' 1994 album Emperors of Soul. The narrator describes having no option left but to use witchcraft to gain his woman's love.
The song's first stanza mentions that the woman has left him and he is trying hard to be strong. He is also considering approaching a voodoo expert so he can use dark magic to win back her attention and affection.
Sisters Of The Moon by Fleetwood Mac
It is hard not to love the moody, haunting, and sensual Fleetwood Mac song Sister of The Moon. The guitar solo in the song is especially mesmerizing.
The link above is the 2015 remastered version, but the original was first released in 1979 for their album Tusk. To date, Tusk remains one of Fleetwood Mac's most underrated albums.
Sisters of The Moon touches on Stevie Nicks' fascination with feminine power, the supernatural, and the spiritual realm. The lyrics also describe the sisterhood of women who embrace their individuality and tap into their inner strength to celebrate their magical and enigmatic nature.
American Witch by Rob Zombie
Some people interpret Rob Zombie's song American Witch as being about the Salem witch trials, specifically about "20 innocents" who were burned alive.
However, there is another possible interpretation. While the song does touch upon themes of witchcraft and rebellion, it doesn't specifically refer to those historical events.
Instead, it could be a broader commentary on how Americans are quick to judge people on the basis of their beliefs and lifestyles. The song was released in 2006 as part of Rob Zombie's album Educated Horses.
I Did Something Bad by Taylor Swift
I Did Something Bad is a track from Taylor Swift's sixth studio album, Reputation, released in 2017.
The song's chorus, "They're burning all the witches even if you aren't one," could be a metaphorical statement about how people are quick to pass judgment and assign blame, even if one is not deserving of it.
This is a clear reference to the Salem Witch Trials, but mainly also to Taylor's vendetta at the time with Kanye West, Kim Kardashian, and her exes Tom Hiddleston and Calvin Harris.
Ding Dong! The Witch is Dead by Ella Fitzgerald
Ding Dong! The Witch is Dead is a song famously performed by Ella Fitzgerald. It was also featured in the iconic film The Wizard of Oz in 1939.
The lyrics narrate the story of the Wicked Witch of the East. The first few lines describe the witch's reign of terror and how she fills the town people with dread.
The song then turns merry as the cyclone strikes and ends up killing the evil witch. Goodness triumphs over evil, and once again happiness prevails as the news of her death gets around.
Songs About Witches And Spells: Final Thoughts
Yes, I know there are 21 songs. I added one. And may add more. As mentioned, we tried to include songs about witches from as many different genres as possible. However, I realize some genres are definitely underrepresented, or missing entirely.
If you know of any additional songs about witchcraft, witches, spells and spellcasting, especially songs in underrepresented genres, please feel free to let us know in the comments below. We would love to add a few more great songs to this list.