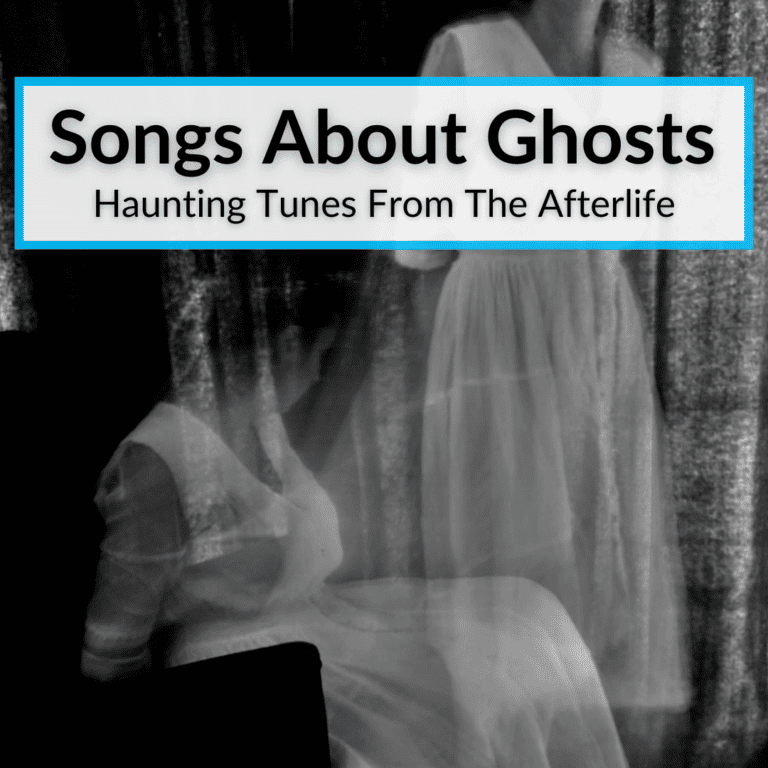 I was surprised by the number of songs about ghosts out there.
Granted, most aren't all that good.
But there are still so many that finding enough good ones to fill this list was easier than I expected.
I guess we just have a certain fascination with ghosts and the supernatural.
Of course, not all of the songs below are simply about ghosts.
Many use ghosts as a metaphor to remember loved ones lost or to help illustrate deeply personal subjects.
Keep reading for a list of songs about ghosts and ones that use the idea of spirits as a beautiful metaphor.
Songs About Ghosts
I tried to include songs about ghosts in many different genres in this list. Since there are so many songs about spirits out there, it wasn't as hard to do as with other topics.
Ghosts by Michael Jackson
The King of Pop's Ghosts is a captivating and haunting saga about a ghost named Maestro. It is one of Jackson's most spell-binding tracks.
You will love the track's music video (if you haven't already watched it). It also happens to hold the Guinness Book of World Records for the longest music video.
Ghost by Justin Bieber
Ghost is the sixth single from Bieber's 2021 album Justice. The word ghost in this song is a metaphor for the lingering sorrow or grief of losing someone you love.
Justin wrote the song as a tribute to his grandfather, whom he lost in early 2021. He also touches upon themes of isolation and loneliness, which he experienced during the pandemic.
Ghosts by Bruce Springsteen
Ghosts is a rock song from Springsteen's 2020 album, Letter To You. Bruce was inspired to write this track after the deaths of two of his bandmates, Danny Federici and Clarence Clemons.
Beautiful Ghosts by Taylor Swift
Written by Taylor Swift and Andrew Lloyd Webber for the film adaptation of Cats – The Musical, Beautiful Ghosts is a Golden Globe-nominated track from 2020. Taylor Swift not only co-wrote the song but also performed it for the film.
Beautiful Ghosts is written from the point of view of Victoria the White Cat, the protagonist of Cats. It conveys her longing to be liked and desired and depicts her isolation, depression, and nostalgia about the glorious past.
If you're a Swift fan, check out our article on the Afterglow lyrics Taylor Swift meaning. This song really shows her growth as a songwriter and as a romantic partner.
Ghosts by Robbie Williams
Ghosts is a track from Robbie Williams's 2005 album Intensive Care. Williams co-wrote Ghosts with Craig Russo.
The song explores themes of loss, nostalgia, and the lingering presence of past relationships. It also tells the story of a man who sees his former lover at a bus stop and realizes he still has feelings for her.
Ghosts On The Stereo by Carrie Underwood
Ghosts on The Stereo is a track from Underwood's 2018 album Cry Pretty. The haunting blues number talks about the heartbreak and longing after a breakup. To get over it, Carrier suggests "throwing a party".
The Ghost Song by The Doors
The Ghost Song is a poetic and introspective track that talks about mortality, legacy, and the haunting presence of the past. It reflects on the transient nature of life.
The Ghost Song is not a song, but Jim Morrison's recordings of his poetry (without any music) while he was sitting alone in the studio one day. After Morrison passed, his bandmates took these poetry reading sessions and created music around them.
Ghost of The Navigator is the opening track of Iron Maiden's 2000 album, Brave New World. The track describes a sailor who embarks on a sea voyage. He is guided by the ghostly presence of a navigator. The song beautifully captures many elements: mystery, a sense of adventure, and the suspense of having a supernatural being guide you.
Iron Maiden has written many songs that deal with the supernatural, the dead, and similar topics. It should come as no surprise that they also landed a spot on our list of songs about witches. Can you guess which one it is?
American Ghost Dance by Red Hot Chili Peppers
American Ghost Dance is a track from the Red-Hot Chili Peppers' album Freaky Styley, released in 1985. The title refers to the traditional Native American spiritual practice of the Ghost Dance, which is believed to bring about the restoration of their ancestral lands and culture.
The Ghost Of You by My Chemical Romance
American rock band My Chemical Romance released The Ghost of You in 2004, for their album Three Cheers for Sweet Revenge. The theme of the song is love and grief during the war. The song's music video also shows the dancefloor being converted into the battlefield using Oscar-worthy special effects.
The singer talks of his girlfriend dying in his arms, but he hopes they will be together once he dies. The chorus also mentions the ghosts that are never going to scare him anymore.
Ghost Behind My Eyes by Ozzy Osbourne
Ozzy co-wrote this song with M. Hudson for his 1995 album, Ozzmosis. The lyrics depict inner torment, personal struggles, and the haunting effects of past experiences. Ghost Behind My Eyes could be a metaphorical representation of pain or trauma lurking within the singer's psyche.
Ghost Of Me by Daughtry
Powerful vocals, emotive melodies, and dynamic instrumentation: no one does it better than Daughtry. The American rock band released Ghost of Me for their fifth studio album, Cage to Rattle, in 2018. The ghost in this song symbolizes the remnants of our old selves that continue to haunt and hold back our progress.
Haunted by Taylor Swift
Haunted is from Taylor Swift's third studio album, Speak Now, released in 2010. The track is about the lingering effects of a past relationship. The word haunted is a metaphor for lost love and the impact it has had on the singer's emotional well-being.
Give Up The Ghost (From The Basement) by Radiohead
English rock band Radiohead wrote this song for their eighth album, The King of Limbs – From The Basement, released in 2011. Here, ghost could be a metaphor for introspection, isolation, and the struggle to let go of negative patterns or emotions.
Ghost by Ella Henderson
British singer Ella Henderson has created a powerful pop ballad with Ghost. Henderson released the track in 2014 as a single after her success on The X Factor.
The song dwells on the heartbreak and haunting memories of a past relationship. Ella powerfully conveys the emotions associated with lost love with this great track.
Ghost Town by Benson Boone
Benson Boone's 2021 song Ghost Town talks about a toxic relationship the singer has with a girl. He says he "takes too much from his lover", so much so that she has nothing left to give.
The girl loves him deeply, but instead of uplifting her, he leaves her heart empty like a ghost town. She is no longer capable of loving herself. At the same time, he hopes she will be happier with someone else.
Spirits by The Strumbellas
Spirits was released in 2016. Singer Simon Ward wrote this song at the lowest point of his life, when he was contemplating suicide. The spirits in the vocalist's head represent his self-doubt and depression.
Dancing With Your Ghost by Sasha Sloan
Singer-songwriter Sasha Alex Sloan released Dancing With Your Ghost in 2018 as part of her debut EP, Sad Girl. The song represents the emotions and aftermath of a past relationship.
The singer wants to recreate moments with a former lover, even though they are no longer together. The lyrics Dancing with Your Ghost are a metaphor for holding on to past love.
Ghosts Again by Depeche Mode
Trust Depeche Mode to make a dark song so uplifting. Ghosts Again is a song from the band's 2020 album Spirit. The reflective track is about death and mortality. Using abstract lyrics, Depeche Mode conveys the simple truth that death is inevitable and humans cannot win over it.
Born As Ghosts by Rage Against The Machine
Rage Against The Machine's Born As Ghosts conveys a powerful social message about poor kids from Mexico. It is about the Mexican kids crossing into the US, but the armed guard on the US/Mexico border prevents their entry into America. So, the children have no choice but to deal with the poverty they were born into.
Ghosts by Funeral For a Friend
Lead vocalist of Funeral for a Friend Matt Davies-Kreye was inspired to write Ghosts after watching a documentary on child abuse and the fact that the victims hesitate to speak about it. The song is from the band's 2008 album Memory and Humanity.
Ghosts by Jake Owen
Country artist Jake Owen wrote this song for his album Greetings from…Jake, which was released in 2019. In a sense, this song is a tribute to Jake's grandpa, whom he never met, since he died when Jake was very young.
Jake's mother told him stories about his grandfather: how he was a great man but an alcoholic. And, like every alcoholic, he'd know exactly how many days he was sober.
Jake mentioned in an interview that the track represents the things you do all your life, the ghosts of them. It is also about him wondering what stories his grandpa would have told him had they met.
Ghosts by Laura Welsh
Laura Welsh is a British singer-songwriter who wrote this track for her 2014 album Soft Control. In an interview, Welsh explained the meaning and symbolism of this song in these words:
"Ghosts is about learning lessons from situations and overcoming them instead of being pulled under," she said. "To let go of the past and flick the switch on to the future".
Ghost On The Dance Floor by Blink-182
American rock band Blink-182 wrote Ghost On The Dance Floor for their 2011 album Neighborhoods.
Blink-182's lyricist and bassist, Mark Hoppus, co-wrote this song with guitarist Tom DeLonge. They were inspired by bands like Depeche Mode and Oingo Boingo (Dead Man's Party). Ghost on The Dance Floor is a clever way of remembering somebody you care about.
(Ghost) Riders In The Sky by Johnny Cash
Stan Jones wrote Ghost Riders In The Sky in 1948, but it was made famous by Johnny Cash's 1979 rendition. The western-inspired song tells the tale of cowboy hell riders who have to live up to their karma and face the consequences of their actions. The riders are condemned to forever chase the Devil's cattle and never find rest.
Songs About Spirits & Ghosts: Final Thoughts
There are so many songs about ghosts out there that I think I managed to find at least one in just about any popular genre of music. That said, I may have missed some and certain genres are certainly underrepresented.
If you know of any other great songs with ghosts in the lyrics, please feel free to let me know in the comments below. I am especially interested in songs in genres that are underrepresented (or even missing) on this list, but am happy to give any suggestions a listen and potentially add it to the list.
If you enjoyed this list of songs, we have many others on this site. Another good one to check out is our list of songs about magic.