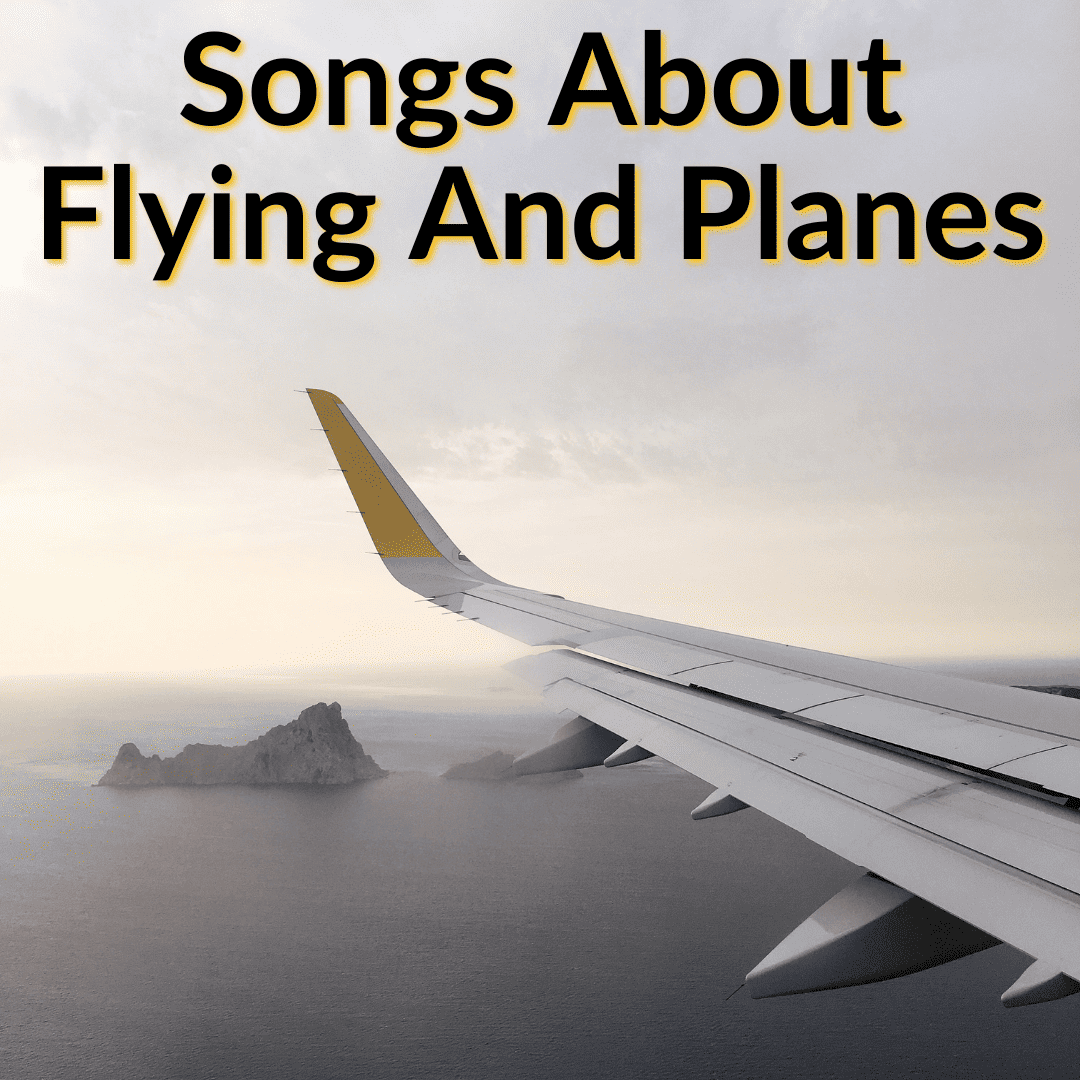 We humans have always been fascinated with flight.
Mythical creatures from all cultures have the ability to fly.
The idea of flying touches our innate yearning for freedom.
And when we finally figured out the secret to flying ourselves, we ran with it.
Today, you can take an airplane and go anywhere in the world. Now that's freedom!
Given our fascination with flying, it comes as no surprise that there are hundreds of songs about flying.
Of course, not all are good. The ones below are. You'll find all the best songs about airplanes and flying here on this list.
Songs About Flying & Airplanes
I tried my best to include songs from as many different genres as I could. That way, there are sure to be at least a few songs here that speak to you.
Airplanes by B.o.B Ft. Hayley Williams of Paramore
Airplanes was written by Lupe Fiasco, and features vocals by Paramore frontwoman Hayley Williams. It is included in B.o.B.'s 2010 album B.o.B. Presents: The Adventures of Bobby Ray.
The singer wishes airplanes were shooting stars so he could make a wish and run away. The song conveys a desire to escape. Sure, the singer is famous, but after all the glitz and glam dies down and the parties are over, all he wants is to go back to the good old days.
The lyrics also describe his struggle to make ends meet while working at Subway, but despite it all, he just wants the politics to be over so he can go back to making music.
Airplanes became a commercial success, reaching the top of the charts in several countries and showcasing B.o.B.'s blend of rap and pop-rock elements.
Leaving On A Jet Plane by John Denver
John Denver wrote this nostalgic song about a person leaving his loved ones and flying away on a jet plane in 1966. It was recorded by the Chad Mitchell Trio's Paul, Peter, and Mary.
The beautiful track captures the bittersweet emotions of a person leaving on an airplane and not knowing when they will return. It expresses longing, uncertainty, and the sorrow that comes with saying goodbye to your loved ones.
Leaving on a Jet Plane was used in several TV shows as well as movies, including the 1998 hit Armageddon.
Aeroplane by Red Hot Chili Peppers
Red Hot Chili Peppers based Aeroplane on the traditional blues track called Jesus is My Aeroplane. They wrote this song to express the fact that their music took them to a higher level, just as an airplane does.
The song may also have some drug references, as there are lyrics like "I like pleasure spiked with pain". The band may even have referred to their lead singer Anthony Kiedis' relapse with the lyrics "sitting in my kitchen, I turn to dust", since Kiedis often did drugs in his kitchen.
Plane Song by Katie Melua
Georgia-born Katie Melua wrote this song for her 2016 album In Winter. She based it on her childhood in the Georgian fields, where she and her brother played in a rusty airplane that littered their neighborhood.
The song expresses Melua's longing to return home. The lines "I'm always leaving, I'm always leaving, but I'll come back to you someday" express her yearning to return to those days that provided her with a sense of comfort and belonging.
This Plane Don't Go There by Jason Aldean
Jason Aldean's country song This Plane Don't Go There has the singer reminiscing about a night when he and his beloved stood under the midnight sky.
The singer wishes he could go back in time to that night, but this 'plane' won't take him there. If he could go, he surely would.
Aeroplane Björk
Björk penned this song for her boyfriend when they were in a long-distance relationship. The Icelandic singer expresses her longing for her boyfriend and says that she cannot live even a moment away from him. She wishes she could take an airplane halfway across the world to be with her beloved.
The sax arrangements in this beautiful song were done by the co-founder of the World Saxophone Quartet, American Jazz musician Oliver Lake.
Flying by The Beatles
Flying is a peaceful, underrated instrumental gem and one of the few songs that includes Lennon, McCartney, Harrison, and Starkey in the songwriting credits.
Flying was used in The Beatles' movie Magical Mystery Tour. It had previously been named Aerial Tour Instrumental.
The track's soothing and repetitive melody has a tendency to take listeners on an imaginative journey. The song is a true reflection of the Beatles era and is sure to take you down memory lane.
Airplane by Plain White T's
Bass player Mike Retondo of Plain White T's had been playing the instrumental of Airplane for a while, and the band loved it. However, they were not clear on what to do about it. They just knew that they knew they had to turn it into a song.
Then one day, when vocalist Tom Higgenson was sitting on a plane, inspiration struck. Higgenson says that the song captures the nightmarish anxiety of flyers with aerophobia – the fear of flying.
Airplane became an important addition to the feel and flow of their 2010 album Wonders Of The Younger.
Magic Carpet Ride by Steppenwolf
Canadian-American rock band Steppenwolf released Magic Carpet Ride in 1968 for their album Steppenwolf The Second.
The trippy track aims to provide a psychedelic experience to listeners. Even the words "magic carpet ride" allude to drug use. The song could also refer to breaking the shackles of everyday life and escaping into fantasy.
Magic Carpet Ride was Steppenwolf's second biggest hit after Born to Be Wild. It was also used in the 1968 movie, Candy.
Watching The Planes Go By by Elton John
The lyrics of Watching The Planes Go By describe a person who is feeling lost or disconnected from the world around them.
The singer finds solace in watching planes fly overhead, perhaps symbolizing a desire to escape, or a longing for a different perspective on life.
The song also represents isolation, introspection, and yearning. The act of watching the planes go by may represent a form of escapism for the singer, who tries to imagine a different life beyond his current circumstances.
Air Balloon by Lily Allen
Air Balloon from the album Sheezus is a fun and catchy song with a bubblegum pop tune. It is about escapism and daydreaming.
Lily Allen penned the song based on her own daydreaming, which infuriated her husband to a great extent. The fun, summery song is sure to make you feel happy instantly!
Fly Away by Lenny Kravitz
Fly Away has a hypnotic riff that gives the feel of an immortal, timeless perfection. The interesting fact is that Kravitz recorded it after his album 5 (1998) was already complete.
He never intended to include Fly Away in it, but a friend convinced him to do so at the very last minute. Lucky for us fans. And for Kravitz himself. The singer went on to win the 1998 Grammy for Best Male Rock Vocal Performance for this great song!
Fly Away has super simple lyrics, which make it ideal for being included in movies and montages where you do not want any deep meaning conveyed.
Kravitz explained the song's popularity in an interview, saying that people could identify with it because it is a song about escaping reality and going away to a world that is a lot different than this one. Now, who wouldn't want that?
Given To Fly by Pearl Jam
The writing, the singing, the voice: Given to Fly is a Pearl Jam masterpiece! It was released as a single for Pearl Jam's 1998 album, Yield. The band's vocalist, Eddie Vedder, stated that the inspiration for the song came from a children's story.
Given to Fly can also be interpreted as the pursuit of freedom. Some people say that Given to Fly may have biblical references to the story of Job, mentioning Job's perseverance and his ability to rise above adversity.
Jet City Woman by Queensrÿche
Queensrÿche's guitarist Chris DeGarmo and lead singer Geoff Tate wrote the lyrics to Jet City Woman. Geoff's first wife, who was a flight attendant when they were dating, may have inspired it.
The funny thing is, after quitting the band, co-writer DeGarmo went on to become a charter pilot!
Jet City Woman expresses the singer's love and longing for a woman who is far away. He simply cannot get her out of his mind. He has been waiting far too long to see her but, unfortunately, his flight is delayed by an hour.
Learning To Fly by Tom Petty and The Heartbreakers
Tom Petty co-wrote Learning to Fly with Jeff Lynne after watching a pilot's interview on TV. The pilot explained that flying wasn't hard to learn, but landing the plane is certainly tricky.
Petty wrote the lyrics, "I am learning to fly, but I ain't got wings; coming down is the hardest thing".
Learning to Fly is about life's ups and downs. It is also vaguely redemptive in that it says life is sure to beat you down and take away your crown. However, you must still persevere and have faith.
Zebras And Airplanes by Alicia Keys
Alicia Keys wrote this dreamy song after being overcome with inspiration after seeing a painting by British artist Chloe Early in a studio. Keys reported feeling transported to another place after seeing the painting.
While Keys never released Zebras and Airplanes for any album, she let her fans hear it through her online treasure vault. Zebras and Airplanes is all about escaping reality and moving to a place where dreams come true easily.
Next Plane Home by Daniel Powter
Daniel Powter is often labeled as a one-hit wonder with his song Bad Day. In reality, this great singer has several great tracks under his belt, including Free Loop, Love You Lately, and Next Plane Home.
All of Powter's songs are beautiful, and he is blessed with an incredible voice. We hope he never stops making music. Powter wrote Next Plane Home as a lullaby for his daughter. He travels a lot which may have been the inspiration behind it.
Small Plane by Bill Callahan
In Small Plane, Bill Callahan describes his experience as a co-pilot while also talking metaphorically about love and sharing his life with his beloved.
The song's lyrics describe how he makes mistakes while flying, usually in the same spot, but his co-pilot still lets him take control, and even naps, while he transports them home.
Callahan also describes every pilot's experience: the landing is hard work, but getting back up, which seems impossibly grand, is something most pilots do easily.
The Flying Saucer by Buchanan And Goodman
The Flying Saucer, also known as The Flying Saucer Parts 1 and 2, is a hilarious mashup featuring several popular songs with news commentary in between.
The song features Bill Buchanan as a radio announcer who announces that Martians have landed on Earth. Goodman plays James Cameron, a reporter who goes around asking people about their views on what would happen now that the aliens are here!
While silly sounding, this record introduced some brand-new recording techniques. Some consider it the record that started it all!
Waiting On A Plane by Maddie & Tae
Maddie & Tae wanted to record their album Start Here (2015) in the form of a story, with each song being a chapter. Waiting on a Plane was the first song/chapter from that album.
In a sense, Waiting on a Plane represents a beginning. It describes the singers' leap of faith as the duo embarks on a journey to fulfill the crazy dream they have always had.
Songs About Flying Away: Final Thoughts
There are so many songs about flying from many different angles: songs about flying high, songs about flying away, songs about airplanes, songs about flying like a bird, and many more. There are rap songs, rock songs, pop, songs, country songs and more.
As mentioned, I wanted to include as many genres as possible. But I know some genres are not well-represented, if at all. That's because I could not think of any songs in some genres. If you know any additional tunes that belong on this list, especially in underrepresented genres, please let me know in the comments below.
And if you like traveling, but are not a fan of flying, how about sailing? You can see a similar list of songs about sailing here.