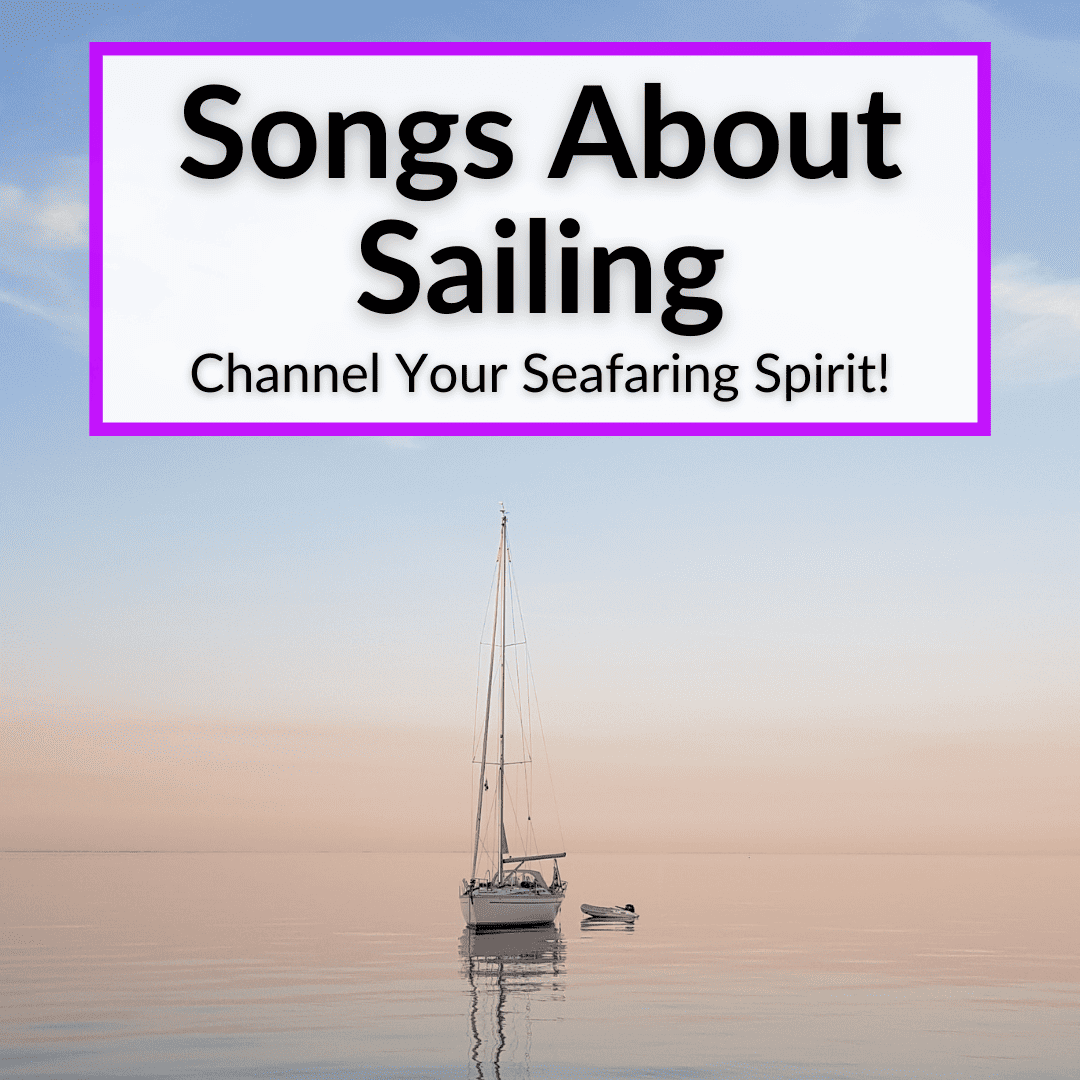 Being out on the open water gives us a sense of freedom.
That's why so many songs about sailing are metaphors for being free.
Of course, they idea of sailing also conveys an image of luxury.
And there are songs that tackle that aspect of sailing.
For this article we focused on music that is about actual sailing,.
And about the sense of adventure and freedom that comes with it.
We chose to ignore songs that use the image of being on a boat to show off your wealth.
That may be the subject of a future article. For now, keep reading for a list of wonderful songs about boats, sailors, and the sea.
Songs About Sailing
I tried to include as many different genres as possible. That way, there should be at least a few songs about sailing here that appeal to you, no matter your taste in music.
Sailing by Rod Stewart
Sailing is a timeless gospel that Rod Stewart wrote and recorded in 1975 for his album Atlantic Crossing. It is a spiritual song that instantly transports you to a different time and place.
Sailing's poetic lyrics and sweet melody are soulful, emotional, and captivating. Many people have played Sailing at the funerals of their loved ones, especially their dads or granddads who had served in the Navy. The lyrics of Sailing describe the singer sailing back home to the Lord to be free.
Sailing by Christopher Cross
Christopher Cross's Sailing reached the top spot on the Billboard Hot 100 in 1980, and it also won the Grammys for Record of the Year, Song of the Year, and Best Arrangement Accompanying Vocalists.
Cross wrote Sailing based on his fond memories of sailing with a friend during his youth in Texas. The song describes the beauty and liberation one feels when sailing. If you like Cross's Sailing, do check out its remix by Chicane. You will love its uplifting trance music.
Come Sail Away by Styx
Styx's nostalgic song describes the singer's yearning to sail away and be free. The song is sure to bring back fond memories of your childhood friends with lyrics like: "I think of childhood friends and the dreams we had".
Come Sail Away also gives the powerful message of achieving your dreams, no matter what. You must only rely on yourself to achieve your dreams, not on angels or aliens.
Sail On Sailor by The Beach Boys
Sail On Sailor is the best metaphor for life, depicting life's challenges and setbacks. It encourages you, i.e. the 'sailor', to persevere despite it all.
The Beach Boys recorded Sail On Sailor for their 1973 album Holland. It was also released twice as a single. Check out the song's remastered version here. You will love it!
Wellerman (Sea Shanty) by Nathan Evans
Nathan Evan's Wellerman (Sea Shanty) became an instant hit when it was released two years ago during the COVID pandemic. It was a huge hit on TikTok, where Evans sang it acapella-style while knocking his fist on a table to keep the beat and tempo.
The catchy and uplifting beat brought a lot of joy and hope to people stuck at home. They even took it up as a challenge on TikTok to come up with their own dance versions of it.
Please keep in mind that Nathan Evans did not write The Wellerman. Rather, it is a folk song, and like most folk songs, we don't know its exact origins.
Sea Shanty expresses a great deal through its lyrics and with hardly any musical instruments. It beautifully captures the spirit of danger and adventure of life at sea and the courage of the sailors who try to catch whales. One thing is for sure: once you hear The Sea Shanty, you'll want to play it on repeat!
Southern Cross by Crosby, Stills, and Nash
American folk rock supergroup Crosby, Stills, and Nash released Southern Cross in 1982. There are no words to describe this beautiful song about sailing. It is magical, mystical, and beautiful beyond belief.
The title Southern Cross refers to the constellation that sailors use for navigation. The song has a lot of meaning and symbolism associated with the nautical world.
It is always a "gift" when you get to hear Southern Cross unexpectedly on the radio. And once you do, you will obsessively play it on repeat. To learn about the lyrics and meaning of Southern Cross, read this article.
Sail by AWOLNATION
Sail, released in 2011, is one of AWOLNATION's most underrated songs. The lyrics of Sail are open to interpretation. However, they touch upon themes of depression, isolation, loneliness, or the feeling of being adrift and lost in the sea of life.
In short: Sail compares life to sailing on choppy waters. The song is also about ADHD and suicide, which is why it resonates with a lot of people around the world. Plus, its deep pump base, unusual riffs, and lead vocalist Aaron Bruno's husky voice make it a powerfully moving song.
The Last Farewell by Roger Whittaker
Roger Whittaker's The Last Farewell is about a sailor who is about to set sail and leave his beloved behind. The moving song conveys the deep emotional turmoil he feels about saying goodbye to his beloved.
He also knows that it is his last farewell, since the place he is going requires him to sail through a storm with strong gales. There is also a war blazing, so he knows he is 'sailing into hell'. Released in 1971, The Last Farewell became one of Whittaker's most well-known and beloved hits.
Fifteen Men (And A Bottle Of Rum)
Fifteen Men is an iconic song, and although it isn't about sailing, it is a pirate's shanty based on Treasure Island. The song narrates the story of a clever pirate who manipulates fifteen men into killing each other.
In the end, he (Captain Flint) is left with the buried treasure, but no one knows where he has buried it. Hence the saying "15 men around the dead man's chest of gold".
Drunken Sailor by Malinda Ft. Bobby Waters
Drunken Sailor is a modern take on the classic late 18th Century Irish song by the same name. It details the many different ways in which a crew could punish a sailor for drinking.
Check out the version in the video above. It features mesmerizing vocals and instrumentals, and the violinist is especially magical. You will love the energy of this classic song and the beautiful harmony created by this talented group of performers.
Jack Was Every Inch a Sailor by A Newfoundland Folk Song
If you are looking for a song about sailing to teach young kids, this is a great choice. It has a simple tune, and the lyrics are easy to memorize.
The folk song narrates the story of Jack, who is a sailor through and through. He was born on his father's ship and has been whaling for 25 years. One day, he gets swallowed by a whale, but still manages to defeat it!
Come All You Sailors by The Wailin' Jennys
Folk trio The Wailin' Jennys released Come All You Sailors in 2004 as a part of their album 40 Days. The song has several interpretations.
First, it could be about navigating life's challenges and adventures. It symbolically addresses all individuals as sailors, representing their personal quests, dreams, and desires.
Second, it could refer to the story of Ulysses, where Ulysses urges his fellow sailors to sail with him beyond the sunset. Third, it could be a veiled Christian song about what God is saying to sinners. Let us know in the comments below what you think the interpretation of Come All You Sailors is.
Where The Boat Leaves From by Zac Brown Band
Where the Boat Leaves From is a catchy and lively song by the Zac Brown Band. It was released in 2005 as part of their album The Foundation.
The song offers a fun perspective on life and the desire to escape. It is the kind of song that has a summer vibe. It will make you feel the sand under your toes and make you want to go swimming in the ocean with your family and friends.
Where The Boat Leaves From talks about dropping all your worries in the deep blue sea. But before you can do that, you need to arrive at the place where the boat leaves.
Sailor by Petula Clark
Sailor is a 1961 hit song by Petula Clark. It went on to become one of Clark's biggest hits. The lyrics of Sailor describe a woman's longing for a sailor who sails across the world.
Despite being captivated by his daring exploits, she begs him to stop sailing and return to her. All she wants is for him to return to the safety of her heart.
Soul Of A Sailor by Kenny Chesney
Chesney's peaceful voice in Soul of a Sailor will make you think you are sailing away. This beautiful song is a tribute to the courage, resilience, and determination of sailors out on the open seas.
It also depicts the sailor as a free spirit who constantly yearns for adventure. Soul of a Sailor has a catchy melody and heartfelt lyrics that are sure to resonate with everyone who loves the sea and sailing.
Sail Into The Sun by Gentlemen Hall
You will love everything about this fun song: the lyrics, the melody, and the catchy tune. Gentlemen Hall's Sail into The Sun talks about escaping and embarking on a journey. It conveys optimism and the desire to break free.
The lyrics to Sail into The Sun are a metaphor for exploration. They encourage you to embrace the possibilities that lie ahead. It is also a song about navigating life's uncertainties with confidence.
Sailboat by Ben Rector
Ben Rector's inspiring song resonates with many people. There are times when we feel like sailboats sailing alone through life's challenges. Sailboat was released on October 4, 2019, as part of Rector's album Magic.
Ben has beautifully captured the essence of chasing dreams, overcoming obstacles and winning, and finding solace in life's journey through this uplifting song. Sailboat also embodies the idea of sailing toward your aspirations with hope and determination
Sailing Down This Golden River by Pete Seeger
Sailing Down This Golden River by Pete Seeger (originally released in 1971) is a meaningful and introspective song that reflects on life's journey. The river could be a metaphor for life or the passage of time.
The song encourages you to appreciate the beauty of the present moment and make the most of your journey along the golden river of life.
Sailing by Stina Nordenstarm
Sailing, I am sailing
Home again, 'cross the sea
I am sailing, stormy waters
To be near you, to be free
Stina Nordenstarm is a Swedish singer-songwriter and producer. Sailing expresses the singer's longing to return home after being in stormy ocean waters. It could be interpreted as a religious or spiritual song depicting the sailor's yearning to return to the Lord because he or she is tired and wants to be free.
Sail Away by David Gray
David Gray remains one of the most underrated singers and songwriters of all time. In this hauntingly beautiful and sad song, he asks his beloved to sail away with him. He has waited a long time to find love, and now that he has found it, he just wants to sail away with her before he loses her.
Sail Away's lyrics also symbolizes the desire to escape and disappear without a trace. It could also be interpreted as a song about unrequited love, missed opportunities, or the realization that your love is slipping away.
Songs About Boats, Ships, Sailors, And The Sea: Final Thoughts
As mentioned, we focused on songs about sailing itself, not ones that use the image of sailing to demonstrate wealth and a life of luxury. Most of the songs above instead conflate being on the open sea with a sense of freedom and adventure, much like my list of songs about flying and planes. You should also check out our list of songs about immigration, which is somewhat related.
I know there are some genres missing here, or at the very least, they are underrepresented. If you know of any additional songs about ships and the sea that should have been included, especially ones in underrepresented genres, please let me know in the comments below.