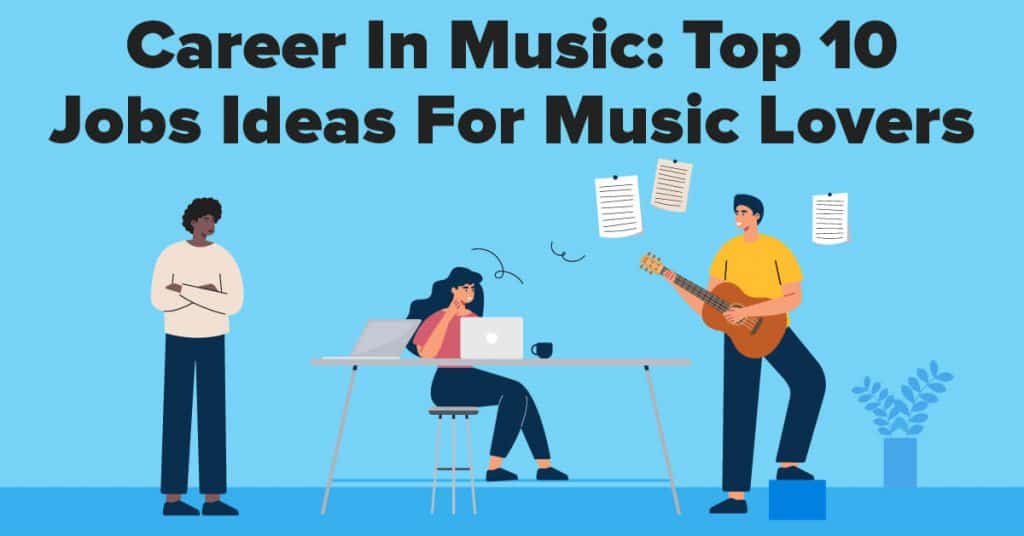 You can have a career in the music industry.
Anyone can.
You do not need to be an expert musician. And you do not need to have the confidence and flair of a center stage recording artist.
Take a good look at the music industry.
You will find so many people behind the curtain, the albums, the songs and more.
There is so much more to the music industry than what you see on the surface.
That's good news for you.
If you love music, you can 100% take up a career in your passion. Let's dive right in and find out how.
Things You Need To Know To Start Your Music Career
One of the hardest parts about choosing a career in the music industry is getting in. It is no easy feat to make your way into this industry.
Once you've got the door open, it is not unlike any other career. But getting the door open is the hardest part.
Since it can be quite difficult, there are some things you will want to consider as you look at making your way into the industry.
Have A Steady Income To Make A Living
Any part of the creative industries is difficult, and music is no different. As you start up your career it won't be easy.
You need an income in order to survive and afford the things you need to chase down your dreams. You will need to have a way to gain that income.
The best option for most is to pursue their music career and have a day job on the side that pays their bills and funds their passion.
You might think that going all in and relying on the pressure to survive as motivation is the best way to go. This does work for some people, so it is a personal choice.
But it does not always work. In fact, it can make it harder, especially in certain areas of the music industry where you will need to afford equipment. And you cannot afford equipment without a decent income.
Just remember that having a day job does not mean that you are neglecting your music career. A majority of now-famous musicians started exactly where you are now.
Whatever aspect of the music industry you are aiming for, starting here with a day job to pay your bills is the normal way to start.
Have A Plan & Set Goals
Knowing which industry is the right one for you is a good place to start. But before you go zipping off chasing your ideal career, you need to understand what you want to do, and have an idea on how to get there.
It is worth the time and effort to research the career and the ways into it. And speak to people in the industry who have experience in getting into it.
Setting these goals and making a plan means that you won't be wasting your time as you try to get into the industry.
There are countless areas inside the industry, and your goals and aspirations are unlikely to be the same as those of the majority of other people trying to get into the industry.
It is worth knowing what area of the industry most appeals to you, and understand what the doorways into this specific part of the industry are.
Once you have figured out what part of the industry is the one for you, and you understand how you can find your way in, you are already halfway there.
Knowledge about your chosen industry is more important than you may think. Do not worry if it takes you some time to find the part of the industry that best appeals to you. Rome wasn't built in a day.
Treat Your Music Career As A Business
When starting up your music career, it is wise to treat it as a business. Part of the development of being an artist in any form is to learn how you should operate your own business and turn your passion into sustainable living.
This means that at some point you will need to develop a marketing plan, identify who your target audience is, and what your niche is.
You should also understand and apply branding, and allocate a budget for any marketing expenses such as social media advertisements.
It is also wise to consider hiring an accountant to handle your finances and file your taxes. Do not forget to protect your assets with copyrighting and map out a business plan.
Educate yourself in the business aspect of the music industry and what it will mean for you. While the creative side of music is very important, understanding and applying the business side of this career is imperative to your success.
Keep Improving Your Craft
When we say you need to keep improving your craft, we mean that you need to continue your evolution as a member of the music industry.
Consider how the media world, including the world of music, is constantly changing and adapting to society and the way that we live.
It can be tempting to simply trust in talent, but talent alone cannot survive for long. Adapting and continuing to make your content is very important.
Promoting music is just as important as making music. Neither has more importance than the other.
While it sounds obvious to continue improving and making content, it can often get brushed aside in the fight for recognition. You mustn't give in to the temptation to slack in your creation and adaptation.
While talent matters, it does not directly correlate to good music, or content that gains exposure. It can in some cases. But good music and successful content is more than just talent. It is a whole ocean of components put together to create something.
Da Vinci crafted loads of art before he became famous. Elvis' first song wasn't an automatic hit. Similarly, your first try likely won't lead to success either. Continuing on through the setbacks and fighting for your career will take you where you need to go.
Try To Make Connections Within The Industry
Inside all of the creative industries, success is not based solely on what you know, on on your talent, your skill, or your knowledge of the field.
The key to success in the creative industries is in who you know. Who you know can open multiple doorways to success. This means that networking is a primary factor in success.
Your industry network is your net worth. As such, one of the most important goals to prioritize is to develop relationships in your local community and in the music scene in which you are interested.
Social media groups are perfect for this. These network communities are also useful as a kind of support group to help you stay motivated while you are establishing yourself.
The internet has been highly useful in the development of new networking schemes. You just need to know how to approach your networking opportunities online.
Don't just go around sending people your music. Spamming is not the way to gain a following.
Instead, find relevant online communities in which you can be active, collaborate with other artists, and build relationships.
Distribute Your Music Skills

Distributing your skills means to get yourself out there as much as possible. You need to understand what you have to offer and really show it.
And not just in your individual ways, but in collaboration with others, helping out fellow people in the industry and working together alongside others.
It also means to distribute yourself well. When you are starting up, you will want good photographs, so invest in a professional photographer to get high-quality images to use in your promotions.
Consider graphics art for designs, album covers, flyers, logos and so on. Start up a website. There are plenty of free domains you can use until you can afford to pay for one.
Then distribute your content in the right places. Think of big platforms with high user inflow, like Spotify, SoundCloud, YouTube, Apple Music, Amazon Music and more. There are plenty of options you can use, so take advantage of them.
As a musician, also remember to get yourself live events, even if they are unpaid to start. Build up a reputation, get your name out there, and slowly but surely, you will get closer to your dreams.
Stay In The Loop With New Music Trends
Music trends are constantly changing. New artists bring new music styles to the table. And the music industry is constantly growing.
To get into the music industry successfully, you need to be able to keep up with these rapid changes. The biggest part of this is to simply stay in the loop.
Stay aware of what new songs are sitting in the top 10, which artists are the most popular at which times, and what the music industry is doing that is getting the most feedback and recognition.
While this kind of research might sound boring, or like a waste of time, it is, in fact, exactly what you need to help you grow.
In any business it is important to monitor the market trends. And while music is fun and entertaining, the business side of it requires the same keen eye as any industry. Keep up to date with what is going on in the industry and what is getting the most attention, and try to apply that to your own content.
Be Patient & Persistent
Patience is a virtue, it is said, and this saying could not be truer. Patience and persistence are the key to success.
You will not become famous or successful overnight, so you must be patient with your process and work towards your success over time. Do not give up if you don't get anywhere for a while. Keep on trying, and you will eventually succeed.
The only way you can fail at your dreams is to give up on them. When the going gets tough, keep going, because it is worth it in the end. Determination will always pay off.
Prepare yourself at the start for the long haul in this career. It can be so easy to get discouraged in this industry. It is a tough career to choose, and there is a lot of competition.
However, do not feel down because your first song only received a few downloads. Think about it this way: your FIRST song had downloads!
Seeing the positive side in even the smallest of accomplishments will help you climb higher.
Over time you will get turned down, you will not always get a response, you will experience rejections and perhaps even ridicule. But when it comes down to it, it is all worth it when you finally get where you want to be.
So, before you start up your journey, make sure you are in the right mindset to take this journey.
Jobs For Music Lovers
As we previously noted, there is a whole plethora of jobs inside the music industry that you can choose from. Being a recording artist is far from your only option.
There is much else that you can do. There is something for everyone. Let's take a look at the top 10 jobs inside the music industry.
Music Producer
If you have always been good at having your fingers in all of the pies, you might make a good music producer. A music producer is a jack of all trades.
They understand both the creative and the commercial side of music. They will develop relationships with musicians and record labels. Their job is to create an environment that enables artists to create and express themselves well.
They will also assist in the artist's recording project with many details, including the material to be recorded, interfacing with the recording engineer, adapting arrangements, managing and balancing the recording budget, and influencing the mixes.
A music producer does a lot, but in many ways, they are at the center of everything. A musician cannot reach the top without an equally amazing music producer.
There is much to learn in order to pursue this career though.
You need to not only understand music as a business, but also understand audio and music concepts, and have an in-depth study of various software types as well. Of course, a good music producer also has a keen ear for what makes a good sound.
A good way to get some practice in music production is to remix existing songs. You can learn how to remix songs here.
Recording Engineer
Audio engineers are the studio's technicians. They are responsible for capturing the sound and manipulating it in the studio as it needs to be.
Recording engineers have to deal with both analog and digital audio, as well as compressors, microphones, and signal flow.
They will typically combine both traditional and technically-heavy recording techniques to record audio to the very best it can be.
These engineers are also responsible for organizing recording sessions and repairing any technical issues that may crop up. Sometimes they may also catch the brunt of the producer or musicians if something were to go wrong during that perfect take.
In this side of the industry, knowledge of recording technologies and file management skills are very important.
Some jobs inside sound engineering can require extra training in mixing and editing. It is best to have these under your belt anyway, if you are even just considering the technical side of a music career.
It is also beneficial to be very on the ball and be able to take initiative when needed. Running recording sessions and being tech-savvy is only one part of the job. It is a good idea to be prepared for any eventuality in the studio.
Session Musician
A session musician is someone who is a jack of all genres in music. They play their instrument of passion, but instead of being the primary act they back up other musicians.
These musicians perform on another musician's album, or they may perform with various acts on stage. This means that these musicians get to dabble in multiple styles, genres, and sounds.
Think of orchestras in this sense. An orchestra may dabble in backing up a rock band on an album, they may also play in theater, for film and TV, they may appear on stage backing up other musicians, and so on.
These musicians are constantly networking as they will interact with, and meet and form relationships with, musicians in every walk of life. They will likely also be asked to contribute their talents to a recording session or even join a band on tour.
As a proficient musician you might find yourself becoming very successful as a session musician, and it can even lead to a solo career. A good example is Stevie Ray Vaughan, who was a session musician for David Bowie, Sheryl Crow and did backup vocals for Michael Jackson. Could this be you one day?
Artist Musician/Manager
An artists' manager is the center of what makes a music artist. They create the opportunities, connect and propel the act forward, they get the gigs, get the connections, do the planning, organization, directing, and negotiating.
They often do not get all the credit they deserve, and often go unrecognized in the industry, with people often wondering who that guy is in all the band's photos.
However, the industry would be lost without them, and bands would be left to manage their own careers alongside all the actual music production.
If the musician is the car, then the artist manager is the engine. Artist managers have to do one hell of a lot of work. They do the majority of networking, they get everything in order and they manage the career of the artist.
To get into this role, you need to have excellent management and leadership skills. You need to be able to streamline and organize multiple things at once between musicians, publishers, agents and sales.
If you are a multitasker who is good at organization and getting things done in a timely manner, perhaps you could be an artist manager!
Music Teacher
People often say that you only teach as a last resort. But we have to counter that. Teaching can be very rewarding. Not only are you bringing life into the future of music, but you are also likely to learn something new from your students too.
Teaching can take on a variety of different forms. You could teach at a school, a shop, or independently as a private instructor.
You can also teach theory or a specific instrument. And you can also teach the age range you would like to teach.
Every option in teaching music comes with its own advantages and disadvantages. If you are a people person who thrives on seeing people succeed, loves to encourage people and to share knowledge, then you could be a born music teacher.
The background and education you need depends entirely on the teaching path that you seek out. If you want to teach in a school, then you will need more certifications than if you are a self-employed music teacher.
Regardless, you will need to be well versed in the subject you teach, and you should feel comfortable and confident in giving lessons, too.
Music Publicist
Becoming a music publicist is a great option for a people person who also loves marketing. These people work in tandem with media outlets, marketers, and venues.
They ensure that the concerts, releases, and announcements are covered by media, and in a way that positively feeds into the public perception and their fan base, at the same time as giving the artist increased awareness.
The best part of this role is that you will always see your hard work pay off, so it is very rewarding. Whether the result is a sell-out show, a radio spot, or a beaming article, it can really give you that feeling of accomplishment.
Of course, this role does mean working with journalists, which is not always the easiest thing to do. And since that area of the media is eliminating outlets that cover music, it is not so easy. But if you can do it, it is all the more rewarding.
It is not just public relations though. You are selling the story of the artist, building a network, balancing the artist's reputation and staying ahead of the game. It is quite difficult, so if you like a challenge, this might be perfect for you.
Composer
Most people would relate composers to the genre of classical music, but that is a common misconception. Composers often write for film, TV, and video games. Just consider Ramin Djawadi, who composed the music for the Game of Thrones TV series.
Composers can also write and arrange recorded or live music across a plethora of genres. They are not stuck to just one genre type.
Regardless of which avenue a composer may decide to pursue, they require a masterful understanding of music theory, and they must also be able to masterfully (or at least intermediately) play one, or many, instruments.
Composers also need the technical capabilities to be able to capture compositions effectively through notations or recording.
It is important to have a formal education and experience in composing for success in this job. Composers need to be masters of at least one instrument and need to have a deep understanding of musical theory and arrangement.
Great composers need to understand the technicalities and mechanics of music on a multitude of levels. If you want to be a composer, you should start learning composition software and begin practicing sooner rather than later.
Music Journalist
Being a music journalist is a great career option if you love both writing and music. It can be a very rewarding career for someone who has both these passions and wishes to combine their passions into one career.
Not only do you get to attend gigs and concerts as a VIP, but your readers will trust in you to let them know what's hot.
That being said, it is not a career for the faint of heart. It is a competitive career, and you will find yourself with much competition from other music journalists.
However, if you can get your foot in the door at a major newspaper or in an internship program, you are one step closer to being the music journalist you always dreamed of being.
A good way to practice for a career like this would be to start your own blog about music and post articles every week at least.
This can help you practice your writing and get your music knowledge out there. It will also work well as a pointer on your resume that employers in this industry will love. It shows passion, after all.
Songwriter
Beautiful songs, catchy lyrics, and elegant melodies do not come out of thin air. Someone has to write them.
Although some artists may be poetically gifted and able to write their own lyrics and songs, others are not. Those artists rely on the expertise of a professional songwriter.
Songwriters play the crucial part of writing perfect words that accompany the music of the artist. You do not need a higher education qualification to be a skilled songwriter.
A degree in creative writing could be beneficial, but the main thing required for this career is a flair for words and an ability to put words to music in a way that is endearing and catchy.
If you are rather poetic and enjoy coming up with song lyrics, it is worth trying your hand at this. A combination of a love for music and a literary flair are important in making this career work.
To get some experience in this, find some instrumental music and create some lyrics of your own to pair with the song.
DJ
We can't ignore this potential career. For some, becoming a DJ is a real dream. If you fancy yourself a turntable legend who can mix the top club bangers above and beyond, this really could become a career for you.
Of course, one thing you do need for this career is a night owl lifestyle. Going to bed at 10pm is not an option for this job.
If you are still buzzing at 1am, and love those hard beats and epic beat drops, you could be the next big DJ in the club.
As a DJ, not only do you have fun while you work, but you can also create a large and loyal following as well.
You can get apps and programs on your mobile, tablet, or PC to start up and figure out if this is a career for you, before you decide to invest fully in the DJ lifestyle if you are still unsure.
Many might think of being a DJ as a party-hard career, but it truly is a music career. It is all about the beats and giving your following the best music experience you can craft.
Career In Music: Summary
There are tons of job options in the music industry and all of them can be extremely rewarding. But it is not the easiest industry to work your way into.
Choosing which area of this industry is best for you can be difficult. The best place to start is to look at your passions and your strengths, and find which of the many career options inside the music industry fits your skill set and your passions the most.
Do not be afraid to take your time to figure it all out, and remember that nothing happens right away. Success, true success, is built up slowly over time. With patience and dedication, you will get there.
So now, it is time for you to head out into the world, start creating some music and making your way up the music industry ladder. We will see you at the top!