I won't sugarcoat it: a singing career is not easy.
Your normal career plan will not work. You're going to get very familiar with the word "no"; you're going to have a lot of doors slammed in your face.
It might be awhile before you hear that big "yes" of your dreams.
That's why so many talented people never make it in the industry.
And I'm not even talking about the big multi-millionaire Hollywood-famous industry.
I'm just talking about putting a roof over your head and food on the table with a career in music.
Being a professional singer takes talent, yes. But even more than that it takes guts, it takes perseverance, it takes courage, it takes humbleness. And it takes practice. A LOT of practice.
If you have all of that combined with charisma and the business mindset to get out there and network, to make the right contacts and connections (or if you have the capital to invest in an agent), you can definitely make it.
How To Get Gigs As A Singer
Here are some strategies to follow to help you get that first gig and put you well on the way to a successful career as a singer.
Befriend Other Singers
Making friends with other singers is a great way to get your foot in the door. Forget the whole competition thing. They understand you and they understand how hard the job is.
Not only can they help you out with advice, they can also introduce you to industry contacts and they can potentially get you a spot on one of their gigs.
Setting up joint shows is also a great idea. Join a couple of other singers from the same genre and a support band and rent a venue for the night. Yes, you'll have to share the profits but you will also get exposure to a new fan base and gain some valuable experience.
Network
Don't waste any opportunity. Be friendly to cafe owners, bar owners, venue managers, marketing and event staff and especially to guests at your gigs. They can all be sources of future gigs or, at the very least, introduce you to more connections in the industry.
Do also take a look at your local music industry association. Besides advice and potential friendship, it is also their job to promote local music and there is a good chance they can provide you with gigs and open-calls in your area.
Of course, none of this will lead anywhere if you don't know how to sing, so make sure you're good at what you do.
Get a Booking Agent
Looking for a good agent is essential if you want to up your level. They have the best connections and they can get you into venues that would not accept you otherwise.
They can open up the world of closed calls and jobs in the recording industry that you otherwise would never know existed. They also deal with the corporate part of the music business, which is something many singers (myself included) would rather avoid altogether.
It is important to point out that the best agents are not necessarily the most expensive ones, but the hard-to-get ones. A good agent will not take you on if you are not a hard worker and if you are not professional.
If you get bad feedback from the clients your agent books for you, they will be much less inclined to find good gigs for you in the future. If you get good feedback, they will get you more and better gigs.
Use the Phone
The old phone call will still go a long way. Do some research on local venues that have live performances and try giving them a call and giving your pitch (practice a good one that you can use every time).
Your goal here is to ideally book a spot or at least an audition. If not, you might still be able to get a meeting with the owner.
Use Social Media
Social media is going to be your best friend. Trust me.
In today's world, nothing can help your career more than a well managed Facebook page, an updated Twitter account where you interact with fans and a great Youtube channel (apart from having your own website, of course).
Not only do these platforms get your name out there, they can actually generate income and lead to in-person gigs. Make sure you write a good, concise bio for your profiles.
Facebook
A Facebook page will get you the most visibility and it provides the perfect means to promote your name. Plus, it can easily link to your Patreon and Youtube videos.
The secret is to have a good, clean management and to get as many likes as possible. Post short videos of you singing, ideally homemade videos and cover song, at least in the beginning.
Also post some selfies (or group shots, if you have a band) and photos from gigs. A couple of fan photos will also help, but be careful to not overdo these.
Facebook is a great way to create a fan-base, to promote your work and your gigs and to get attention from venues, agents and even potential talent seekers.
A good Facebook fan base with likes, comments and shares on your singing videos will do wonders for you and will put you on the map.
It helps venues see that people are showing up for your performances (and booking you will make them money), while agents and potential employers can see that you are already have a following, making them much more likely to work with you.
Twitter
Twitter can be a great way to communicate with your fans and foster a closer relationship. You can answer questions and post more day-to-day things that would be overwhelming on other social networks.
That closer relationship allows you to create a strong fan-base and then redirect them to your Facebook and Youtube pages.
That said, you need to be careful. You want to seem relatable and come across like a person they would enjoy hanging out with, not that annoying friend who shares everything they eat and every time they use the bathroom.
YouTube
When it comes to being a singer, YouTube can, and should, be your best friend. The competition is tough, but there is space for everybody.
Find a spot with good lighting, get a decent microphone and show your talent. You don't need to invest a lot of money in the beginning. Videos with a homemade feel actually do very well.
If you know how to play an instrument, that is great. If not, just do it a cappella. Videos with non-live backing music don't generally get that many views, so try to avoid those. If you can get a friend to back you up, that is great, too.
The best way to build a fan base in the beginning is with cover songs. Ideally, you want to put your own spin on them. That will make your version unique and much more appealing to your potential fans.
Once you have posted a few videos and built a fan base of subscribers, you will start to get opportunities to collaborate with other YouTube singers. This is an excellent way to expand your reach and get more views on your videos.
Once you've reached this point, you can start posting your own original music and linking to your Patreon page (which is where you will actually make money).
Patreon
Patreon is an internet-based platform that allows content creators to build their own subscription content service. What that means for singers and YouTubers is that they create videos and albums and people pay to have access to them.
More than that, by paying they are actually showing strong support for you as an artist and that is a great indication that you are doing something right and can serve as great motivation to not give up and to continue on with your career as a singer.
Use Websites That Offer Gigs
There are a ton of websites out there that can help you find gigs. I will list a few of the bigger ones, but most cities will have local sites that are almost always a great place to start.
Craigslist
I'm sure you're familiar with this site and you may be wary of it due to some of the press it has received, but there are actually a lot of gigs listed on Craigslist.
You can also post you own ad and link it to your website or YouTube. That way potential clients can see you in action, which increases your chances of getting work.
If your city has a Craigslist listing, it would definitely be worth checking out. It's also free to use, which is not the case with most websites that specialize in helping musicians find gigs. I'd recommend not posting any personal info, though.
ReverbNation
ReverbNation has both a free and a paid plan. It is basically a comprehensive platform for musicians. You can create a profile and use it to promote your music, gain new fans, sell music and find gigs in your area. It's basically like MySpace, but better.
The free profile can help you get gigs, but if you want more advanced features, like digital distribution on iTunes, Spotify, Amazon, and other online stores, you'll need a paid plan.
The Pro plan is $20 per month and the Max plan is $41 per month. You can get a free trial of the pro plan, so you can give it a try before spending any money.
GigTown
GigTown is free for artists. You create a profile and can find gigs in your area. The database of venues is not as large as some of the other sites yet, but it is growing. You can set your own hourly rate and can accept as many or as few gigs as you wish.
Sonicbids
Sonicbids is the largest online booking service for singers, other musicians, managers, promoters, etc. It has a free option, but you are limited to 5 messages.
A paid account costs $19.99 per month or $11 per month if paid annually. Sonicbids provides you with a professional electronic press kit and helps you network and get more exposure, as well as having a ton of gig listings.
GigSalad
GigSalad is great for finding local gigs and it has a free option and a number of paid subscriptions costing from $15 to $40 per month. The free level gives you the basic functionality, including the ability to receive quotes and communication through the website.
A paid subscription allows you to communicate directly with clients using email or a phone. Paying also increases the visibility of your profile and allows larger deposits.
Backstage
Backstage is ideal for musical theater gigs. It is a large resource that lets singers search for auditions by filtering for things like age, gender, location, etc. Membership costs between $12 and $20 per month, but they usually have a $10 per month offer for new accounts.
It is actually possible to use the site to search for jobs and then find more info on the jobs using Google, if you do not want to pay the monthly fee. If you're going to be looking for a lot of gigs though, especially larger ones, it makes more sense to just pay for a subscription.
Yap Tracker
Yap Tracker targets classical music performers. For $55 per year, it provides unlimited access to audition alerts. Compared to the other paid sites, this is a great deal. The site saves your data and uses it to automatically fill out applications, saving you a lot of time.
Many competitions, institutions and specialized programs for young artists only accept applications submitted through Yap Tracker, making the site a must for any aspiring classical singer.
Now that you know how to go about landing a paid singing gig, let's take a look at some of the different types of jobs that are out there.
Paid Gigs For Singers
This is far from an exhaustive list, but here are a number of jobs you could get as a singer. Some are easy to find, others are very difficult to break into. Some pay well, others pay nothing. Some require a full-blown audition, others do not.
When you are first starting out, the most important thing (apart from having enough money to keep you fed and sleeping indoors) is to find work that will get your name out there and lead to better opportunities down the road.
And remember: no matter how small the gig, make sure to do a good job and leave a great impression on your employer. You never know who else they may know.
Singer (Solo or in a Band)
This is actually a tough market to break into. There are thousands of bands and singers trying to get record deals and make a living from their music and most of them never do.
In addition to hard work and perseverance, becoming rich and famous as a musician involves a lot of luck, too. And even just making enough to survive can seem impossible.
A successful path that a lot of artists are following at the moment is to sell their album or songs online, using any method they have at their disposal to their advantage: teasers and songs on YouTube, Facebook, Twitter, Pinterest, etc. And from those accounts,they can link to their Patreon page or iTunes album.
Songwriter
This is a lot like being an original artist, but instead of promoting yourself as a singer, you focus on selling your songs so other people can sing them. There are plenty avenues to do so, like jingles for commercials or music for companies, movies, TV shows, radio, etc.
If you are really good at writing songs and you have a bit of luck, you can even get a resident songwriting gig at a record company. An agent can be especially helpful in landing a gig like this.
After starting out you may want to look into getting a publisher. They do charge a commission, but they have great connections (ones you wouldn't get by yourself) and can help you by selling your music to different types of media and collecting royalties.
Music Theater Singer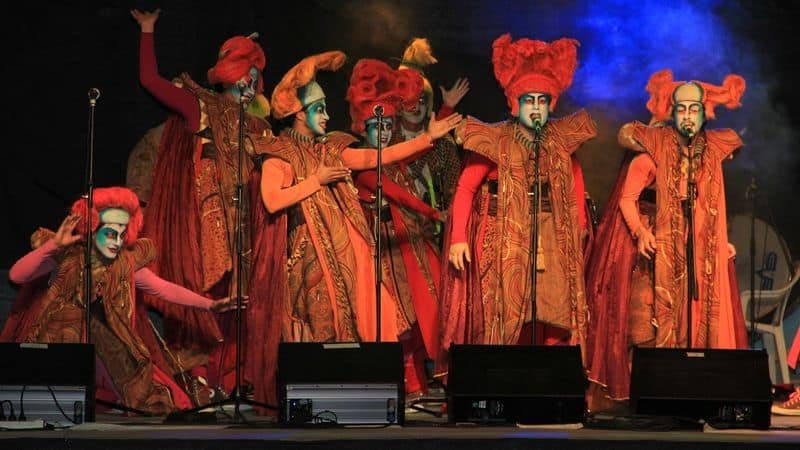 The dream job of any high school theater kid is not as hard to get as you might think.
Main roles are usually reserved for someone who already has some star power, but there are plenty of supporting roles with touring companies, small theater groups or a chorus. These will get your foot in the door. You can also get work as an understudy or a back-up and still get paid for it.
Jobs like these generally require an advanced degree and vocal and dancing abilities, plus experience in small local productions or semi-professional productions. Experience helps more than anything here, apart from getting an agent.
Nothing helps more than a competent agent, since they can get you into closed auditions that are only available to someone with the right connections.
Theme Park Character Actor and Singer
This is a great option for people that have charisma and love musical animations. The main requirement is to have similar features to a character (more essential in Disney parks than others, like Universal Studios).
Just keep an eye out for casting agents near your city or check out the company websites. They will normally have information about open positions in the career section as well.
Opera Singer
Being an opera singer requires a lot of training. You'll have to invest money in boot camps, role preparation with lessons and coaching. Years and years of practice are required. It is not an easy job but it can be very rewarding.
Artists in the Metropolitan Opera can make between $100,000 and $200,000 per year. Other venues in the US might not pay quite so much, but there is still good money to be made. Plus, there is Europe. Countries like England, France, Italy, Spain and Portugal pay their opera singers very well.
Singer In An Independent Travelling Show
Travelling around the country with your own show and crew can be an intense and bonding experience, but it is also often unstable. Some shows pay a fixed salary, but others pay based on ticket sales.
Backup Singer
A good gig with a known band can pay a solid salary and give you the chance to make good connections and have amazing experiences, like performing in front of a large stadium crowd or on a TV show. Is not the easiest job to get, but with talent and persistence, you can make it.
Session Singer
Session singers are studio singers. You record your voice during a "session," for a set period of time and get paid in return. The salary can vary a lot depending on your experience, the gig and the length of the session.
Jingle Singer
Being a jingle singer may not be everyone's (or anyone's) dream job, but it can be a solid source of income. You are basically going to be recording short jingles for advertisements.
The contracts vary when it comes to royalties and other forms of compensation, but the Screen Actors Guild of America sets a minimum pay of $398 per day for employed jingle singers.
Singagram
You've probably seen scenes in movies and TV shows where a guy tries to impress a girl by hiring a singer or singers to relay a message. That's a Singagram. You get hired to show up somewhere and surprise a chosen VIP. The best part is that you set your own price and can make up to $350,00 an hour.
Busking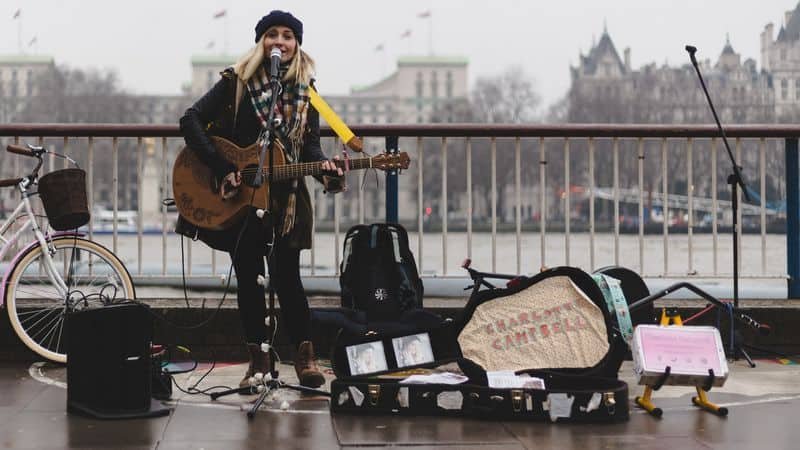 Busking is hardly a real, stable job but you can make up to $100 a day if you are in the right spot and are very good. The trick here is to get a good spot with no competition and a lot of foot traffic.
It also helps if that foot traffic has a bit of money to spend. But they can't be too wealthy. The very wealthy rarely give money to anyone in the street.
Kids Entertainer
This is hardly what comes to mind when you think of a singing job, but it can actually be very lucrative. If you like working with kids and are a natural, you can earn a few hundred dollars by spending an afternoon singing and playing at a private birthday party.
Wedding Singer Or Party Singer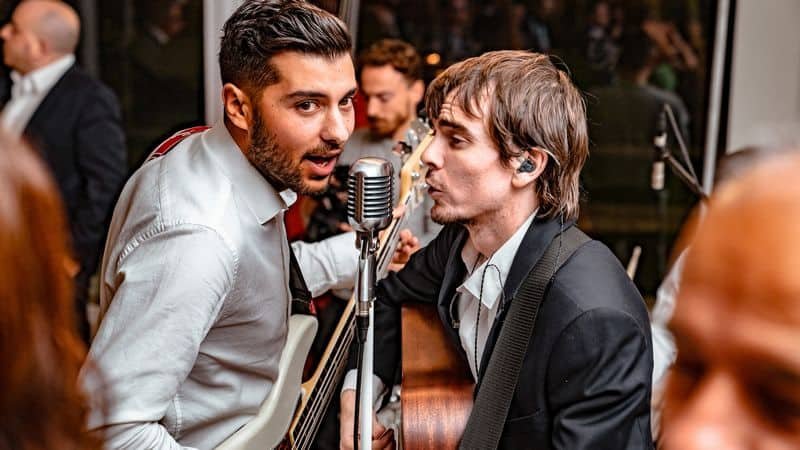 Enthusiasm and repertoire are key here. You are going to be the life of the party. You'll have to sing cover songs and basically perform whatever the client wants.
This can mean anything from cheesy classics to the popular song of the moment. The secret is to keep everyone excited and dancing. The show can never stop.
To apply for gigs like this, you can try joining an already formed band or creating your own and building up a reputation. Wedding planners (or planners for other big events, like bar and bat mitzvahs or quinceañeras) and Facebook will be your best friends when it comes to building a good reputation and, thus, getting better paying gigs.
Club Or Lounge Singer
Clubs, hotels, fancy restaurants and private venues tend to have some kind of entertainment. They may have a permanent singer or they may hire per night (often both), so you can make a living by booking different venues on different nights.
Gigs like this are also a good place to make connections (be it professional contacts or landing other jobs like weddings and events) and they can pay between $100 and $600 a night, depending on the quality of the venue, the location and your reputation.
Cruise Ship Singer
Many people think that working in a cruise ship is a great way to travel the world while enjoying free food and accommodation. And as as singer on a ship, you can do what you love. Unfortunately, that's not quite true.
It's a hard job where you are going to be doing a lot of extra work that has nothing to do with your position, like hosting, entertaining kids, helping other staff and private dinners outside of your genre.
In addition, the accommodation and food is not technically free, because in most cases the cost is automatically deducted from your paycheck. You also don't actually get to see most places you dock, since you usually have to stay on board.
That said, if you find a good gig with a trusted company that treats its employees fairly and pays a good salary, by all means go ahead. A good cruise ship gig can be an enriching experience, both personally and professionally, especially if you get a contract as a guest entertainer.
Tribute Band Singer
Being a part of a full-on tribute band, by which I mean wearing full costume, hair, make-up, etc. can actually be a very lucrative job. Venues and events tend to pay more for a "full" specialized band than a for a regular cover band.
How To Get Singing Gigs: Final Thoughts