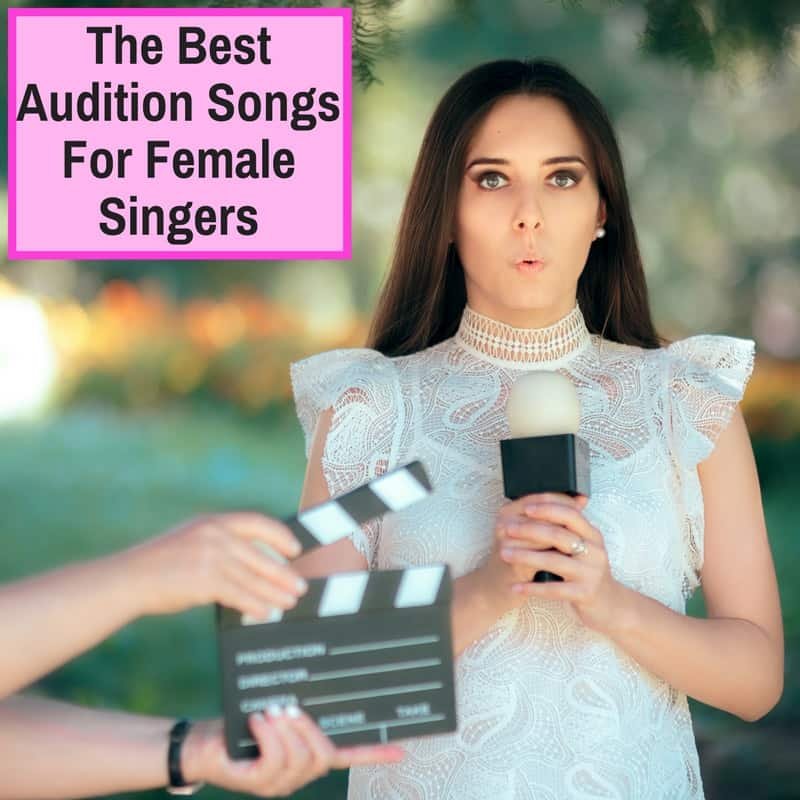 Your song choice can be more important than your actual vocal abilities at many auditions.
Why?
The songs you pick give your audience an indication of what type of artist you are, how willing you are to try new things, and how flexible you are as a vocalist.
You want to show off all these things.
It's not about picking the most popular and most recent songs.
It's about picking an array of different styles from different eras, so that you can show off everything you can offer.
So, how do you pick the right songs?
Play to your strengths.
Think about range, genre, and tone. Think about who/what you are auditioning for. Are you auditioning for a cruise ship band? A new pop band?
Do a little bit of research. Find out what other vocalists have done well in their auditions.
Below, I've put some research together and created a list of great audition songs for female singers.
Best Audition Song For Female Singers
If you've got an audition coming up, browse the list of songs below and see if one of them is a good fit for you and your style. Then start practicing!
Rolling in the Deep – Adele
This song is one if the best pop audition songs and the perfect track in which to show off your range of singing. Stretching down to a Bb3 and all the way up to a D5, it's demanding but very much worth it if you can pull it off.
What other skill can I show off?
Your note control. In the verse, you'll notice there's a little riff: "There's a fiiirree." You can hear the notes descending down quite rapidly. As a vocalist, it requires a lot of control to nail that particular challenge. Use this song to show off your control!
Perfect – Fairground Attraction
In your audition, one thing you want to make sure you do is showcase how you can sing almost anything. No matter who you are singing for, they will want to see that you can be flexible. Straight from the magical 80s era, Perfect by Fairground Attraction is a great song to show off exactly that.
What other skill can I show off?
Your core control. That famous chorus line, "It's got to beeeeeee…", requires core control of your pitch. You will notice that, "beeeeee…" slides up and down a note a handful of times. You will need to maintain perfect pitch here to wow your audience. If you are a trained vocalist, this shouldn't be a problem for you. If you have not been trained, click here for some tips on how to maintain your pitch!
Starships – Nicki Minaj
Got a secret talent for rapping? Show them! Can't rap to save your life? Use that as a way of challenging yourself. Why not learn how to rap? If you take on a challenge like this, your audience will notice that you aren't sticking to your comfort zone. Starships by Nicki Minaj involves a mix of rapping and singing. It's the perfect track to show off your willingness to learn.
What other skill can I show off?
Imitation. Nicki Minaj has an incredibly specific style, especially in this song! Are you being asked to show off your ability to imitate? Ding ding! Here's your track.
Beat It – Michael Jackson
Even though you are a female singer, don't let that limit you to female-sung songs. If you want a song that shows off your confidence and personality, this song is full of it!
What other skill can I show off?
Your diction. Beat It is one of the most wordy songs of the 80s Rnb era. There are just under 400 words crammed into 4 minutes and 18 seconds. That's almost 2 words a second. Practice and perform this song to show off your diction ability.
Highway to Hell – AC/DC
Need to show of your performance skills? Pick this classic. The biggest challenge with this song is your ability to not just sing, but to entertain. Whether you are performing to join a wedding band, or you're auditioning for a brand new pop group, you will need to be able to entertain your crowd through your on-stage movements.
What other skill can I show off?
Your ability to have fun! Rock and Roll writer Joe Bonomo describes Highway To Hell as, "an effortless, head-rocking, arms-elevated, smile-lifting chorus so appealing and fun and full of filthy guarantees, and so layered with harmonized, gang-bellowed vocals that you feel surrounded at a smoky party." Let loose and enjoy it.
If I Ain't Got You – Alicia Keys
A song everybody knows and loves. Like Adele's Rolling In The Deep, this track is another great pop audition song and demonstrates a wide vocal range that you can show off in your audition.
What other skill can I show off?
Your emotions. This smooth Rnb track is full of feeling. It's also full of delicate vocal runs. Pick this song to your audience that you can master every part of a performance.
Your Original Music!
Have your audience given you the option to pick your own song choices? If so, then it's a big sign that they want you to throw in an original piece of your own.
If you want to be unique and stand out from the crowd, then sing something that you know 100% no-one else will pick: your music. It will highlight your songwriting ability, your intelligence with your word choice, and your understand of how to create a good hook.
Check out below some of the best original songs from the American Idol 2018 series!
Best Female Audition Songs: Final Thoughts
These are just a small handful of the many more great audition songs out there. But the ones in this list cover a huge variety of genres, styles, and ranges; 3 areas that you must exploit when picking your audition songs!
Let us know in the comments below if you have been successful in auditions with other songs!
Used one of these tracks in a recent audition? Let us know below how it went!