The violin is one of the most interesting instruments to play.
This is due in part to its expressive qualities, both in the terms of pitch and dynamics.
And electric violins provide even more expressiveness options, in the same way that electric guitars do.
If you're looking to buy an electric violin for yourself, you've undoubtedly been bombarded with a ton of different options of all price ranges on the internet.
After some digging, we've singled out the Bunnel Next electric violin as one of the best options out there, in terms of value.
We'll take a closer look at the NEXT in this review to help you figure out if it is the right instrument for you.
Bunnel NEXT Review: Overview And Features
One look at the low price tells you that the Bunnel NEXT is far from a professional-level electric violin. But it's a great instrument for the price and an incredible value.
It has an interesting set of qualities that you don't usually find on electric violins at this price point. And, to be fair, it can handle some serious live gigs, even in semi-professional settings.
And it still costs a good bit more than the cheapest models, so it's definitely not a low-quality budget violin.
This is a full-sized instrument, which makes it mostly a good option for most adults, but too large for children (or small adults). What makes it exciting is that it has a more complete body than standard electric violins.
You don't have just the frame around the base, but an actual modern-looking solid body. This is mostly a benefit in terms of the overall feel. Because this instrument has a pickup, the full body won't do much for the tone, at least not when compared to acoustic and acoustic-electric violins.
The NEXT electric violin comes with an active preamp, which is powered by a standard 9-volt battery. Specifically, it is the CV-210E preamplifier, which features three sliders for volume, bass, and treble. These controls are located on one side of the instrument.
On the other side, you have two outputs: one regular output for amplifiers and mixers, and another that is adjusted for headphones.
This is a standard configuration for many electric violins and the headphone output works well for practice. A silent violin is great, because it means you can practice anytime without disturbing others.
This instrument comes bundled with a bunch of useful extras. You get a hard case, a nice Giuliani bow made of brazilwood and genuine horsehair, a rosin cake, a spare set of D'Addario Prelude strings, a mini amplifier and a pair of headphones.
Even without these additions, this violin is well worth the price. But the extras are icing on the cake.
Overall, this is a great deal for the money and a pretty solid violin that can even handle some serious live shows. For this price, the tone is more than just decent and you can even get some stuff going with additional effects since the violin responds well to them.
Key Features
Solid-body electric violin
CV-210E preamp with a ceramic piezo pickup
Line and headphone outputs
Composite tailpiece
Chin rest
Lots of extras, including a small practice amp and a set of headphones
Tone
One of the most striking things about this violin is its overall tone and how well it responds to different dynamics of playing. The tone leans towards the bright side, but there are some adjustment you can make using the 2-band EQ on the preamp.
It's not much, but you can add some power with the bass slider. But overall, it sounds like a true soloist instrument. It fits best in rock and jazz settings, although it's pretty versatile and can work for other uses as well.
Build Quality And Features
The Bunnel Next is built pretty well, at least for this price level. The most important thing is that everything is in its place without any unpleasant surprises.
You have three different finishes to choose from: natural, honey and caramel, in that order from lightest to darkest.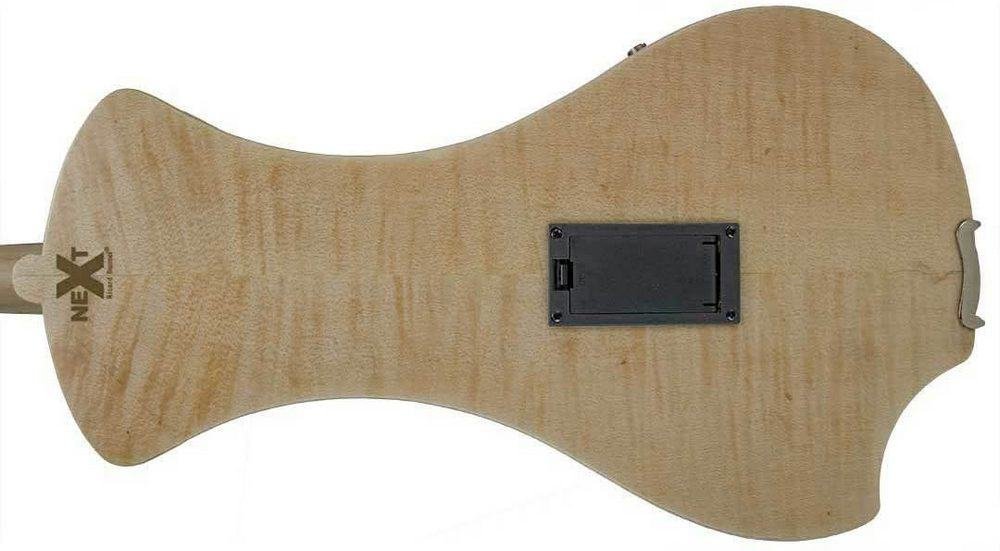 As for the features, the preamp offers some tone-shaping, although it would be nice if it had a 3-band EQ.
The only downside is that the positioning of the preamp controls is kind of weird. If you have a shoulder rest for your violin, one of the holders will go over the plastic panel, although it won't interfere with the controls.
Advantages And Disadvantages
Pros
Great deal for the price
Comes with lots of useful accessories
Great tone, especially for lead sections
Well-built
Can be used in an abundance of genres
Great-looking design
Cons
It could be better if it had a 3-band EQ instead of a 2-band
The positioning of the controls is a little impractical
Bunnel Next Vs Cecilio CEVN-2
Looking at the many different electric violins available, it's hard not to compare the Bunnel NEXT to other products out there. One model it is often compared to is the Cecilio CEVN-2 violin. Although their applications are pretty much the same, there are some distinctions.
The first is the price. The CEVN-2 is significantly cheaper. But the whole body design is completely different, too.
While Bunnel Next has a full solid body, the CEVN-2 has a very minimalist design, with the central part surrounded by a stylish frame. There might be some difference in tone due to this, though the differences in the tone mostly stem from the use of different preamps and piezo pickups.
What are the differences in tone? Basically, the Bunnel Next has a noticeably better tone. It's brighter, clearer, and responds better to dynamic nuances.
The CEVN-2 is not bad, but it is intended as a decent budget electric violin for beginners or enthusiasts, and that's how it sounds. Good for the price, but not as good as the more expensive NEXT.
You can't really go wrong with either of these two. If you're looking for a good electric violin that will serve you well for live shows, then we recommend the Bunnel NEXT. It sounds better and it's more reliable.
If you're on more of a budget, go with the CEVN-2. You can read our full review of the Cecilio CEVN-2 to learn more about it.
Bunnel NEXT Electric Violin: Conclusion And Rating
Even if you're a beginner or an amateur, it's always a good idea to have more than just a simple decent instrument. Unless you're on a budget, spend a little more and get much more with the Bunnel NEXT.
It might not be a high end instrument, but it is an incredible value and a great choice if you're looking for a reliable and good-sounding electric violin at a great price. And on top of all that, it's pretty good-looking.
It will definitely serve you well, even as a semi-pro performer. That said, if you're aiming for a professional level, then you'll need to aim a bit higher in price as well.
Due to its incredible value, we give the Bunnel NEXT a Musicaroo rating of 4.5 out of 5.